Euphoria's Jules was based on Hunter Schafer's teen years
"It didn't feel natural at first."
|
24 February 2020, 1:15pm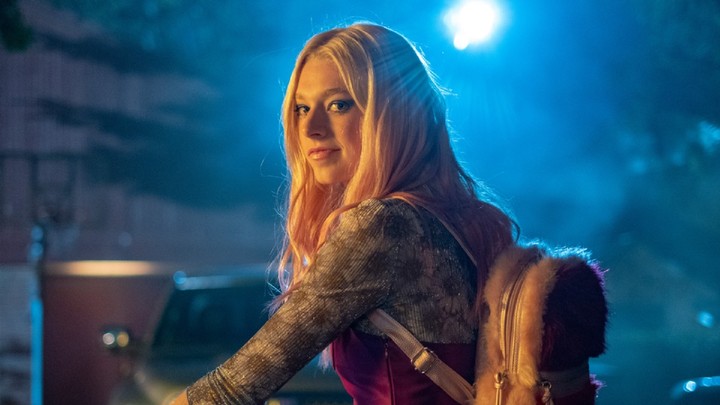 HBO
It's been a good six months since Euphoria left our screens, and honestly we're still hurting from the loss of it. The hit HBO series, which follows a group of high school teenagers discovering sex, drugs and general hedonism, was all anybody could talk about last summer. Production -- thank God -- has finally begun on its follow-up, which means new episodes should hit our screens by the time 2020 draws to a close.
In the meantime, the show's breakout stars have become darlings of the fashion industry – but none so flawlessly as Hunter Schafer. The actor, who plays trans teenager Jules in the series, has cemented herself as a veteran of the frow, from Givenchy to Burberry. It's a well deserved spot, considering she was walking these runways herself as a model just a few years prior.
But although fashion month is still fully in swing, Hunter took time out of her schedule to chat to Arca for a cover story in V Magazine, in which the two cultural pioneers dissected their respective works, and navigating their industries as trans people. In the interview, Hunter unpacked the ways in which Jules -- a girl embroiled in a strange flurry of identity, sexual agency and learning to feel loved in her body -- was a reflection of herself. She effectively acted, Hunter explains, as a consultant on her own character.
"It didn't feel natural at first," Hunter says of putting such a personal story on show for an audience of millions. "Part of surviving [that] experience was just, like, getting through shit. Letting it rest, and not addressing it. I think that's what I had been [doing] up to that point: just going and going, fighting to be on the other side of my transition. There was so much that I was working towards, and I was so excited to [be out of] North Carolina that I don't think I'd ever looked back on [that experience]." The show, in a sense, gave her the chance to.
When they were shooting, Hunter tells how she'd have "...to remember a new detail, to dig up an artifact from within myself, and hold onto that moment for the scene". Jules' yearning to escape her home town and find someplace new correlates closely with Hunter's own segue into the fashion world: she moved, at the age of 17, to New York and started afresh. It's an interesting mirror to her still unravelling plotline in Euphoria, and to Jules's uncertain future.
"I know she has dreams, [many of] which she stated in the first episode," Hunter says. "Which is just what I did in a way: escaping to New York, and working or interning in fashion. And that was [part of the character] before I was even cast, so it was really freaky to see that written into the script."
So there we have it: maybe Euphoria's second season will widen its world view, and hop states to portray the lives of its characters travelling even further afield. We'll have to wait a few months to find out.