Photography Ottilie Landmark
Why fashion is so obsessed with breastplates
From Issey Miyake's 'Plastic Body' through to Sinéad O'Dwyer's silicone bodycasts, we peel back the layers to explore fashion's fixation with designers replicating the human form.
|
26 February 2020, 4:00pm
Photography Ottilie Landmark
When Zendaya appeared on the red carpet at January's Critics Choice Awards in a Tom Ford breastplate, she looked bionic. She also looked like something else. Where had we seen that shine, that armour, that… pink before? It wasn't from photos of Tom Ford's SS20 show back in September either, where the breastplates barely registered. (They got one line, nearly an aside, in Vogue Runway's report: "The moulded plastic tops were a luscious homage to Yves Saint Laurent's Lalanne breastplates via Issey Miyake.")
Then it hit us. 2 Fast 2 Furious; that image of Devon Aoki as Suki standing in front of her pink car. That exact same high-shine, uncompromised pink. Sharply synthetic, a pink as hard as acrylic nails. The breastplate has the same rigidity -- not to mention the poured-curves form -- of a car bonnet. Both images have, as they say, the same energy. Like Rihanna, or Adriana La Cerva in The Sopranos, they have an essence that seems illogical; a femininity that's enhanced, not contradicted, by its toughness.
The photo of Zendaya went nearly viral. People started calling breastplates a new trend. But one red carpet appearance and a magazine cover does not necessarily a trend make. Tom Ford's breastplates are custom-made through a process that involves 3D scanning the wearer's torso, and they sell -- 'retail' seems wrong when it's this amount -- for $15,000. Unlikely then that they'll become a trend in the sense that many people start wearing them. And though Zendaya in gleaming armour is undoubtedly a striking image, a lot of the surrounding commentary focused on how radical, strong and original the breastplate was. But does it have an impact, or meaning, that goes beyond its surface?
Someone who has been making breastplates for several years now -- though the word 'breastplates' does not fully capture what she does -- is the young London-based Irish fashion designer Sinéad O'Dwyer. Central to her work is the premise that clothes, conventionally, are not cut with most women's bodies in mind. To challenge this, she uses a process that's almost totally outside the realm of fashion: lifecasting. Her brilliantly uncanny pieces are borne out of a complex, unlikely and intimate operation that involves casting a muse -- typically a close friend whose body she knows intimately -- in order to create a solid fibreglass mould, which then goes on to serve as the basis from which all of her collection is made.
Fabric is notably absent in Sinéad's collections. Instead, her pieces are made of silicone, a material chosen for its ability to pour, liquid-like, into the lifecast moulds and then to function almost as a "3D skin" when it sets. When fabric does appear, it tends to be subverted. For her SS20 collection she embedded garments within her pieces -- bikinis warped by her muses' bodies, then trapped inside a layer of transparent 'skin'.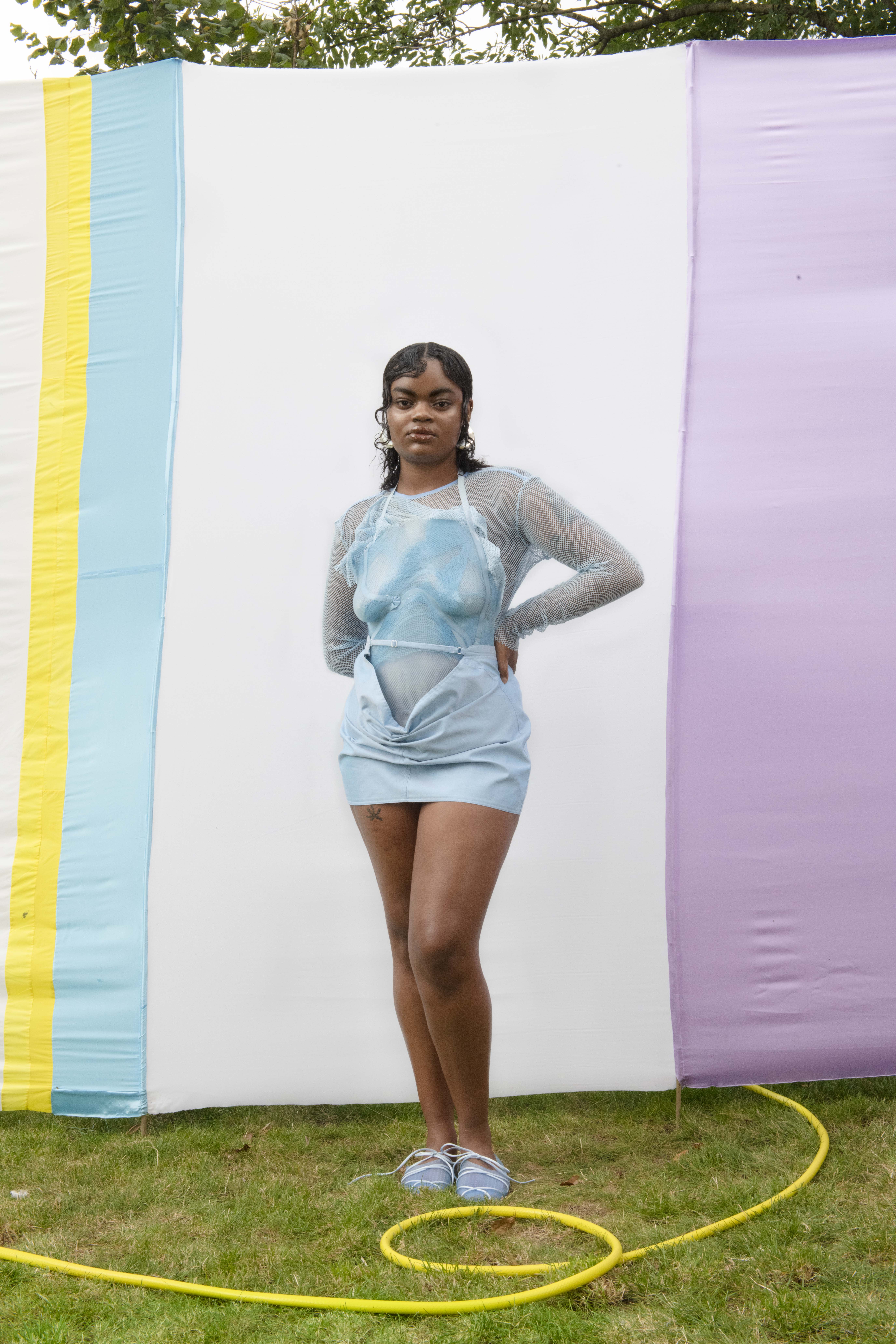 There are some parallels to be drawn between Tom Ford's breastplates and Sinéad's. Neither are made from fashion's conventional lexicon of materials, though where the former's are conceptually closer to armour, the latter's function more like a second skin. Both have a close relationship to their wearers and both, in their different ways, lift directly from bodies. However in spite of some overlap, the kinds of bodies they cater to are very different. "The breastplate has existed in fashion on and off for a while," Francesca Granata, Associate Professor of Fashion Studies at Parsons, and the author of Experimental Fashion: Performance Art, Carnival and the Grotesque Body, told me over email. "In the case of the Tom Ford one, it reinforces an idealised female body type and creates a smooth polished facade."
"Sinéad O'Dwyer's breastplates are quite different both in intent and fabrication," she continued. "They are cast from bodies with all their imperfections and specificities, rather than an idealised and thin contained form. They also are often see-through -- a fact that creates an interesting play between inside and outside of the body, questioning where one's bodies ends and clothes begin." Interestingly, though Sinéad's work is premised on foregrounding the bodies we do not typically see in fashion, her pieces don't seem to have alienated those who do -- recent wearers including the model Tsunaina at Frieze and Bella Hadid in the pages of LOVE magazine.
One of fashion's earliest breastplates, of which Tom Ford's seem a direct homage (at least aesthetically), was Issey Miyake's 1980 Plastic Body, part of the designer's touring Bodyworks series. A piece so seminal that it's now part of The Met Collection, on the gallery's website it's described thus: "The bustier, moulded on a woman's torso, subverts the idea of clothing as a covering separate from the body."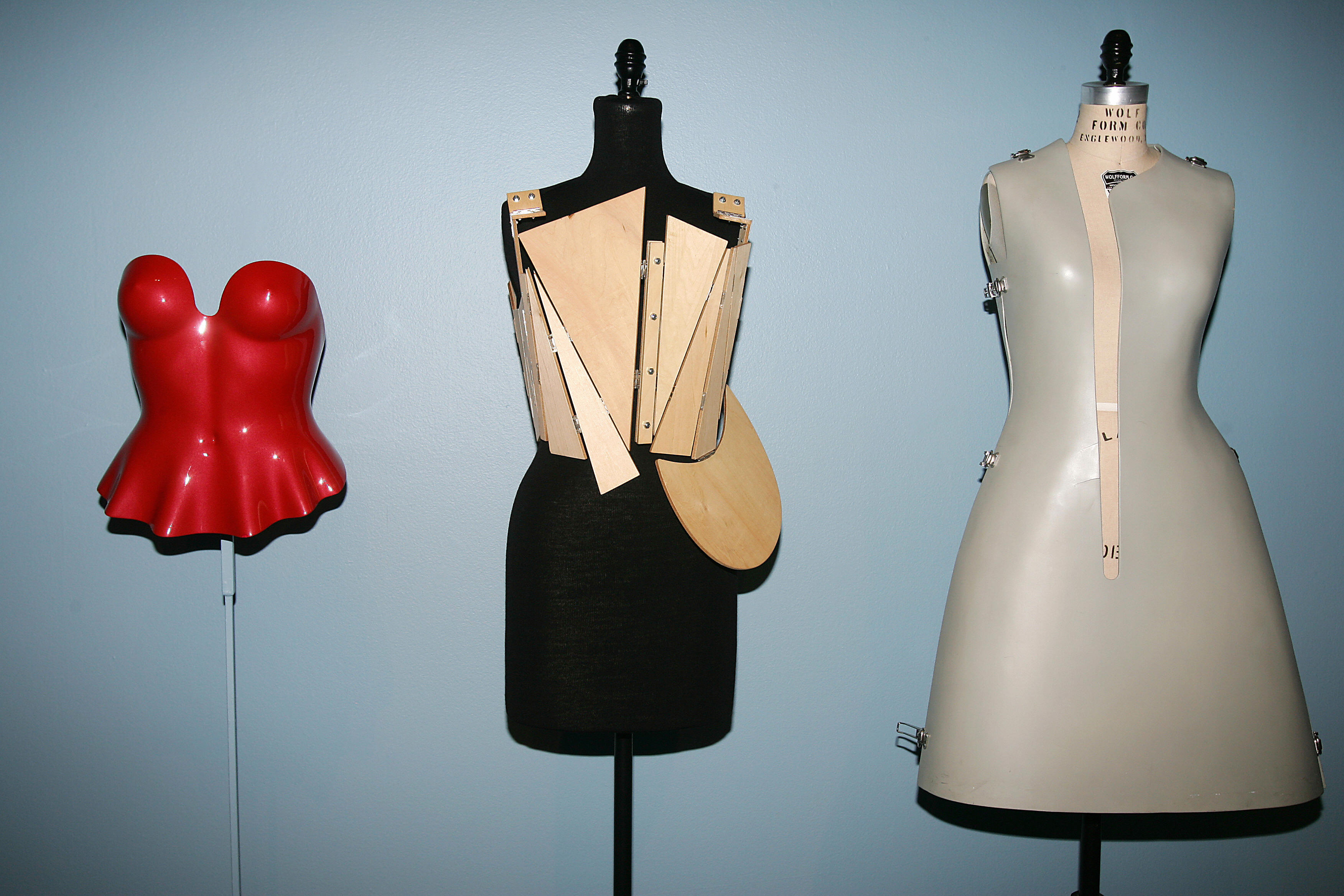 The relationship between clothes, bodies and the void between them -- loosely defined by the broader Japanese concept of 'ma' -- has been central to Issey Miyake's work and the designer's ability to subvert the idea and purpose of clothing itself. Another of his pieces from the same period, Rattan Body, featured on the 1982 cover of Artforum, the first piece by a fashion designer to ever do so. This ability to traverse the well-entrenched art-fashion distinction underscores just how far removed Miyake's work was from the conventional fashion of its day. Though Tom Ford's breastplates look a lot like Miyake's, the same probably can't be said of it on a conceptual level.
After writing this, Sinéad got on the phone to explain her feelings towards the work she makes and that of Tom Ford's. "I think that the intention of his work is quite different," she said. "I'd be inclined to say that it's purely aesthetic, that he was inspired by the material and the technique, rather body representation. My work, on the other hand, begins with that meaning. The technique I developed just happened to make sense for my intention." Yet, while the origins of their approaches may differ, both demonstrate an appreciation of the female form felt deep in their bones.
If you'd like to see Sinéad O'Dwyer's work in the flesh, her solo show, In Myself, runs at Waves & Archives, 117 Beekman Street, New York, March 6 - April 3, 2020