Photography Amber Pinkerton
Dua Lipa celebrates womanhood and unapologetic self-expression in her new capsule collection with Puma
i-D caught up with Dua, as well as models Charley Dean Sayers and Sharkkana, as the Flutur line launches.
|
20 December 2021, 9:00am
Photography Amber Pinkerton
The image of the butterfly has always been important to Dua Lipa. Throughout her career the musician has made the butterfly somewhat of her trademark, championing it through her sartorial choices and even helping to usher in a Y2K renaissance of the ultra-feminine trend. So it makes sense that butterflies are the central motif of Dua's new collaboration, a capsule collection created with Puma. In fact the name of the collection, 'Flutur', is a celebration both of Dua's fascination with the butterfly and her Kosovo heritage (it's the Albanian word for "butterfly").
Just as the butterfly emerges from its chrysalis as a new, hotter, more assured version of its caterpillar self, so too does the Flutur collection celebrate self-expression and metamorphosis. As part of Puma's wider She Moves Us values, which celebrate female leadership and powerful femininity, the capsule line is a technicolor celebration of forward change and womanhood in all its forms.
The limited edition capsule features the butterfly as its central theme, appearing as an iridescent, Y2K inspired motif on baby tees and hoodies in simple black and white, allowing it to really pop. For the sneakerheads, launching today there's also the new Puma Mayze, an all-blacked leather edition of the iconic sportswear brand's classic platform trainer. The line is a melting pot of influences; a little bit goth, a little bit clubwear, a dash of the 90s, and a pinch of the poppy purply neon iridescence that Dua is so associated with. And this is just the beginning -- after the release of the capsule collection today, a larger Flutur collection will drop in the first trimester of 2022.
As the collection launches, i-D caught up with Dua herself — along with model Charley Dean Sayers and London creative and designer Sharkkana, who appear in i-D's shoot, captured by photographer Amber Pinkerton — to find out what the project's themes of female empowerment and self-expression mean to their lives and artistic practices.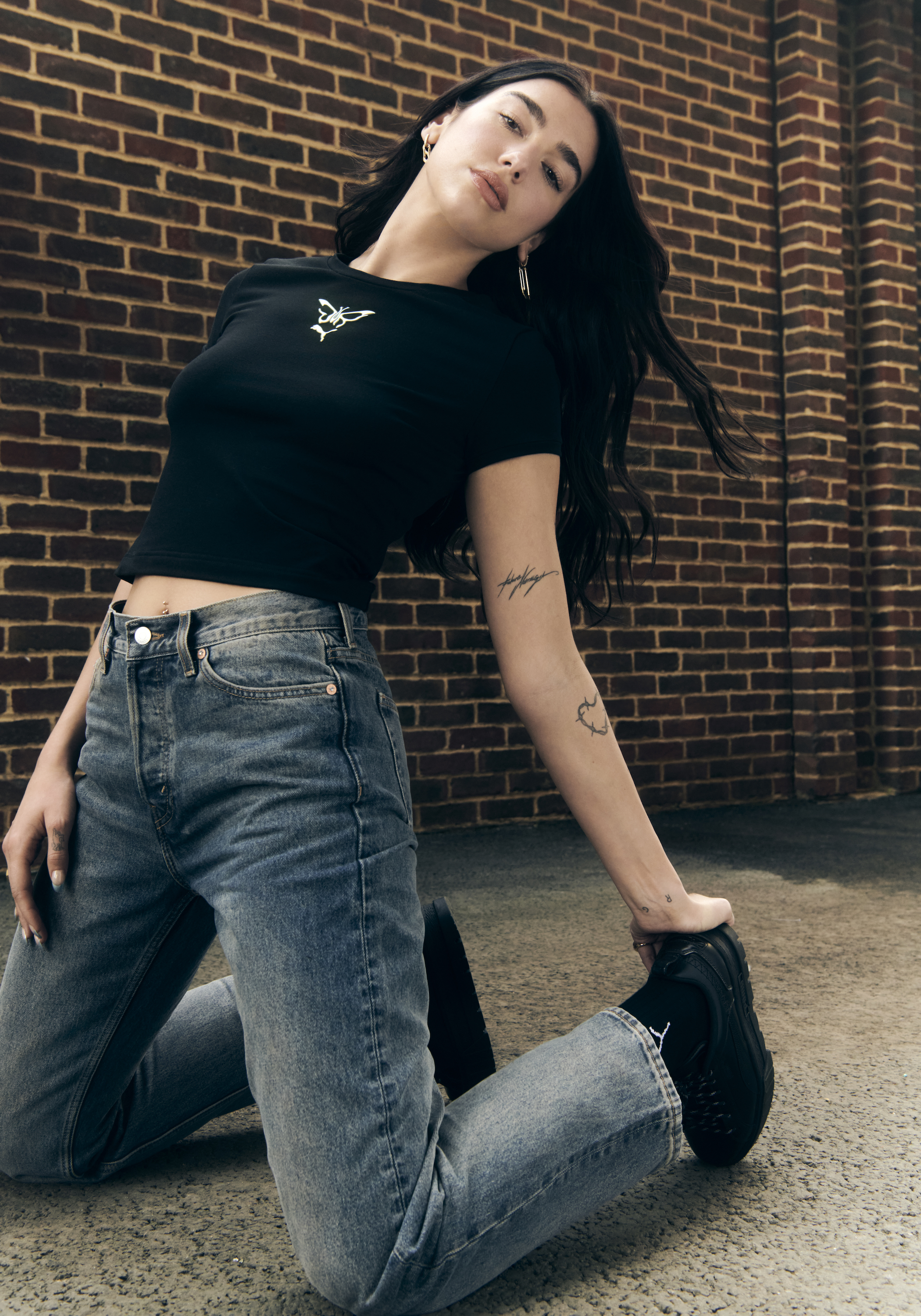 Dua Lipa
The capsule collection is called 'Flutur', the Albanian word for butterfly. Why is the image of the butterfly important to you as an artist?
Honestly, I feel like from the beginning of this year I've really connected with the image of the butterfly. I just love the symbolism behind it, that whole idea of rebirth and metamorphosis, and growing into something new and constantly evolving. I think that's so beautiful. Without being super cliche, I think I've just been really attached to that. And also, I just feel very womanly and feminine when butterflies are involved. I have a tendency to be a bit more tough, so I like balancing myself out with the butterflies for sure. It makes me feel very grounded.
How important was it to you to celebrate your heritage with this capsule collection?
I think, you know, me and who I am, I really just come as this package of being from Kosovo, and also from London. And I love the kind of duality that that represents in my everyday life. I always try to put little things or little messages that have something to do with my heritage in a lot of things that I do. And so it just felt like a nice little nod.
What were some of your other inspirations for the collection? How did you work with PUMA to channel your vision?
So initially, for this drop, we've got a kind of introduction to what the collection will truly be, with the logo, the metallics and the iridescents. And that's also reflective of what's to come in the future from Puma and I. So, I'm very excited. This is what has been the beginning of a really great relationship together. And I'm excited for more. This is just the beginning.
The collection is inspired by self-expression, and being unapologetic in that creative vision and self-expression. Is that something you've always found comes easy, or something you've had to develop and grow into over time?
I think I've been really fortunate with my job to be the kind of job that allows me to express myself, that allows me to just sit down in a room and write and be myself and try and put as much of myself out as possible. And I've found that the more you kind of talk about personal experience, or things that you go through, that it becomes easier and your connections with other people become closer. I feel like self expression is so important in whatever way you choose, whether it's designing clothes, painting or drawing or, for me, music and what I wear. So, I truly want to encourage people to just really be themselves. You know, we're so lucky to have that kind of self expression. To be ourselves, that's also what makes us unique, and that's what makes us stand out. So it's so beautiful, when we can share that with others.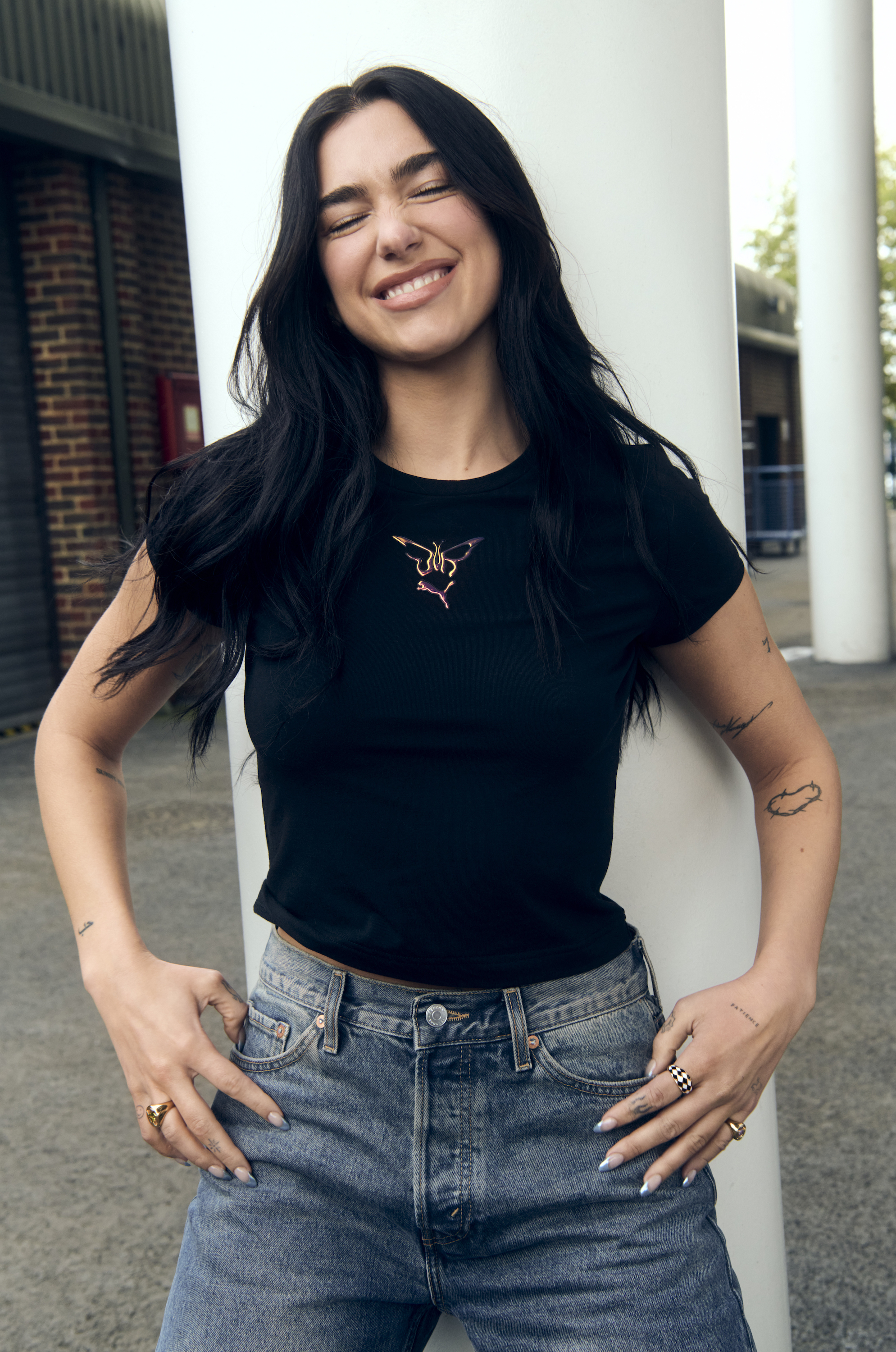 What advice would you give to other young female artists to help them channel their own self-expression?
I would honestly say, be brave. You know. Sometimes when you think things are difficult, or something's really out of your comfort zone, it's probably where you should be. It's always really good to express yourself to the point of scaring yourself little bit. To be truly free and excited about something that you're doing. You know, everything is baby steps, and we're all learning together. But it's so beautiful. Be kind to yourself, and be proud of all the little baby steps that make up your journey.
What does womanhood mean to you?
Togetherness, sisterhood. Celebrating our strength, and what maybe others see as weakness. Women have vulnerability, and we can express sadness in a way that maybe doesn't come as easily to men, which can have such a negative impact on male mental health. So if we can try to put feminine energy into our male friends. We need to have both feminine and masculine energy, we need both of those things to come together. It's just all about support and lifting each other up in whatever way we can.
What do you think it means to be a strong female leader in the music industry today?
I don't like to put myself on a pedestal like that to think of myself as a 'role model'. Because for a lot of the time, I do feel like I'm growing up with my fans, I'm not perfect. I'm gonna mess up. I definitely don't do all the things by the book, or sometimes how people would like me to do them. I am learning and I'm figuring it out.
The Puma 'She Moves Us' campaign is all about celebrating moving the conversation, community and culture ahead. Are there any women in your own life that particularly inspire you to keep pushing and moving forward in this way?
My best friends who I met when I was 15. It was when I moved back from Kosovo, and I was the new girl in school. I was sitting eating lunch on my own and these two girls just came up to me and said oh hey, we heard you're new, would you like to be our friend? And that was it, I just never let go of them. They're there for me no matter what, and they lift me up no matter what. They're the women I turn to apart from my family who are super supportive, and I'm there for them as much as they are for me. Those super close friendships and relationships are just so important.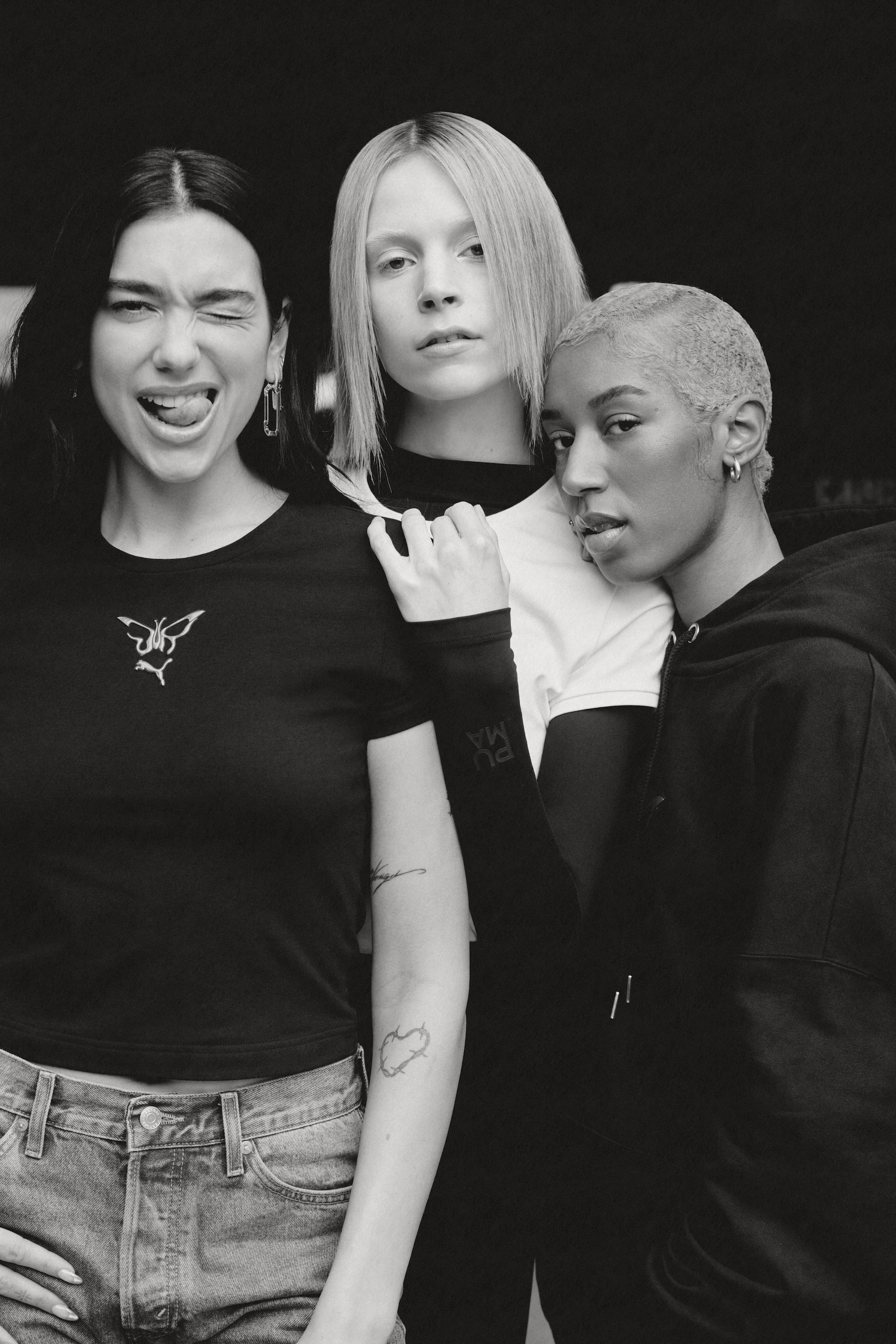 What do you think needs to change in our culture or society to allow women to move forward and keep breaking boundaries?
I mean, times have changed so much now. Women are so much more focused on making sure that they're, yeah, checking in with themselves making sure that they feel good doing stuff that's right by them. And I think that's so powerful. If we can encourage other people around us to find the power within us, then the world would be a much stronger place. If any one person lends an ear to somebody that they really care about, I think we can make a massive difference.
If you had one piece of advice to share to help other young women reading this to unapologetically accept themselves, what would it be?
Self acceptance comes with time. As you get older, you start to accept yourself and start to become a bit more confident, you start to love yourself a little bit more. But I truly think surrounding yourself with like-minded people, surrounding yourself with people that lift you up, again, doing things that make you proud that feel like you're using yourself expression, doing things that you love, these things are hugely important. I'm still in the process of fully accepting myself, and I think that's just a part of being human. But as I've gotten older, I've started to just say 'this is me, and this is who I am, these are things I like about myself, these are things I don't'. I think it's all about awareness growing up and taking time, but if you have good friends around and people that support you, I think you can overcome anything and those people can help you find things that you love about yourself.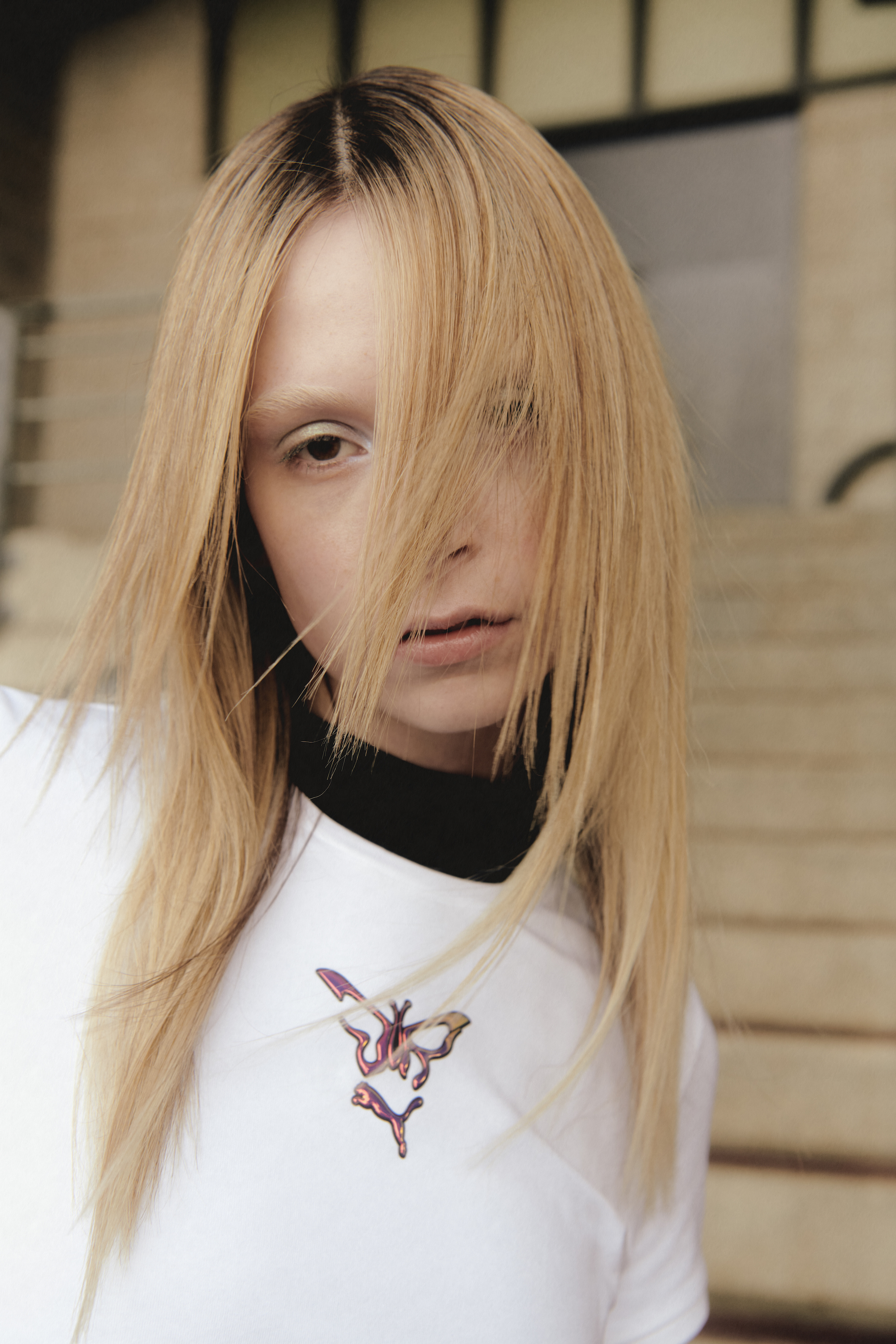 Charley Dean Sayers
One of the themes of Futur is about celebrating heritage. How does your London heritage inform your art?
There is such a diverse community of trans people in London that I have connected with recently and seeing how so many people live their lives while escaping and manipulating binary gender constructs is extremely inspiring to me. I wouldn't have evolved as an artist without the help of countless people around me and I hope that through my own visibility, it is paving the way for younger trans artists to develop their own practice.
What has been the highlight of your career so far?
I find it so hard to rank my successes when I always feel so blessed to be able to work within an industry of so many inspiring creatives. Although meeting Dua Lipa is definitely a highlight!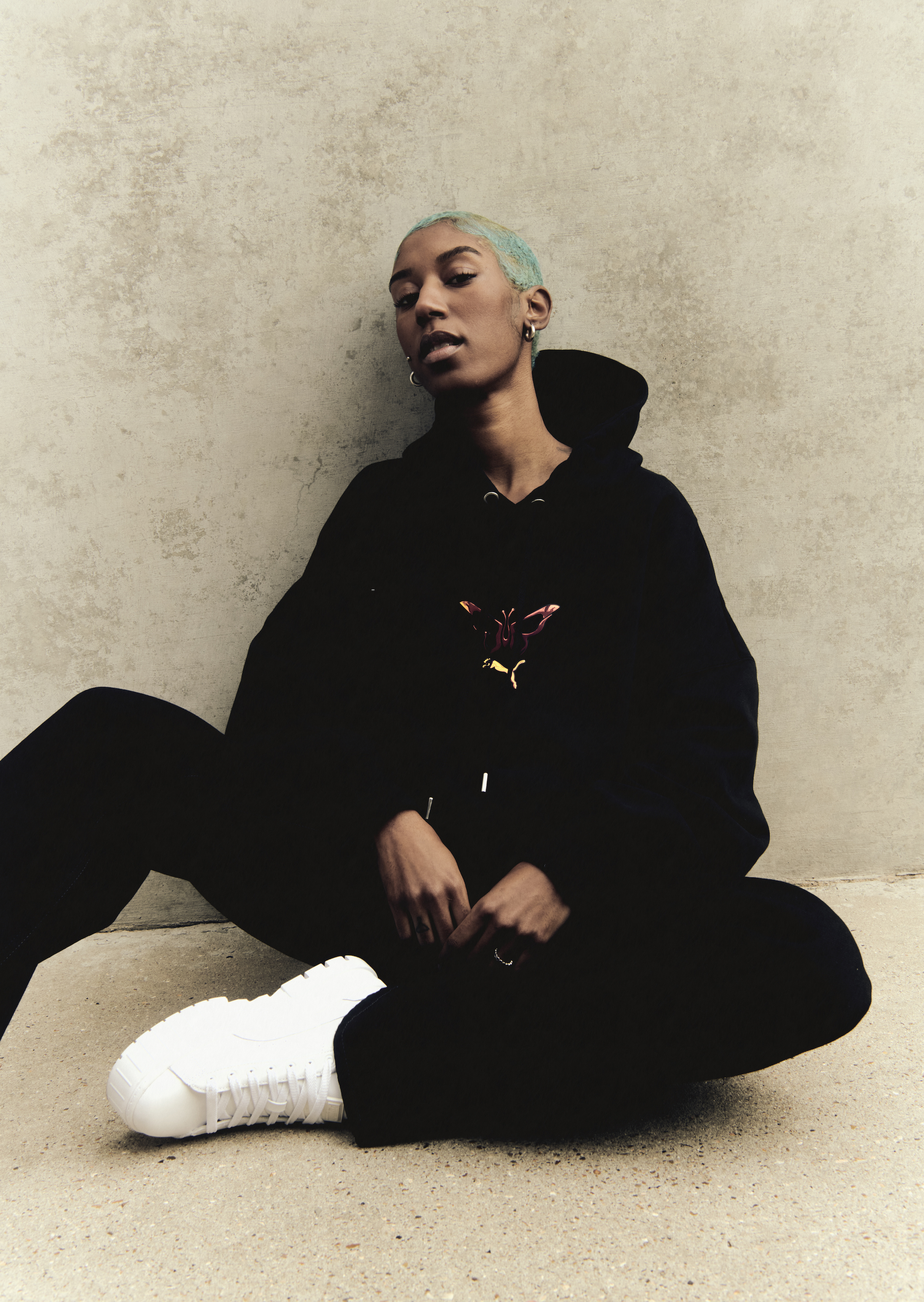 Sharkkana
How do you use social media to channel self expression?
I'm very aware that social media pushes a certain beauty standard, and that it puts a lot of expectations on men and women, particularly women, which can be quite detrimental to mental health. When I was growing up that definitely affected me a lot. I think now having that awareness makes me realise the importance of having a social media platform -- even though I might not like social media -- just for other people to know that it's cool to be yourself. You can be any shape or size, it doesn't matter, so long as you're confident and accepting of yourself. I get so many messages from other young Black girls just saying 'it's nice to see someone who looks like me', and I know that if I'd had that when I was younger, it definitely would have helped me. So that's the positive in social media, I think -- finding people like you and building a community
What creation of yours are you most proud of?
My brand [Sharkkini]. Because in my day to day job -- which I really love -- I work in music and creative management. So the majority of the time, I am helping other people to build their dreams. I get to be a part of working on their dreams coming to life. So I think it was important for me to just have something that's my own, something that I can carry on and just have some kind of legacy as well. Working with other people has been amazing. They've let me be a part of their team, given me that opportunity, and now I want to do the same thing for other people. That's what I'm most proud of, and I'm very excited for how it's gonna grow from here.
Click here to discover the collection.
Credits
---
Photographer Amber Pinkerton
Creative Director Georgina Bacchus
Senior Producer Laurene Mpia
Dua Lipa's stylist Lorenzo Posocco
Dua Lipa's make up Lisa Eldridge
Dua Lipa's hair Luke Hersheson
Charley & Sharkkana's stylist Louis Prier Tisdall
Hair Elliot McQueen
Make up Joey Choy
Manicurist Lauren Michelle Pires
Casting Irene Manicone at IM Casting