Photography Malick Bodian. Image courtesy of Bottega Veneta
Bottega Veneta and Valentino take Venice: What's in Fashion?
Your one-stop-show for this week's fashion news to know.
Photography Malick Bodian. Image courtesy of Bottega Veneta
Happy Earth Day, my chic earthly angels! To fete this day in celebrations, we're bringing you exciting news about the sartorial meeting of two of our favourite eco-conscious designers — Ganni and Ahluwalia — as well as a report from the resale mavens over at Vestiaire Collective. That's not all though — from Bottega Veneta takeovers in Venice and Dubai to a young designer inspired by British seaside culture, we're serving up tasty fashion morsels from all four corners of this good green planet. Here's what's in fashion!
Bottega Veneta takes over Dubai…
By now, it's common knowledge that being a successful brand is about a hell of a lot more than offering a chic product — though that obviously helps! In addition to that, though, they need to build a sense of community — to give the people buying into it the feeling that they belong. One brand that's done a stellar job of just that is Bottega Veneta, a house that has made a concerted effort to reach out and engage with their wide-ranging community of fans and admirers. In doing so, they've made a specific effort to look beyond the typical fashion capitals. From April 12 to 14, the Milanese house took to Dubai to stage 'The Square', "a gathering place inspired by the Arabic term 'majis', symbolising gathering and togetherness," a release from the house read. Hosted in a space designed Lebanese architect Carl Gerges — all in Bottega green, natch — the forum hosted a series of film screenings, musical performances, poetry and cuisine events, from a roster of distinguished contributors including Yemeni-East African storyteller Shaima Al Tamimi, Sudanese-British spoken word poet Asma Al Badawi and Canadian poet and songwriter Mustafa the Poet. Sad to have missed it? Well, the good news is that 'The Square' is going on a world tour! Stay tuned if you're based in — or happen to be passing through, Tokyo, San Francisco, Shanghai or Sao Paulo… MS
… and Venice!
Yes! Venice, too! Where better to make the point that fashion is a veritable art form than the Floating City, which is currently hosting the 59th Biennale di Venezia. It's here — on a billboard on the Grand Canal, no less — that Bottega Veneta revealed the first campaign of Matthieu Blazy's tenure — shot by Senegalese photographer and styled by our very own Alastair McKimm — featuring one of those trompe l'oeil crisp white shirts that is in fact cut from the most supple, snow-white nubuck. That's not all the house is up to in town, though! Given that Venice is Bottega Veneta's spiritual home (its name literally translates as 'Venetian shop'), the brand has gone all out for the pinnacle of the city's cultural calendar. In collaboration with the Pinault Collection, Bottega is supporting a programme of performances titled 'Dancing Studies', inspired by the Bruce Nauman: Contropposto Studies exhibition currently on show at Punta della Dogana. Additionally, they've collaborated with the iconic Venetian typewriter maker Olivetti on a limited edition of fifteen bags, and has announced itself as the official partner of the Biennale Danza in July. Get yourself on the next vaporetto there! MS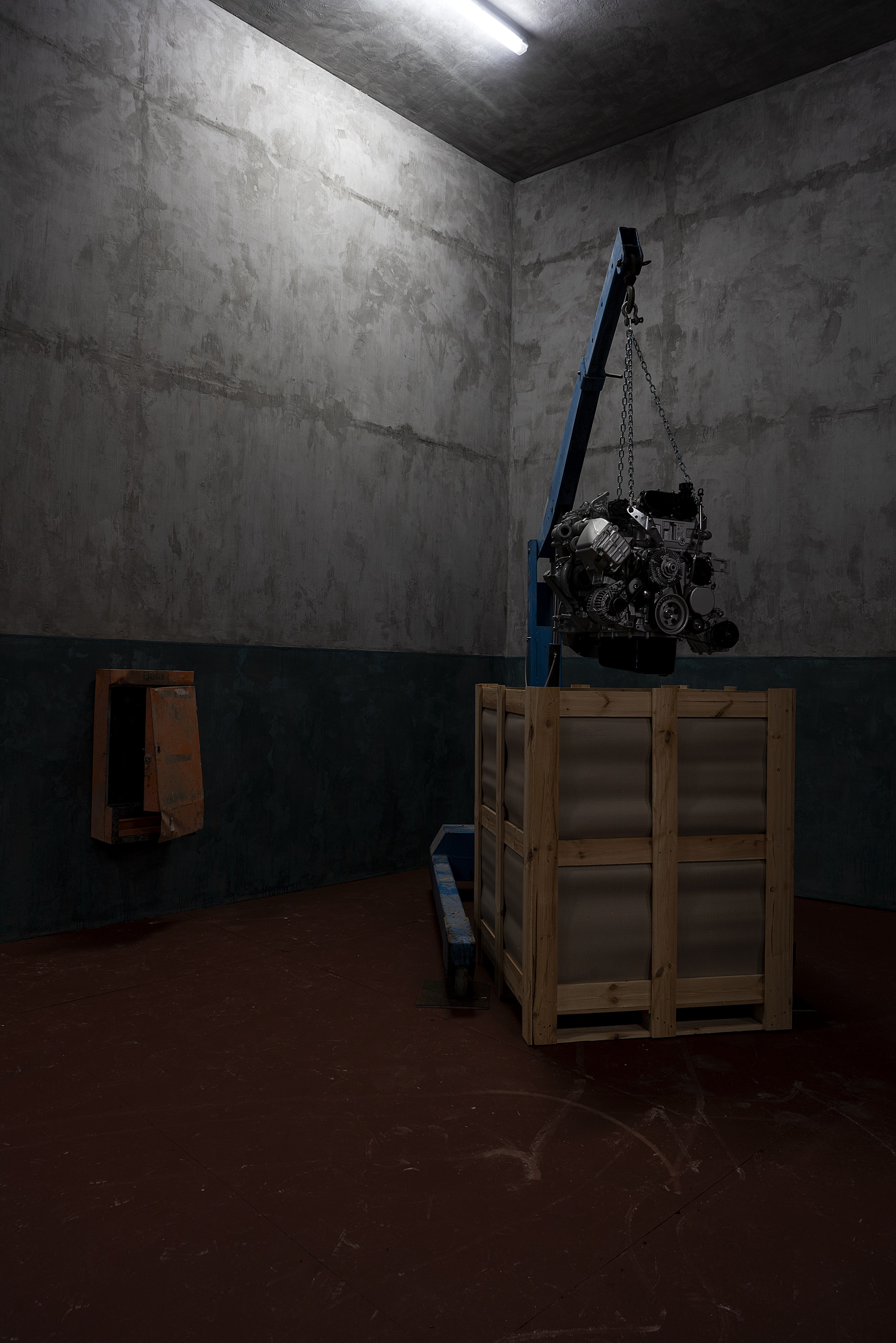 Valentino brings you the Italian Pavillion at the Biennale
Bottega ain't the only big fashion house in town for the Biennale, though. In fact, this year, were it not for one Italian house in particular, the host nation's presentation wouldn't even have seen the light of day! We are, of course, talking about Valentino! A whopping extension of their well-attested patronage of the arts, the Roman Maison is the main sponsor of this year's Italian Pavillion — which, after a week of air-kissing, lukewarm Aperol Spritzes and palazzo parties — opens to the public tomorrow. As part of their extension of generosity, Pierpaolo Piccioli and co. are supporting curator Eugenio Viola and artist Gian Maria Tosatti, the first sole artist to represent Italy at the globally prestigious art showcase. MS
Vestiaire Collective's report trumpets the virtues of resale
A gift! For you! For Earth Day! Yes, on the day commemorated to ecological consciousness, everyone's favourite luxury release platform Vestiaire Collective have put out their very first impact report! An interactive survey of the effects on the pre-loved market on fashion's notoriously shameful environmental impact, it's jampacked with insights that will evangelise even the hardiest new season shoppers to the virtues of buying secondhand. Like what, you ask? Well, according to the report, making a pre-loved purchase through Vestiaire Collective saves approximately 90% of the environmental cost of a new item. Neat, right? What's more, 70% of customers say that shopping with Vestiaire Collective… actually no, we don't want to spoil it for you! Head here for the full report! MS
Farfetch & Browns dive into the beautysphere
With the beauty industry still riding the wave of its post-pandemic boom, it really is a snooze or lose game. Two major fashion players that have woken up and dived headlong into the field, however, are London-based behemoths Farfetch and Browns. With dedicated spaces opening on both platforms' online spaces, you can expect top notch treats for the body — and by extension the mind and soul — from luxe beauty purveyors like Augustinus Bader, Dr Barbara Sturm, Haeckels and La Bouche Rouge. Oui, s'il vous plait! But wait, there's more! If you're the kind of gal who prefers to pick up their beauty bits in store, hop on down to Browns East, where you'll be able to discover the Beauty Pod — a consistent location that "will be home to a regularly-rotating edit of the best in beauty," centred around quarterly themes, a release reads — and a series of residencies at Browns Mayfair and Shoreditch locales, which will host some of the most exciting beauty folk in the biz! "The beauty space, like fashion, is a category that offers infinite room for playfulness, self-expression, and joy! We're thrilled to now have the opportunity to apply this approach to beauty, bringing together brands and experiences from the respected beauty community in a way that is uniquely Browns," says Ida Petersson, Browns' Buying Director. " I hope our customers will feel inspired to engage and experiment in this category in much the same way they already do with our fashion buy." Well, you heard her! Time to whack out the plastic and slather yourself in serums! MS
Ganni x Ahluwalia returns for a second round
Remember that Ganni x Ahluwalia collaboration we were banging on about last year? The one which saw Priya Ahluwalia, the London-based designer behind her namesake menswear label, rework deadstock fabrics and leftover pieces from previous Ganni collections into some of her first womenswear designs? Well, the inimitable duo are back at it again, this time with a limited edition collection made entirely out of deadstock denim. Fusing the Danish brand's signature silhouettes with a distinctly 90s feel, Ganni's Ditte Reffstrup and Priya looked to "the euphoria-inducing aspects of life like traveling, dancing in clubs, nature and human connection – all the things that take us to a higher frequency." We love a good party look, and trust us, the upcycled slinky logo dresses and patchwork separates will turn just as many eyes at the pub as they did at the collab's NYC launch last night at Cervo's in Dimes Square. Chic! The 16 ready-to-wear styles are available to shop on GANNI.com and select GANNI stores worldwide, plus a limited number of pieces will be stocked at Matches Fashion. Run, don't walk. ND
Buy a baseball cap to help Ukraine
Since the outbreak of the war in Ukraine, the fashion industry has grappled with its responsibility to do what it can to assist Ukrainians in need. Granted, denunciations of the Russian government's cruel and senseless invasion of its neighbour have been well-intentioned, but they only go so far. In times like these, one of the only ways to offer tangible support is to put your money where your mouth is. In an attempt to help supporters of Ukraine and its people do just that, Kyiv-based hat designer Ruslan Baginskiy has launched a special drop of blue and yellow baseball caps, the sales proceeds from which will be donated to support the country's defence forces. "The moment you buy a baseball cap, you are not only expressing solidarity, but also helping to bring back a peaceful sky in Ukraine," Ruslan says. Get yours here. MS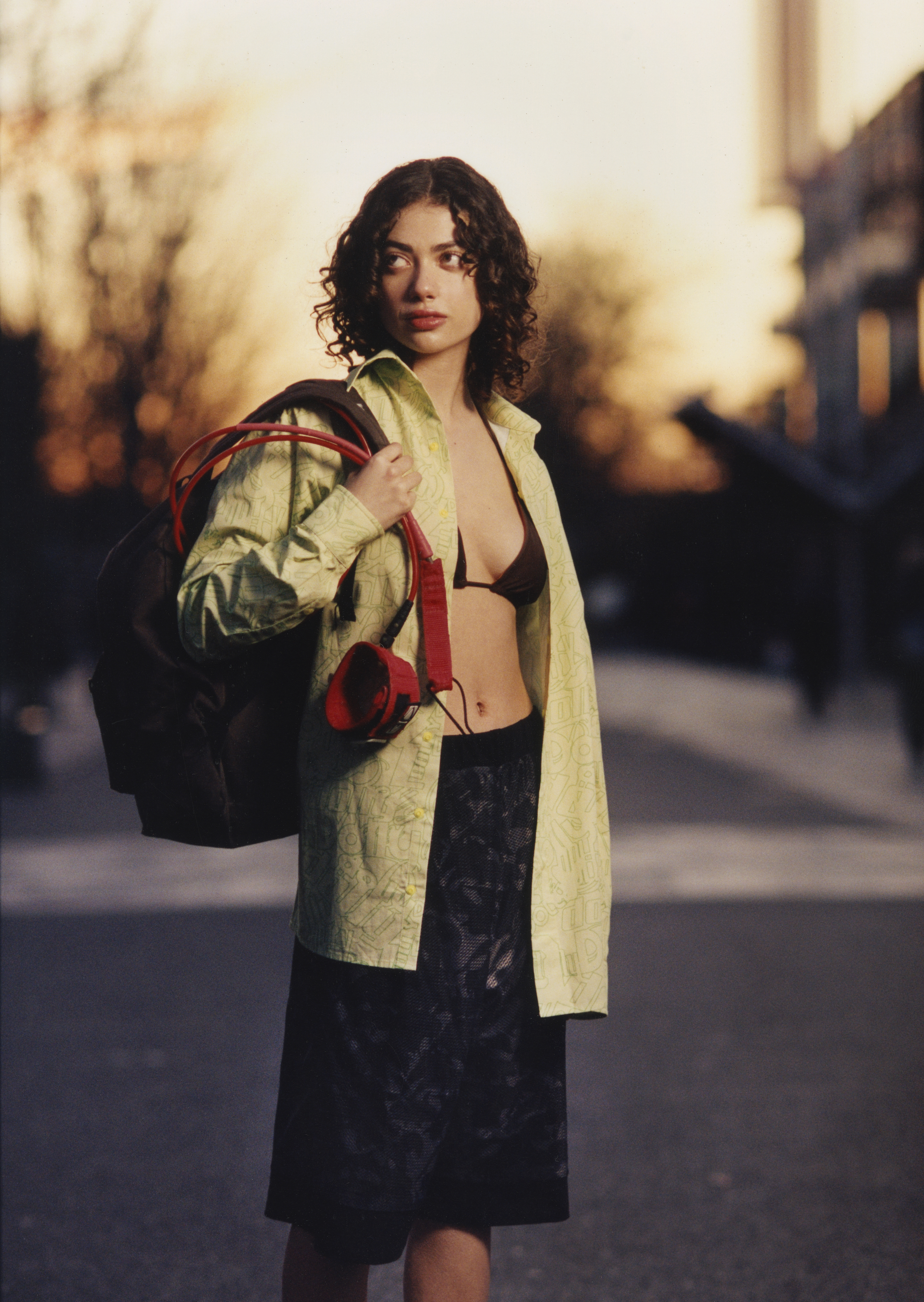 Meet Dolly, the DSM-stocked brand inspired by beach culture
We first came across Dolly, the label run by London-based designer Molly Dilkes, when the brand was picked up by Dover Street Market for SS22. When we spoke to her, she introduced her line's zingy, all-over printed shirts, skirts and tote bags as a reflection on "British beach culture", a riposte to the many outdoors-y brands that draw inspiration from sunnier locales. For her first campaign, shot by photographer Francis Plummer, however, Molly forewent the pier in favour of the city streets proving the versatility of her easy-wearing clothes. As she reveals the image series here exclusively with i-D, we caught up with the designer to learn more about the buzzy young brand, the concept behind the shoot and her favourite British beachside treat.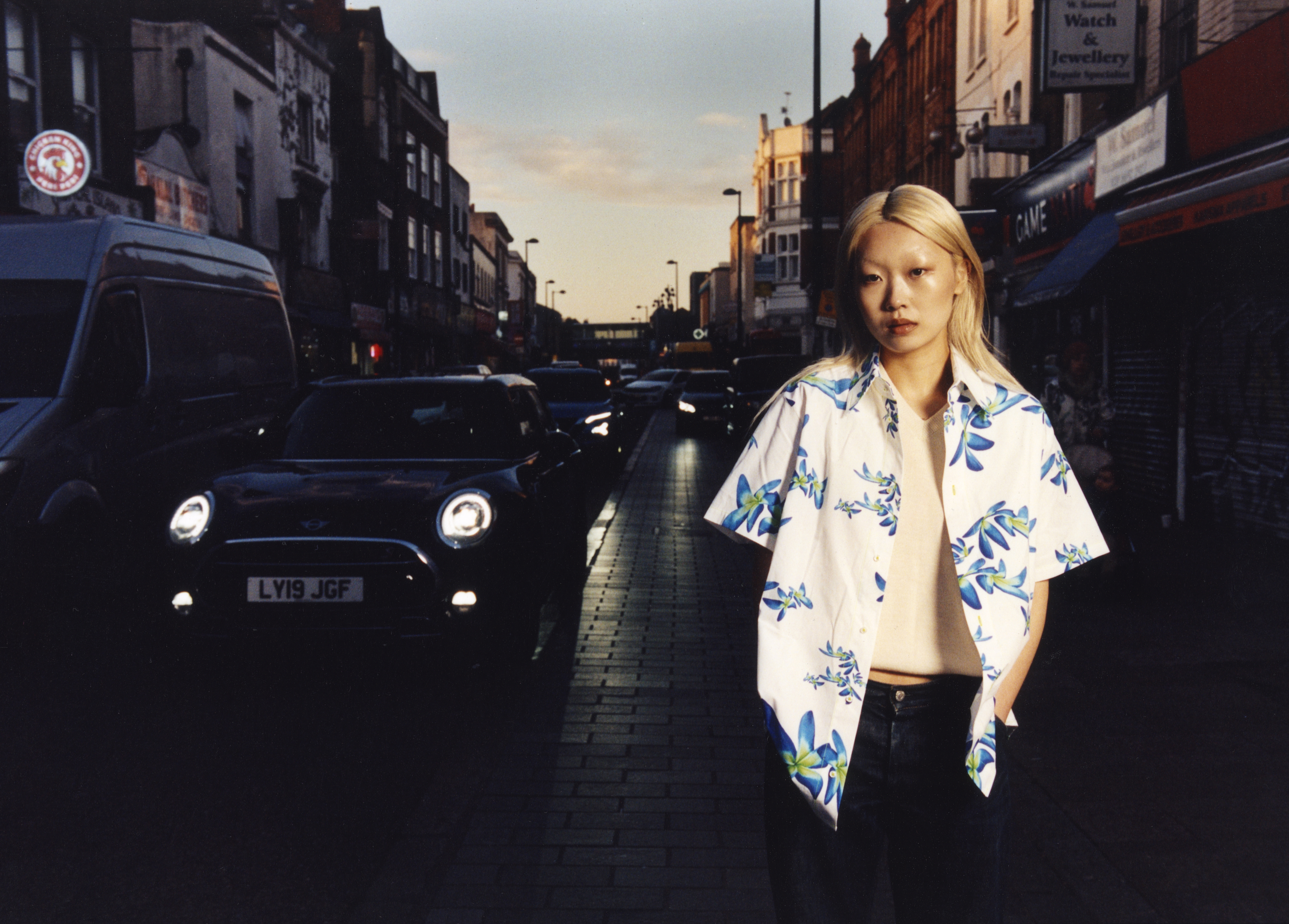 Hi Molly! Tell us a bit about yourself. How did you first start designing clothes? And what first drew you to it?
Hello! I'm Molly, often known as Dolly, and I'm a designer in London. From the get-go I was into drawing and creating. Throughout my education, that naturally progressed into design. Both my parents were creative and making things was just always part of my life when growing up. My sister's a musician and my brother's a dancer so there must be something in the genes!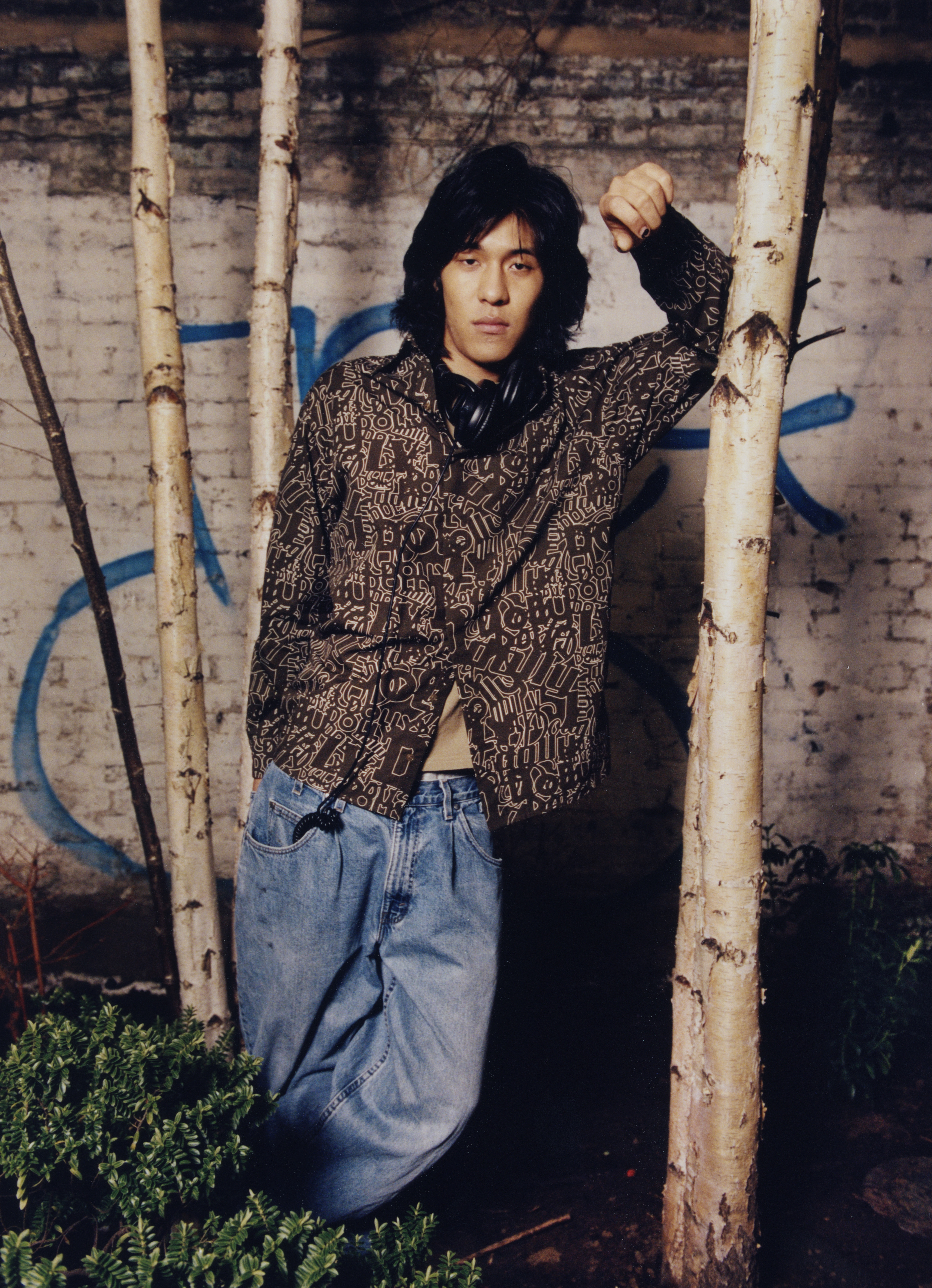 What would you say encapsulates your design aesthetic?
I've always been hugely inspired by sport and old-school surf/ beach brands. The energy is amazing and I like the comparison of garish graphics mixed with clean functional wear. My design is led by a feeling of ease and vibrancy. I like to think of how things layer together — wearing multiple allover prints at once is when I feel most myself. The clothes should enhance your mood and mobility.
How would you introduce this collection? What was the jumping-off point for it?
The collection is hyper-graphic visuals meeting everyday apparel. It's always been about placing these high-energy graphics onto simplistic staples that would be integrated into people's day to day living. The pieces had been forming over a few years, I think launching it at Dover Street earlier this year was the final push it needed to bring it all together as a collection.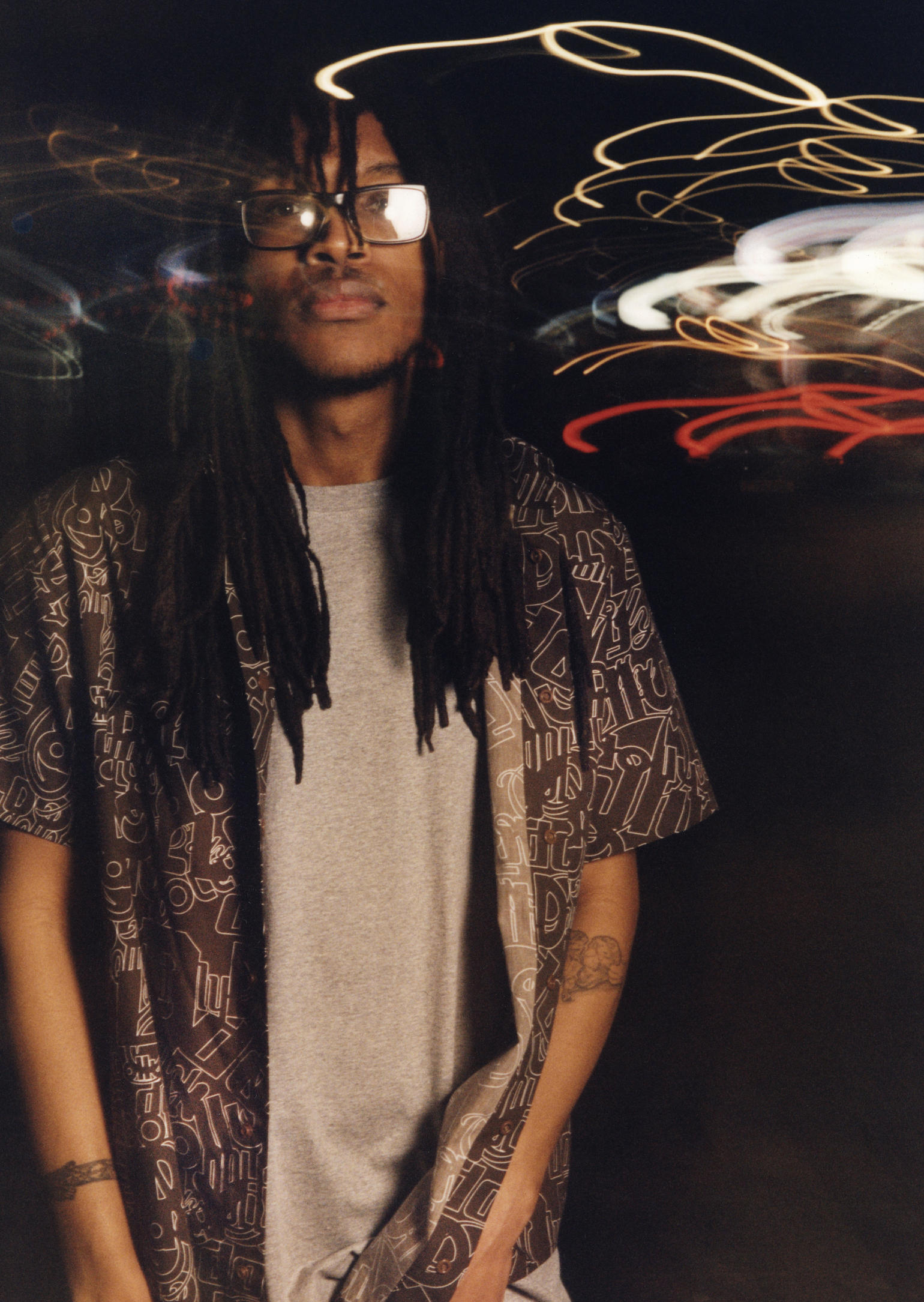 What was the concept behind the shoot you did with Francis?
It's funny because before this shoot, most photos I used had just been taken on my iPhone — I wanted to create a set of images to round up this collection and put it in the hands of people I aesthetically trust. Images that resonate with me and feel most true to the brand are always very unplanned. In the past, I've got friends to put a shirt on for five minutes, we run around taking photos on my phone and that's it. So when it came to creating something more planned it was essential that the feeling stayed the same. Unposed and very relaxed.
Although the clothing is heavily inspired by beach culture, it's important and interesting to show it in the city environment. Showing the cross over from nature to metropolis.
What is it about his photographic style that you particularly admire?
Francis has an amazing way of capturing movement — even if the subject is still, there will be something happening in the background. Whether it's car lights, people walking… I never want an image to feel still and Fran naturally includes movement in his photos. His style is also very timeless.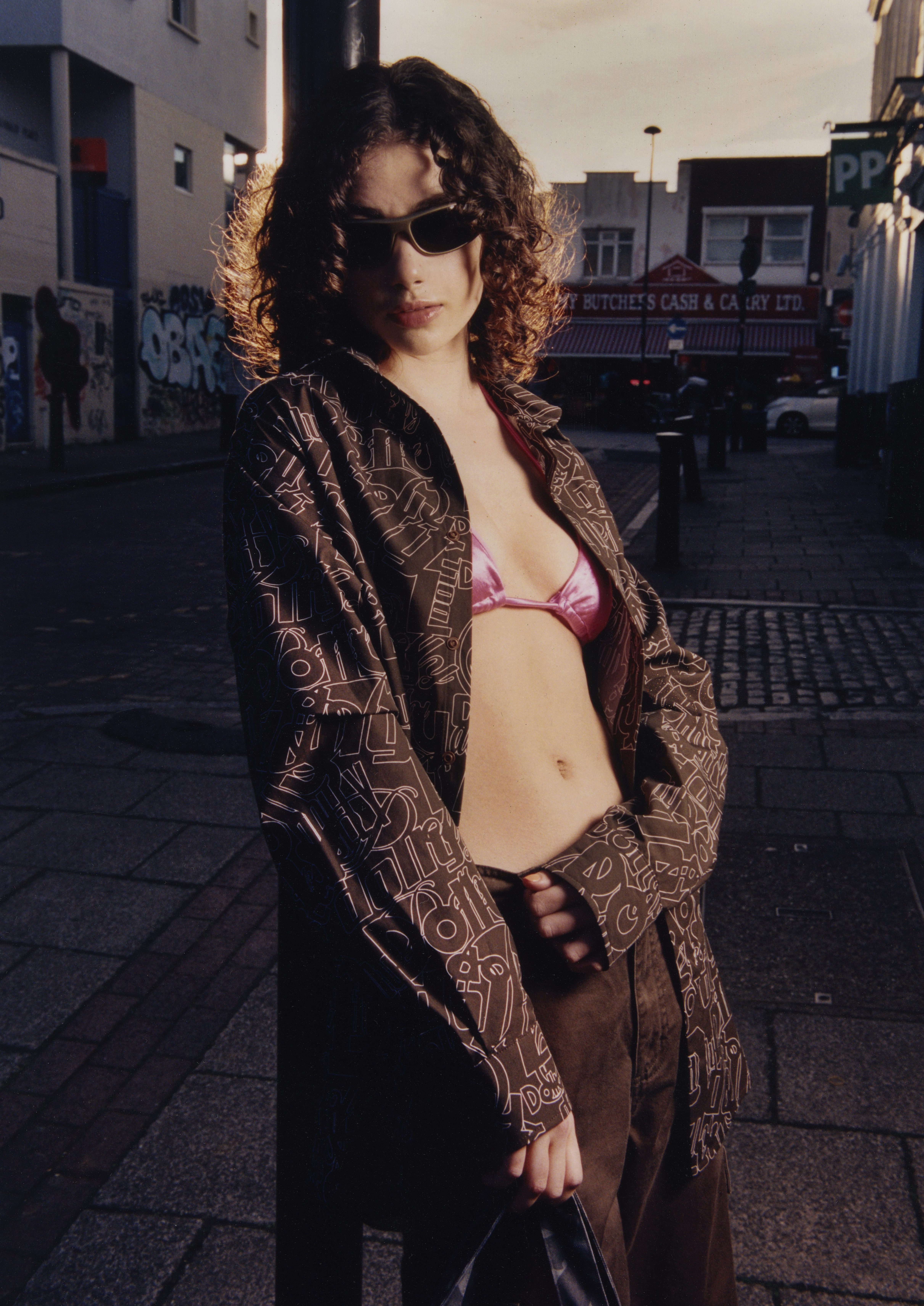 What pieces are you wearing to the beach?
The lime long sleeve shirt and the dolphin camo basketball shorts. The shirt becomes almost luminous in the sun and the shorts are super comfy/great for wearing over a bikini.
What's your favourite classic British beachside treat?
Scampi, chips and mushy peas with a can of coke is soooooo banging.
Where can we get our hands on a piece?
dolly.website and Dover Street Market!