Photo by Ron Galella, Ltd./Ron Galella Collection via Getty Images, WILD AT HEART, Nicolas Cage, 1990, © Samuel Goldwyn/courtesy Everett Collection and Ron Davis/Getty Images
7 of Nicolas Cage's most iconic outfits
From 90s airport style icon to ultimate leather daddy, the actor's looks are as varied — and enigmatic — as his movie roles.
Photo by Ron Galella, Ltd./Ron Galella Collection via Getty Images, WILD AT HEART, Nicolas Cage, 1990, © Samuel Goldwyn/courtesy Everett Collection and Ron Davis/Getty Images
Nicolas Cage undoubtedly has one of the most eclectic careers in Hollywood. From cult classic thriller Face/Off to the bonkers Disney action-adventure National Treasure to the unexpectedly emotional Pig (about a man who loses his truffle-hunting pig), the actor has a plethora of roles under his belt that have been consistently surprising.
Both on and off screen, Nic has also served up a range of looks. And as with his acting, he isn't afraid to take fashion risks. You can't talk about leather daddies without mentioning Nic — his leather jackets and trousers are part of his personal brand. He's been sporting them since the early days of his career, contributing to some of the most iconic looks in 90s Hollywood. On screen, he has worn snakeskin suits, golden jackets and white vests that unashamedly show off his chest hair. Nic has a style that is somehow both chaotic and cohesive — just like the man himself. To coincide with the release of his new movie The Unbearable Weight of Massive Talent, in which Nicolas Cage plays… Nicolas Cage (yes, you've read that right) we've rounded up the actor's most iconic outfits.
In Wild At Heart, 1990
Wild at Heart is as weird and wonderful as you'd expect a David Lynch and Nicolas Cage collaboration. Nic plays Sailor Ripley, a man on the run with Laura Dern's Lula (who looks equally as iconic in a range of tiny black and pink outfits, bottle-blonde hair and dark eyebrows). In one memorable scene, an unnamed character tells him he looks like an idiot, to which Sailor replies, "This is a snakeskin jacket! And for me it's a symbol of my individuality and my belief in personal freedom." The line is probably delivered with incredible passion because the actor chose the jacket himself.
In Peggy Sue Got Married, 1986
In one of Francis Ford Coppola's lesser known movies, Nic (who is the nephew of the director) appears as Charlie Bodell, the husband and childhood sweetheart of the titular Peggy Sue, played by Kathleen Turner. Probably the most memorable aspects of Charlie are the vocal fry and false teeth that Nic adopted as part of the role (which Kathleen later admitted she found annoying) — second only to the gold jacket and musical note print shirt that he wears. Finished off with a gold tie pin and a golden quiff, this is a fun, campy look that stands out in the lineup of Cage's on-screen appearances.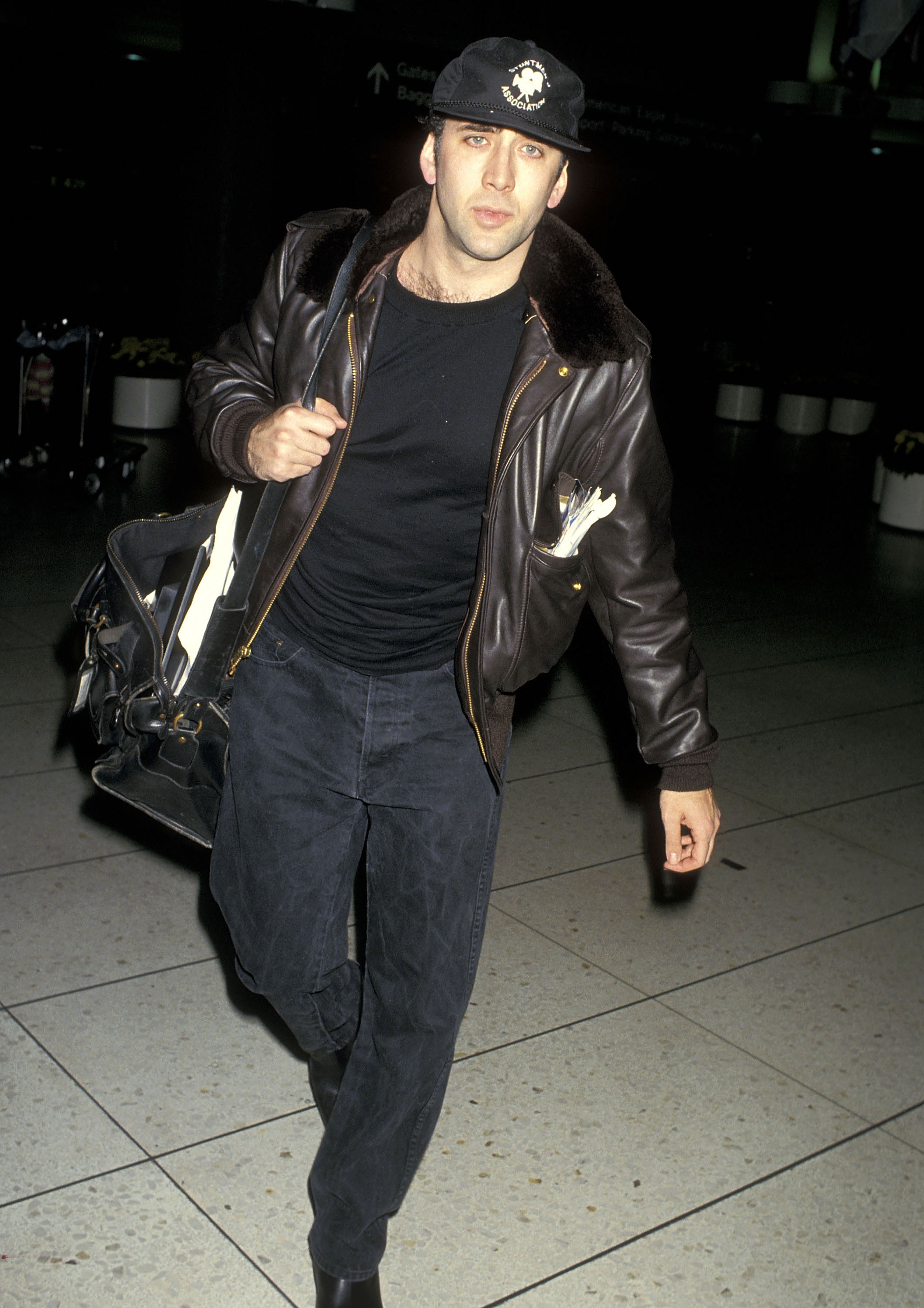 At LAX, 1993
If there is one thing you can rely on Nicolas Cage for, it's a leather look. This particular airport outfit is quintessential Cage, as well as being an example of how off-duty 90s outfits are timelessly chic. An all black T-shirt and jeans pairing is topped off by a soft, unstructured leather jacket with a fur collar, and the leather holdall and black cap make it extra casual. Arguably, the real star of the show here is the chest hair peeking out.
In Moonstruck, 1987
Speaking of his chest hair, it practically had a starring role in 1987 rom-com Moonstruck. Perhaps better known for Cher's infamous "Snap out of it!" line, the film also features Nic in what's arguably one of his best roles, the lovelorn baker Ronny Cammareri. An Italian-American Vietnam vet, he has a fiery demeanour that makes for some thrilling scenes. In one, he's wearing a white vest, making bread and screaming about how much he hates his brother.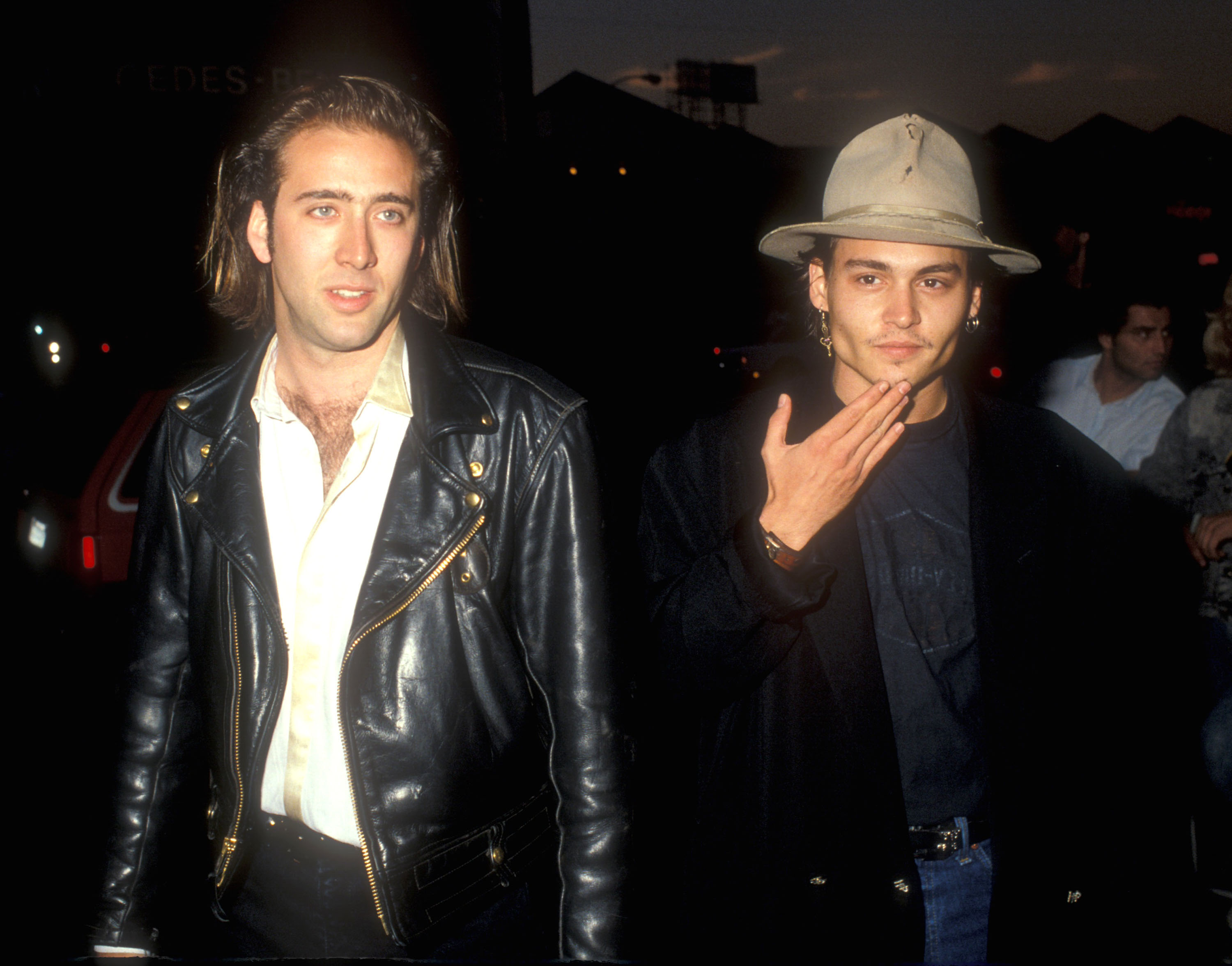 Decline of Civilisation Part Two: The Metal Years premiere, 1988
In a New York Times interview, Nic claims that it was he who convinced Johnny Depp to become an actor. The two have been longtime friends, and used to play Monopoly together before Nic sent Johnny to meet with his agent, resulting in his first role in A Nightmare on Elm Street. Here, the pair are pictured exactly how you'd expect them to look at the 1988 premiere of the heavy metal scene documentary Decline of Civilisation Part Two: The Metal Years. Johnny has his trademark hat and earring combo on, while Nic is, predictably, leather-clad and showing off his chest hair.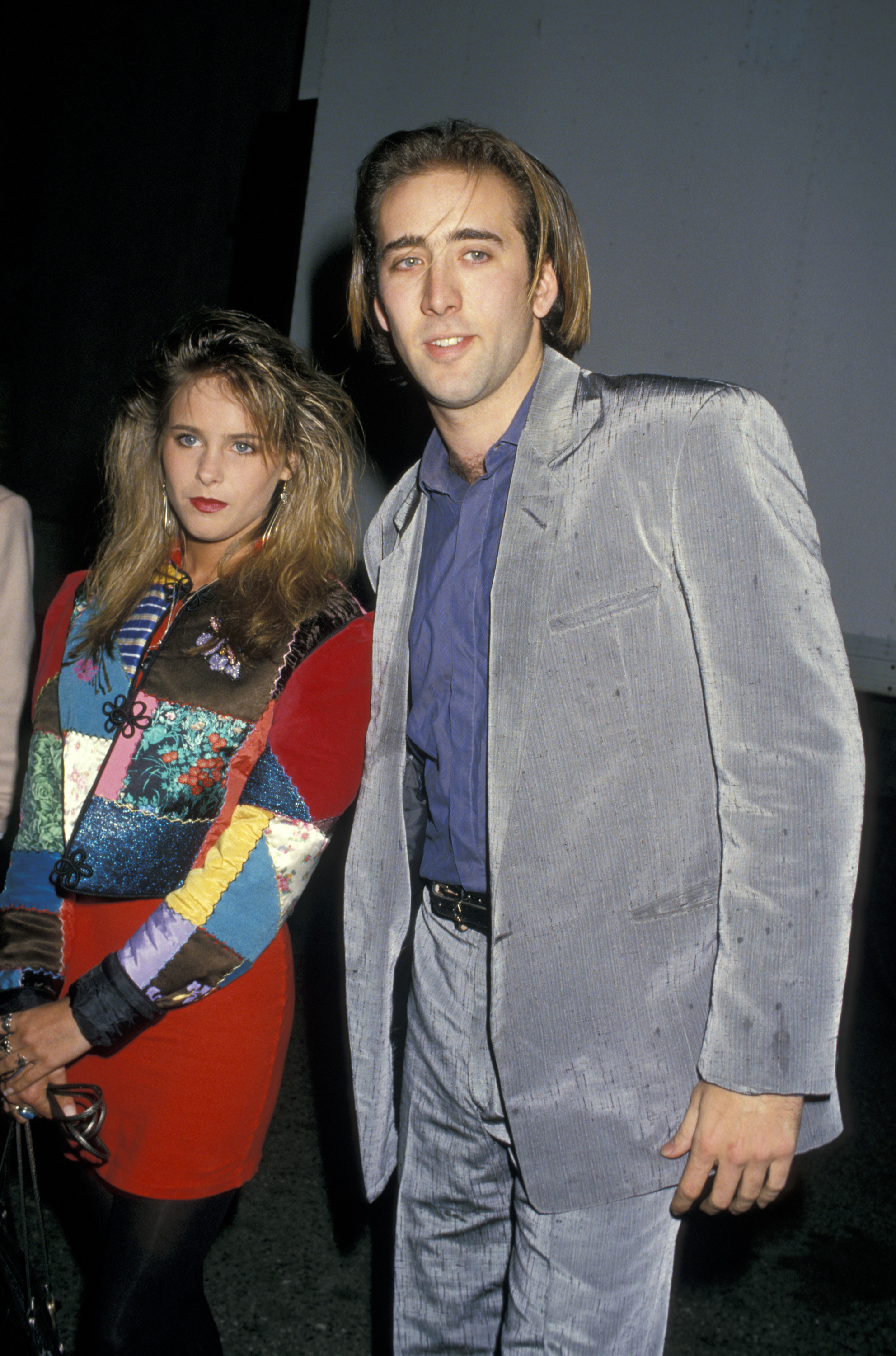 At the And God Created Woman Premiere, 1988
Another strong look from 1988, was when Nic appeared on the red carpet of the premiere for the largely forgotten film And God Created Woman with then-girlfriend Ami Dolenz. Departing from his trusty leather jacket, he opted instead for an all-blue suit (which is almost exactly the same shade as his eyes) with a darker blue shirt, open at the collar. He and Ami look so 80s that it's an immediately iconic pairing, especially with their matching blonde highlights.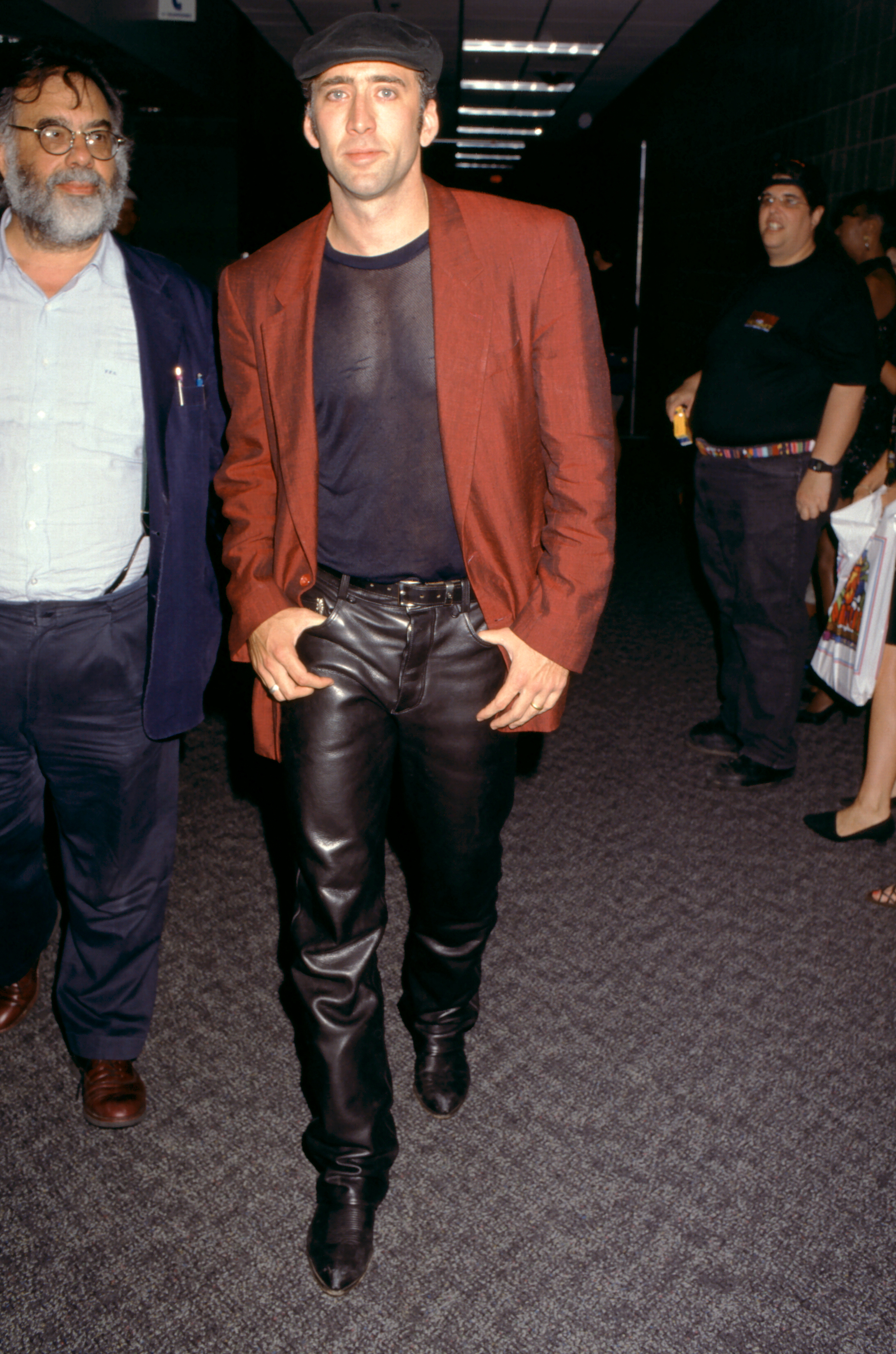 In Las Vegas, 1995
Attending the Mike Tyson and Peter McNeeley fight in Vegas, the actor wore maybe the most 90s outfit you could ever imagine. A red satin boxy-fit jacket, a sheer top, leather trousers and a flat cap should theoretically be a hideous combination but somehow, he pulls it off. It could be because he's carrying the look with a confident, thumbs-hooked-in-pockets pose, or it could be because the whole thing is so incredibly Nicolas Cage. Either way, this surely stands out as one of his best ever.
Tagged: