Photo by Alain BENAINOUS/Gamma-Rapho via Getty Images
9 of the Spice Girls' most iconic fashion moments
To celebrate 25 years of their debut album 'SPICE', we revisit the best looks from the 90s style legends and ask, was Geri the original e-girl?
|
03 November 2021, 4:37pm
Photo by Alain BENAINOUS/Gamma-Rapho via Getty Images
At the peak of their fame in the mid- to late-90s, the Spice Girls were everywhere. You'd turn on the radio and hear them, turn on the TV and see their music videos, interviews, commercials and movie trailers. You could even find them on your drinks can or crisp packet. After their debut album SPICE rocketed them to international success in 1996, the five-strong British pop group released books about girl power, launched television channels, and leant their names and faces to fragrances, Barbies, trading cards, clothes and merchandise galore. And while yes, the music was (and still is) addictive, the group's sense of fashion was just as integral to their unshakeably powerful brand.
The Spice Girls wore looks that were, at first, an extension of their personal style, but which quickly evolved into near-caricatures of themselves brought about by their nicknames. Mel C (Sporty) was at home in tracksuits and trainers; Mel B (Scary) favoured animal print; Emma (Baby) wore pigtails and cutesy pink dresses; Geri (Ginger) was the sexy, fiery one and Victoria (Posh) kept it chic in all black. What we're trying to say is that there have been a lot of truly iconic solo fashion performances from the group. These include, but are not limited to: the time that Mel B appeared on the cover of i-D in a barely there chain top in 1997; when Mel C followed in her footsteps with a tiny fringe in 1999; or when Victoria Beckham popped up in 2004 and then again in 2012.
Instead, then, we've gone for a selection of stunning fashion moments in which all five members of Spice Girls are both present and iconic.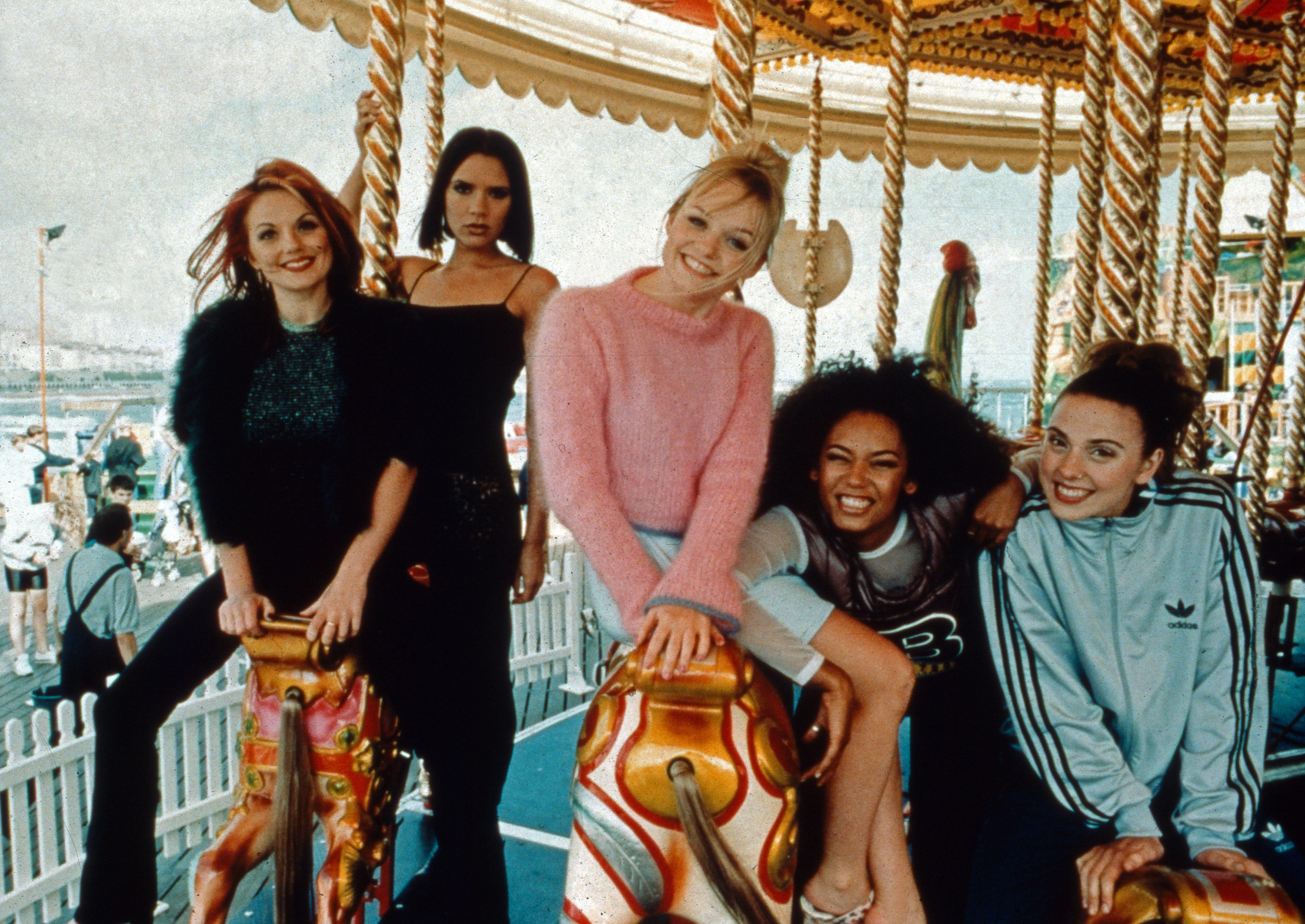 1. On Brighton Pier for their first ever shoot, August 1996
In the late summer of 1996, Francesca Sorrenti, the matriarch of the photographer family, shot a then-little known group called the Spice Girls on Brighton Pier. "Fun times!" whoever runs the group's official Instagram account captioned the throwback. "On a carousel in Brighton… our first ever photoshoot!" They had their signature styles down from the start — Emma's pink knit and baby blue skirt is cute af; Victoria's black strappy top reads 'serious about fashion' and Mel B's mesh sleeves are gloriously 90s.
2. In the music video for "Say You'll Be There", September 1996
Deep in California's Mojave Desert, the Spice Girls embraced alter-egos and throwing stars in the video for "Say You'll Be There", the harmonica solo-boasting second single from their debut album. There's no clear narrative to this veritable action movie but there are nods to Russ Meyer's 1965 film Faster, Pussycat! Kill! Kill! in which a group of beautiful women with great cars target unsuspecting men in a similarly sandy locale. There are, as you'd expect, some killer looks here: Vicky B in a latex catsuit, Emma's baby blue gloves, Geri's sky high hair and thigh-high leather boots; Mel C's sports bra and Mel B's leopard bustier. Phew! No wonder it won British Video of the Year at the 1997 BRIT Awards.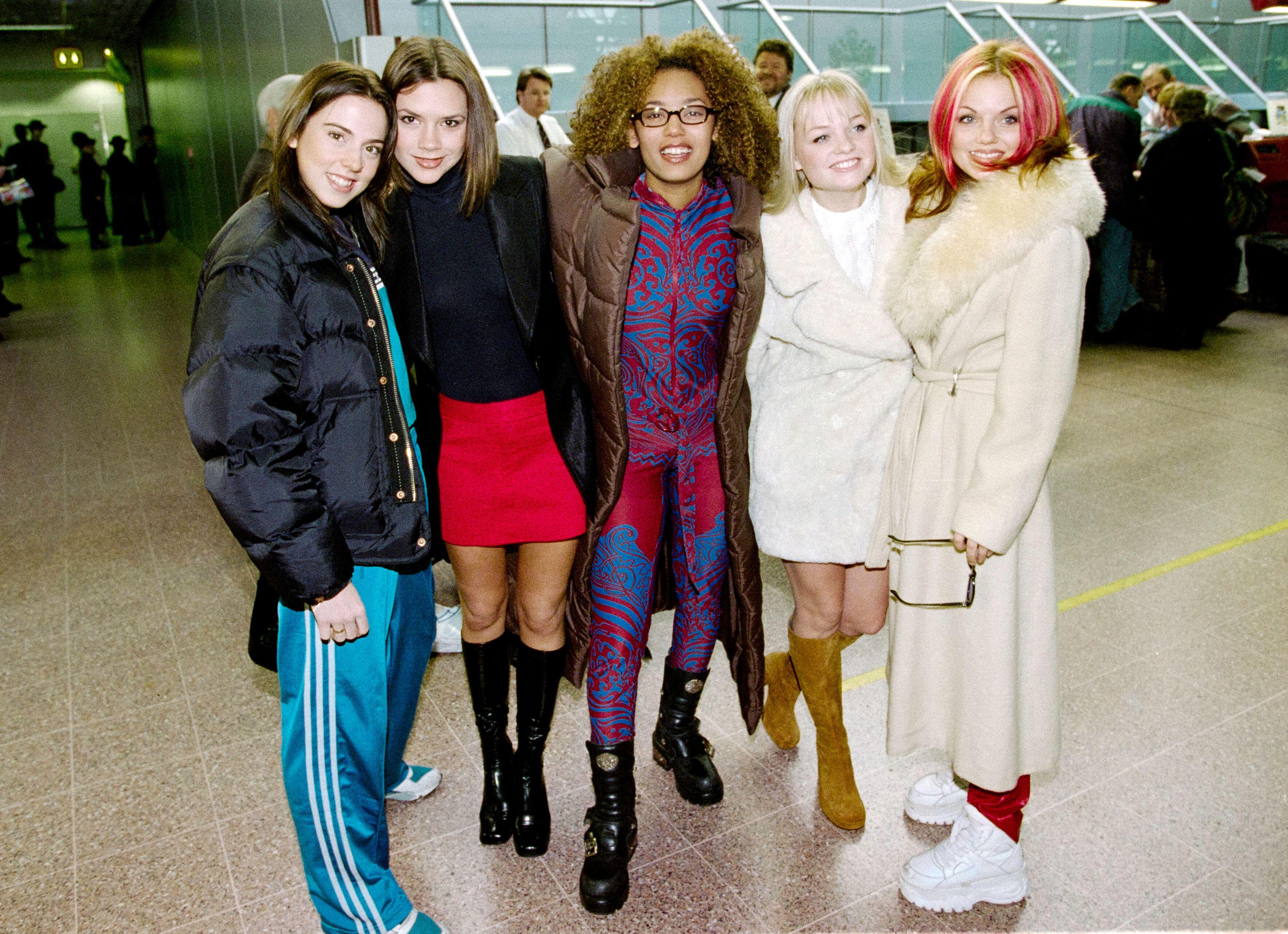 3. Serving looks at London's Heathrow Airport, November 1996
What's your go-to flight outfit? Surely nothing as iconic as the looks in this snap of the girls at Heathrow Airport. Sporty's Adidas tracksuit and puffer jacket are pure 90s, as is Victoria's patent boots, mini skirt and leather jacket combo. Mel B's bold two-tone catsuit is attention-grabbing enough for us to notice that it later makes a brief appearance in Spice World: The Movie, while Emma and Geri cosy up in cream coats. And it's Geri that we're really obsessed with here: those Buffalo platforms and that hint of red trouser coordinates with her bright red face-framing highlights, now beloved by E-girls everywhere.
4. Visiting AOL HQ in New York, March 1997
This is an important cultural document: the biggest popstars of the decade photographed visiting one of the companies responsible for blessing America with dial-up internet. There to have a "web chat" with Spice Girls fans (AOL had just launched AIM, one of the first instant messenger services and one quickly embraced by teens everywhere), the girls gathered around a huge boxy desktop computer in their signature looks. Mel B in a leopard print two-piece and rectangular wire-framed glasses; Emma in a pink minidress and gold BABY necklace; Mel C in a tracksuit; Geri in glitter hotpants and Victoria wearing all black. Nailed it.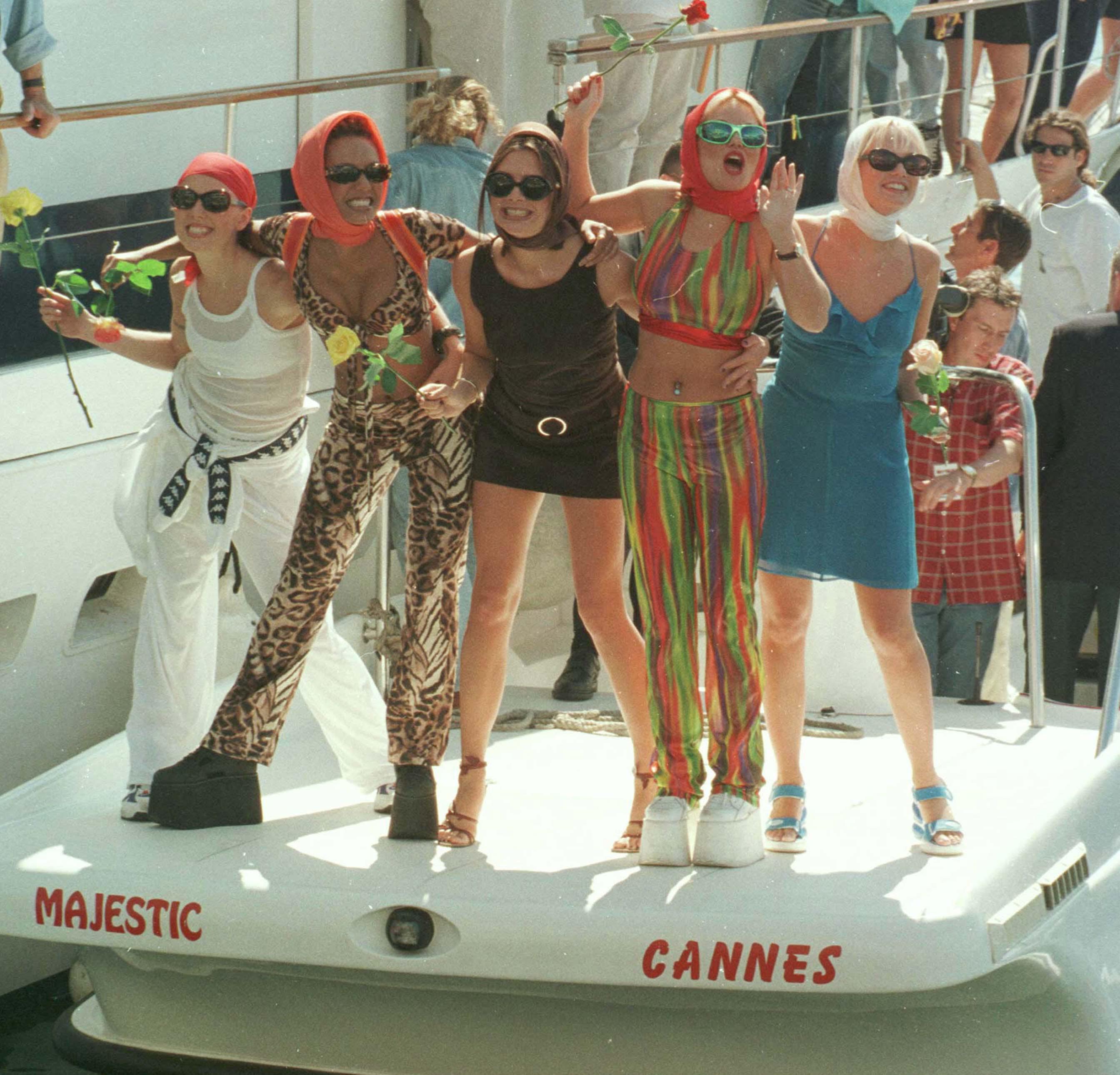 5. At Cannes Film Festival, May 1997
It's your friendly neighbourhood Spice Girls, living it up in the South of France. Down for a certain film festival, when setting sail on the Majestic Cannes, the girls embraced old school glamour but made it their own -- pairing Hepburn-esque headscarves and sunnies with classic Spice Girl attire. The reason they were there at all? They had a press conference to announce their foray into acting with Spice World. "It's gonna properly show the world what we're like," Mel B told journalists. "It's a parody of ourselves," Geri then clarified. "We're taking the mickey out of ourselves."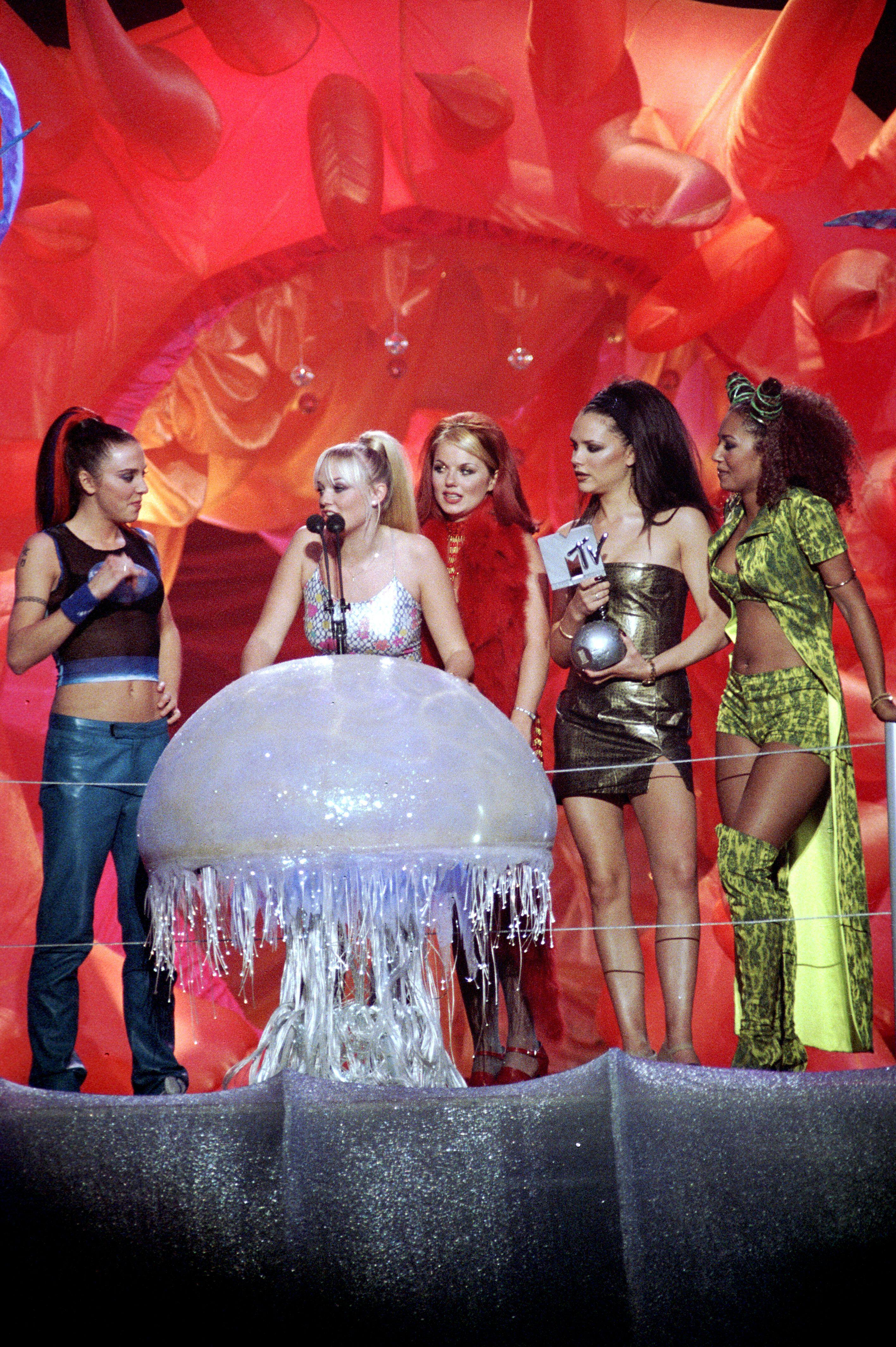 6. Accepting an award at the MTV Europe Awards, November 1997
We're not entirely sure what the set theme was that year… under the sea? Magic mushrooms? Either way, The Spice Girls sure looked great up there collecting their award for Best Group, having beaten Oasis, Radiohead, The Prodigy and U2. That night they were also nominated for Breakthrough Artist, Best Dance Group and MTV Select Artist; and performed "Spice Up Your Life" as part of a line-up that included Björk and Backstreet Boys. They don't make awards shows like that anymore.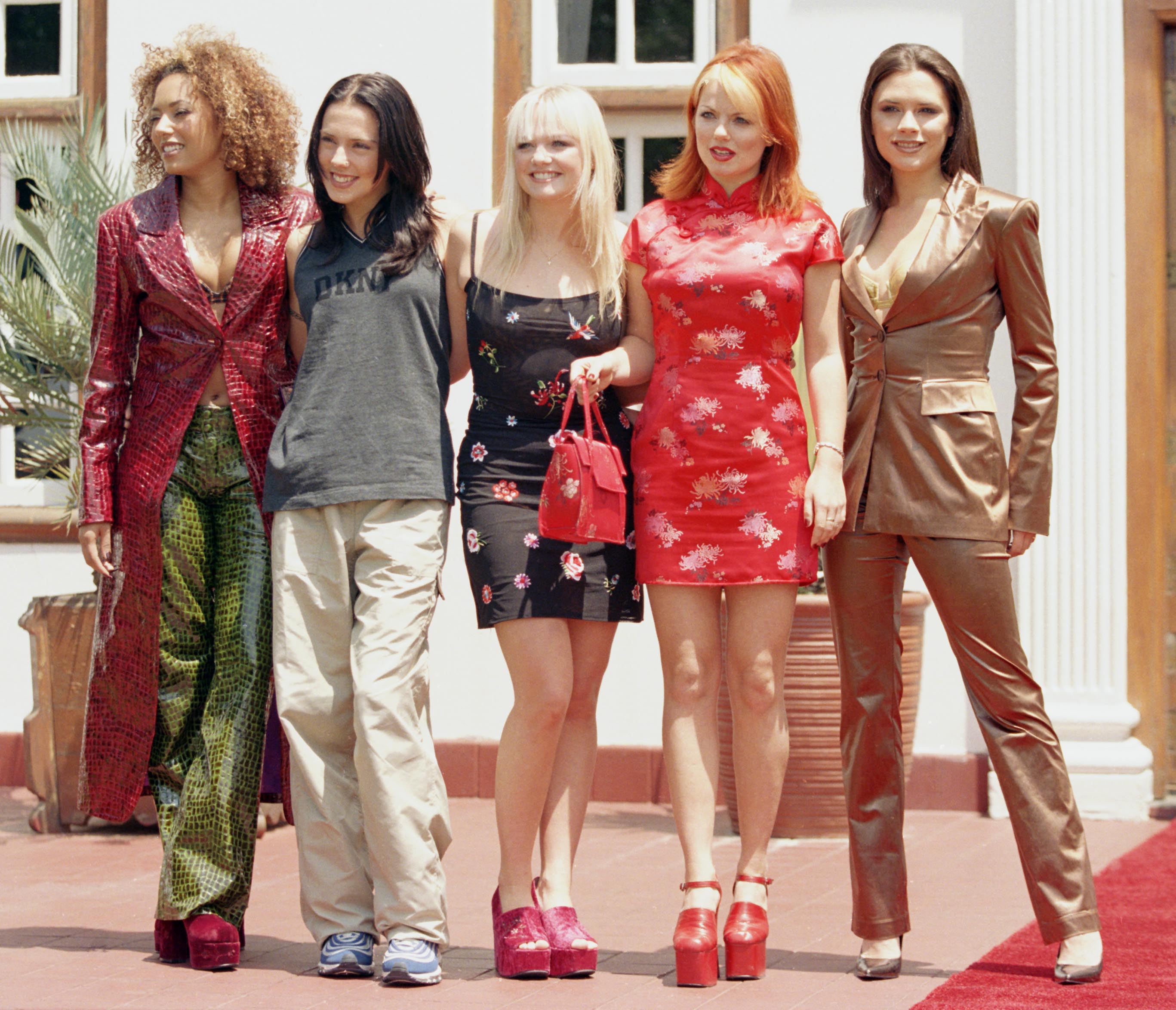 7. Visiting Nelson Mandela in South Africa, October 1997
As part of his royal duties, just two months after the death of Diana, Prince Charles visited Nelson Mandela at his residence in Pretoria. You know who he invited along for the ride? Only the Spice Girls, who were in town for a charity concert. Post-gig, the bizarre supergroup faced reporters outside chez Mandela to show off their mock-croc suits (Mel B) and qipao mini dress (Geri) while dropping some, shall we say, unexpected comments. "These are my heroes," an almost 80-year-old Mandela said, gesturing to the Spice Girls. "It's one of the greatest moments of my life." Right up there with being South Africa's first Black president, winning the Nobel Peace Prize, and, you know, ending apartheid.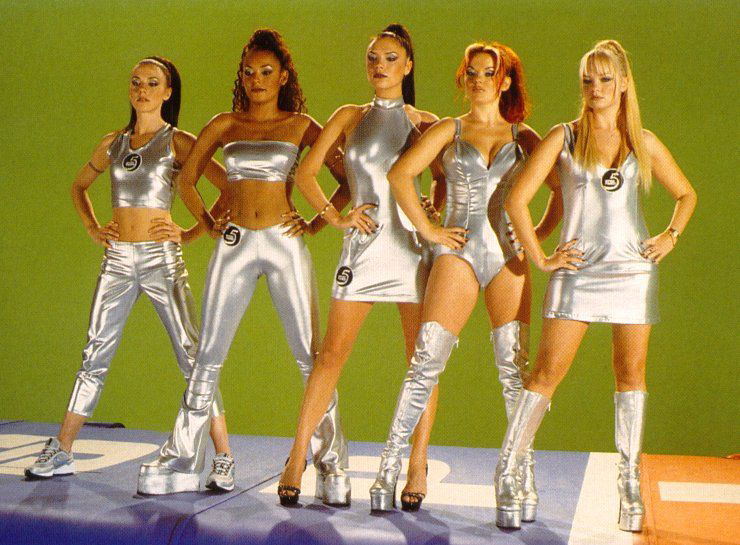 8. In Spice World, January 1998
The Spice Girls movie is basically a non-stop fashion show. Throughout the film — which follows them around London in a confusingly large double decker 'spice bus' — the group dress up as each other, their future selves, in full bootcamp camo, and more. Our personal highlight? When they momentarily play out the roles of the Spice Force Five (a very definite reference to Pulp Fiction's Fox Force Five), the deadly assassins at the heart of a film being pitched to their manager, played by Richard E. Grant. In futuristic silver lamé, their looks were tailor-made to suit their characters.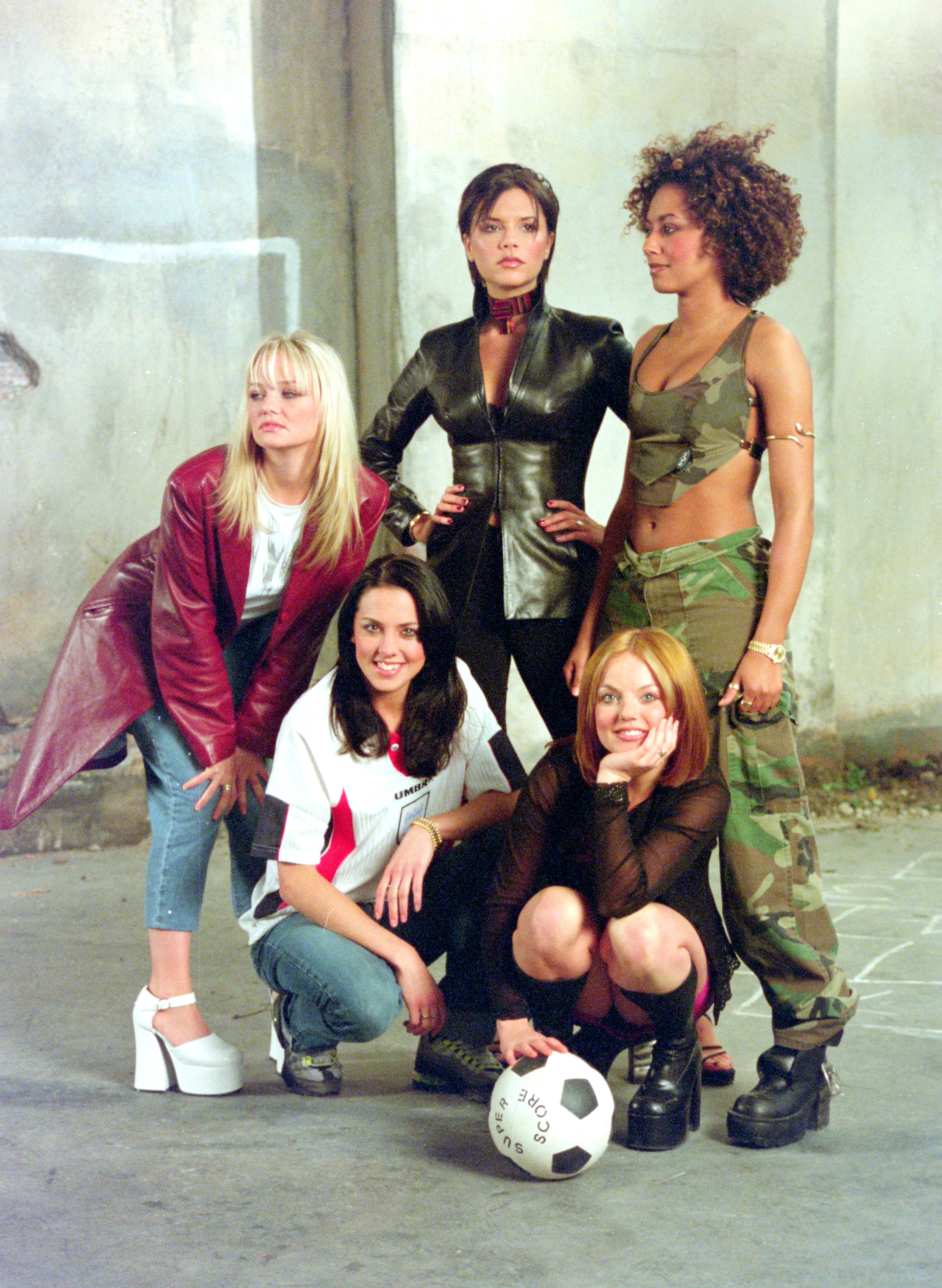 9. Embracing the beautiful game, June 1998
Foolishly believing that football did indeed stand a chance of coming home, the Spice Girls joined forces with Echo and the Bunnymen (thanks Donnie Darko!), Ocean Colour Scene and Space to become England United, the supergroup behind the official England theme for 1998's World Cup. "(How Does It Feel to Be) On Top of the World" was certainly no "Vindaloo" or "Three Lions" but it did manage to hit the top 10 of the UK charts. Any excuse for Sporty to get her England shirt out though, hey! Mel B's look in this promo pic is giving very much Destiny's Child "Survivor" and we're so incredibly here for that.

Follow i-D on Instagram and TikTok for more fashion.