Images courtesy of Off-White
What will Off-White look like without Virgil Abloh?
His last collection – which included couture worn by Naomi Campbell and Cindy Crawford – celebrated how Off-White shifted fashion's course forever.
Images courtesy of Off-White
Since the sudden, tragic passing of Virgil Abloh towards the end of last year, tributes to the creative legacy of one of fashion's most singular voices has been paid by way of two deeply moving Louis Vuitton shows. The first took place in Miami, just two days after the announcement of his death, with the second hosted in Paris during the city's men's fashion week in January – and it was in them that Virgil's final collections for the Parisian maison were shown. Last night in Paris, it was the turn of Off-White – the house that Virgil built from the ground up – to present the final collection he designed.
Given the nature and significance of the occasion, you might have expected a shadow of solemnity to have loomed over the event. Sure, there was a distinct seriousness to the attendees – a distinct sense of purpose to their attendance – the two collections that were presented around a giant chandelier installed at the heart of the Palais Brogniart were imbued with a sense of forward-looking celebration. They nodded to Virgil's unspeakably powerful contribution to fashion history, and looked to the future with the same wide-eyed wonder that coloured his perspective.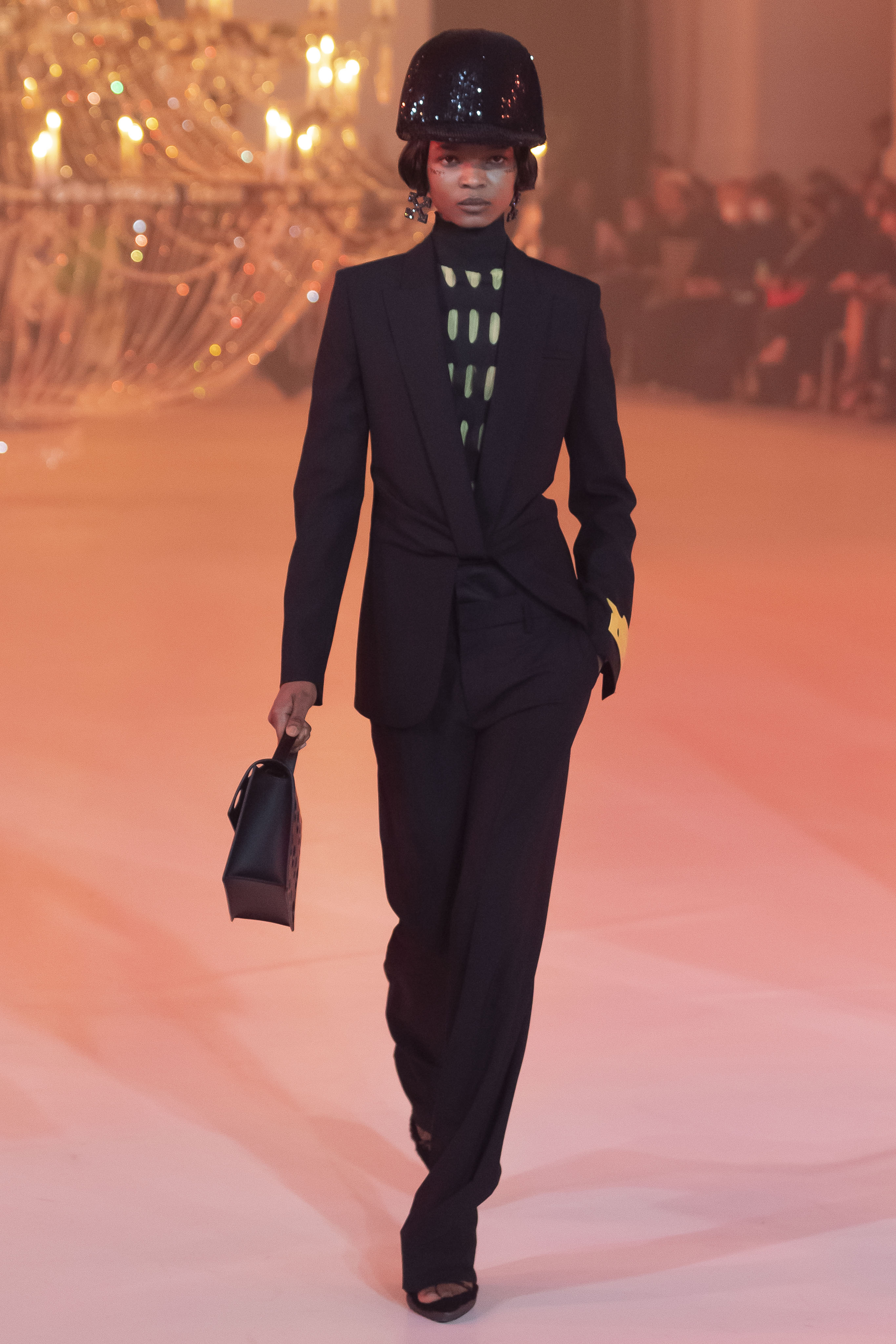 Even before arriving at the show space, that sense of optimism made itself strongly felt in the invitation to the show – titled "Spaceship Earth" – a blue time-capsule-cum-safe that came with instructions not to be opened until 3030, in which a metal space-shuttle ticket could be found. Rather than to a far-off planet, however, the voyage it invited us on was to Earth itself – an invitation to explore the foundational grammar of Virgil's design language, and the potential futures that could be built from it.
Both Off-White's AW22 womenswear collection – "Seeing Red" – and AW22 menswear collection – "Foreign Exchange" – were anchored in Virgil's zeal for sartorial détournement, tweaking and displacing familiar signifiers to reimagine them anew. Baseball caps were puffed up into glittering riding caps, taking up space at the unexpected overlap of the country club and the street corner; relaxed tailoring in midnight hues sat next to slinky, bias-cut cocktail slips and a printed bodycon mesh ensemble sported by a resplendent Serena Williams; overdyed mustard cropped shearling flight jackets and tactical vests bespoke both hardy utility and flamboyance, as did field backpacks in shaggy yellow faux furs and chunky bouclé knits.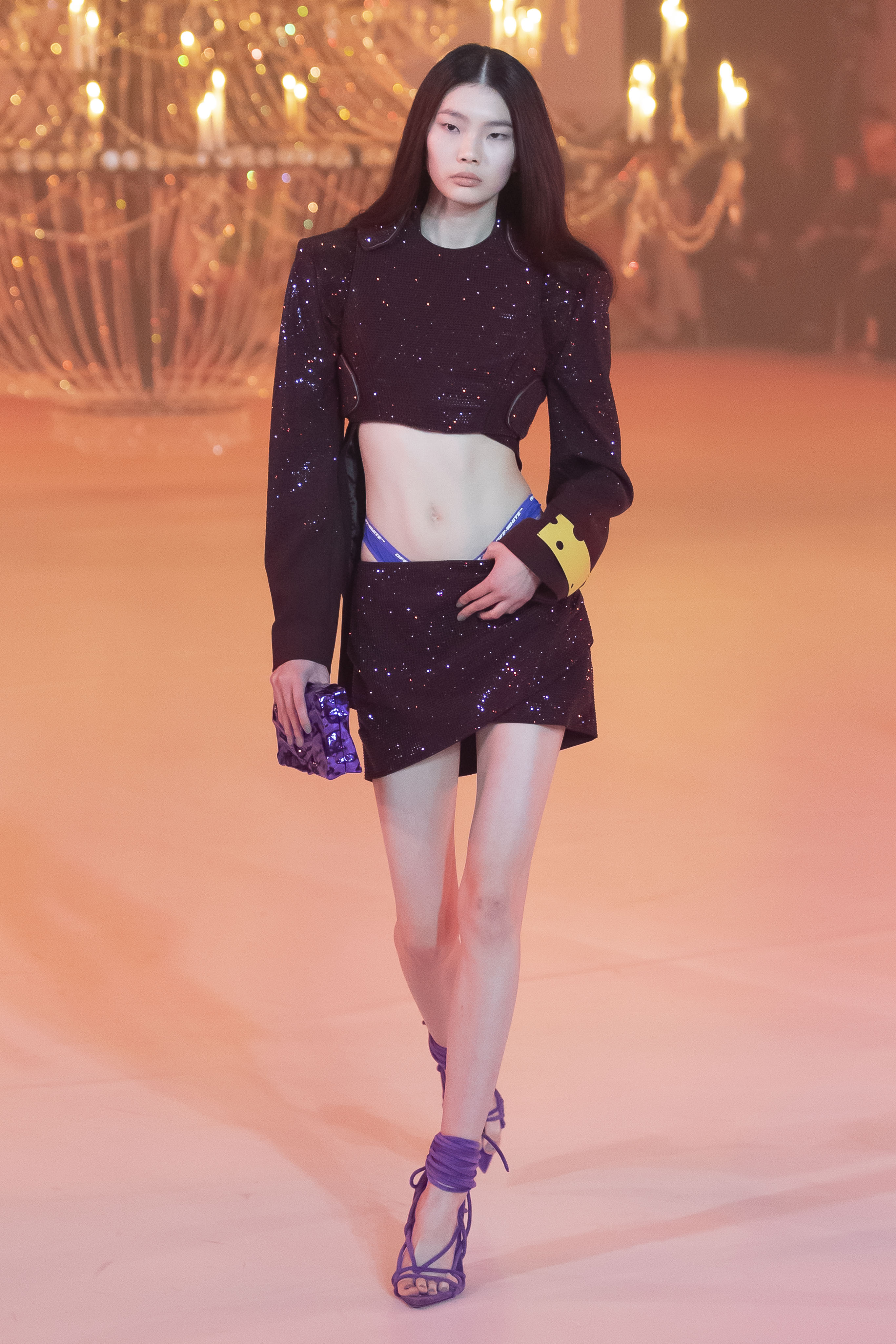 As a prefacing monologue by Pharrell implied – "Share the codes," his voice boomed, "the more of us that learn the codes, the stronger we are." – this was a body of work that revelled in the strategic melee of register – or code switching as it's known in linguistic terms, "a method used by people to endear them to social groups other than their own". Easy-wearing, casual silhouettes were given tailored backbone in formal wool plaids and bright wool tweeds, and the layman's practicality of cargo pants took on a peacockery timbre in buttery leather.
Where this ethos was most pronounced, though, was in the surprise 28-look collection that closed out the show: "> Than a Bride", Virgil's posthumous haute couture debut. A product of Virgil's self-proclaimed love and admiration for fashion's highest art form, this was the designer's design ideology at its zenith. "In what I think of as Off-White, it's native to wear jeans and a heel. It's native to wear sneakers and a skirt," a quote from the designer from 2019 read. "I'm not interested in doing hoodies and T-shirts. It's not compelling. What is compelling is the beauty of couture: the beauty of volume and fabric."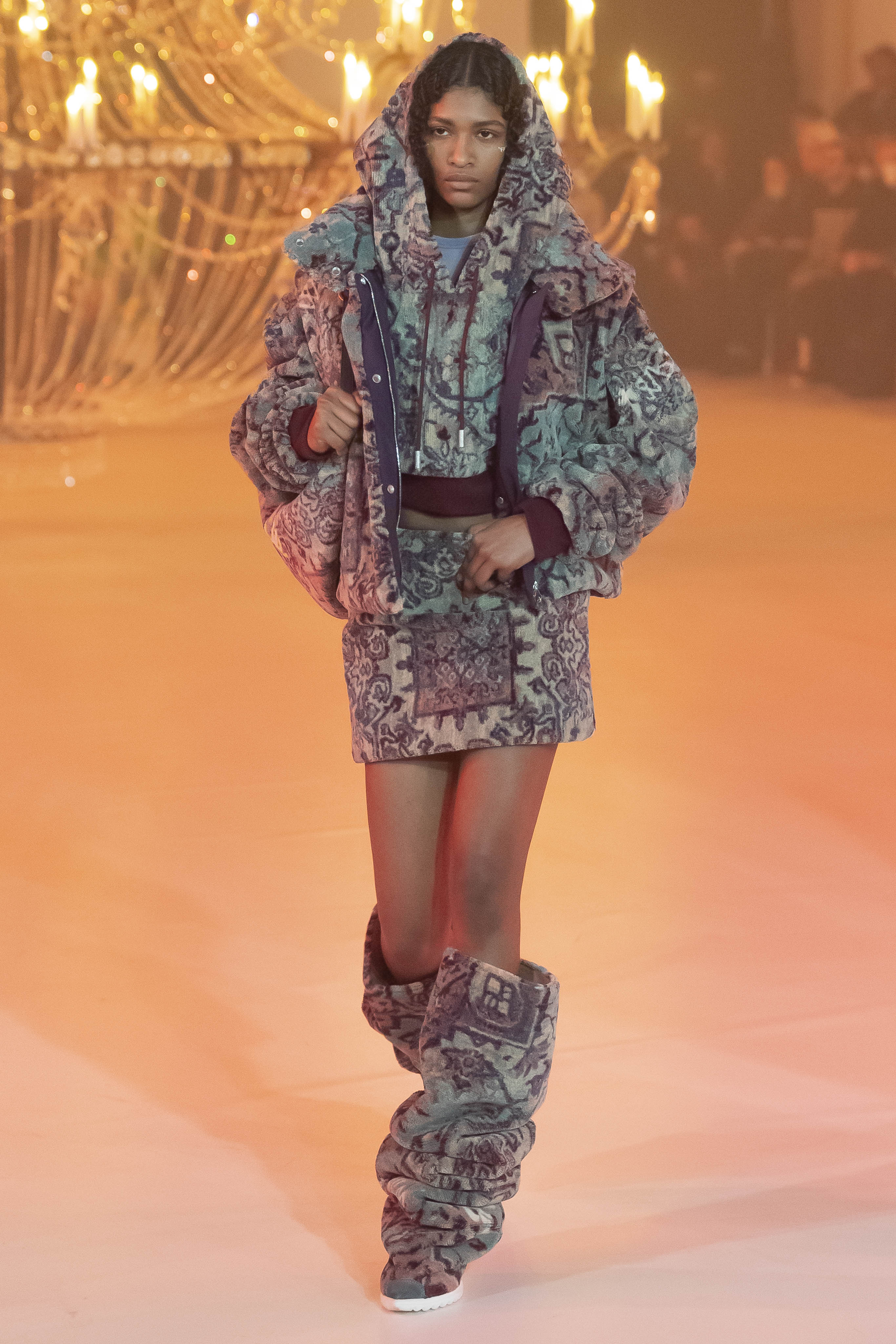 That there was in abundance, with a parade of rapturous gowns and exquisite tailoring fit for contemporary goddesses – and worn by the superest of models who are as close to that as us mere mortals can get. New-gen supers like Bella Hadid, Adut Akech and Kaia Gerber respectively took to the runway in a sweetheart-line bridal gown styled with a baseball cap and veil, a jewel-encrusted bodice that puffed out into cascades of finely pleated silk mousseline, and a giant silk moiré peplum cocktail dress – styled with a canary yellow t-shirt printed with the word 'POP". What really sent audience members' jaws dropping, however, was the appearance of the latter's mother, Cindy Crawford, in a patchwork t-shirt and layered chiffon skirt; Naomi Campbell in inky crushed velvet trousers, a bonnet hat and a smoking jacket-tailcoat hybrid; Amber Valletta in a sequin-spangled spaghetti strap halter gown; and, to close, Debra Shaw in a hulking pyramidal skirt compose of meringue clumps of chiffon.
The ensemble of their appearances, as well as the clothes themselves, spoke to the kernel of Virgil Abloh's genius – to the essence of how he recalibrated how we all understand both the craft of dressmaking, and fashion as a cultural artefact. In drawing upon and recontextualising fashion's history – seeing it as a cabinet of readymades ripe for redeployment – he unlocked an inexhaustible repertoire of newness. That is what has secured – and will fuel – Off-White's future for years to come.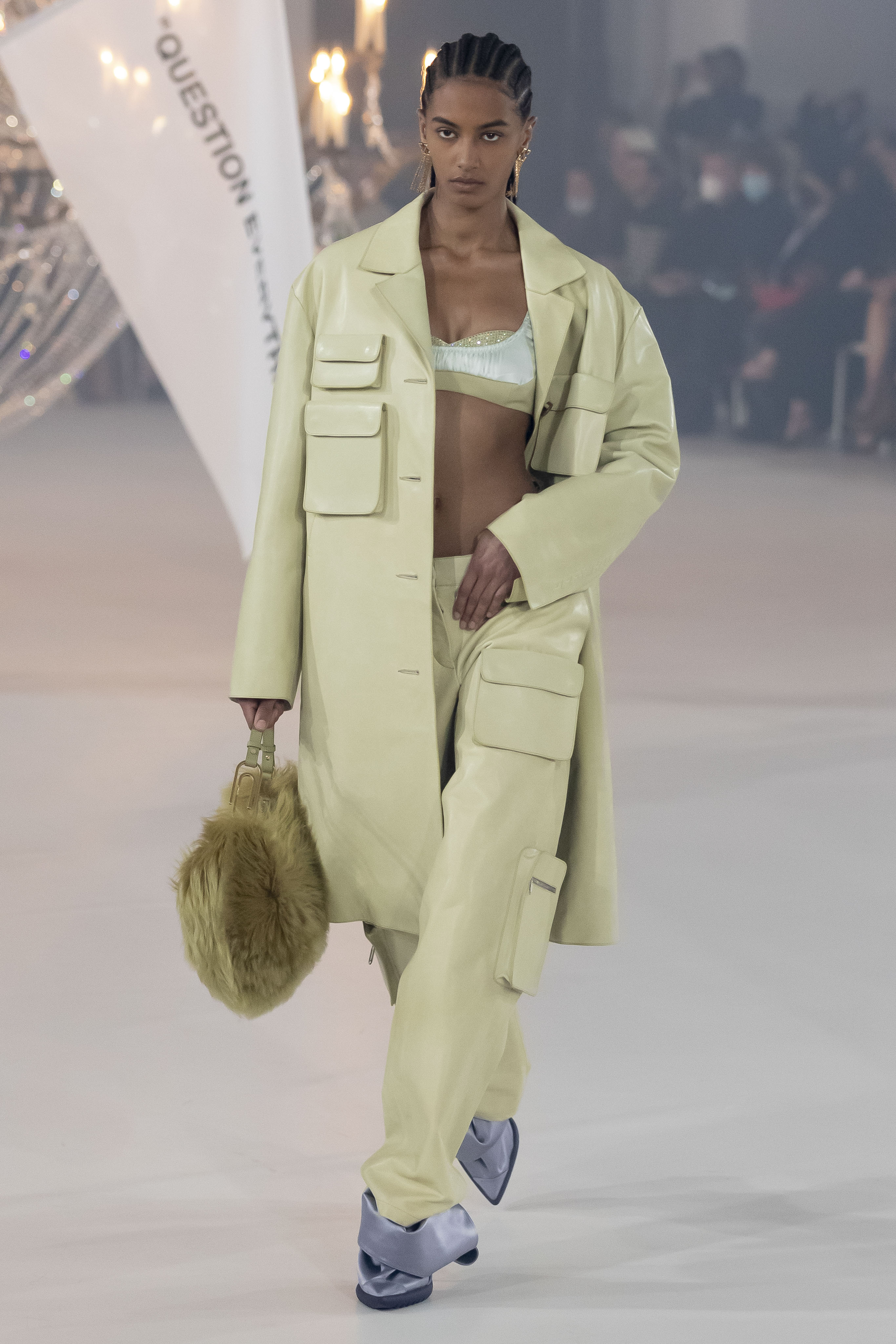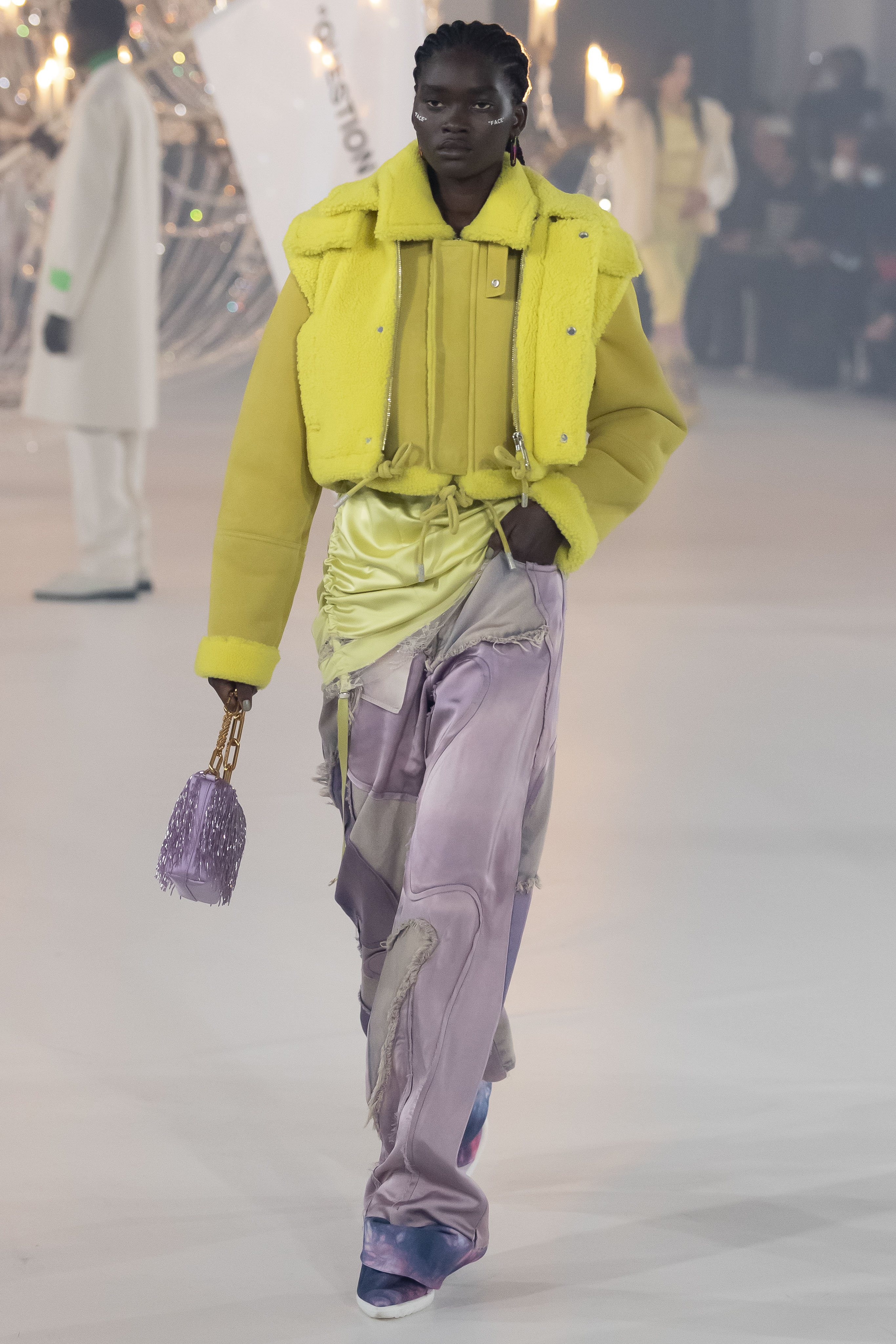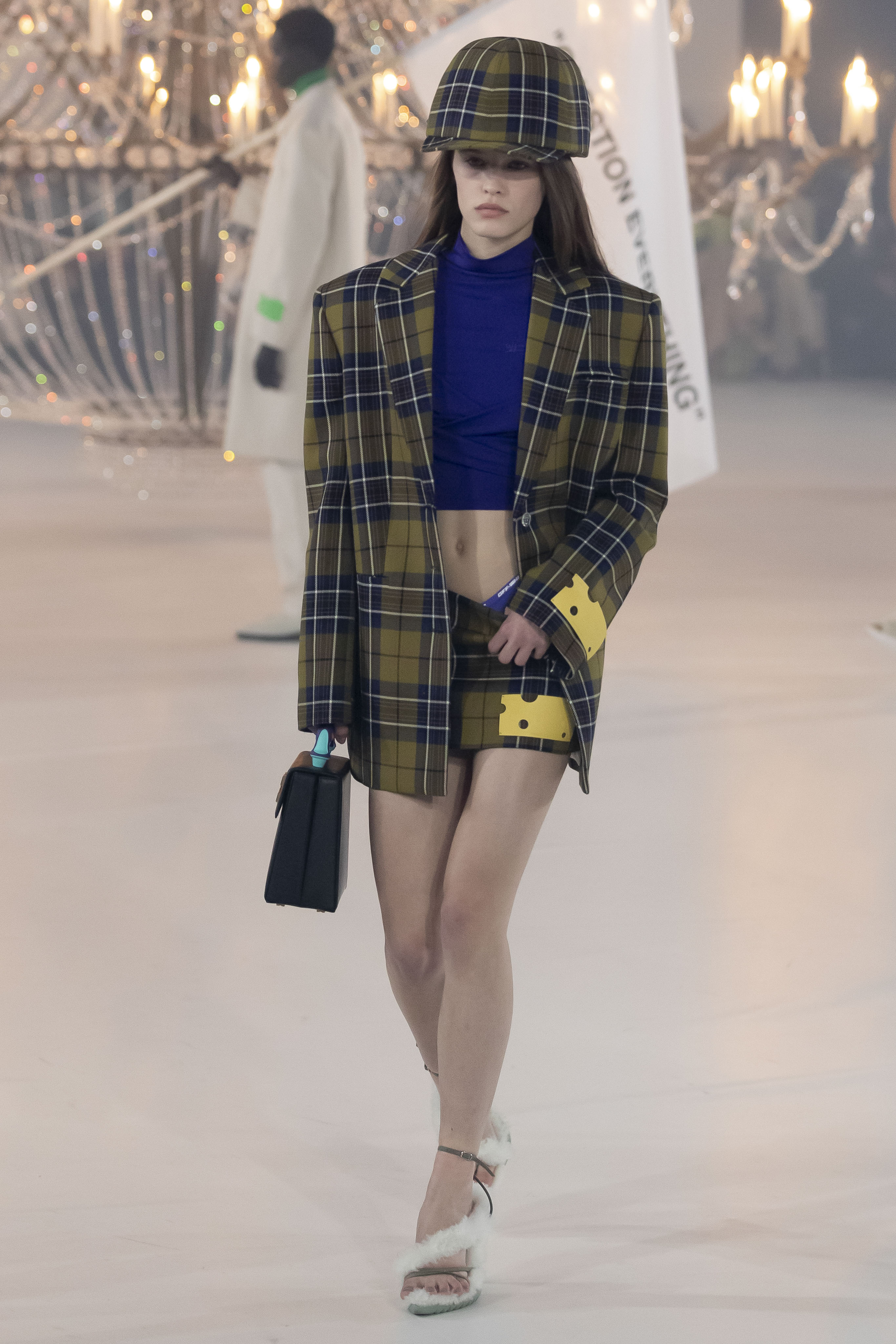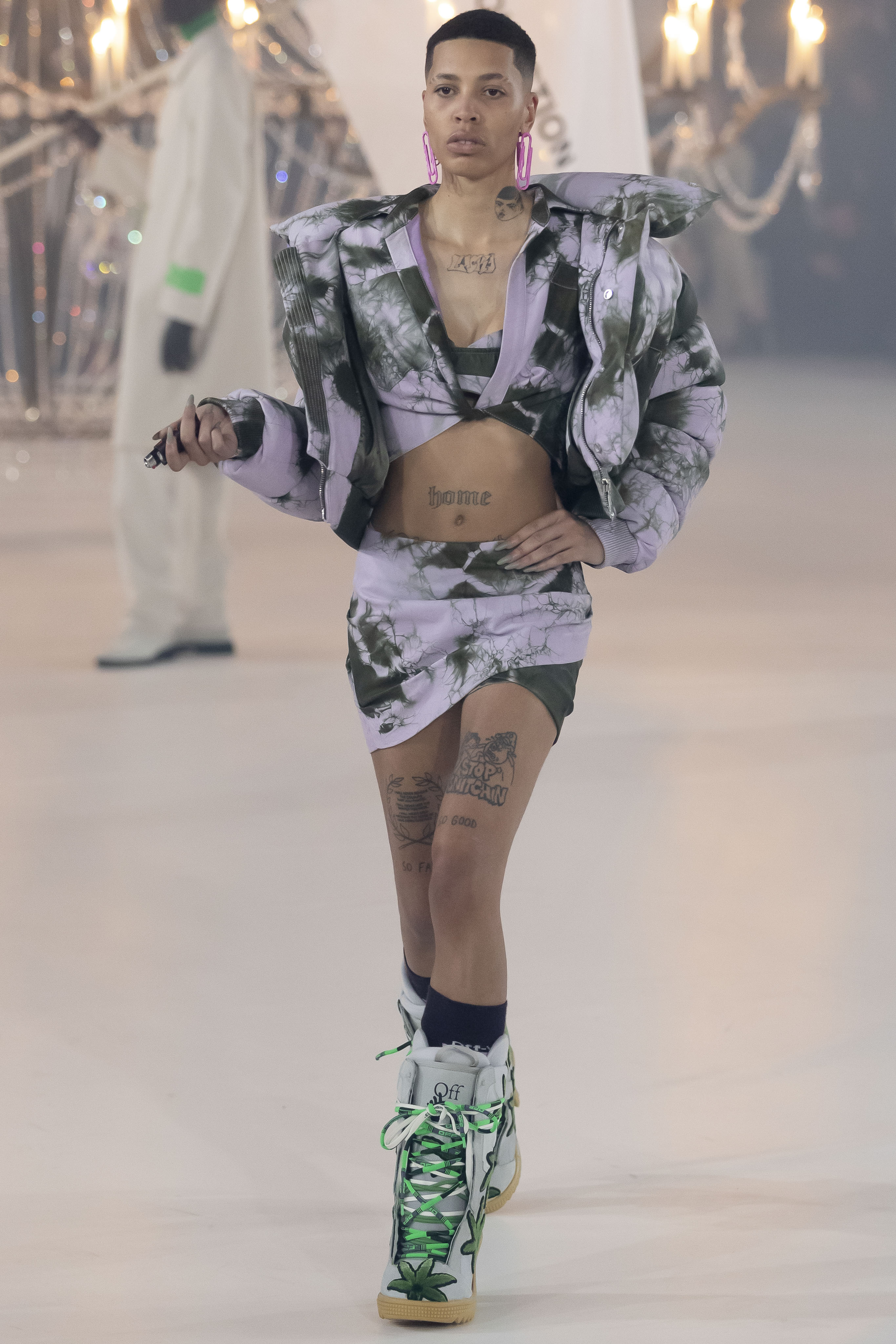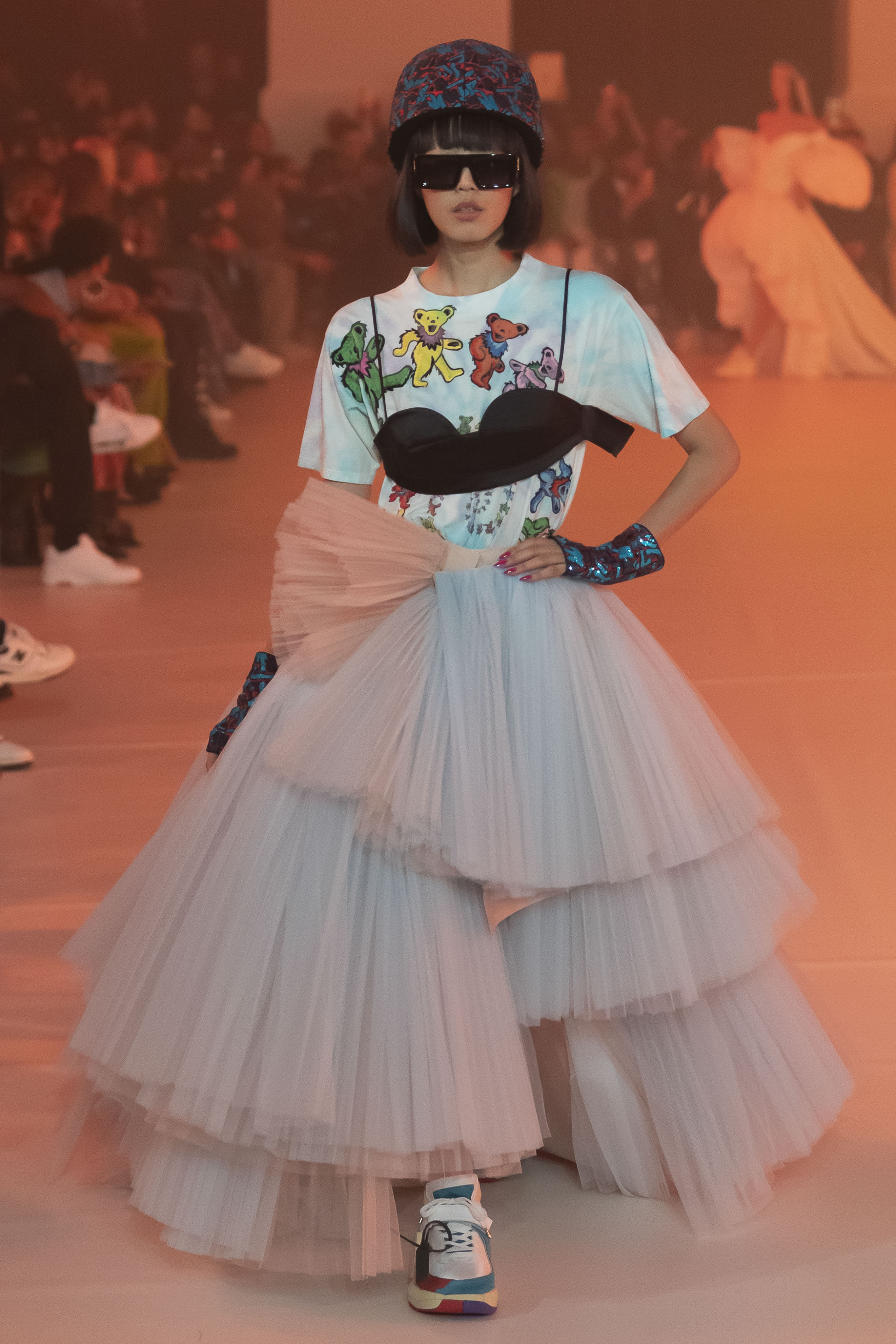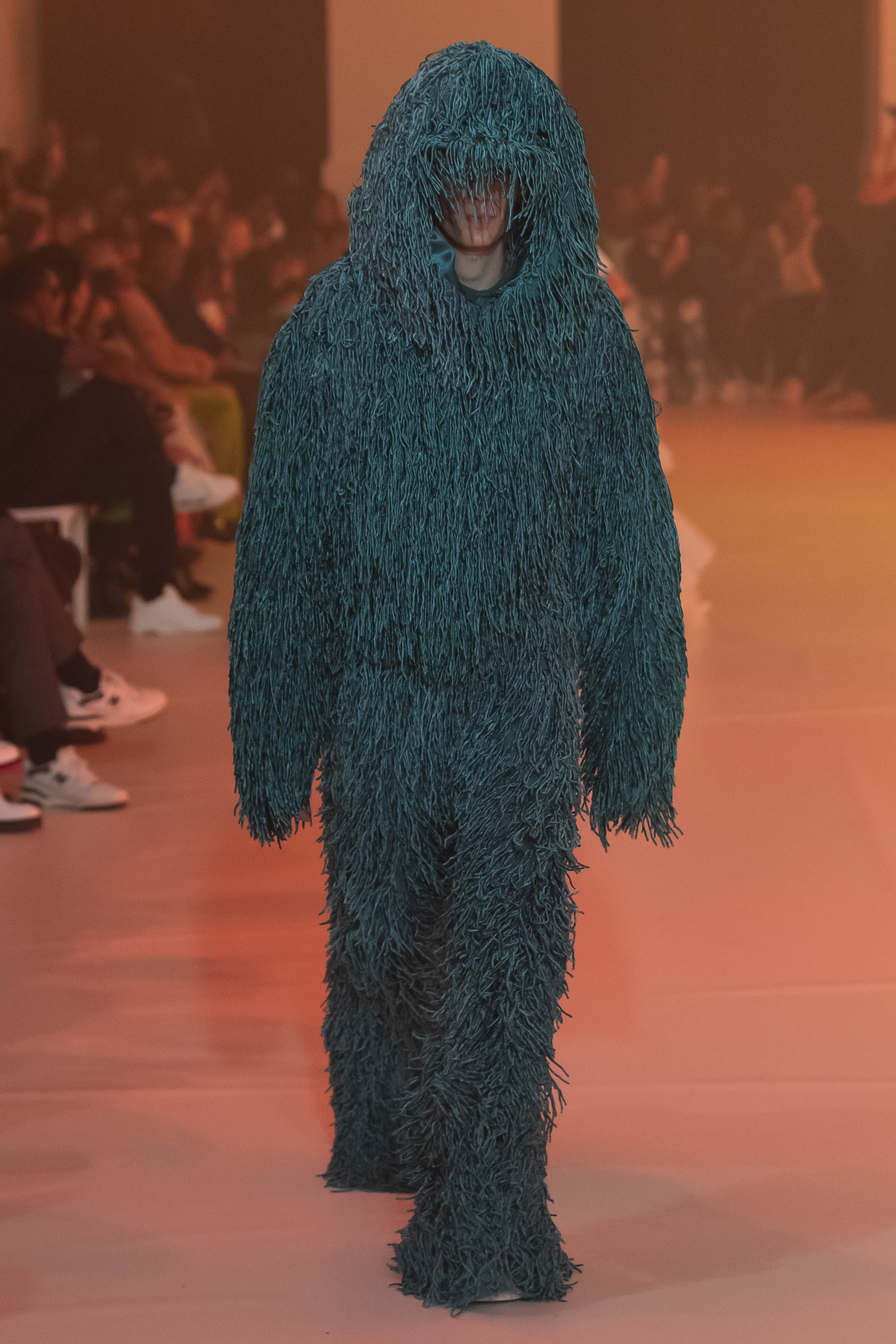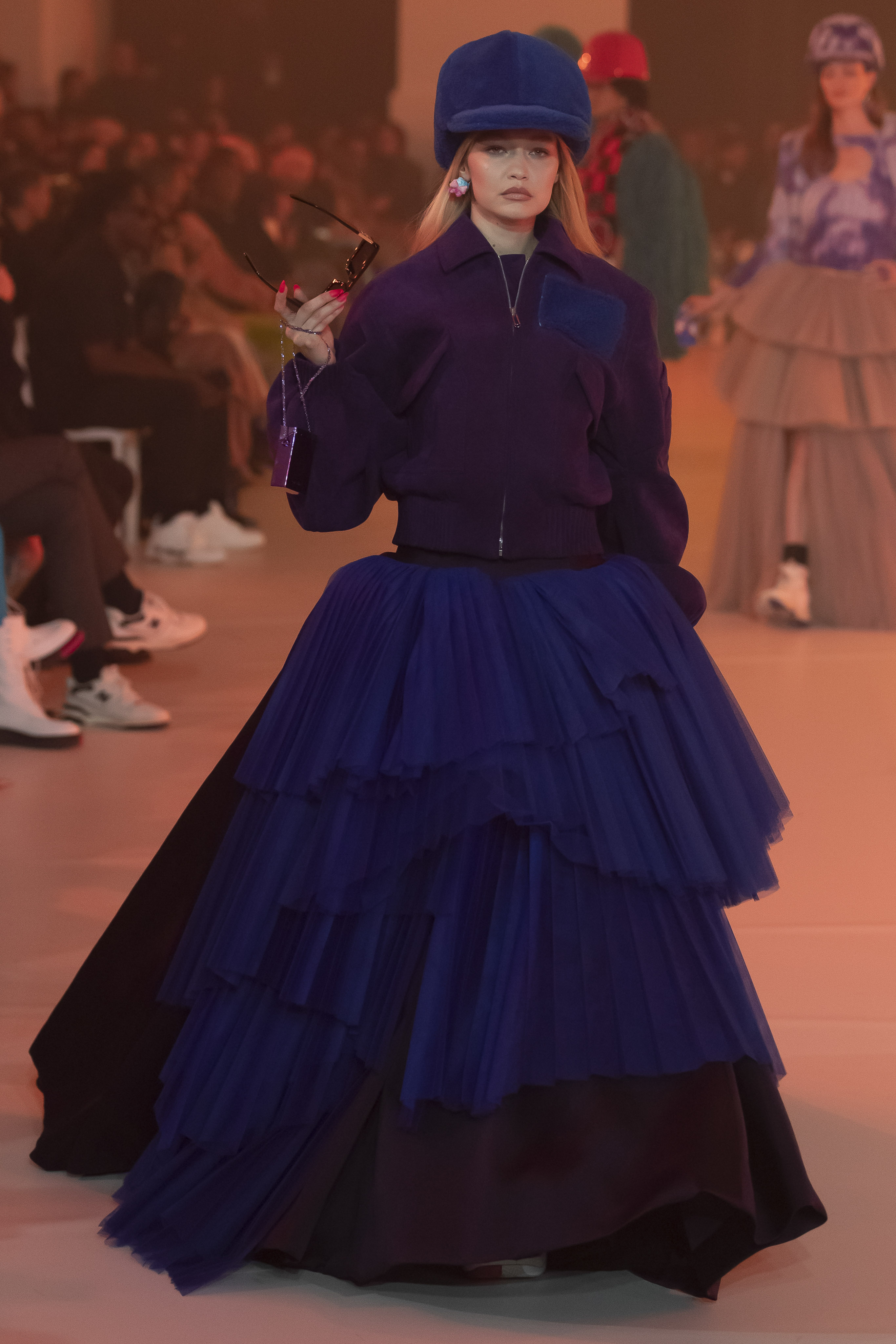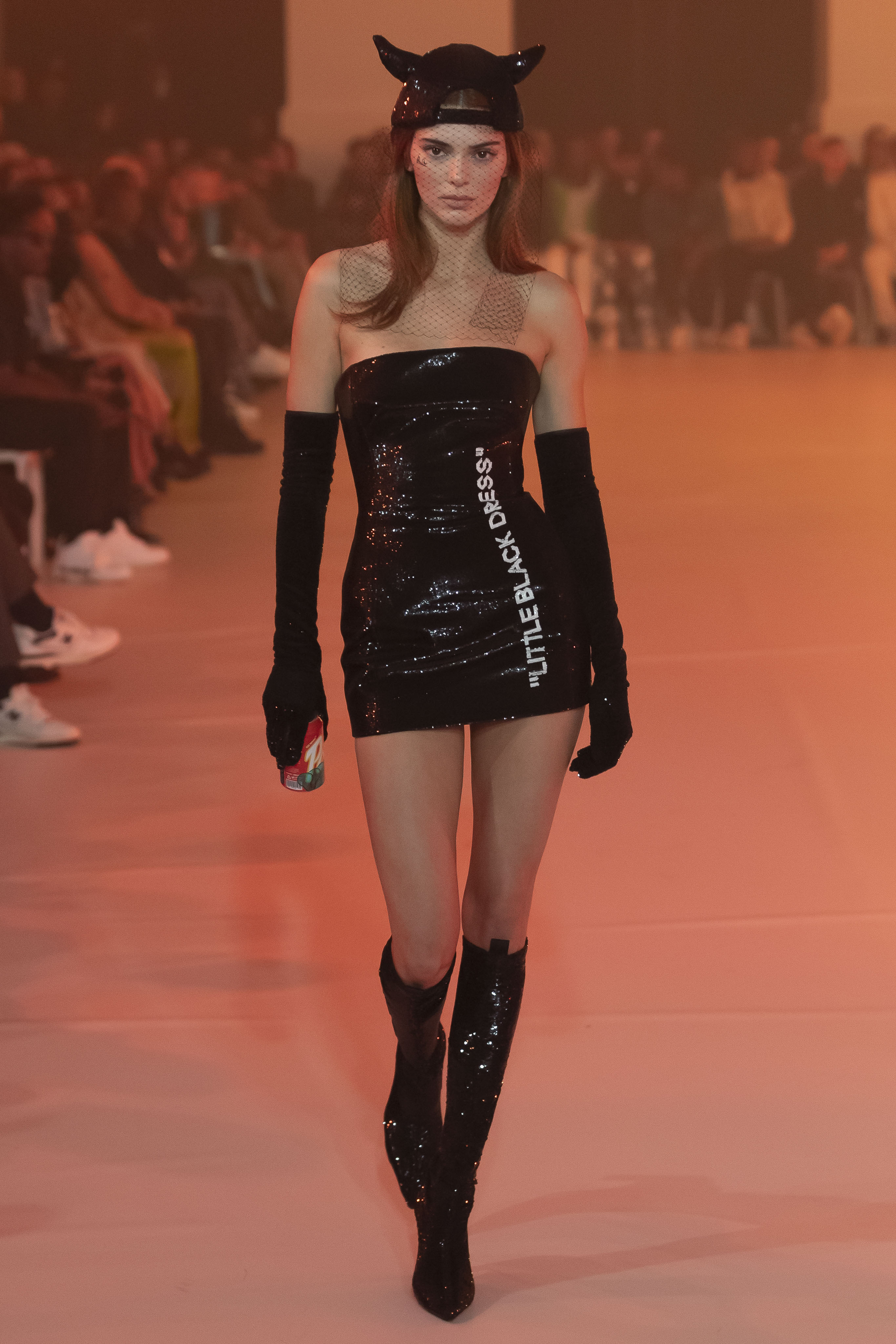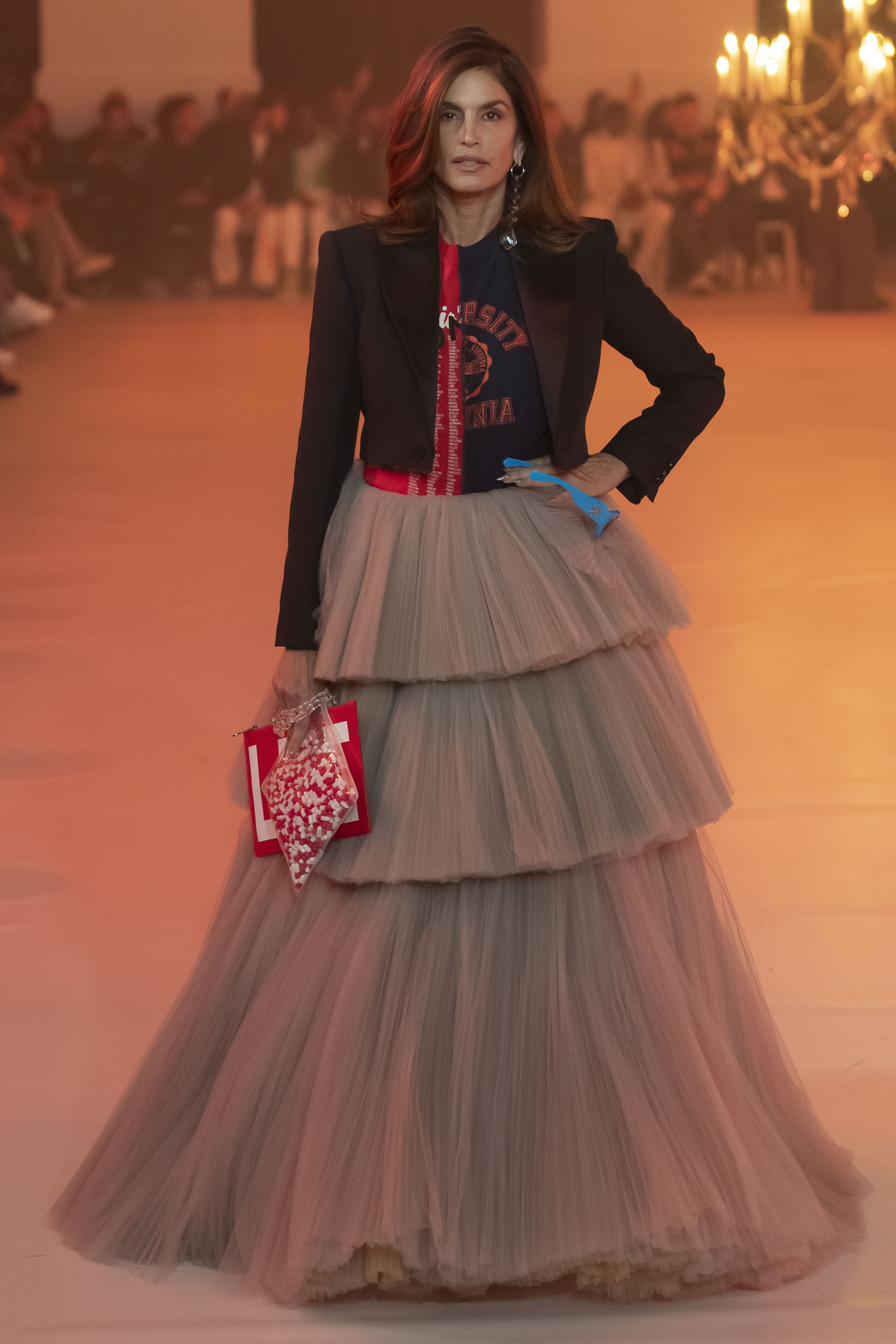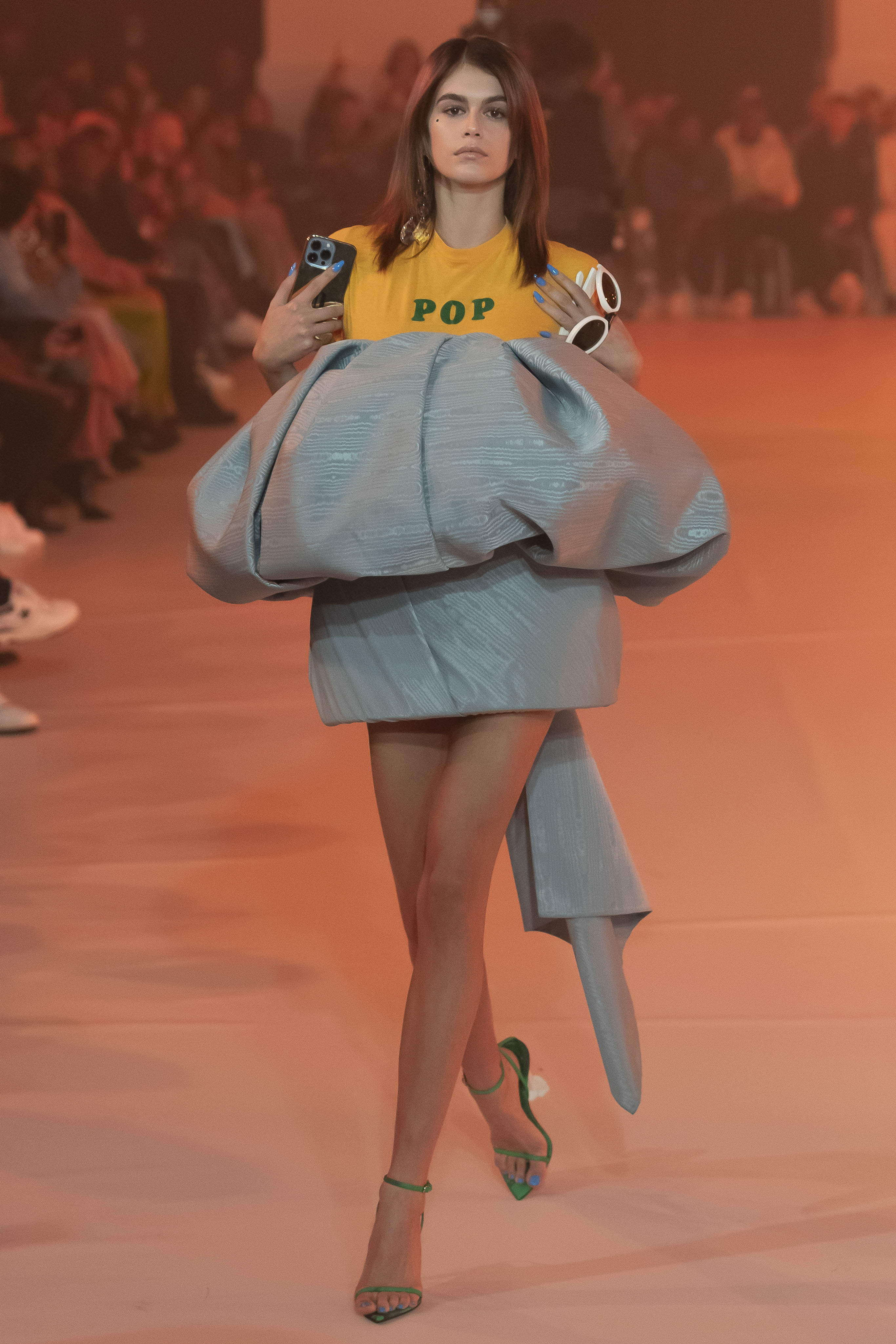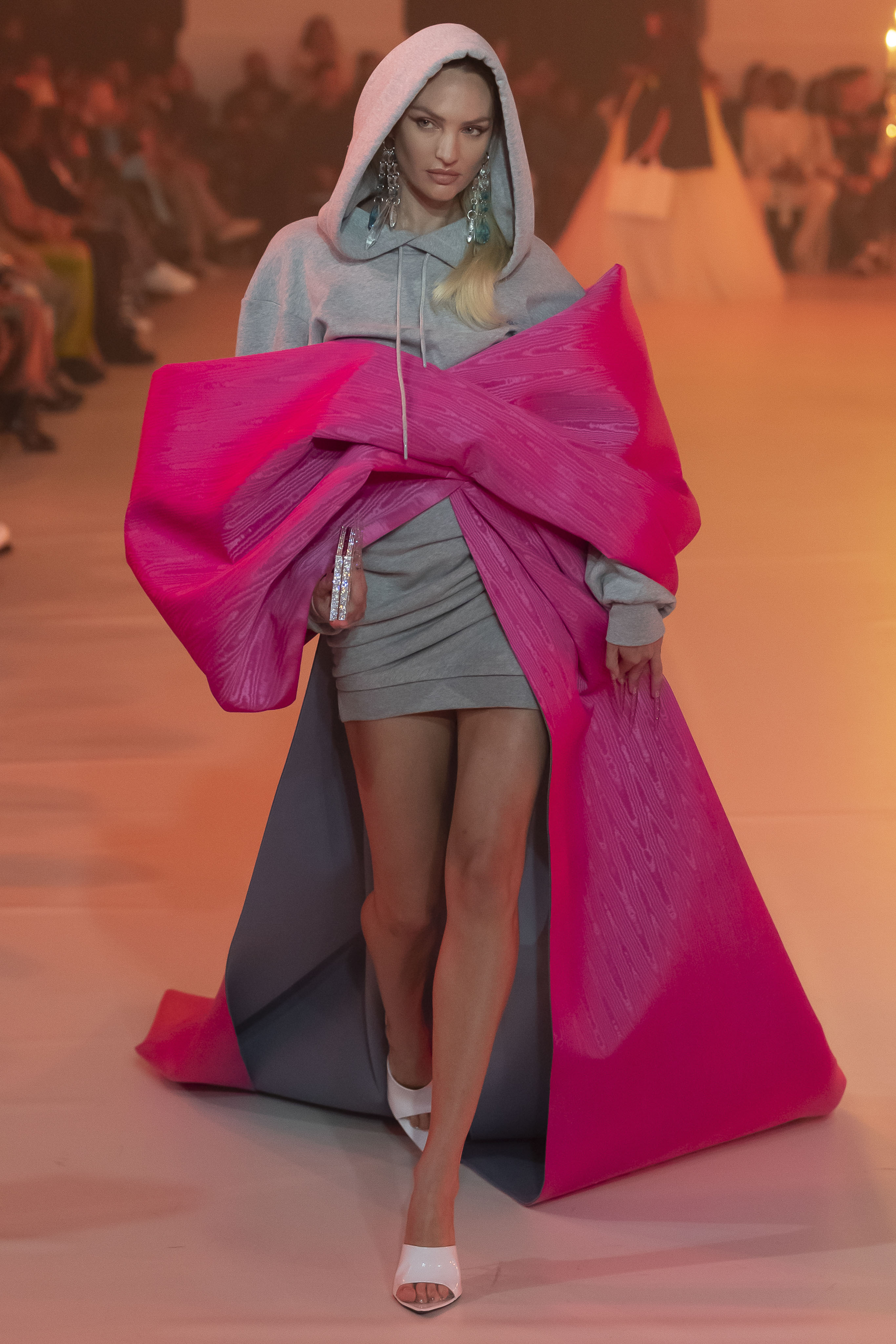 Follow i-D on Instagram and TikTok for more on fashion.
Credits
---
All images courtesy of Off-White.