Gucci takes to the treehouse for its new campaign
King Princess, Lil Nas X, Jane Fonda, Miyavi and David de Rothschild were photographed high above the Los Angeles skyline.
The new campaign from Gucci for their Off The Grid line is a journey of the imagination -- something that frankly a lot of us are trying to do, stuck in our homes. Rather than moving to the suburbs, this is a more surreal concoction however, dreamt up by Creative Director Alessandro Michele. Instead of delving into the brand's history, it looks to the future. In specific, a future where people are living in city treehouses. Which is ideal, if you ask us -- rustic, but with all the local amenities. Iconic talents including Jane Fonda, King Princess, Lil Nas X, Miyavi and David de Rothschild were photographed by Harmony Korine in a treehouse high above the LA skyline, wearing pieces from the first collection from Gucci Circular Lines, designed by Alessandro Michele. The line uses recycled, organic, bio-based and sustainably sourced materials, including ECONYL®, a regenerated nylon made from nylon offcuts and pre- and post-consumer waste.

"We are all living on this planet and then we need to give back to this planet," says Miyavi. "Technically everything should be sustainable and then in a recycle, even after we die. So, from now on, I mean for next 10 years, I think that might be last chance to make everything sustainable for the future, especially for a younger generation. So, even the gear and materials, or even the clothes, I think now is the time to think about what's the right path, what's the right thing to do as a human being."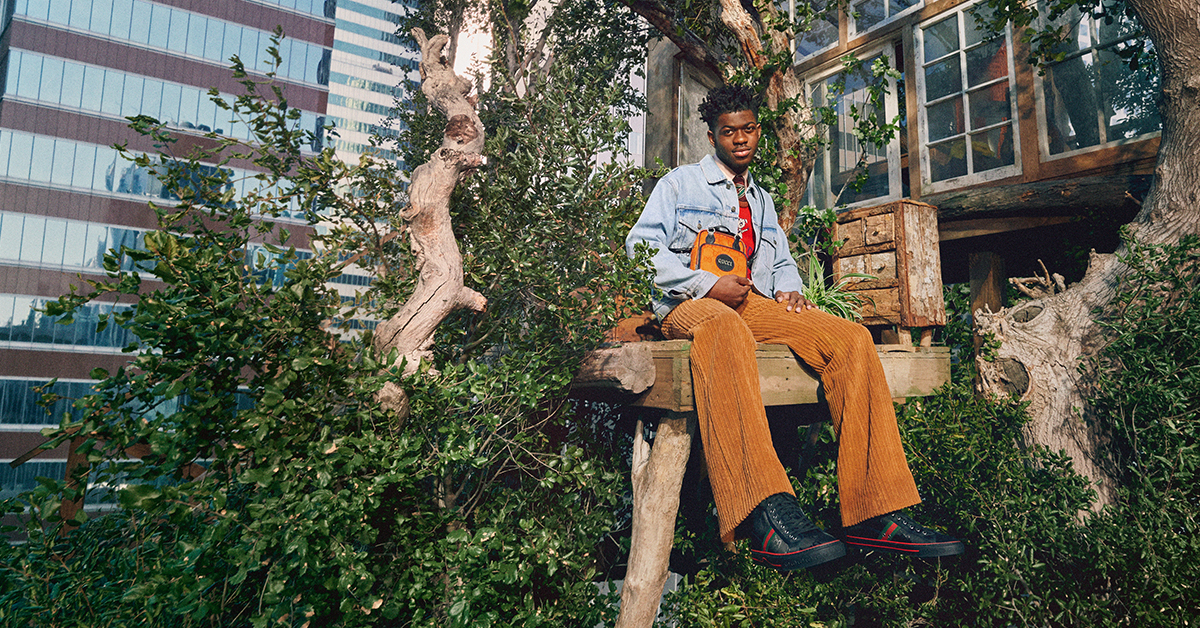 All Gucci's collections are produced under the House's carbon neutral commitment; what that means is that after Gucci reduces its greenhouse gas emissions as much as possible across the supply chain, all residual emissions are then offset through carbon projects that protect important forests and biodiversity around the world.This vision of luxury fashion, an alternative vision of the future, and a more circular approach to design, is what the world sorely needs.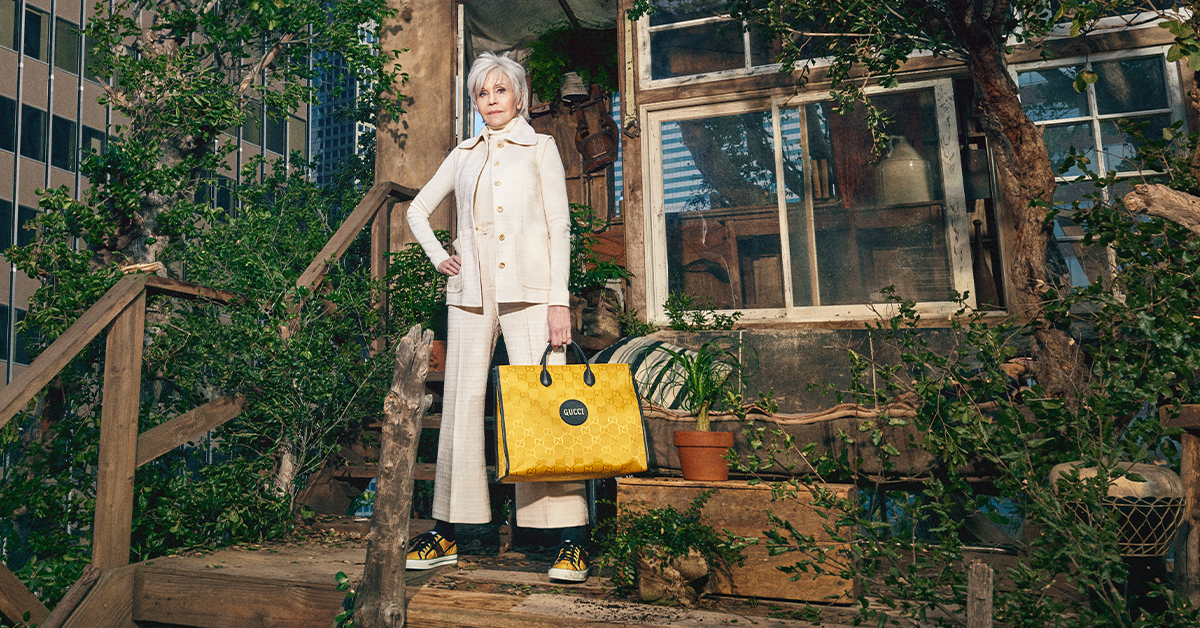 With this in mind, Gucci called upon the assortment of activists, artists and actors. "I think the biggest thing is to recognize that while we might be locked down, the world is still going through some monumental shifts when it comes to nature and the environment and our actions that have led us to a place where we've really got ourselves into this very short window of time," says environmentalist and explorer David de Rothschild. "There's a very short window of opportunity left to really try and sustain life as we know it, or at least our habits and our systems that we've created for ourselves as we know it, because ultimately you can't quarantine from climate change and you can't quarantine from a collapsed natural world."
In the absence of travel this summer, building a treehouse (even in the middle of the city) is one of the more imaginative plans that we would like to endorse. One hopes it would negate the need for air conditioning. We just might need some help from the Gucci team. "The collection is the result of teamwork; everybody brought something to it," says Alessandro Michele. "And in the campaign, too, there is this idea of dialogue among people building something new. I imagined that we could build a treehouse in a city centre, all together, like kids playing in the park. Because all of us need to build this house or to find out that our planet exists, even where it seems it's not there, or it's far away."
Discover more on Gucci.com and pre-order the collection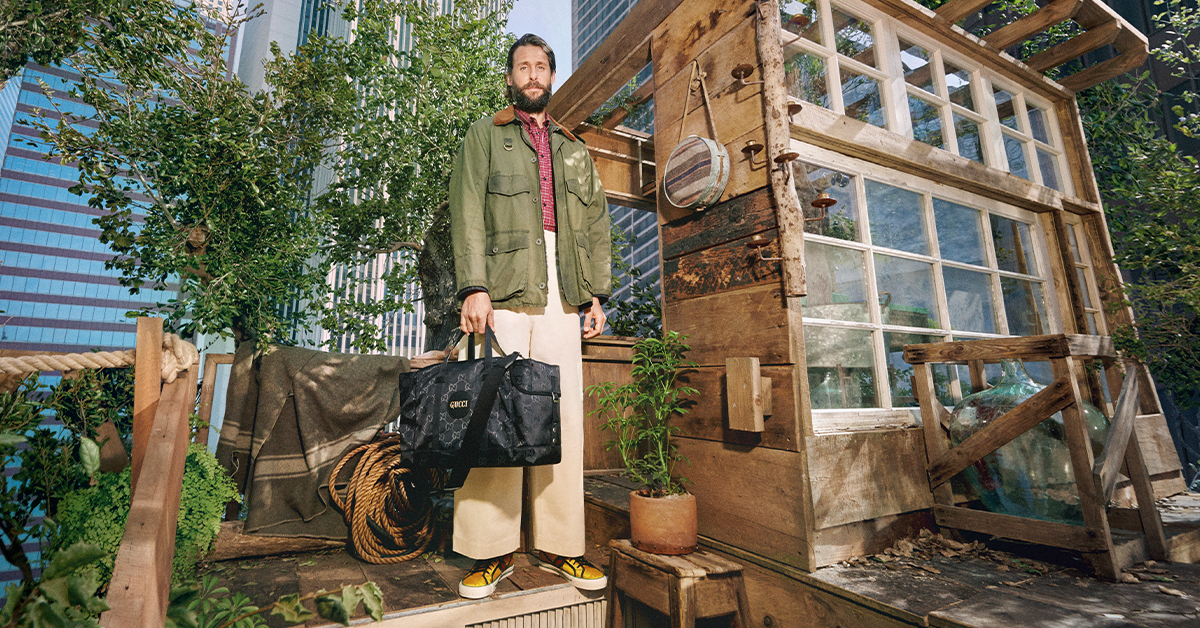 CREDITS
---
Creative Director: Alessandro Michele
Art Director: Christopher Simmonds
Photographer/Director: Harmony Korine
Talents: Jane Fonda, Lil Nas X, King Princess, Miyavi, David de Rothschild
Make Up: Thomas de Kluyver
Hair Stylist: Alex Brownsell


VIDEO MUSIC
"I CAN SEE CLEARLY NOW"
(J. Nash)
© 1972 Nashco Music Inc / Ashco Music Inc / CP Masters BV
Courtesy of Warner Chappell Music Italiana Srl
(P) 1972 Sony Music Entertainment UK Limited
Courtesy of Sony Music Italy S.p.A