Photo by Catherine McGann/Getty Images.
7 of Marilyn Manson's most iconic outfits
To celebrate the release of 'Marilyn Manson by Perou: 21 Years in Hell,' the British photographer looks back on the singer's many eccentric looks.
Photo by Catherine McGann/Getty Images.
Here's the thing about Marilyn Manson's outfits over the years. Can you really, honestly picture him in anything that's not completely, indisputably, all-caps ICONIC? Didn't think so. The dude is a fashion titan who spews iconic looks like they're going out of style. He's modelled for Saint Laurent ads, he's had stage outfits created by Jean Paul Gaultier, he's inspired a Vetements show. On top of that, his smeared makeup is fit for a Tim Burton movie, his jet-black wardrobe the wet dream of goths everywhere. Marilyn Manson is effortlessly iconic.
Which is to say, choosing the singer's most memorable outfits is no easy task. But if there's anyone who knows Manson's best looks, it's British photographer Perou. He's been Manson's principal photographer for over 20 years and has chronicled the singer's stylistic evolution in his new book, Marilyn Manson by Perou - 21 Years in Hell.

"Every time I photographed Manson, he was different," Perou says, "always evolving, no repetition, never dull." Here, the photographer helps illuminate seven memorable shoots in which Manson's outfits left jaws hanging.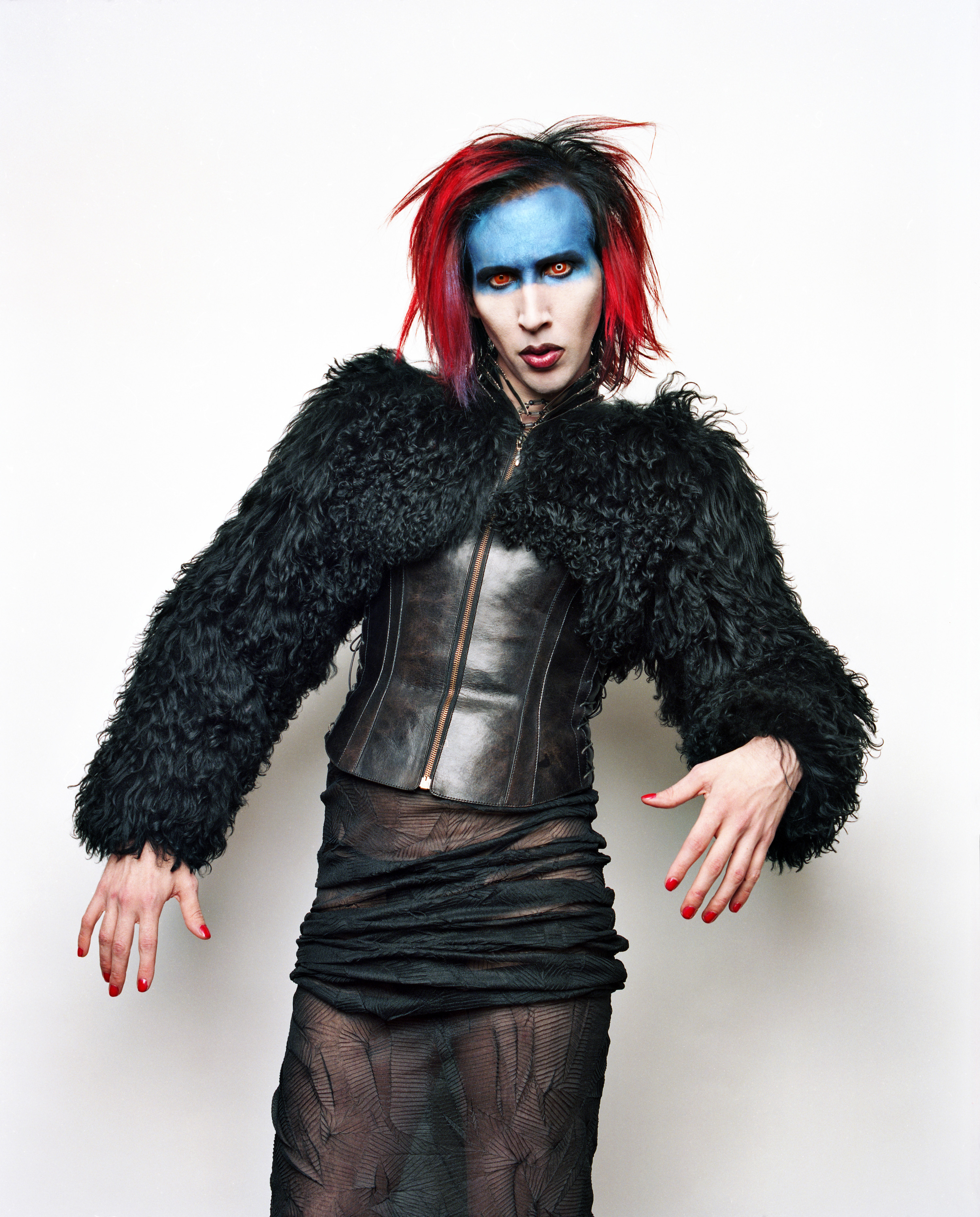 The androgynous Mechanical Animals-era Manson, 1999
This is the image you had of Manson when you were singing The Dope Show in your bedroom, clutching your Mechanical Animals CD. He's the slightly lanky, androgynous figure from the cover, with a shock of red hair and black roots, a Bowie-esque android who seemed to fall from outer space. Perou shot this one in Amsterdam, around 1999, when Manson had skyrocketed to international stardom. "Manson is wearing my friends Whitaker and Malem's Planet of the Apes jacket," he explains. "I understand this very picture was used on the mood board when they were planning Rise of the Planet of the Apes and Manson was offered a cameo part in the film, but was too busy recording Born Villain at the time."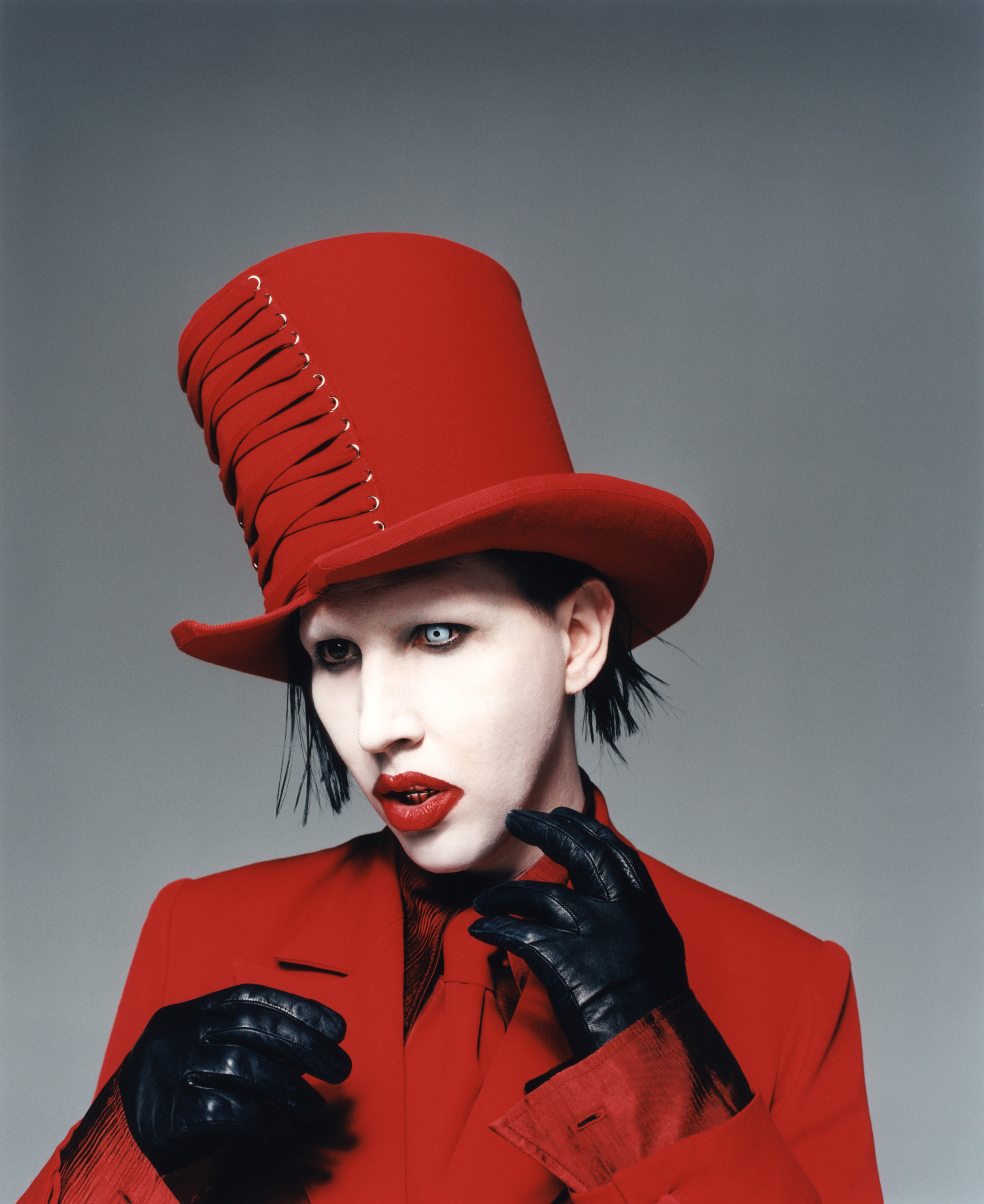 Manson the Mad Hatter, 2003
In the video for mOBSCENE Manson appears as a sort of nightmarish version of the Mad Hatter. Black leather gloves, milky white skin, and that tilted red top hat with its own corset. "He's wearing a colour co-ordinated Alice in Wonderland hat and of course it has a corset," Perou says. "It's very unusual to see Manson in bright red lipstick." The picture also underlines Manson's obsession with what might be described as a dark fairytale aesthetic. It might -- just might -- be related to some childhood stuff. "In the book, Manson discusses his early sexual encounters with Snow White and his early predilection for pale girls with dark hair and red lips," Perou adds. Make of that what you will.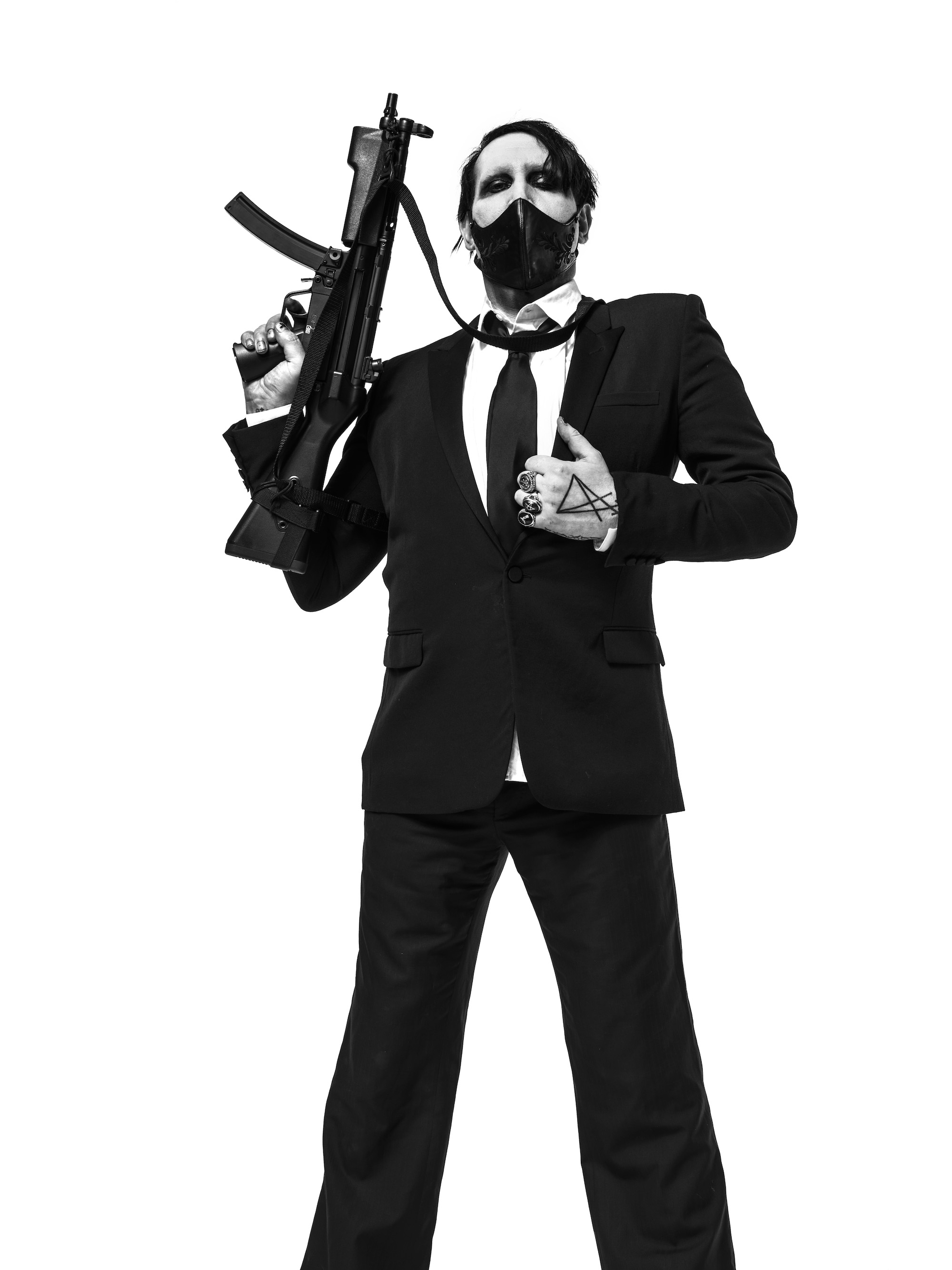 The dapper provocateur, 2017
Manson looked decidedly dapper in this 2017 shoot sporting a face mask and a rifle like a goth assassin. "I think if you're going to walk about town with a machine gun you should at least dress well and wear a suit," Perou says. Manson has used guns as props before, typically to make anti-gun statements, but it continues to make headlines in the wake of Columbine, in which he was infamously embroiled. And yet, as Perou explains, guns have been a common thread in Manson's music and aesthetic: "They're a motif in our photos and in Manson's songs." The photographer shot another version of this on the roof of Manson's manager's house in the Hollywood Hills. "We let rip with some black smoke grenades," he says. "We were soon visited by an LAPD helicopter checking out what we were doing and had to hide the machine guns and wave politely."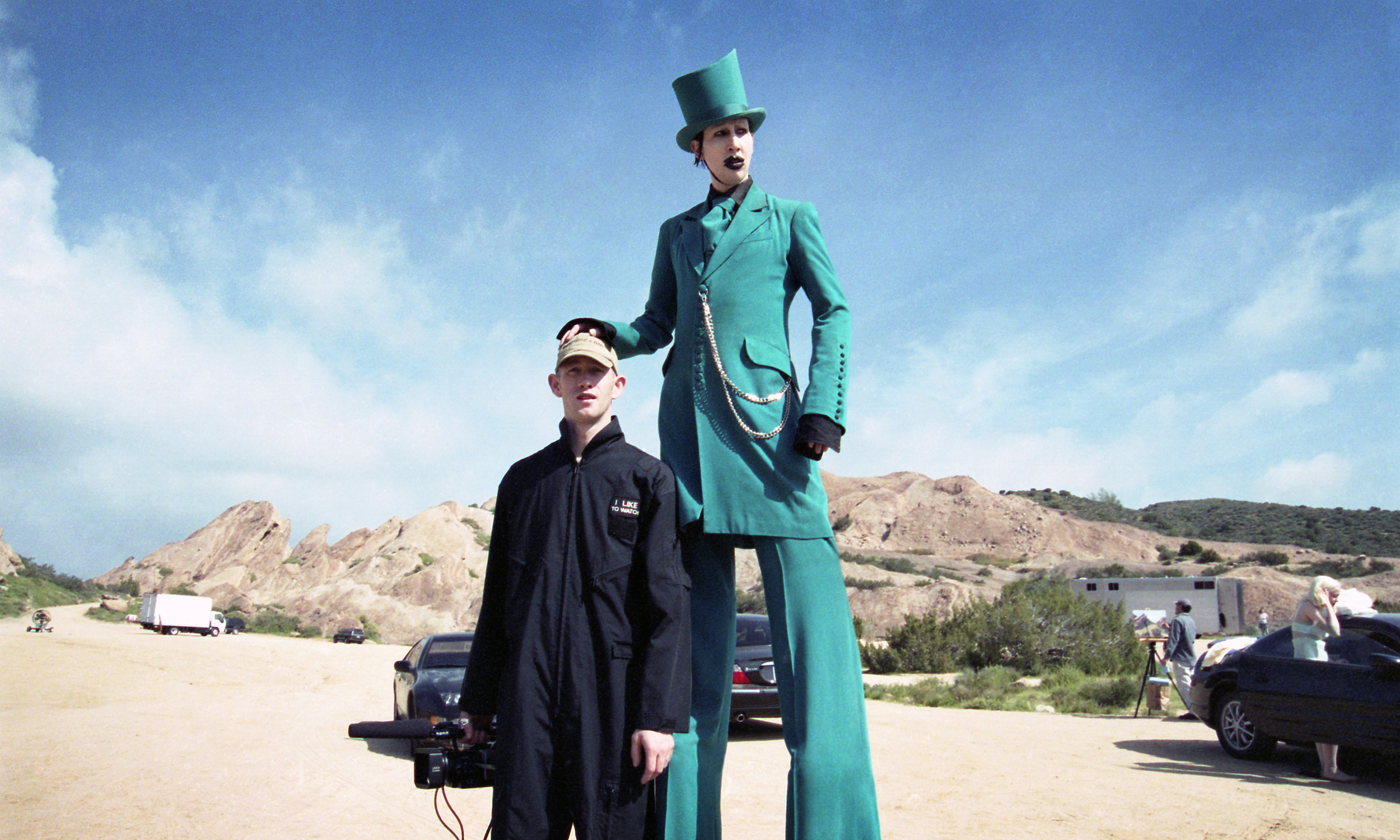 The fairytale freak, 2003
If you've seen any of his shows, you'll know about Manson's penchant for stilts. But here he cuts a gloriously freaky figure in the Californian desert while working on mOBSCENE. That turquoise suit. That wallet chain. That lanky frame. The photo -- also featuring the photographer -- was taken just before Manson narrowly avoided death by elephant. "It was shortly after Manson had an incident with an elephant on the video shoot… The elephant took a fancy to Manson, but he was unable to run away in those stilts he's wearing," Perou says. "This is the blue version of the red suit [seen in the same video] and this time, he's wearing matching blue lipstick. Always attention to detail."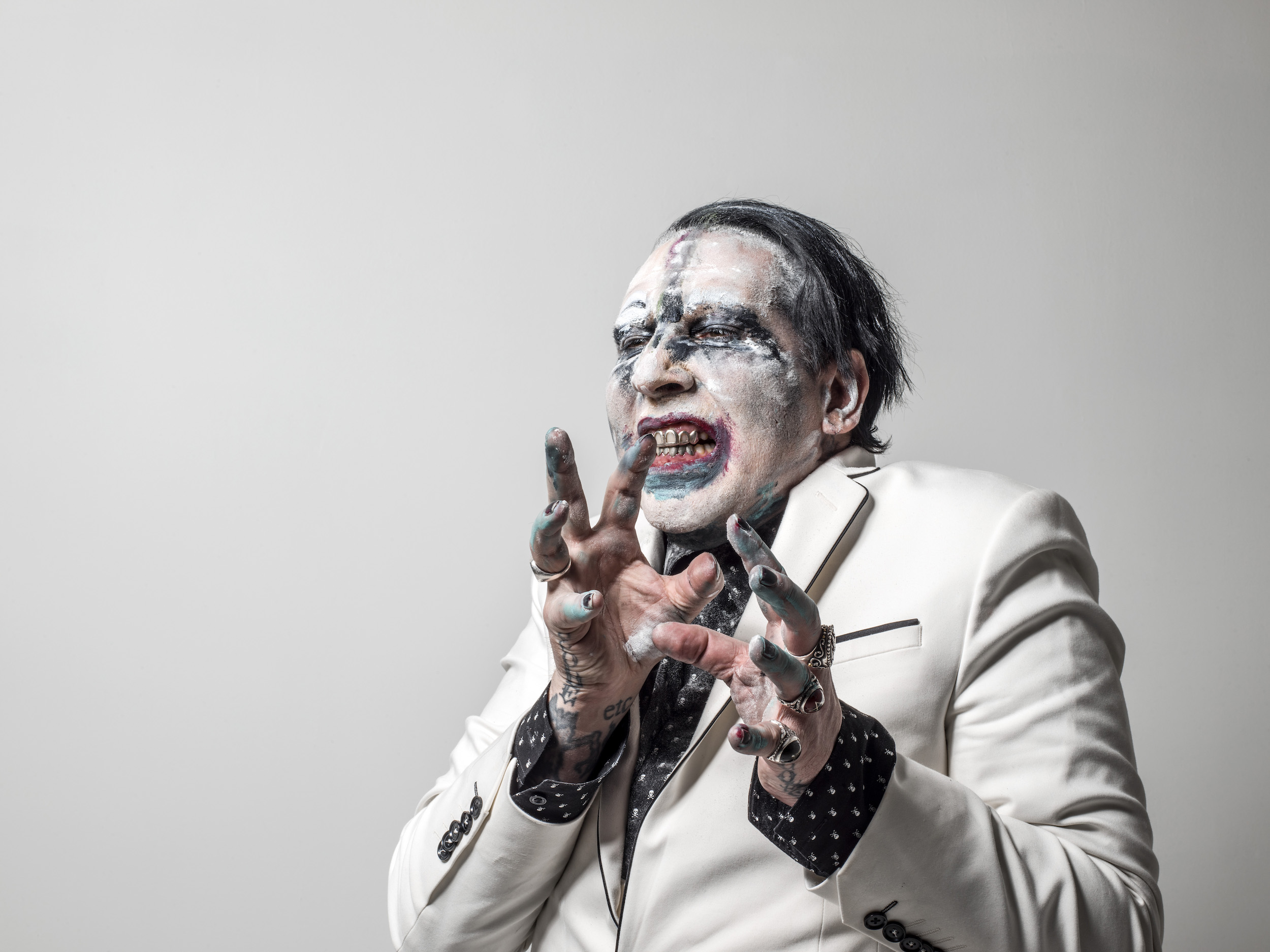 The pasty Joker in all-white-everything, 2017
A possible hat-tip to Heath Ledger's Joker, replete with shoddy make up and smears of eye shadow, this is the Manson you'd recognise from the album artwork for Heaven Upside Down. He's the picture of a tortured artist, with his grill clenched in a pained expression. "I try not to make it painful when I photograph people. He's not in physical pain," Perou explains. "Often when I photograph Manson he's in the zone and I don't need to direct him in any way. Manson does Manson and I press the button." At the time, the photographer was shooting anti-clotting drugs into his stomach following a skiing accident. "I left a needle in the studio toilets and rumour went round Manson was doing drugs in there. I had to let it be known it was me."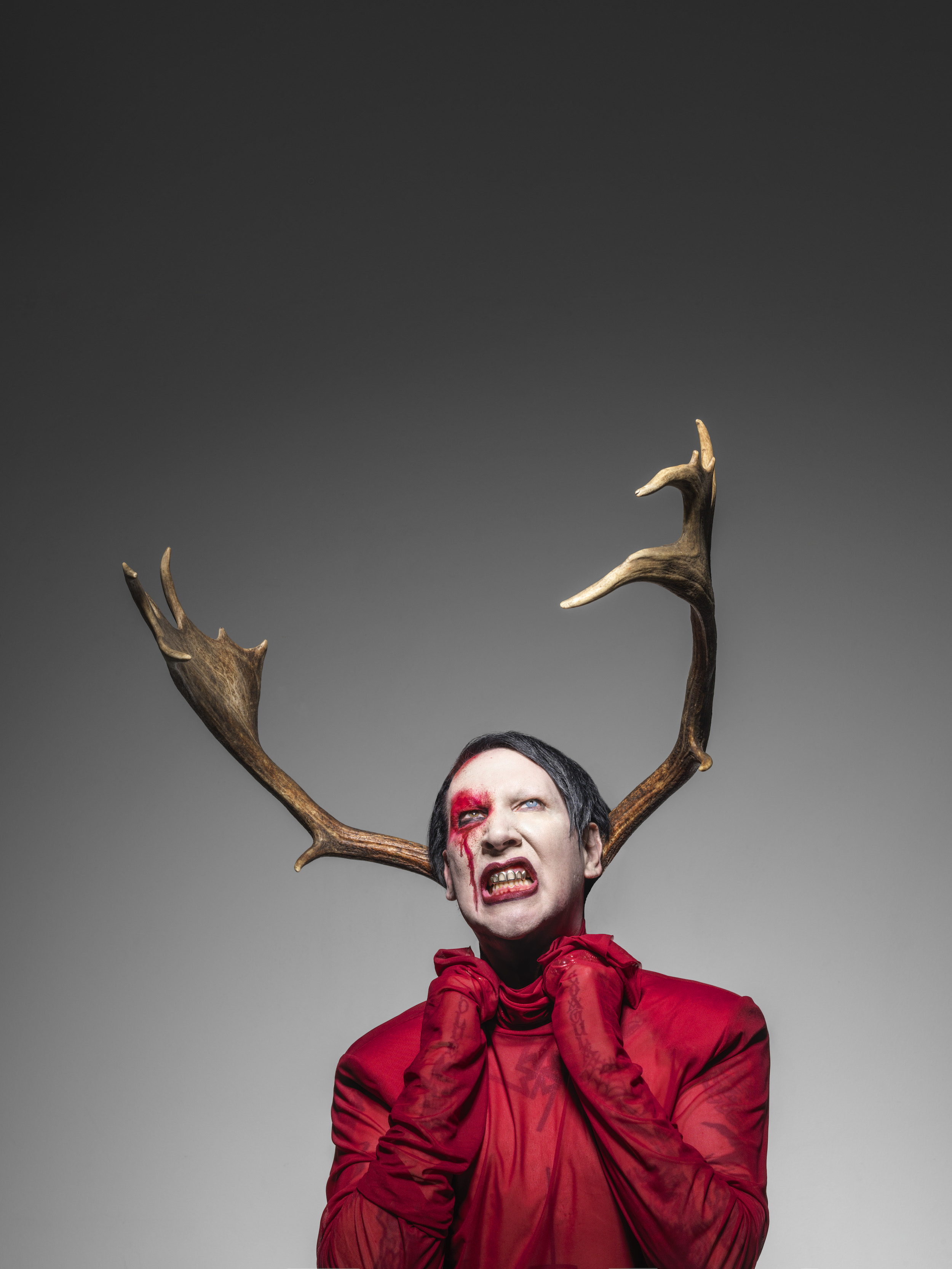 The festive horror show star, 2017
Here Manson appears like something out of a scene from Lars von Trier's Antichrist, with blood tears, albeit slightly more...festive? He's wearing a vivid red top with super long sleeves, topped off with reindeer antlers like some horror movie character emerging from a forest. "This was a Christmas card we shot for PETA in Berlin," Perou explains, adding that it went on to inspire the French drama, Zone Blanche. "That's not make-up, he's crying blood," he jokes.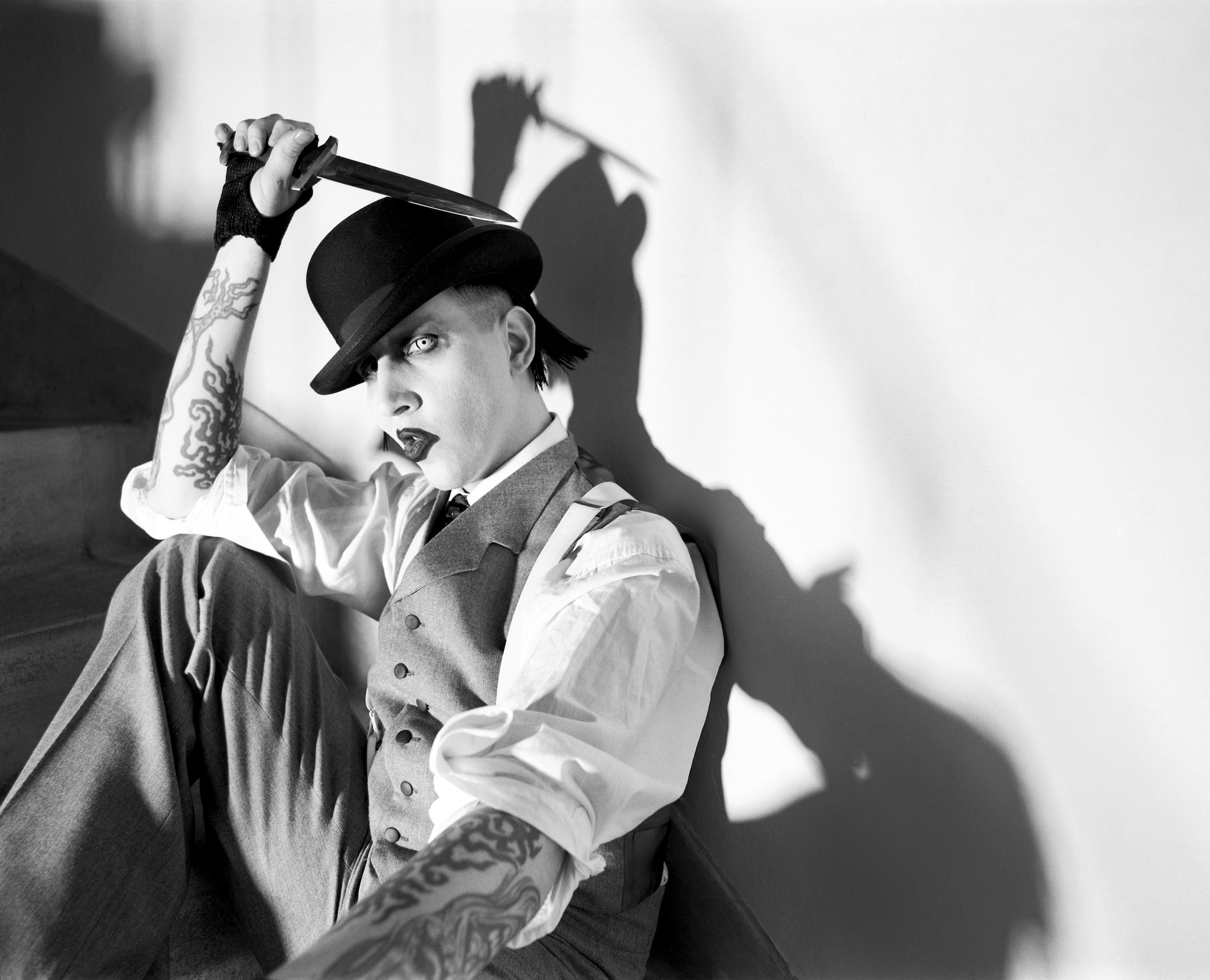 The ominous droog, year unknown
Brandishing a dagger and sporting a bowler hat, Manson inhabits another creepy character. The butler of your nightmares? Jeeves gone rogue? He's equal parts dashing and menacing, in a waistcoat and fingerless gloves. "I was asked by a music magazine to photograph Manson eating dinner off his then wife, Dita von Teese," Perou explains. But that didn't happen. Instead, the photographer opted for something more simple, more personal. "I negotiated a series of very exclusive, noir film stills of Manson at home with some of his treasured things." It was a simple idea, but one that somehow encapsulated their 21-year working relationship. "You don't need to impose ideas on a great artist," Perou says. "You just have to be there to catch the reality."
Marilyn Manson by Perou. 21 Years in Hell is available online now.