Take an exclusive look at Casablanca womenswear
Charaf Tajer transports us to the shores of Lake Garda to meet the Casablanca woman, a new arrival for AW20.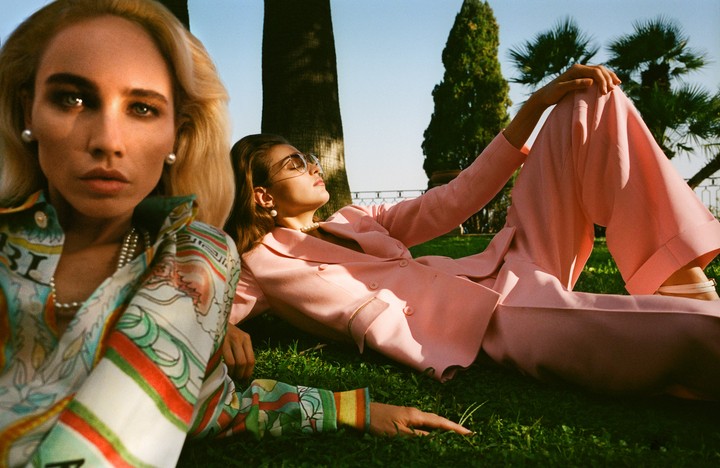 Photography Remi Ferrante
He may have cut his teeth in the world of haute-streetwear, as a founding member of Paris-based label Pigalle, but it's his home city's haute couture culture that has always held Charaf Tajer's heart. That's what the founder and creative director of Casablanca told us when we last spoke with him a couple months ago, noting the extent to which the work of womenswear pioneers like Gabrielle Chanel and Yves Saint Laurent had informed the aesthetic and philosophical tenets of his LVMH Prize-winning menswear brand.
Now, however, the Casablanca woman finally has a wardrobe made with her specifically in mind. Last week, the brand unveiled a 15-piece capsule, available exclusively via Net-A-Porter. "There has always been strong feminine sensibility running through the Casablanca DNA, so launching a dedicated womenswear collection makes total sense for us," says Charaf, who created the pieces as part of his AW20 collection,'Idealism'.
A sartorial escape to the white Roman-style villas that fringe the northern Italian lakes, it sees the introduction of new prints and slim silhouettes, as well as pieces from the collection reinterpreted for "an intelligent, visionary woman", whose "femininity is her strength, but [who] can embrace the beauty of the masculine too."
Below, we hopped on a call with Charaf to find out more about just who the Casablanca woman, as well as about the sun-kissed campaign shot by Remi Ferrante, images from which are available to see exclusively here on i-D.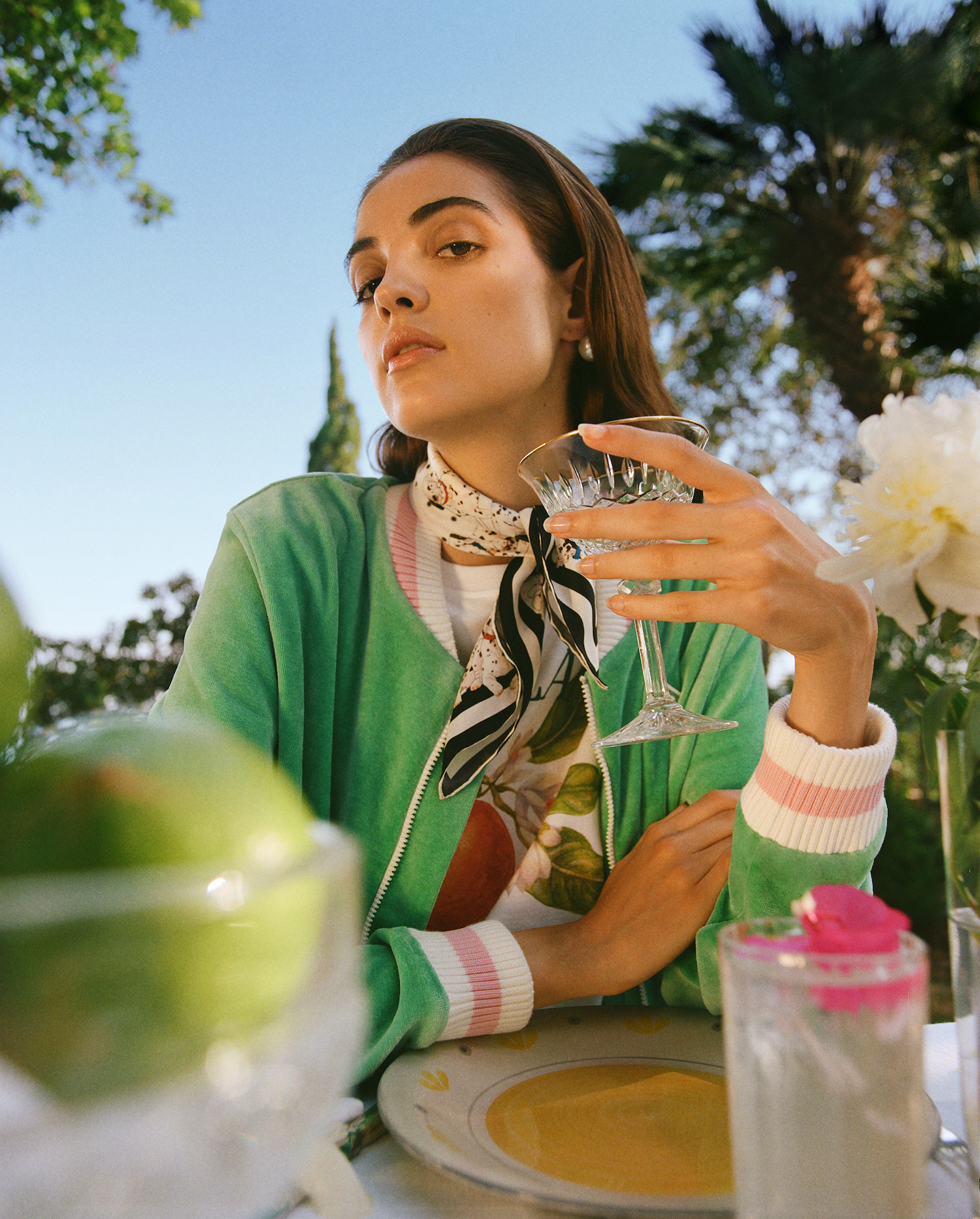 Casablanca has always had this slightly feminine sensibility. What made you want to explicitly work on a womenswear capsule?
I was raised by women -- my mom, my auntie, my cousins, my grandma -- so the image of a strong woman has always stayed in my mind, and it's something that I want to share with the world. There are certain stereotypes of women that I'm not happy with, so I wanted to present the Casablanca woman as very strong and independent, while also remaining very feminine. Sometimes, we think about women's strength with reference to masculinity, but I believe that there's a very deep strength in femininity, which is why I'm always putting it in menswear. In the shoot, it was all about, putting women in very strong positions, but without needing to mimic stereotypically masculine stances.
It also looks like quite a classic femininity. Would you agree?
Absolutely. I think it's important to rebalance the understanding of classic femininity at the moment. There's been so much progress in fashion, and it's fantastic to have such a diversity of ideas in the industry. For me, it was important to position the Casablanca woman with respect to that.
Looking at the garments themselves, you've got a lot of tailored pieces and shirting, calling menswear staples to mind. But then the prints and fabrications feel very feminine.
Exactly, there's a masculine energy there, but the pieces are really shaped for women's bodies. It was about creating a new wardrobe that suits the identity of the brand. We have a lot of women who already wear the menswear, and they've been asking us for a womenswear line, so it was only natural for us to do this -- and it's something I've always wanted to do.
This capsule is part of your AW20 collection, 'Idealism'. How did you go about translating your vision to a womenswear context?
We actually worked on the womenswear at the same time, but it's just coming out now. From now on, Casablanca will always have womenswear designed together with the menswear.
Stores will start getting the menswear from the AW20 collection next week, so this was just our little way of saying 'ladies first', in a way. Creating the Casablanca woman came very naturally, though -- she's not just a woman that's on the arm of the Casablanca man, she's really an entire person of her own. But there are similarities between them, too. There are some men's shirts and women's shirts that are very similar in terms of design, albeit slight differences. For example, they'll both have dog prints, but they'll be different dogs.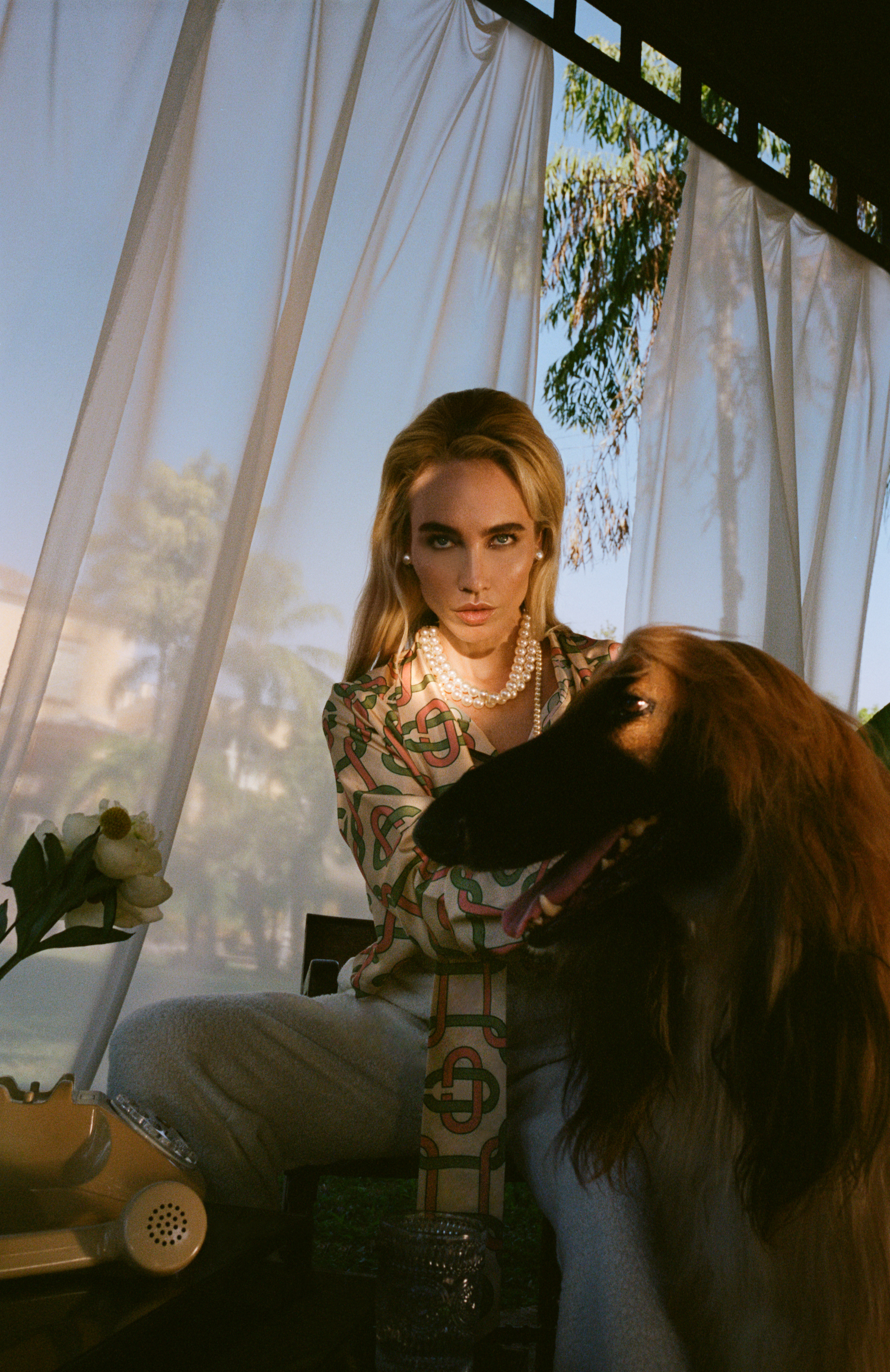 Could you tell us about the creative direction you took with the shoot? What aspects of the collection were you keen to bring into focus?
We really wanted to capture the world of the Italian bourgeoisie, a world where everything is a bit industrial and fashion became very reactionary to that. Our position is to kind of rebalance that and position ourselves as solely focussing on beauty. Whatever story we're telling, we always want it to be anchored in the beauty of things.
And for me, it's very important to not use irony. The world is full of irony; fashion is full of irony. And it's interesting to have that, I think that diversity of opinions and approaches in fantastic. But I think my personal instinct really goes into the beauty, and into stories, looking at this kind of bourgeois romance and a certain type of elegance. I think that nowadays also there is something that is missing in luxury. Sometimes, it's all about the money, but there's no sense of culture. And I think that for me, money without culture doesn't really make sense.