Protestors at a solidarity march in Warsaw, Poland. Photo by Attila Husejnow/SOPA Images/LightRocket via Getty Images.
A breakdown of what's happening in Belarus right now
Thousands took to the streets of Minsk to protest the country's recent election, but demonstrators face ongoing police violence.
Protestors at a solidarity march in Warsaw, Poland. Photo by Attila Husejnow/SOPA Images/LightRocket via Getty Images.
As a summer of protests spark across the world, Belarus now seems on the precipice of its own awakening. Since 1994, the former Soviet Union country of 9.5 million people has been under the rule of one man: Alexander Lukashenko. He's been called, frequently, the 'last dictator of Europe,' and this past Sunday, August 9, he was reelected with, he claims, "80%" of the vote. Belarus' opposition party, led by Svetlana Tikhanovskaya, and it's supporters are calling bullshit on the outcome.
On election day, the capital of Minsk was locked down entirely, with no way in or out, and in the three days following, the government facilitated a connectivity blackout -- meaning the Internet, cell phones and even many landline phones ceased to work. (Over 50 human rights organizations immediately denounced the outages in an open letter to the UN).
Yet despite Belarus having been thrown into darkness, protests lit up across the country in over 25 cities and towns. The protesters face ongoing police violence, including the use of live ammunition by officers in Brest. So far, across three days 7,000 people have been detained by police, with many journalists reporting horrifying accounts of beatings and inhumane conditions within jails.
At least one man, a 25-year-old, has been killed in police custody, and hundreds more have been injured. And while the ministry of Belarus says that the police only fight in self-defense, videos posted to social media show another reality, one where cops are filmed chasing and ganging up on lone protestors, beating them brutally even while those taping the assaults scream and beg for them to stop.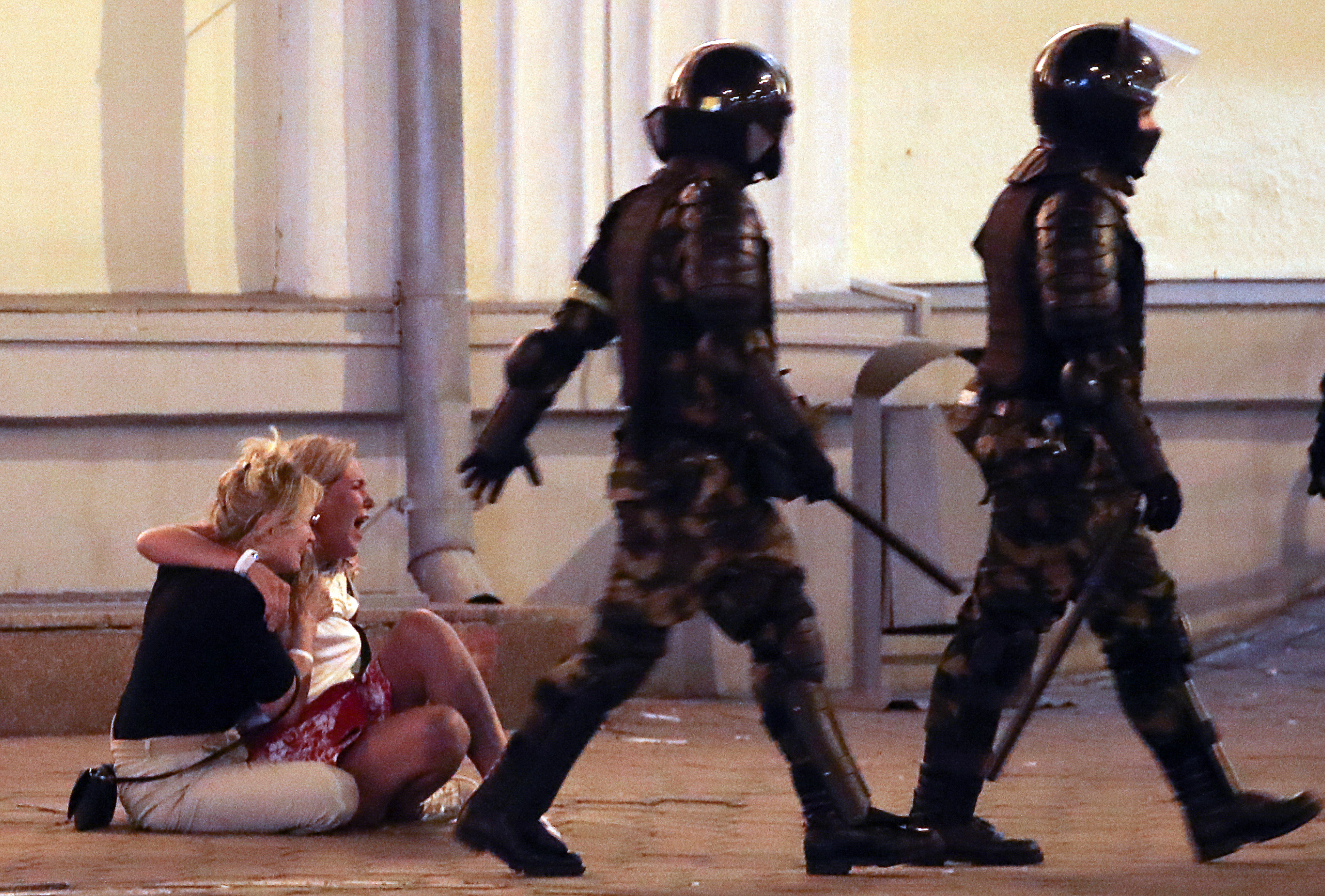 When the internet began working again on Wednesday morning, Belarusians were met with resignations from TV personalities on state-run television: popular newscaster Evgeny Perlin posted on Instagram: "What happened to my Belarus?," and Tanya Borodkina, took to Facebook to say, "I will no longer be able to smile from the TV screen."
One state news segment, later posted to Twitter, depicts young protestors in jail "expressing regrets" for their actions. An off-camera policeman, his voice distorted, asks them in Russian: "Are we going to be doing a revolution again?" The question is phrased the way you'd talk to children, kind of like how a mother might ask a delinquent son: "Are you going to just sleep all day?"
"No, never in my life," responds a protestor, who's visibly bruised.
The presidential election on Sunday took place between between Lukashenko and Tikhanovskaya, a former English teacher. Initially, it appeared Lukashenko wasn't threatened by Tikhanovskaya, a stay-at-home mom who'd first entered the race because her husband was arrested for his own opposition politics.
Yet Tikhanovskaya grew increasingly popular ahead of the election. On the Thursday leading up to the elections, she held an event in Minsk that drew over 60,000 people, which reportedly became the largest political rally in the country's modern history.
"I am tired of being patient. I am tired of being silent. I am tired of being afraid. And you -- are you tired of being patient?" she asked the crowd.
But on Sunday, according to the Belarus election commission, Tikhanovskaya received only ten percent of the popular vote. This prompted her to file a complaint against the results and get detained while doing so -- swiftly launching a wave of societal unrest.
Lukashenko has admitted to "falsifying" election results in the past, and according to The New York Times, international election observers "have declared all past elections in Belarus under Mr. Lukashenko to be neither free nor fair." In April, an opinion poll conducted by the Belarus Academy of Sciences found that just a third of the Belarusian population said they trusted him.
In the days after her 'loss,' Tikhanovskaya posted two videos: in one, she tearfully states she overestimated her strength, and says she needed to flee to nearby Lithuania for her family's safety. In the other, she's made to read a script in an anonymous room, eyes avoiding the camera, her voice lowered and monotone: "I don't want blood and violence. I'm asking you not to confront the police. Take care of yourself, and those close to you."
The opposition in Belarus is led and inspired by women: by Tikhanovskaya, and by the women closest to her, and now by the women who have taken to the streets wearing white, waving flowers, and forming human chains of solidarity as their way to show strong and peaceful support of the protesters. In this video, an elderly woman is seen holding a flag that's both the pre-Lukashenko flag of Belarus, and a current opposition symbol. A cop in riot gear tries to block her path, but she pushes past him, announcing, "I'm just taking a walk," to which onlookers applaud and yell "Well done!".
Publications like Belarus Today claim that the "most active participants" in the protests are not Belarusians, but foreign agents or those manipulated by them (sound familiar?). And the protestors who maybe are Belarusians, Lukashenko conceded Wednesday, are surely "people with a criminal past who are now unemployed." Yet protests in solidarity with those in Belarus have occurred in Poland, Russia and Ukraine.
Additionally, Belarus currently has one of Europe's highest-per-capita infection rates of COVID-19, yet Lukashenko has asserted that no one really dies from coronavirus. And that all Belarusians had to do was ride tractors, drink vodka and partake in saunas to ward off the virus. His handling of the pandemic, combined with an economic crisis, had left him on the shakiest ground of his long presidency, prior to the election.
"You just want power, and your desire will end in blood," Belarusian Nobel Prize-winning writer Svetlana Alexievich told the President via radio broadcast, further insisting he step down, and also condemning the police's actions as "inhumane, satanic." At one of the recent protests, she remarked: "I've simply fallen in love with my people over the last few weeks."
The politics of Belarus -- a country that's spent the last 26 years under one ruler -- are dazzlingly complex. Yet now, just as we continue to hear out the demands of protesters in America, in Beirut and elsewhere, hopefully we are ready to listen and uplift the voices of the Belarusian people as well.