Stream this vital art piece on Black America this weekend
Arthur Jafa's profound film installation, 'Love Is The Message, The Message Is Death', will be available digitally for the first time ever.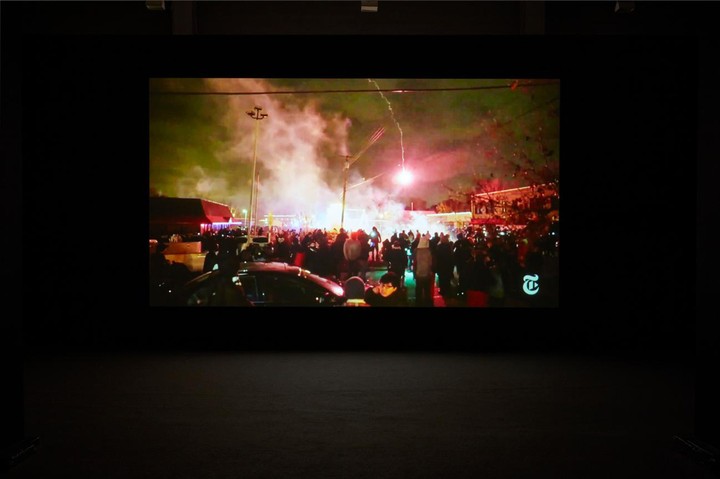 The news cycle is slowly returning to normal programming, but outside your window, the world is not. Today, peaceful protests across the world in honour of the Black Lives Matter movement, as well as the hundreds of Black people killed at the hands of police brutality, continue to unfurl. Inaction is not an option for the millions of people whose lives are at risk.

But these protests are nothing new; instead, what we're witnessing is another necessary uprising against the people in power, with pleas to abolish the police and find a new way of keeping people safe that doesn't have such strong collateral damage. Four years ago, Arthur Jafa transformed this sentiment into an exhibition film titled, Love Is the Message, The Message Is Death. It unpacks the experience of Black Americans in both a historic and contemporary context, alluding as much to the strength of that community as it does to the continued subjugation of Black American people. Centuries have passed, but the attitudes of white colonisers and gentrifiers has hardly changed with them.
The film, which is soundtracked by Kanye West's "Ultralight Beam" from The Life of Pablo, has had a strong presence in gallery spaces since its inception in 2016, but this weekend marks the first time the seven-and-a-half minute film will be available to stream online.
13 institutions from around the world -- The Smithsonian American Art Museum and the Hirshhorn Museum and Sculpture Garden, both in Washington, D.C.; the Tate in London; the Dallas Museum of Art in Texas; the High Museum of Art in Atlanta; the Museum of Contemporary Art in Los Angeles; Glenstone Museum in Maryland; the Studio Museum in Harlem; the Stedelijk Museum in Amsterdam; the Palazzo Grassi and Punta della Dogana in Venice; the Julia Stoschek Collection in Berlin; and Luma Arles in France and Luma Westbau in Zürich -- will all be playing the film on a loop from today (26 June) through until Sunday on their respective websites.
A statement made by the Director and Commissioners of the Smithsonian stated that "we understand that the stories we tell in our galleries send a powerful message about whose experiences, culture and history matters," adding that, "we are grateful to artists like Arthur Jafa who help us reckon with the history of racial oppression and whose work opens up space for reflection, dialogue, and understanding."
It's important to remember that your money and support, however small, matters. If you can't leave the house this weekend to attend a march, because of your own safety or the safety of others, then get to know Arthur Jafa's work instead. Head over to the Tate website from 2pm EDT, that's 7pm UK time, to get started.