The platform trainer is back, baby
South London creatives Fon and Fa celebrate the return of a modern classic in Converse's new campaign.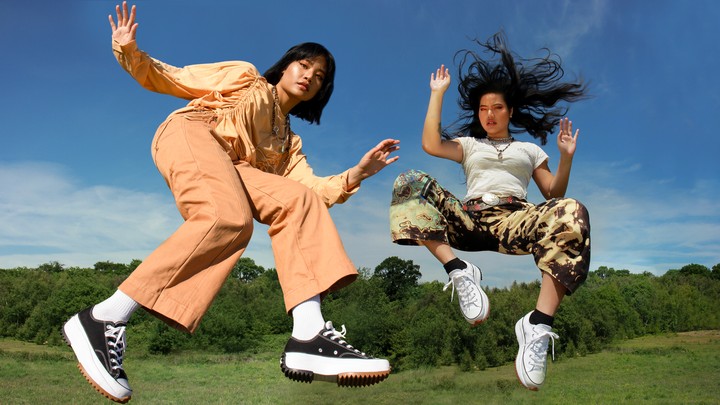 Imagery via Converse
They say that good things come in pairs. For twin creatives Fon and Fa, that certainly rings true. The south London creatives have collaborated with Converse for their new 'FA20' campaign, which features an experimental take on the brand's classic trainer.
In a noughties nostalgic take, the platform trainer is kind of back! Depop sellers truly will be rejoicing and quickly putting #Y2K on a plethora of posts of things they found in their mums house during lockdown. The new take on the platform beloved by many a Spice Girl though, has been modernised somewhat. Converse's new release of the "Elevated Classics" features the Run Star Hike in a low top iteration and Chuck Taylor All Star Move – both featuring a heightened EVA midsoleThey're low, but they're high, essentially. Which sounds comfy?
Fon and Fa's interpretation of the new style is part of a worldwide collaboration with young creatives to create a lookbook for the release. As Miss Rona continues to rage around the globe the pair broke with tradition to digitally style and shoot their own campaign imagery for the new release, which also features interpretations from Milanese designer Domenico Formichetti, New York and Paris based stylist Vanille Verloës, photographer George Annan Jr. from Worcester, MA. and Los Angeles creative Genai Nakama. The 24-year-old twins are known for their visual work which grounds surrealism in a natural setting, and that's the fantastical take they've embraced for their campaign imagery. It's all part of, they say, "the magical world [they] have dreamt-up in our heads."
"There really aren't any boundaries when it comes to how you want to express yourself," says Fa of their lockdown creations. Almost inspirational enough to make me get out of bed before midday and stop my daily existential crises. Almost!