Final collection by Florentina Leitner
Meet 5 fashion graduates from the Royal Academy of Fine Arts Antwerp
Despite it not being an ideal final semester, the masters students have pulled through and present us with five collections -- all captured, by necessity, on themselves or mannequins.
Final collection by Florentina Leitner
After years of hard work and dedication it is climactic and thrilling to be able to present your final collection to a crowd of proud fellow students, friends, teachers, parents and press. To be finally able to share the vision and aesthetic you've been slowly developing all those years to a larger audience. This year, however, due to the pandemic, face-to-face tuition was abandoned around the globe, and live public events were cancelled, including the final show for graduating fashion students. The fashion department at the Royal Academy of Fine Arts in Antwerp was no exception. Forced to make their collections without fitting models, the masters graduates used themselves instead and shot the final result on themselves as well.
Here we present five of our favourites and quiz them about the story behind their collections, the impact of the lockdown on their final year, and their future hopes for the fashion industry.
Karolina Widecka, womenswear
My masters collection revolves around the topics of superstition, conspiracy theories and pseudo spirituality. Pop culture references are aggressively mixed with conceptual design. The central element in the collection is the prints. I used dollar bills, which have had their various subliminal messages underlined, and mixed them with declassified top secret documents. I wanted to create something strict and somewhat darker, but also humorous. There's a juxtaposition of fragile, see-through mesh and opaque tailoring fabrics, I wanted to create a symbolic 'uncovering of the truth'.
I believe that we should recognise our platform and use our voices to start conversations around the politics of race, gender and sexuality. The topic of superstition and conspiracy theories always sparked an interest in me, and I can also see the similarities between the social tensions arising today from ongoing oppression and the concept of uncovering the truth. With everything going on around the world today, I believe my work needs to be a reflection of the current situation.

I think the coronavirus was a huge reality check for the whole fashion industry. Many areas of this industry are based on inhuman practices and I would hope, going into the future, that we can bring light to all the grey areas which are rooted in oppression, racism, sexism, and poverty.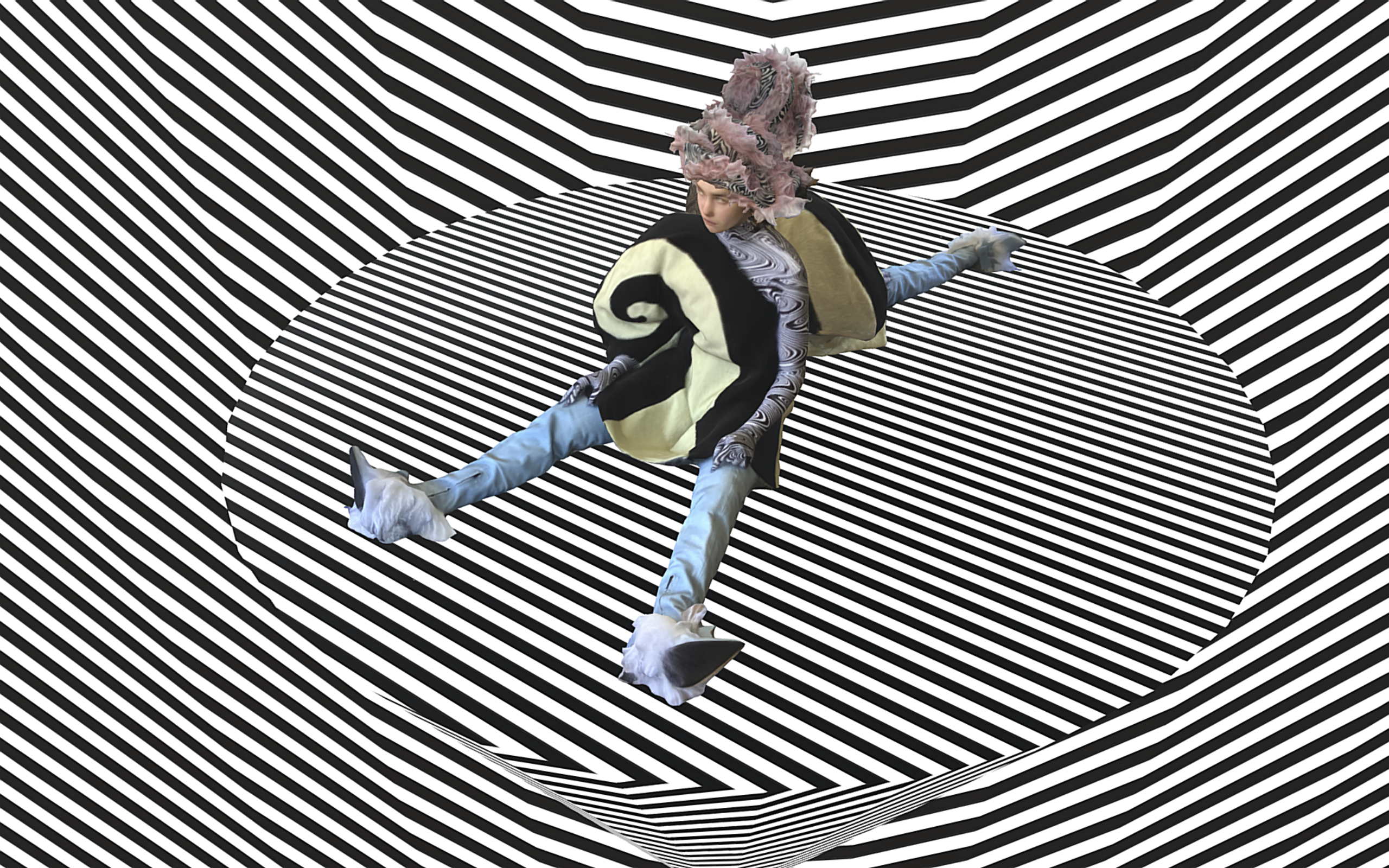 Florentina Leitner, womenswear
For my collection I got inspired by vertigo -- not only by the feeling but also by the Hitchcock movie. One of the scenes which inspired me most was the dream sequence in which the main character spiralled down into a floral world. It felt like a nightmare but a beautiful one. I also felt like I was in a nightmare the last months. The news felt surreal and scary but in such dark times there's also beauty to be found.

While in lockdown, I discovered different ways of presenting my collection. I worked on 3D scans which I made in collaboration with digital artist Geoffrey Lillemon. I also started up-cycling old garments, reusing buttons, shoulder pads and zippers; sometimes it was full pieces used as lining or I made accessories like gloves and socks out of vintage clothes.
Once I've graduated I would like to gain more experience in the industry. Hopefully I get a nice job somewhere but the times we are in right now makes it difficult. I love the idea of having my own little brand but that is my longterm plan and I still have a lot to learn and to improve. Still the future is unknown -- as we all saw in the last months -- so you never know what will happen next.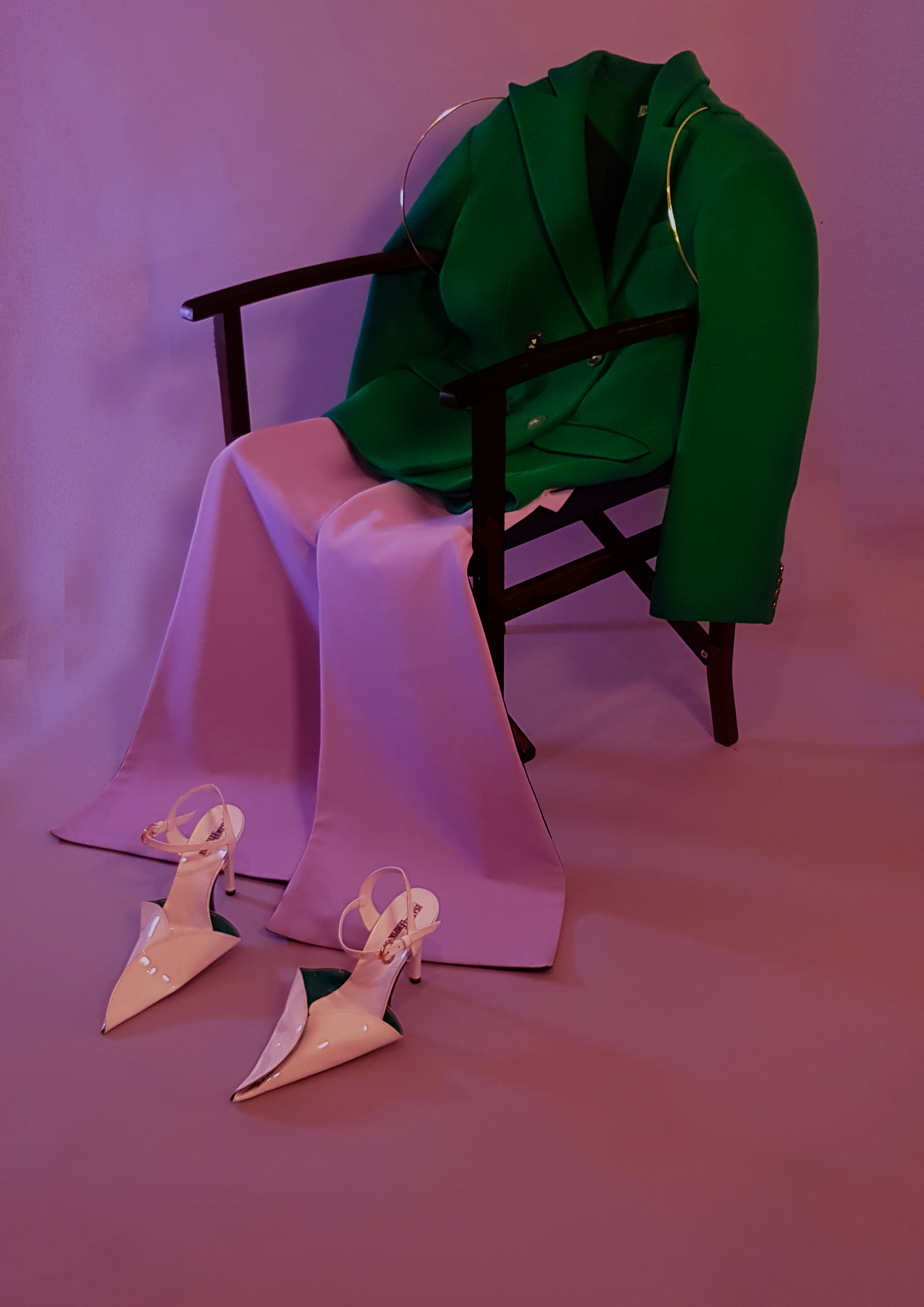 Isabelle Lempik, womenswear
My collection is the story of my family and how my parents manage to balance different cultures. I never had the feeling I was caught in the middle but, even as a child, I knew that my background gave me a deeper understanding and balance. As a symbol for their marriage and the bond and unity of my family, I wanted to integrate golden rings into my patterns. It is a delicate but strong element that I wanted to become important for the structure of the garment.
I wrote my MA thesis about sustainable fashion but I quickly got frustrated, because I realised that there is no perfect solution for everything that needs to be improved. I had to change my perspective and use my skills as a designer. I'm not a scientist and can't invent the perfect sustainable material but I can use my creativity to make garments that have a reason to be produced and will last as long as possible.
My process started before the corona outbreak here, and I knew I could not wait for the lockdown to be over and decided to photograph my collection at home, by myself, without a model, but only the body parts of a mannequin. For me, it was important not to ignore corona, but to find a concept that reflects that our society is in a different spot now than it was a few months ago.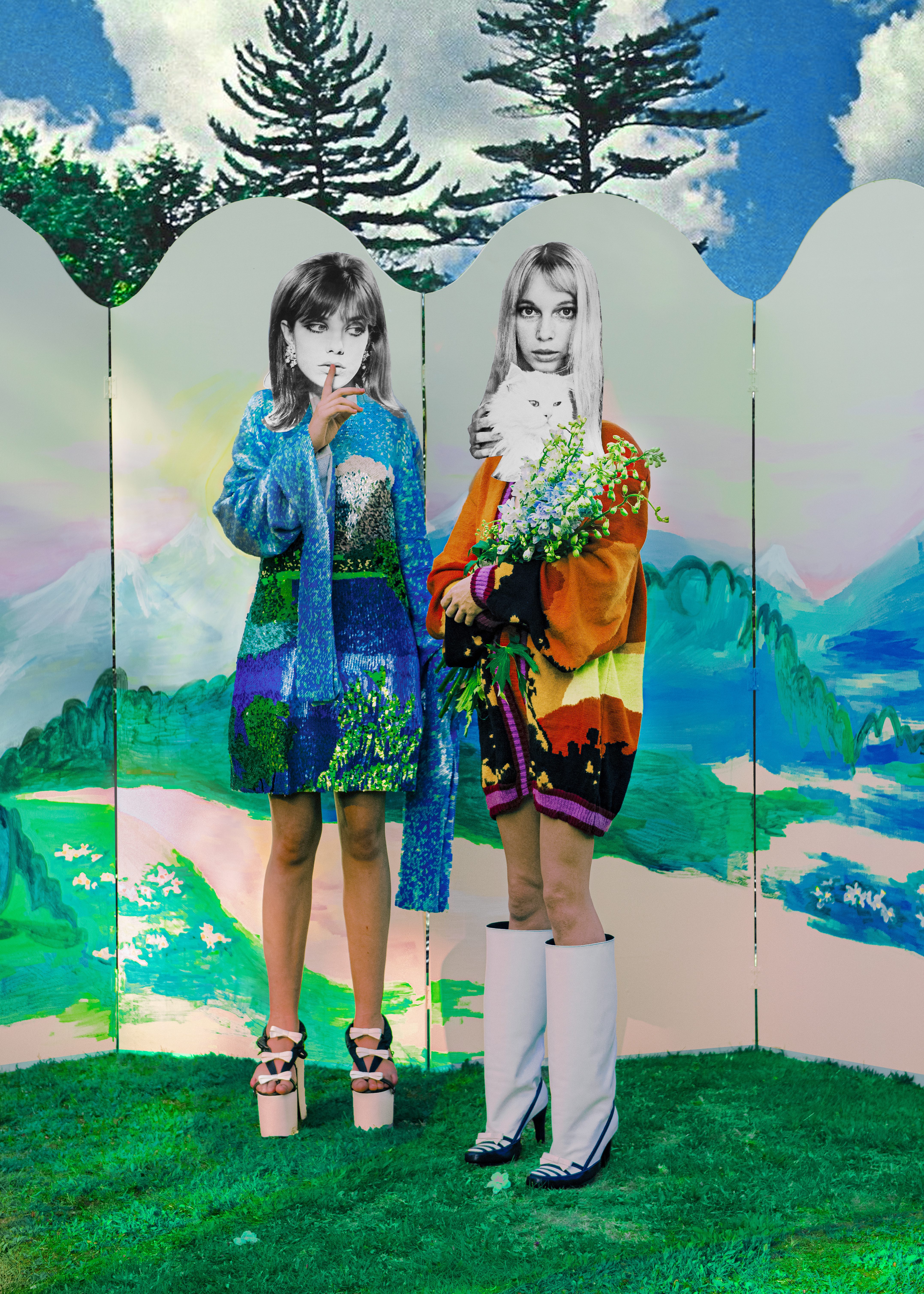 Marie Martens, womenswear
My collection is inspired by Truman Capote who held a big extravagant party in the Plaza in the 60s called the Black and White Ball, which was attended by people from all walks of life. Truman always surrounded himself with a group of glamorous women he called his 'Swans'. One of these Swans was Lee Radziwill, the sister of Jackie Kennedy. She was adored by many for her great sense of style and the impression she made on artists like Peter Beard and Andy Warhol. Lee's aunt and cousin were Little Edie and Big Edie Beale from the documentary Grey Gardens, an eccentric duo living in their decaying house in the Hamptons. The glamour of the Swans and the eccentricity of the Beales inspired my collection's silhouettes, covered in sequins, hand embroidered matelasse and knitwear.
I came to study at Antwerp through a friend of mine, who introduced me to the school. As soon as I entered I knew 'this is where I should be'. The creativity and people from all over the world have really broadened my way of living and thinking. Also, drawing, painting and graphics are very important at the academy, which resonated with me as I always start every collection by making drawing as a way of creating a world.
I think this year has made a lot of people think about what we've been doing, something that was once very natural has now all come in question. I hope that there will be more environmental awareness within the fashion industry but I also hope we'll make fashion a little bit slower.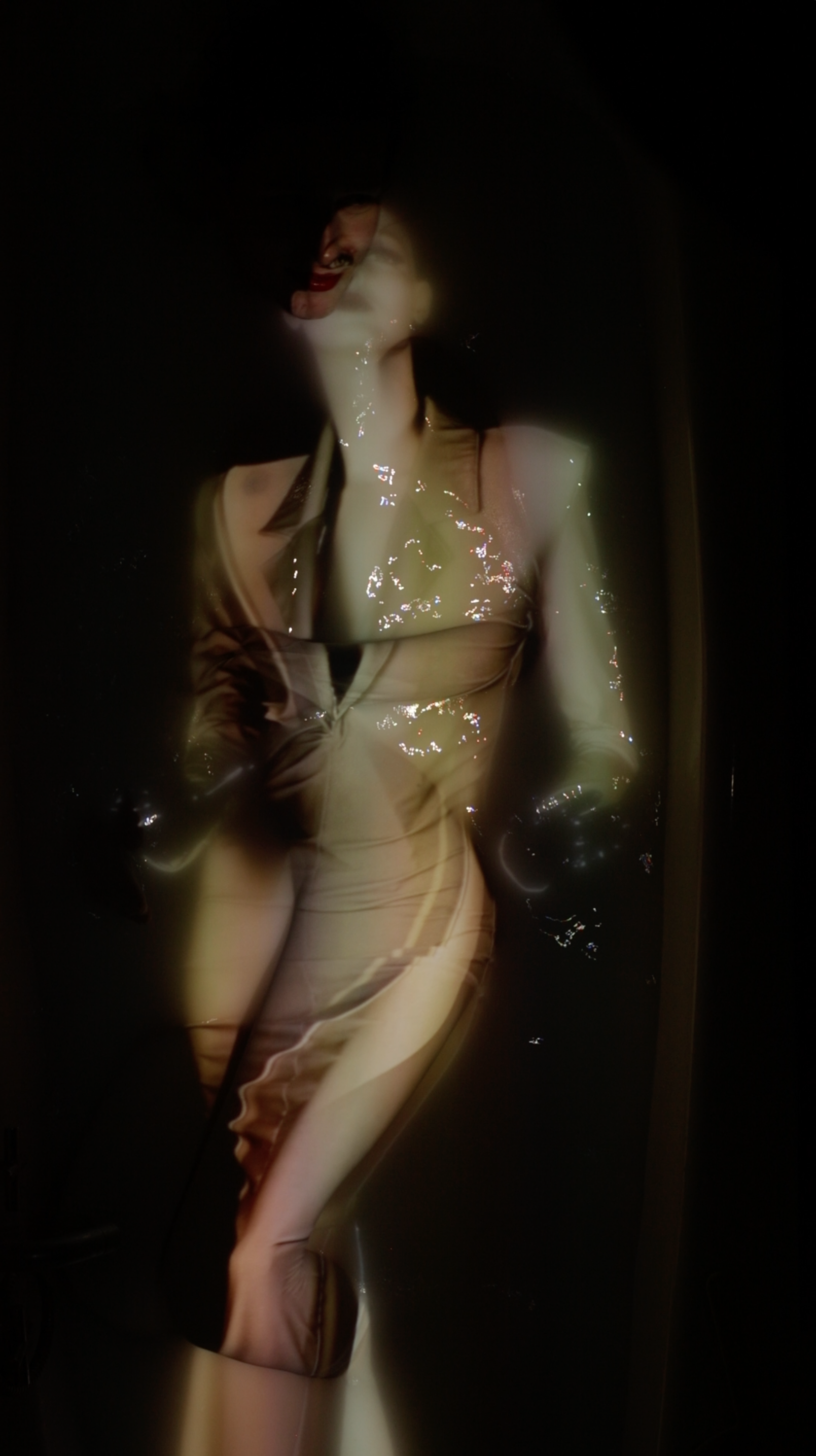 Annemarie Sadic, womenswear
I researched concept cars and their streamlined visual language. I wanted to translate the stiffness and the shine of a car into my collection. I decided to work with stretch and sheeting systems in order to make the garments stiff, which made the body more simplified and enhanced. I was interested in the terminology concept car in general. I thought about the concept of a dress or garment that is almost always a tube, seeing it as a geometrical shape, creating a stripped down version of what a garment is.

Coronavirus has deeply impacted my final year. Due to the lockdown, certain collaborations I had planned had to be cancelled. Additionally, I had to source my fabrics through different channels than what I was used to and had to adapt my silhouettes accordingly, which was challenging but also interesting.
I think it is hard to get a real grip on how the systems and mechanisms of the fashion industry work. Whatever the future might be, it is undefined. This time has given us the chance to reflect and share our thoughts with each other. As a result, wrong and unjust aspects of the industry will be discovered and this will implement a new set of rules and regulations for the future.