Photography Julian Poropatich
Kenneth Ize wants to see more "vulnerability in men, less power"
The Lagos-based designer discusses the inspiration and digital processes behind his SS21 collection, A Man's as Good as His Words.
Photography Julian Poropatich
Kenneth Ize's Paris Fashion Week debut back in February was truly one for the history books -- a marker on fashion's timeline. Sure, few designers can say that mother Naomi, Adwoa Aboah and Alton Mason all walked their first show on a major fashion week schedule, but its real significance lay in what it represented -- the arrival and appreciation of fashion created on the African continent on the industry's most prestigious stage.
Six months on, Kenneth's still there -- though that stage is a little less busy than it was last time. This season, he's one of the few independent designers showing his work in the flesh -- a commendable achievement in its own right. The journey to get here, though, hasn't been the smoothest. There have been highs, like the collaboration he's working on with Karl Lagerfeld (the brand, rather than the late designer himself), with a capsule collection to be released in Spring 2021. And with his first paycheck, he's bought a plot of land in Ilorin State in Western Nigeria, where the community of artisanal aso oke weavers he works with are based, beginning construction on his very own weaving factory.
There have, however, also been lows. Despite his AW20 collection attracting rapturous praise from buyers and critics alike, cancelled orders have been a norm rather than an anomaly. Kenneth's ambition, however, remains sturdily intact. Over many months spent in Lagos, watching crises and injustices continue even when the world was supposed to have ground to a halt, he reflected on the direction he wanted his brand to take, what he wants it to say about the state of the world in which it exists.
The result is his sophomore collection, A Man's as Good as his Words. A lyric borrowed from India Arie's "Promises", it's Kenneth's call for us "to always hold on to our honesty, to our truth. I will never make any clothes that aren't inclusive, that aren't relevant," he promises, "so this collection is really about keeping to your word, keeping to your own beliefs. I'm not just here to make beautiful clothes, but also to make an impact and make a change."
Still, beautiful clothes he has indeed made. On Friday at the Palais de Tokyo, Kenneth gave a punchy, 13-look statement on just what it is that he stands for: bright, gender-ambiguous tailoring in handwoven aso oke silk cloth, fusing small-scale artisanal craft with a progressive perspective on what it means to live in the world today. If it wasn't clear from the collection's rainbow stripes, it's an optimistic one. To underscore that, he invited Maty Biayenda, a Black trans painter based in Paris, to create a mural over the three hours of the presentation's duration. It was intended as a message of cheery defiance against opponents of LGBTQ+ rights and welfare both in Nigeria, where homosexuality is punishable by a prison sentence of up to 14 years, and elsewhere. "I have friends whose families are in politics, and friends who are going into politics, and I know that they'll see this," Kenneth says. "To have a trans woman painting joy, Black pride and elegance was very important for me."
After the show we caught up with Kenneth to discuss the new direction he's taking his brand in, the message he wants to send to Nigeria's conservative political institutions, and working with his community of artisanal weavers over WhatsApp.
How have things been since your Paris debut last season?
It's been a rollercoaster… I was in Lagos for most of it, with my dog. The plan before lockdown was to be there for about a month, so I could work on my deliveries, but then I got stuck! Buyers started cancelling their orders, and then I decided to cancel all orders myself before they did. I took it as an opportunity to restructure how I was going to spend my time, both during the pandemic and after it. And then there were the killings of George Floyd, Breonna Taylor and so many Black trans people -- it really affected me.
When I eventually decided to start working on the collection, I decided to set my focus on where we are right now. I asked myself: How do I want to present fashion? How do I want to grow my brand? How do I want to create an infrastructure? How do I want us, as Black people, to be seen? I started thinking and then decided to do a very small collection. I want my message to be as impactful as possible, and very clear. I wanted to touch on a range of different topics, but still ensure that it looked very cohesive.
What topics did you want to discuss?
Well, the Nigerian government's handling of the pandemic has really disappointed me. There's no social housing system in Nigeria, and no system where the government gives you free food. The poverty level in Nigeria is actually quite high, so there were people that couldn't go to work, that couldn't really eat, because there was a lockdown. There were people who didn't have the means to buy masks, but were forced to find the money to buy what they couldn't afford. It just sounds more like a dictatorship than a democracy. So I looked at what government officials used to wear during the dictatorship in order to send a message to them. That's why I have the short sleeve blazers and the belted blazer this season. I also wanted to use the same fabrics that I've been using in previous collections, as I don't think I've ever seen any Nigerian government officials wearing that sort of fabric in that silhouette!
You also undermined stereotypically masculine ideas of what tailored pieces should look like. There's a blazer-dress, for example, and a halterneck, backless waistcoat.
I mean, I'm a gay man, and I'm a gay Black designer. Living in Nigeria for the past five years, I feel like I hid this side of myself, but I also feel that it was very important for me to actually show that side of me through my clothes. I don't want to be a gay designer that designs masculine things, it's not my truth. I want to see more vulnerability in men, less power. I think that's very important.
Was it a similar idea with the makeup?
Yeah, it actually goes back a time when I was assaulted in Lagos airport. I was flying to Europe, and I had my nails done. The customs officer was just like, 'What the hell's this?! Why do you have your nails like this? Are you gay?' I was like, 'Yes, what shall I do about that?' but it was such an episode of bullying. I was privileged enough to be able to speak up for myself, because I knew nothing would happen to me. But what about people that don't have that privilege -- what happens to them? Then, one morning I woke up and decided to start wearing makeup. I had to quarantine in Milan for two weeks, so I was ordering nail polish and just doing my nails to pass the time. Makeup is something so beautiful! It feels like something very different and new to me, I feel like I'm rebirthing myself.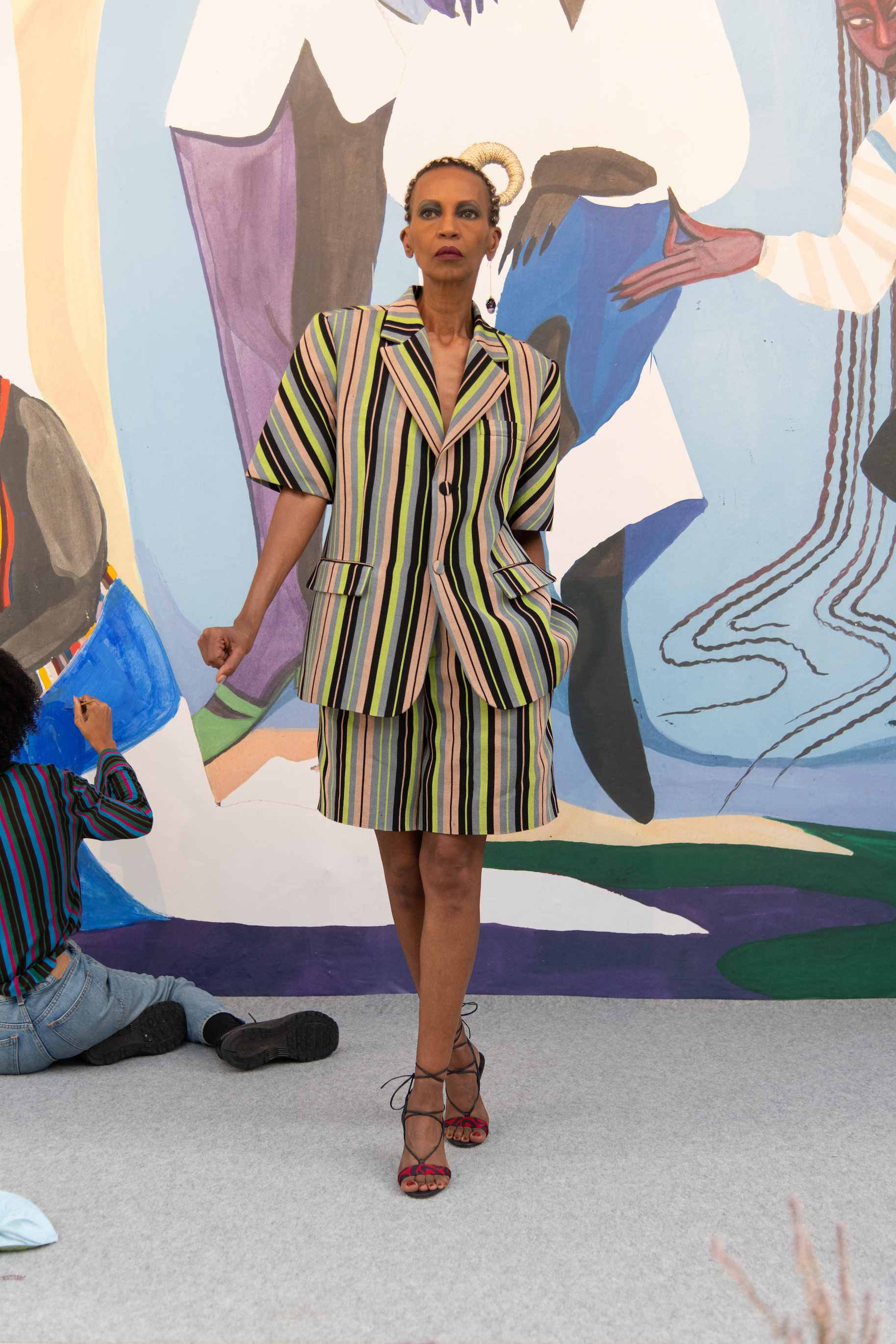 What was the process of working with your community of weavers during lockdown like?
Well, we were all working from home -- I was in Lagos, and they were in Ilorin, where they live as around 10 to 15 people in one compound. You can't really do social distancing in Nigeria -- it's quite congested, just in terms of the way it's built up -- but I was making sure they were aware of what was going on. There were difficulties, though. Getting the garments sent to me in Lagos was really hard. And the design process was mostly done over WhatsApp. I'd tell the weaver the line and colour order, for example, going back to old designs and re-colouring them on my phone.
The designs do feel quite screen-friendly -- there's more focus on graphic elements, prints and embroideries.
I've been on my phone a lot, which I realised isn't necessarily a bad thing. At the beginning of lockdown, I was complaining about it, but then I realised that I actually have access to something, it just depends on how I take it and use it. All my research was done on my phone, and I was also making sure that I was posting about it. I'd just randomly post my full moodboard on my Instagram story. Like the 3D apples that I knew would become the embroideries. And the makeup, too. It was about me being very honest about my process.
You chose to present physically in a season when most designers turned to lookbooks and films. Why was that?
I'm from an African family. We dress up to go out, we dress up to go to funerals, we dress up for everything. I feel like my garments are something that you just have to see, because I'm trying to tell a story that allows you to see us. I'm also not a fully digital person, and I don't want to try to push myself in a direction I know isn't my strength at this time. There is no time for that. It's better for me to just stay focussed on what I know I can do best and perfect it.