7 of Kristen Stewart's most iconic outfits
From bare feet on the red carpet to meta Halloween costumes, the actress of the decade doesn't play by the rules.
|
09 September 2021, 6:45pm
Images via Getty
Kristen Stewart is easily one of the coolest actors in Hollywood. Though her understated acting style has been divisive -- "emotionless", some have said -- that didn't stop her receiving the Actress of the Decade award from the Hollywood Critics Association earlier this year. Kristen has been acting from a young age, but her breakout role came in 2008 when she played moody teen protagonist Bella Swan in the Twilight franchise. Since then, she has taken on several bold, career-defining roles including Joan Jett in The Runaways, Jean Seberg in Seberg and, now, Princess Diana in the upcoming biopic, Spencer. The latter casting seemed a little odd at first but both Kristen and Princess Di are women who have refused to play by the rules -- in life, and in style.
As a Chanel muse and queer icon, Kristen is the queen of mixing elegance with an IDGAF attitude. She regularly flouts red carpet rules, pairing battered Converse with Chanel couture at or going completely barefoot. As one of Hollywood's most high-profile LGBTQ actors, Kristen has served some major queer fashion moments, whether she's staring longingly at Cate Blanchett at Cannes, or twinning in hot pants and striped tube socks with then-girlfriend Stella Maxwell. Here, we look back at some of these moments, celebrating Kristen's most style-defining looks.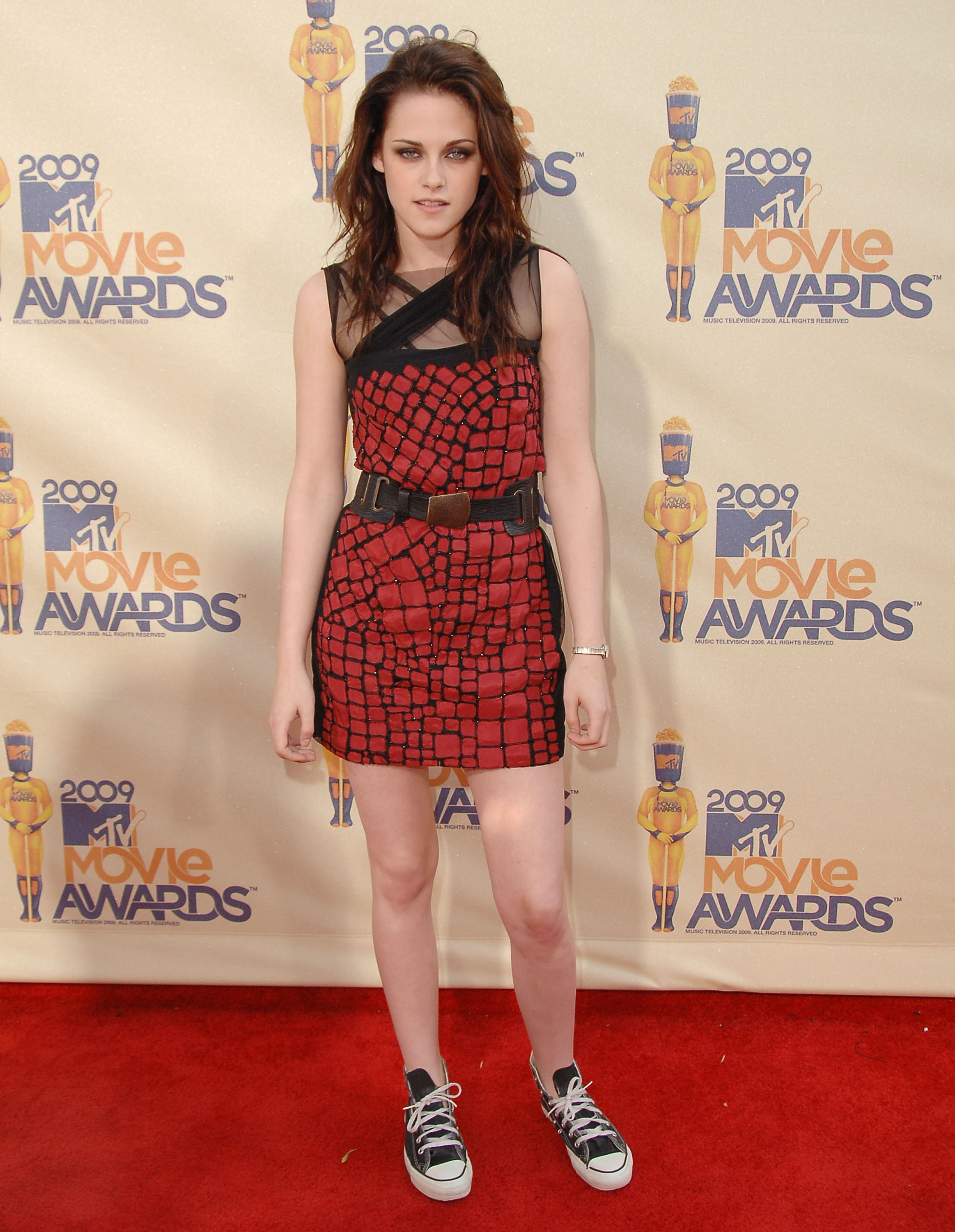 At the MTV Movie Awards, 2009
There's an extensive photographic record of Kristen Stewart's love for flat footwear, no matter the occasion. She made headlines in 2017 when she protested Cannes Film Festival's sexist dress codes by taking off her Louboutins in the middle of the red carpet and going barefoot. Heels just aren't comfortable after a while. We've all been there. At the festival in 2016, Kristen created the ultimate high/low fashion contrast by styling a long-sleeved Chanel couture mini-dress with battered sneakers. However, the actress' inclination towards comfy shoes dates back to the Twilight days. She rocked up to the MTV Movie Awards in 2009 in this edgy red mini and Converse combo to pick up an award for Best Actress and Best Kiss – an award she shared with R-Patz!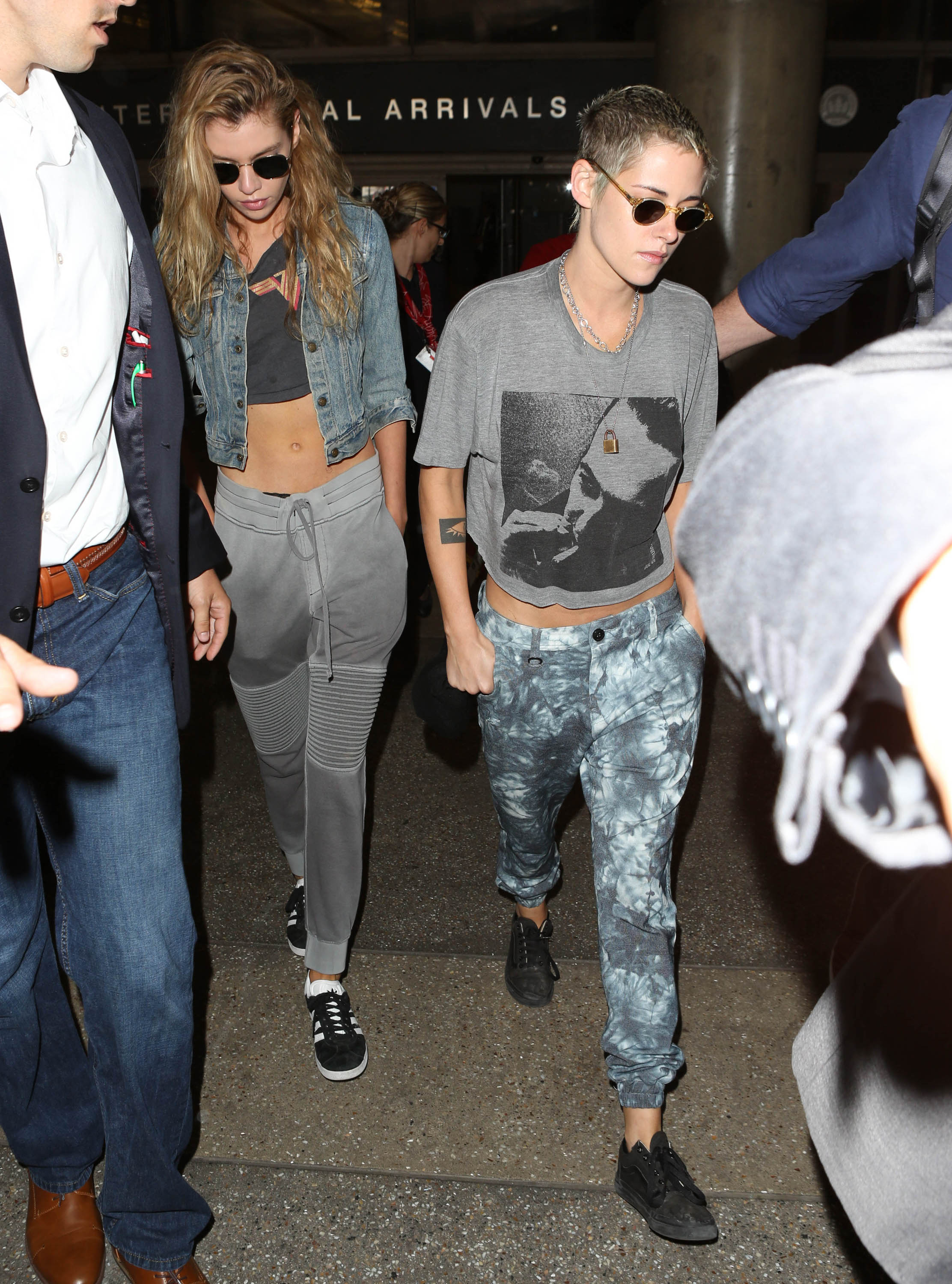 Tomboy street style, 2010s
Kristen Stewart's street style follows a quintessential relaxed formula of denim, cropped tees and, of course, comfy trainers. It's much more toned down than her glam, red carpet looks, proving her personal style to be as chameleonic as it is classic. Here, Kristen wears her signature tomboy look with model Stella Maxwell, who was her on-off girlfriend from 2016 to 2019. The pair were often photographed wearing similar outfits. The urge to merge is real, guys.
SNL monologue, 2017
The first time Kristen Stewart hosted SNL she was filled with such nervous excitement that she accidentally swore live on air. Her whole monologue was iconic. Addressing Trump's weirdly obsessive tweets about her from 2012, she added that he probably hates her even more now because she's "like, so gay, dude". The actress wore a Spanx slip underneath a mesh skirt for an achingly cool riff on the classic LBD.
Gazing longingly at Cate Blanchett at Cannes Film Festival, 2018
When Kristen Stewart was photographed eyeing up Cate Blanchett at Cannes in 2018 the internet exploded. The images are now a mainstay on lesbian meme accounts and have inspired countless tweets. One user summed it up, writing, "Kristen Stewart looks at Cate Blanchett the way that all lesbians look at Kristen Stewart looking at Cate Blanchett." Cate herself is an honorary gay after starring in lesbian romance Carol in 2015. Here they wear matching pastel suits, with Kristen in baby blue Chanel tweed and Cate in custom Stella McCartney.
Robert Pattinson's old Get Off My Dick t-shirt, 2018
In December 2018, Kristen Stewart stepped out in what appeared to be ex-beau Robert Pattinson's old t-shirt. Rob was seen wearing the Beastie Boys tee on set years earlier. As soon as fans saw the images, they reached the conclusion that Kristen had committed the ultimate breakup power move by stealing Robert's tee and cutting it into a crop top. It's never been confirmed that it's the same shirt so it could be that the two actors just happen to have exactly the same fashion and music taste… But the fan theory is way more fun to believe. Robert and Kristen started dating in 2009 while they were still Twilight co-stars, the franchise that thrust them both reluctantly into the spotlight. They've made no secret of what they both really think of Twilight.
Say what you want about the teen vampire romance, but it gave K-Stew and R-Patz the fame and status to pretty much do whatever they want with their careers and they have used their stardom to keep the indie/art-house film industry thriving. #TeamEdwardForever.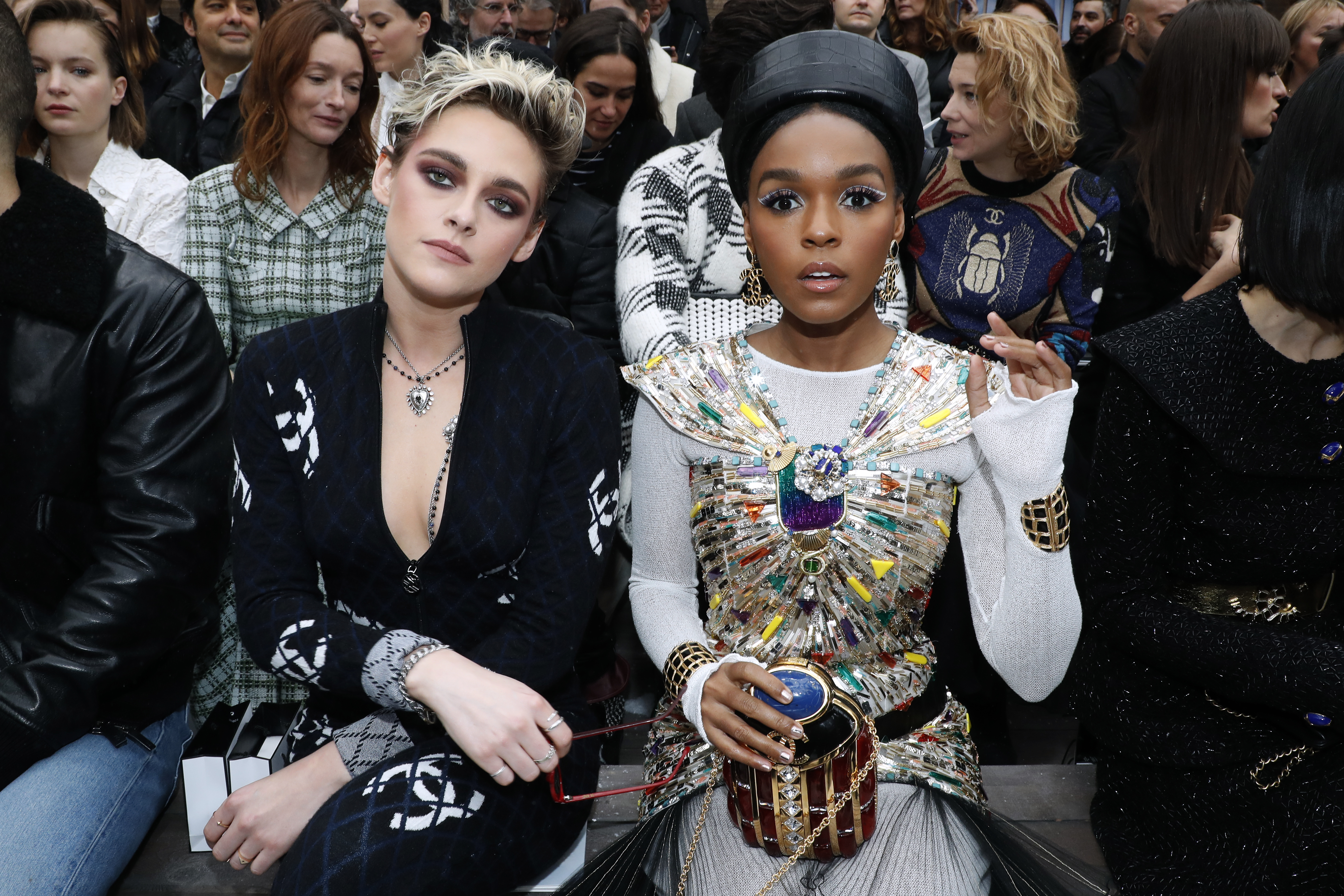 Front row with Janelle Monáe at Chanel Autumn/Winter 2019
Chanel's emotional AW 2019 show honoured the late Karl Lagerfeld and had many memorable moments. Kristen Stewart and Janelle Monáe together on the front row was one of them. It was another queer fashion moment that caused Twitter to implode, with one user describing it as "a reason to carry on." As a Chanel ambassador since 2013 and the face of the Gabrielle fragrance, Kristen and Karl were close. The actress described her relationship with the late designer to Vanity Fair, saying, "He was incredibly inviting — insanely, shockingly unpretentious. He was a fancy motherfucker, but it was true to him. He never talked at you — if he was talking to you, he was usually holding your hand. There's just a feeling that he gave me, an encouraging attaboy thing that shapes you in really profound ways." Kristen and Janelle attended the show for Karl's final posthumous collection decked in designs by the late fashion legend. Kristen wore a navy-blue jumpsuit blanketed with the Chanel logo and Janelle wore an Egyptian-inspired look from the brand's Métiers d'Art 2018-19 collection.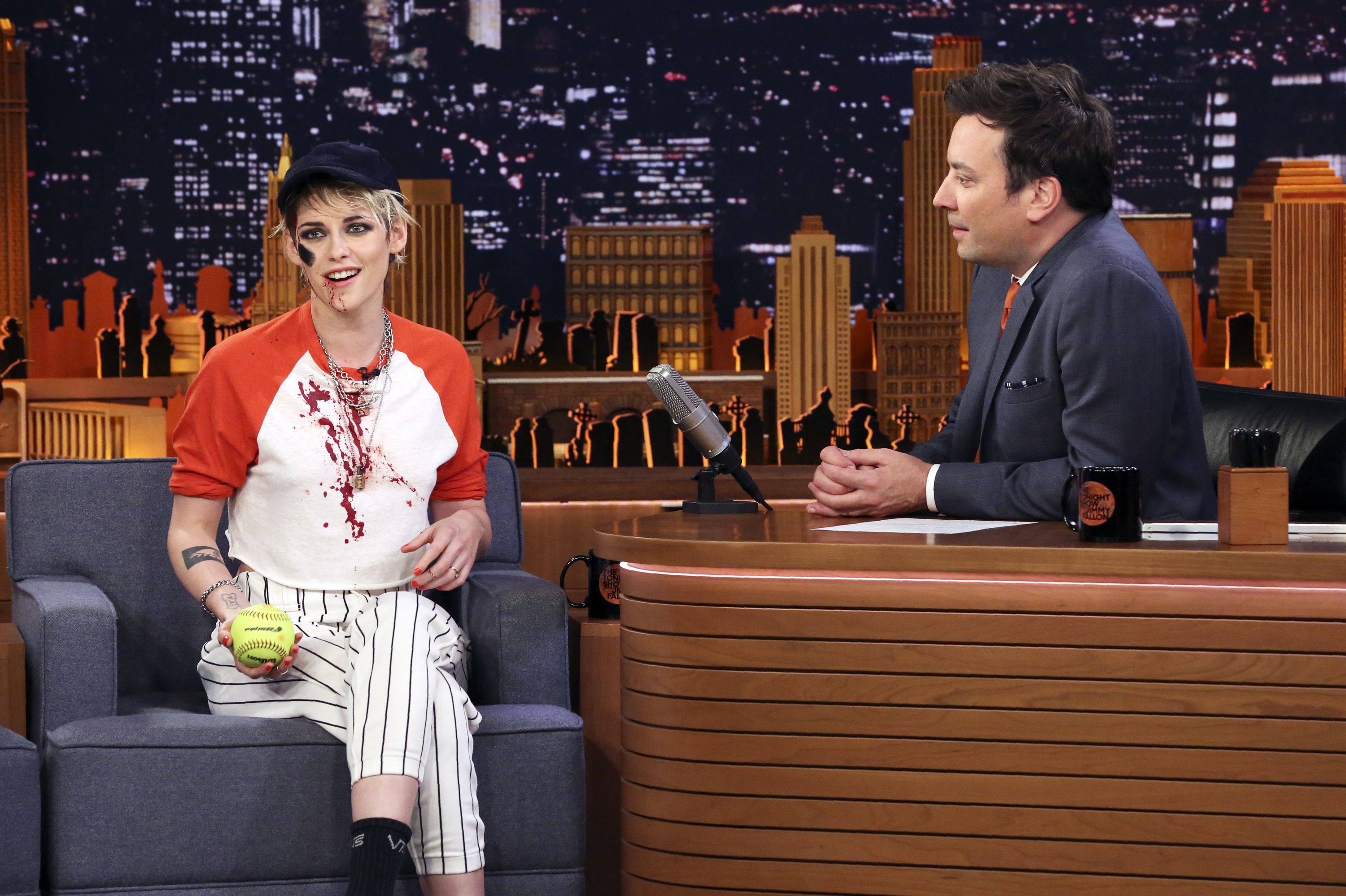 As a dead baseballer on the Tonight Show, 2019
For Halloween 2019, Kristen Stewart sat down with Jimmy Fallon and described her meta dead baseballer costume, which was a literal dead stereotype. "My girlfriend is a dead cheerleader," Kristen explained, "she's like a 'fearleader', and she was like, when people ask us what we are we can just be like, 'We're socially irrelevant heteronormative gender roles – that are dead." And, with that, Kristen murdered outdated gender roles, and won Halloween.

Follow i-D on Instagram and TikTok for more iconic outfits