The Grammys have finally renamed their 'Urban Contemporary' category
Welcome to the 21st Century, pals!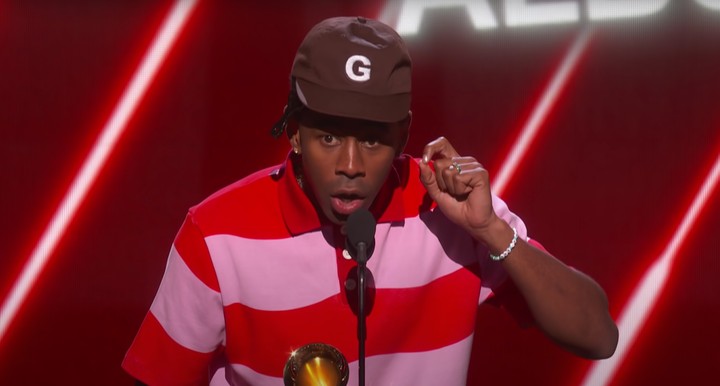 Presumably feeling the heat from the global social reckoning following the brutal death of George Floyd, the Recording Academy has made some big changes to its prestigious Grammy Awards. For one, their long-controversial Best Urban Contemporary Album category, has been renamed 'Best Progressive R&B Album. The redefinition of this category, according to the Academy, is "intended to highlight albums that include the more progressive elements of R&B and may include samples and elements of hip-hop, rap, dance, and electronic music."
According to a statement, the new category names are intended to represent "the merit or characteristics of music compositions or performances themselves". The use of the word 'urban' to describe music has frequently (and rightly) been criticised over the years for how it tends to generalise music by Black artists, ultimately separating them from a predominantly white mainstream.
Genre-defying musician Tyler, the Creator, winner of Best Rap Album at the 2020 Grammy Awards (despite IGOR not technically being a rap album) highlighted the racial micro-aggressions of the term 'urban' in a post-ceremony press conference. Though grateful, he expressed his disappointment at the way in which his music is categorised by the industry. "I don't like that 'urban' word," he said. "It's just a politically correct way to say the n-word, to me. So when I hear that, I'm just like, why can't we just be in pop? Half of me feels like the rap nomination was a backhanded compliment."
News of the category name change follows an announcement by Universal Music Group's Republic Records that, effective immediately, they will "remove 'urban' from our verbiage in describing departments, employee titles and music genres". The record label go on to encourage the rest of the music industry to follow suit, as it is "important to shape the future of what we want it to look like, and not adhere to the outdated structures of the past".
Speaking to Variety, Harvey Mason Jr. (interim president and CEO of the Grammys) was quick to point out that their category changes were finalised last month: "The time frame of our process is that proposals are turned in by March, they're discussed in May, and now we're talking about them publicly, so these are things that have been in the works for six months."
Despite all of this, it looks like the Academy has failed to drop such terms entirely, having changed their "Latin Pop Album" to "Best Latin Pop Or Urban Album". So perhaps the lesson hasn't quite been learned. Baby steps!