Watch a trailer for David Attenborough's new climate crisis Netflix doc
Sorry, but this one isn't going to be as calming as 'Blue Planet'.
|
24 September 2020, 10:55am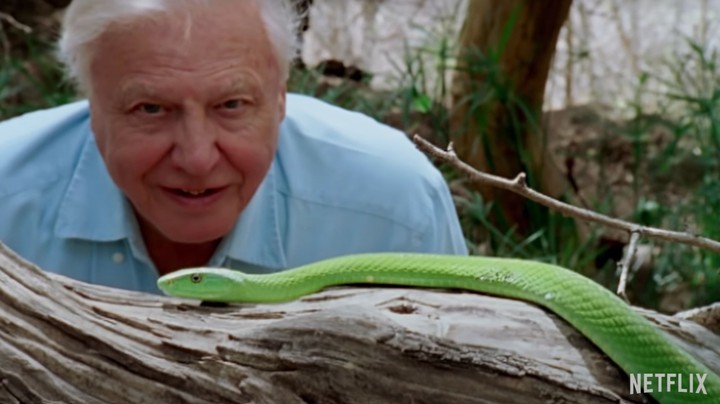 There's something about David Attenborough that just makes everything feel like it will turn out alright. Maybe it's his soothing voice, or the wise old man energy he emanates, but when we're feeling especially overwhelmed with the state of the world -- an extremely 2020 mood -- we can just stick on reruns of Planet Earth and listen to David narrate some HD footage of, say, a baby bird being born or something, and the anxiety subsides. He is, arguably, the last good old white man left in Britain.
The veteran presenter's latest documentary, a Netflix special, seems like it'll be a little bit less soothing than what we're used to. It's all about how the planet we live on is slowly (or not so slowly) dying so, as you can imagine, a bit of a change in tone.
Innocuously titled A Life on Our Planet, the documentary -- which drops 4 October -- is based on the natural historian's most recent book of the same name. And it's here to warn the audience, us, of how mass extinctions, droughts and future pandemics just like the one we're currently living through are all looming on earth if things don't change, fast. In the newly released trailer, David explains the phenomenal amount of damage the human race has caused on the planet, from oil spills to deforestation and industrialisation. "Human beings have overrun the world," he laments.
And while the show looks ahead to our possible future (not good) it also shows that that future is not the foregone conclusion we might think it is (good!). "Our planet is heading for disaster," the 93-year-old says, as he reflects on his life's work. "We need to learn how to work with nature rather than against it, and I'm going to tell you how."
And he's David Attenborough, so obviously you have to listen. Watch the trailer for the show, which he's called his "vision for the future", and try not to get too gloomy about the state of the world. We still have the power to change things. Just about.