"Tom taking a shower." Photo courtesy of Elliott Jerome Brown Jr. and Nicelle Beauchene Gallery.
Artists Elliott Jerome Brown Jr. and Zalika Azim on exploring time, space and the Black body
The pair discuss self-portraiture, the importance of exhibiting art in the communities where it's made and their latest exhibition at Welancora Gallery in Brooklyn.
|
09 September 2020, 3:13pm
"Tom taking a shower." Photo courtesy of Elliott Jerome Brown Jr. and Nicelle Beauchene Gallery.
In a beautiful 19th Century brownstone in Brooklyn's Bedford-Stuyvesant neighbourhood sits Ivy N. Jones's Welancora Gallery — a designated space for guest curators to organise exhibitions of artists from around the world. Her current show, curated with New York City-based artist Damien Davis, features photographs, ephemera and a performance by Elliott Jerome Brown Jr., Zalika Azim, Colette Veasey-Cullors, Melvin Harper, Daonne Huff, Anders Jones and Deborah Willis, that aims to unpack the assumptions and expectations about spaces inhabited by the Black body.
Here, photographer Elliott Jerome Brown Jr. and conceptual artist Zalika Azim sit down to discuss their work, home and the importance of exhibiting art in the communities in which it's made.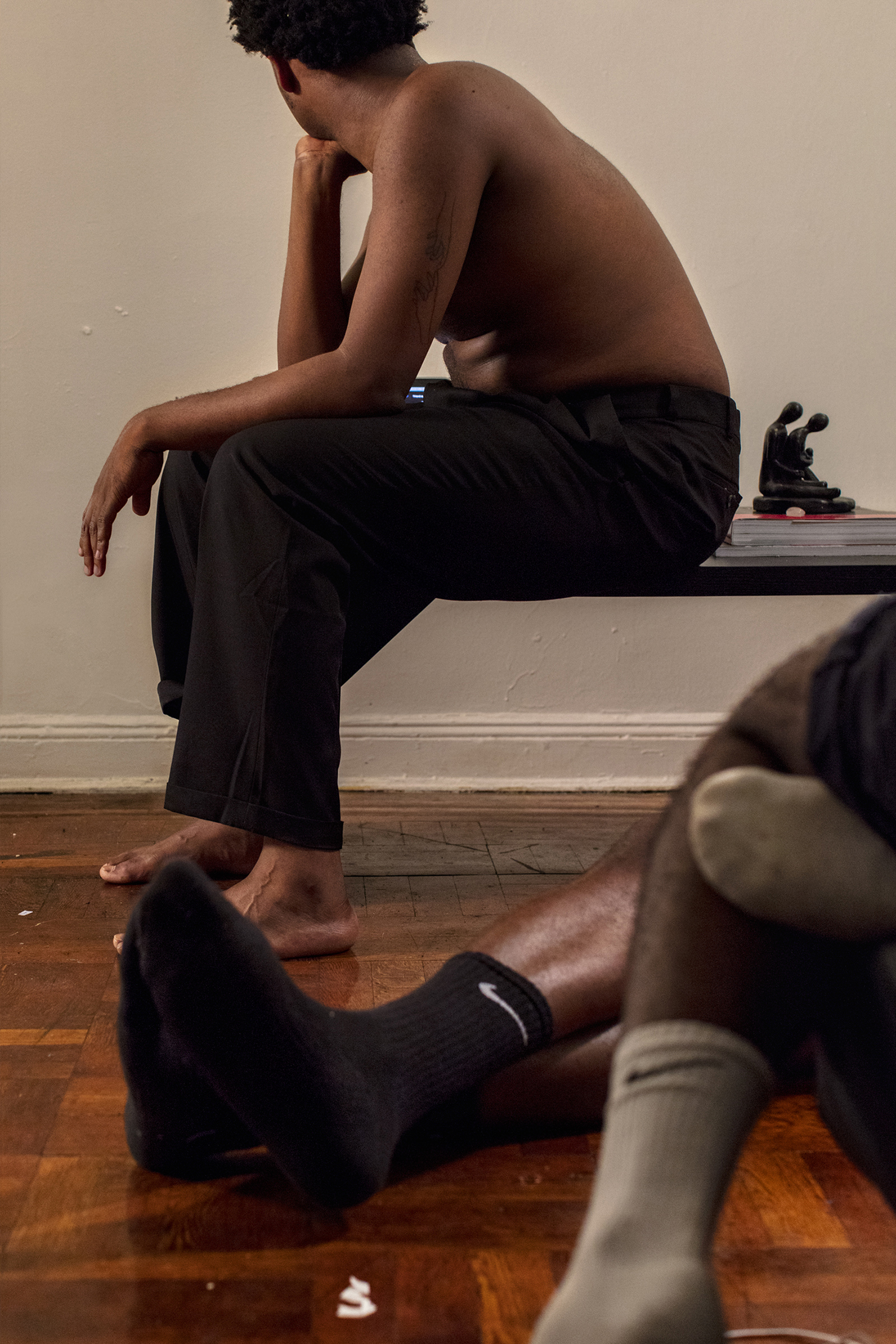 Zalika Azim: We met in 2011, I had just transferred from the San Francisco Art Institute to come back home and join the photo department of New York University. I don't know if it was in class or in the hallways?
Elliott Jerome Brown Jr.: There were very few Black people in the photo department, but because Deborah Willis is the head there's a certain tone throughout the halls so you don't feel as isolated. Zalika, you're certainly a stand out woman, confident with such a command to your walk. Your thesis show had a huge impact on me and so many of us in the department. It really shocked and galvanised us.
My thesis show was me jumping off the ledge a little bit because for the first couple of weeks, I came into school with two huge suitcases of family photographs that I had just found. I was really thinking about the importance of the home space, community building and about what the possibilities of the gallery space could look like. I got a bit of pushback because most people on the program were doing more traditional documentary work, which is the work I came in doing. It shifted when I started thinking about how Black and brown people specifically have used the camera to shift what their narrative had been previously.
You were doing the work of investigating yourself and the context that brings you, your family and others like you to the fore. You are still supported and stabilised by that inquiry, whereas my primary issue with the way that others practice photography is this inclination to tell others stories. Mind your own fucking business and tell your own story.
Your work has changed so much. When we were in school your images were mostly of yourself — your physical body in proximity to others and spaces that you were looking to question or unpack. It made me think about how images are presented and at times withheld. I'm thinking about protection and intimacy in a way where the thing doesn't always have to be spoken in order to be explained or communicated.
When I was making those self-portraits that I applied to Tisch (NYU Tisch School of the Arts) with, I remember one of the special questions on that application was: what is home to you? I said the only home that I truly have is my body. At that time, my parents were in the midst of getting a divorce. My mom was considering selling this house that I had grown up in and I was also struggling with my sexual and racial identity. These parts of me were just kind of prickly and I just needed a way to reflect on myself. In college I continued the practice of self-portraiture because I didn't have a lot of time and flexibility in my schedule, so I really had no choice but to look at myself. At that point, I was a little bit more comfortable with my sexuality, but still exploring it in ways that brought a lot of shame or didn't make me feel very good. The photographs really reflect that, they're very sad, violent photographs. I needed a place to enact or perform what I thought was happening to me, what my experiences were as a Black, queer man from Long Island, with Southern roots.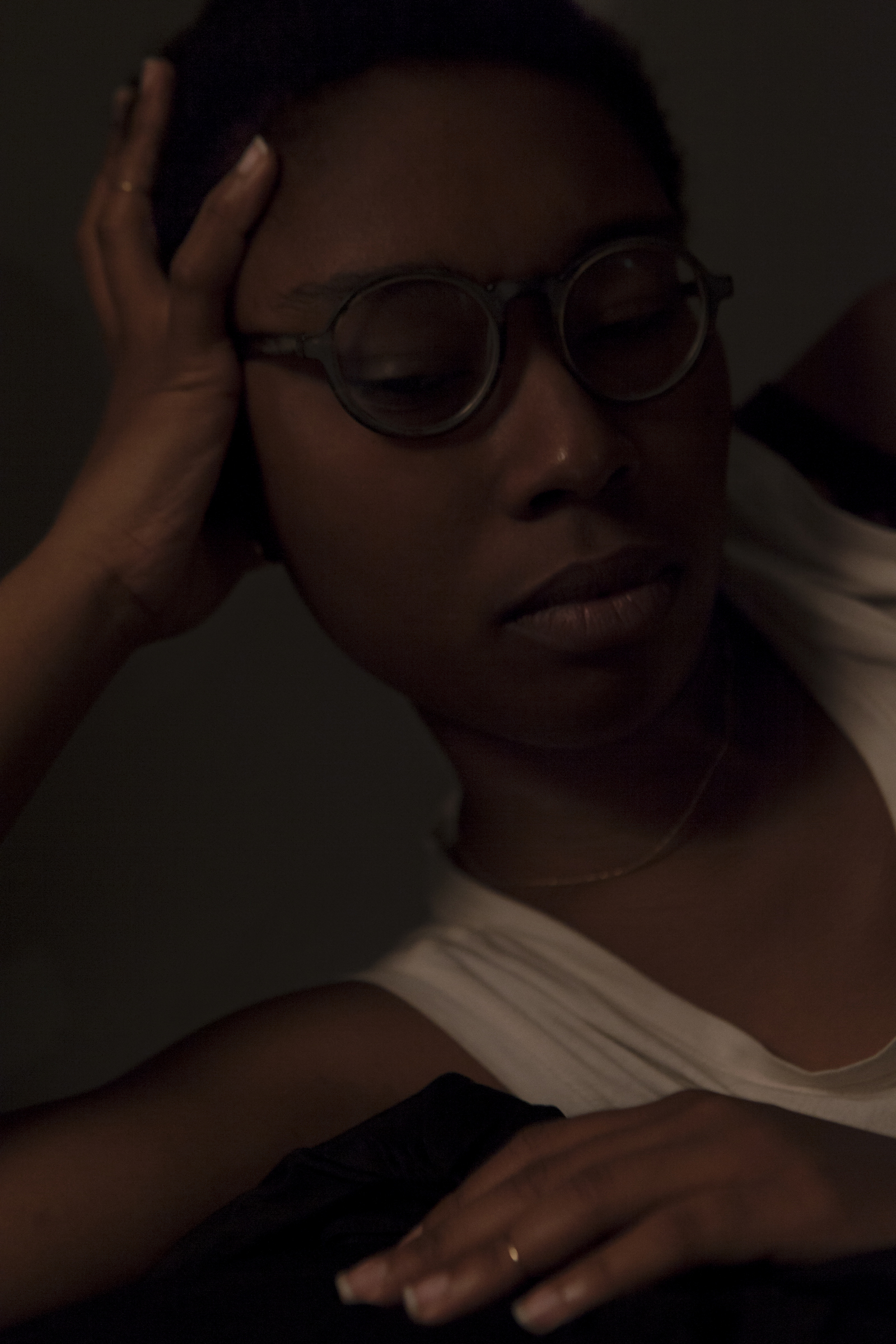 So, they had a healing quality?
Yes, for sure. It was like a public affirmation of this identity. It provided a lot of agency for me. But after a while I started looking at the images that I was making and I was like, "Why would any Black person feel affirmed by these photographs? Who is this helping?" The process of self-portraiture made me really understand that any photograph you make is a reflection of you regardless of whether you're physically in the photograph. I carried that on when photographing other people, but I found uneasiness in representing others and didn't want to speak for anybody, I didn't want to simplify anybody's experience, I didn't want to codify it to fit a particular understanding of existence. It didn't last very long that I was making portraits in that purely representational way. Pretty immediately I asked them to turn their backs to the camera, which allowed me to look at the environment more seriously without getting caught up on the particulars of a person's face.
It highlights a narrative that exists at the margins, and for me that comes through when I look at your work. I grew up between my dad and my grandmother's home, and I remember specifically the years that I lived with my grandmother, being in her household and asking internal questions about how she placed things around the home: how images would be sort of stuck into crevices of mirrors and what she put in the refrigerator. How did those details contribute to the larger conversation of existence and presence?
I definitely think that something we share as a foundational quality of our work and our interests is in how space is organised, particularly in our family homes. My father's parents' home in Queens is this beautiful two-floor cottage house with a fabulous porch and a lot of peace and quiet. My nana would get up every morning and sweep the sidewalk, but there was a lot of mess inside. Things on top of each other, unopened boxes and packages, mail in the cookie container — just so much chaos but I felt so valued and warm within that particular design that it didn't matter to me that it was a mess to move through. On the opposite end was my mother's parents', where certainly my mother's sensibilities are derived from, where their home was just much more orderly. Not rigid at all, it still felt very personal but exceptionally clean, pristine. Growing up I've just had this very keen awareness of space and its reflection on the personalities of the people that are responsible for that space, and the people that are raised in that space. I think that's something you're also keen on.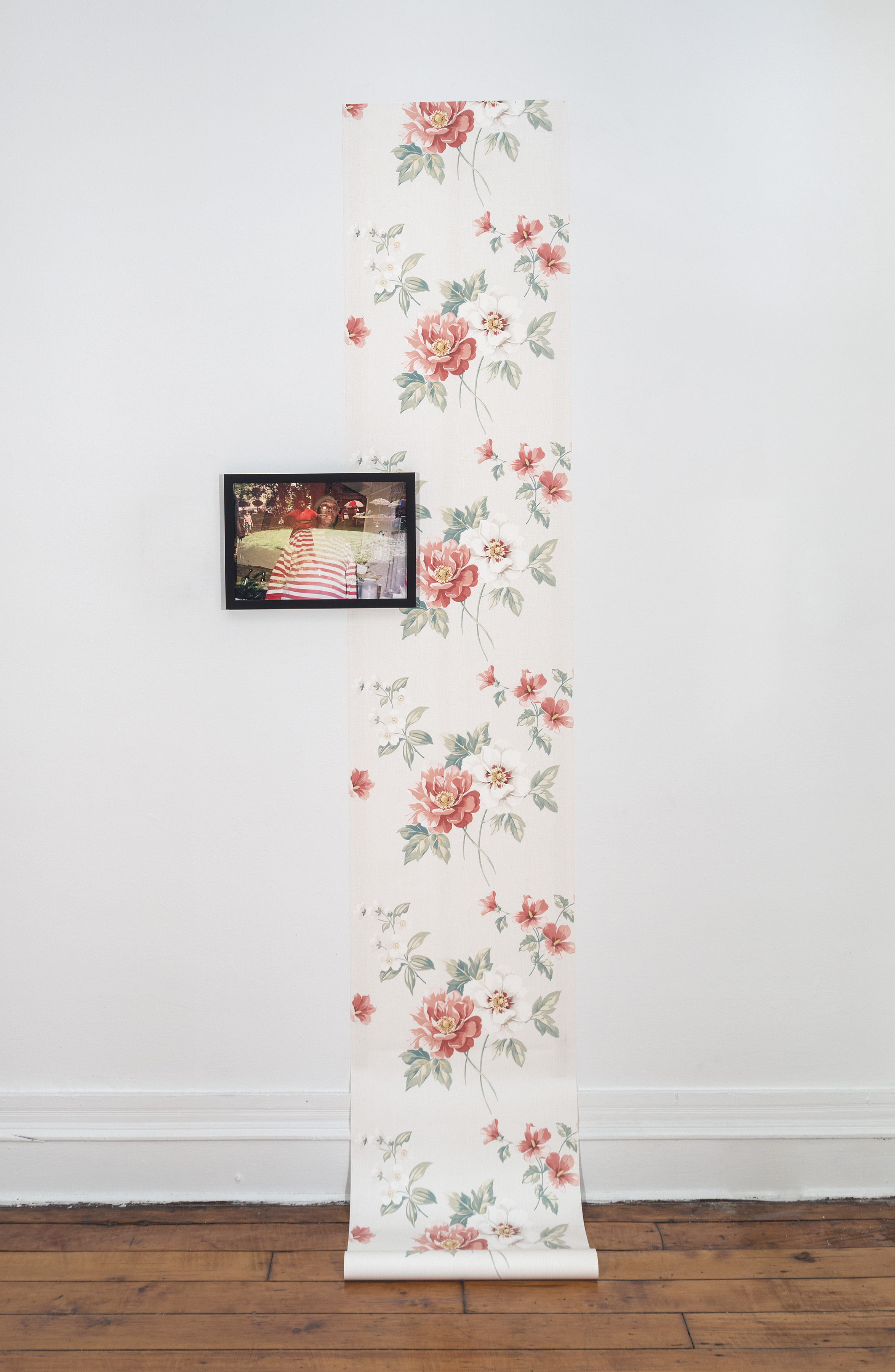 As you were talking I was visualising the spaces that I'm from. Before my dad was a teacher, he was an ophthalmic photographer, so basically, he photographed the backs of people's eyeballs. He would keep the 35mm slides, so growing up I was looking at these abstract images that I didn't realise were photographs of a component of people's bodies, as well as photographs he'd made as a teenager living in the village and being a drummer chasing after Jimmy Hendrix. He was an artist, so there was a lot to look at. Then my grandmother lived in an apartment in East New York that my great-grandmother had been in since the early 50s. Being in a home space that has been lived in, nurtured and grown over an extended period of time — three or four generations — made me think about how things come together over decades. After my grandmother's passing, as we were packing up that house, I found out what it looks like to displace objects and items that seem so set in their own spaces.
Something I've been thinking about in the last three years, consistently, is how a place like Brooklyn becomes qualified as a Black space? It has a very particular Black history, but Canarsie is literally named after the native American people that lived there, so thinking about our relationship to indigenous land.
It's a very important conversation, especially because so much of both of our works thinks about community and that home space. About a week ago, I started sourcing images of 30s and 40s Bed-Stuy, two blocks away from Welancora Gallery. I was really interested in how the community has transitioned and pairing those with conversations with my dad and grandfather, who moved to Virginia. I have seen the neighbourhood change over the past 30 years. I have very vivid memories of being 16, and every Saturday morning I would leave the house and go on these pilgrimages around Brooklyn for hours. There's this image that I made actually of a house ten doors down from Ivy's gallery, of this house that had a family of cats that lived in this abandoned building. I also remember Mr. James who grew a mango tree and every spring and summer I would walk past and there would be all these really rich aromas.
Having the show up in Welancora, I'm curious how people receive your work or how people who are not artists, and would maybe feel isolated by art, arrive at it?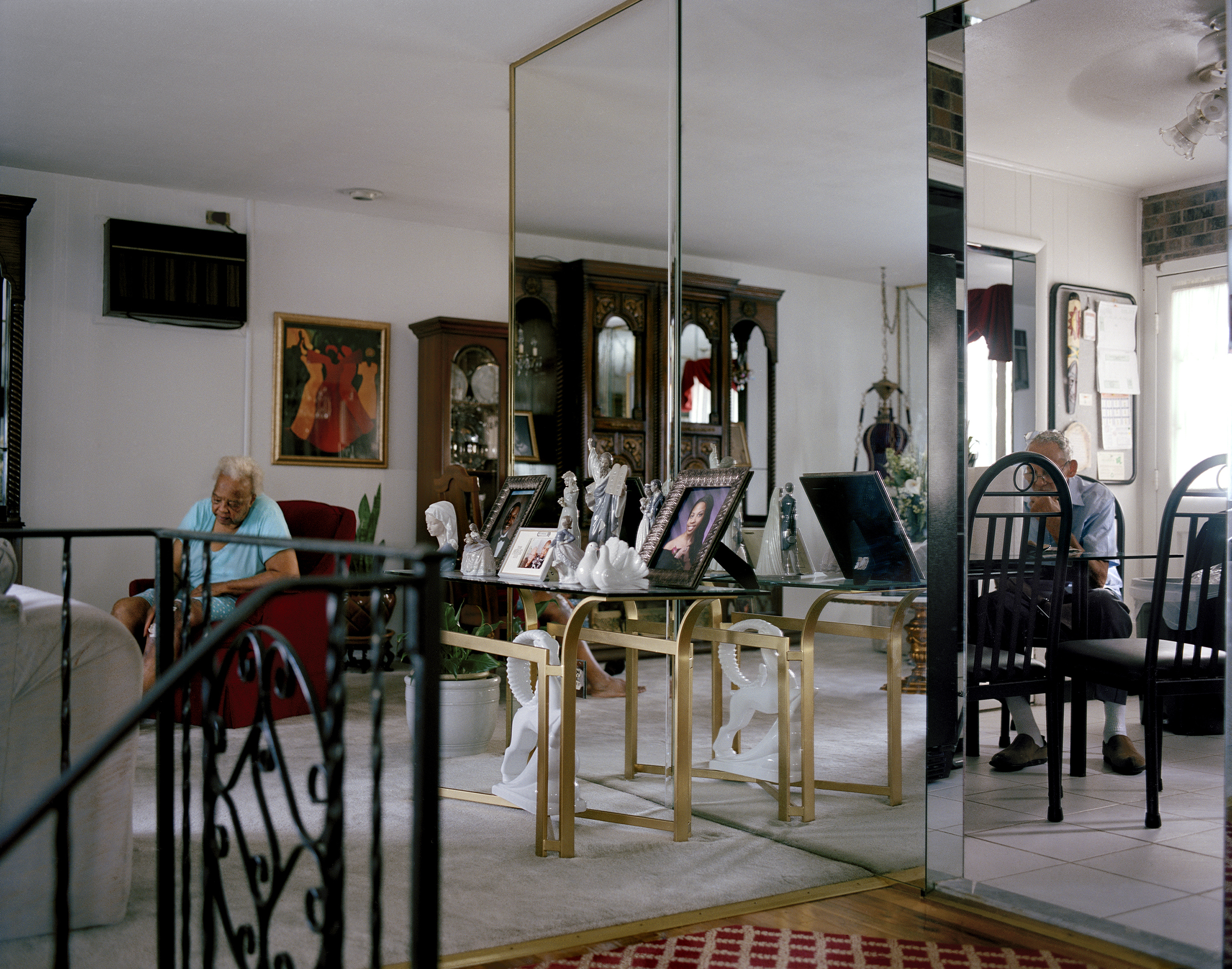 My mother's family is from the Caribbean — Trinidad — and my dad's family is from South Carolina, and in the communities that I have lived around, the accessibility to art hasn't always been present. I think there have been some barriers. But growing up in Bed-Stuy, murals were such an important part of my upbringing. They've been a really important commemorative and celebratory piece of the community. Within the context of the gallery space, there are moments when that's not considered. It brings up questions about what is art? And to who?
There is a fairly didactic relationship in most casual experiences of public art, where there's an understanding of an outcome and purpose — a mural is meant to symbolise these specific things. Whereas in a gallery space there is an opportunity for art to be a little bit quieter and through that quietness encourage a deeper investigation. But that expansiveness that art seeks to bring to our experience can be co-opted in a hierarchy of understanding, and it's a lot easier to give up and to feel isolated by the thing. What's interesting at Ivy's show is the way that the frame around the photograph relates to the trim in the moulding and the floor of the space itself. It makes the photographs in that space feel very at home within the gallery. Galleries can be very isolating to audiences, but also very isolating to the work itself.
My work in the gallery is this single tear of wallpaper that comes down the contours of the wall and sort of outlines the mouldings of the floor and extends out to the floor and what is overlaid over it is an image that was taken — a roll of double exposed film that I found in my grandmother's archive. You see a woman in the background standing in one of New York City's projects at a BBQ and another woman in an interior location, a home space, who is also confronting the viewer so they're both returning the gaze. I've been doing research on old sayings about protection of the home space and of communities. There's this one that talks about wallpaper as a means to prevent evil spirits or haints, before they can do harm they have to unpack and repack the wallpaper, so as long as you do it in a busy pattern you're safe from that evil spirit. I'm pulling from those sorts of ideas, thinking also about the history of wallpaper as this element of the home space that initially referenced royalty from tapestries, and then how tapestries then became accessible to middle class families. For me, growing up, wallpaper was a really big thing.
My photograph was taken in a barbershop that stood on this cement pedestal on a hill at the edge of Harlem. It was elevated by maybe two and a half, three feet and I believe when I passed it they had just closed, but the gate was just partially down. As soon as I saw that I knew that it was a pretty significant visual representation of my practice, these things that happen in public, but that have a very private component to them. I invited 20 people that I knew to come to the barbershop, bought food and drinks so I could set the stage for an impromptu conversation. In the photograph, there are four people: one with a kind of storytellers command, one listening to them with beautiful red painted nails and this green silk blouse. In the back someone is on their phone, maybe ready to go, ignoring the conversation completely, which actually works really well for that person's personality. There's another person at the back who is looking through the glass, and seems to be protective and vigilant in keeping watch beyond the barbershop's gate.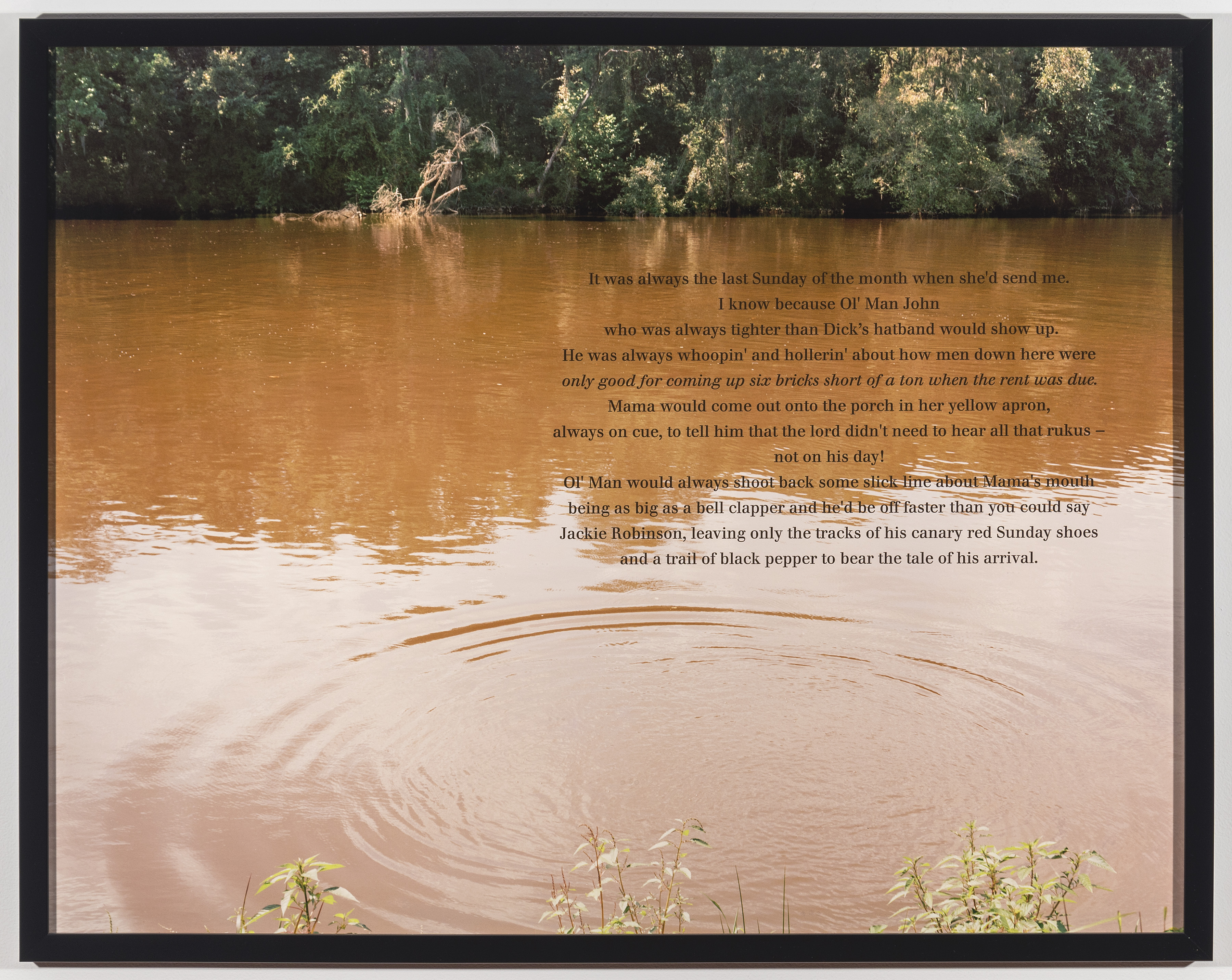 "Beyond the gate," that's very poetic, and it makes me think about how we both title our works and the narrative that goes into that, but also this idea of beyond the gate being somewhat of a liminal space or if not a space for immense possibility. I think a lot about migration and movement and how I'm working between New York and the South. I feel like I'm constantly having conversations about those specific locations, but I'm not necessarily talking about that in-between space.
That is exactly what the work is about. I'm interested in amorphous space, things that have the potential to be eschewed for other happenings and meanings. My other photo in the exhibition is of a friend in her bedroom. That photograph is about intimacy, making something unavailable through shadow, but then also making something clear. I think the capacity to linger in the way that a haint does, as Zalika was saying, is something that I'm endlessly interested in. How can you imbue what can appear straightforward with a lingering energy such that there is capacity to expand beyond this image?