Travis Scott singing in Spanish with Rosalía and other life-changing music
This playlist is your gui-De to the best new releases this week.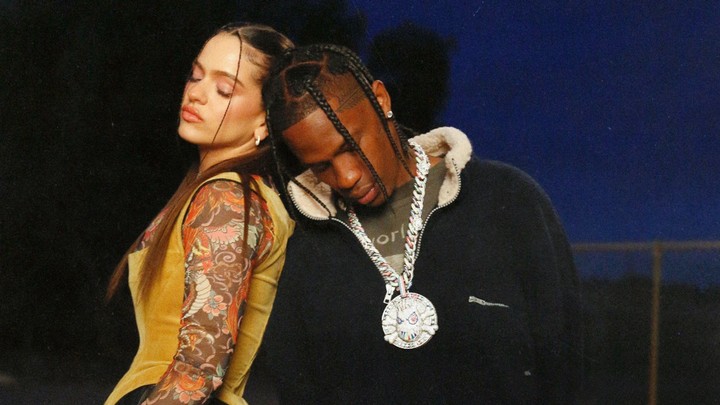 Who knew that seeing Rosalía surrounded by dancing kids would be so powerful? Directed by Barcelona-based CANADA, the music video for Rosalía and Travis Scott's new single "TKN" sees the Spanish star and her tiny followers dancing round their apartment, through the streets, and, well, circling Travis Scott. Oh and there's a giant donut too, which they all have a good pre-pandemic food sharing grab at. It has almost five million views already.

It's the second time Travis and Rosalía have come together creatively -- having first collaborated on "Highest in the Room" from the former's 2019 JACKBOYS EP -- this time joining forces to deliver the suspiciously mafia-like warning that real trust can only be earnt with silence. According to Genius, the word 'omertá', which is the honor code of the Sicilian mob, is repeated throughout, as Rosalía likens her circle of friends to the capos of the organised crime world.
"Travis is an artist who I've admired a lot since the beginning of his career," she told Zane Lowe on his Beats 1 show. "I feel that now is the moment to release it, after so many months of staying indoors, missing freedom or being with people we love. I hope "TKN" gives you energy, makes you dance and gives you strength." She went on to detail how inspiring the Houston artist is, how much energy he brings to the studio, adding: "I really love that he wanted to sing in Spanish, you know? Like, you can hear Travis singing in Spanish! That's historic!" And may it forever be known that the historic moment opened this week's playlist.
You'll of course have heard that Lady Gaga released her long-awaited Chromatica album today, on which she collaborates with Ariana Grande, Elton John and BLACKPINK. We've stuck the latter's sickeningly poppy "Sour Candy" on there for you to enjoy. Lil Yachty's new album, Lil Boat 3, dropped this morning too, including this wild coming together of Tierra Whack, A$AP and Tyler for the stripped-back "T.D". Like a quarantine fever dream in collaboration form.
Shout out to Fufu & Grits, the joyous new EP, from Afrobeats artist Juls and Seattle producer Sango. The latter will be DJing as part of i-D's Instagram Live i-N SESSION series later today. On top of all of that, BRIT Award winner Celeste is making music with Finian and there's new stuff from Louis Culture, Cub Sport, Nayana IZ, Soko, Sevdaliza, Remi Wolf, Kelsey Lu, Griff, Aitch and a whole load more on today's playlist.