7 iconic Fashion East moments
To celebrate the 20th birthday of London fashion's maverick talent incubator, we look back on some of its defining moments – from NOKI to Nasir Mazhar, Wales Bonner to Matty Bovan.
|
18 September 2020, 2:56pm
20 years ago Lulu Kennedy politely asked the owner of the Truman Brewery in London if she could "borrow" one of their warehouses to host the very first Fashion East show. He agreed "and it rolled from there", she says.
At the very beginning, Fashion East was conceived as a project for Lulu to help out "super talented" mates who struggled with the cost and workload of putting on a fully-fledged show. Two decades on, it has grown into the most exciting presentation of young design talent in the world.
So what makes a Fashion East designer? "A fresh aesthetic, good energy, passion and commitment to their work," says Lulu. As well as nurturing industry stalwarts such as Kim Jones, Simone Rocha, Gareth Pugh and JW Anderson, Lulu has a particular eye for talent who can make a big statement with just one show — some of fashion's most renegade designers have shown here first.
So to celebrate Fashion East's 20th birthday, we've selected some of these iconic, show-stopping moments from across two decades of Fashion East.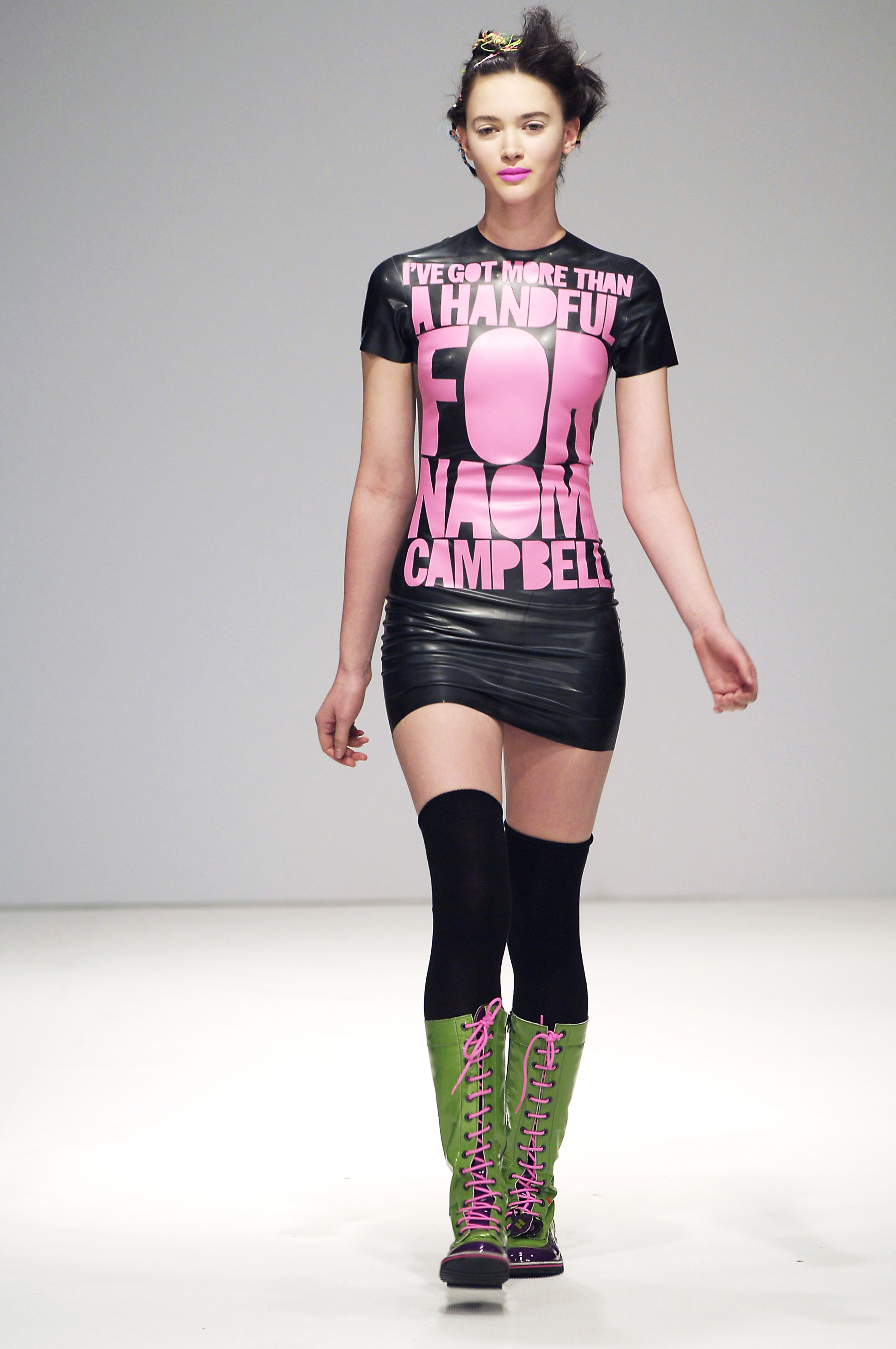 AW07: House of Holland
If there was ever a fashion moment in the mid-2000s which summed up the spirit of the time, Henry Holland's "fashion groupie" slogan tees would probably be it. Oversized tees and minidresses announced Katharine-Hamnett-style slogans fetishising the hottest models and designers of the time. Opening the show was an oversized tee asking the audience to FLICK YER BEAN FOR AGYNESS DEAN. A black latex minidress proclaims he has MORE THAN A HANDFUL FOR NAOMI CAMPBELL. These slogans are more than just a humorous double entendre, they speak volumes about the celeb-obsessed year which gave us cultural hallmarks like The Hills and Keeping Up with the Kardashians.
How did he come up with them? "Rhymezone.net!" he laughs, "but most of the time they were just phrases made up with mates on nights out". To finish it all off, Henry jumped out to give a bow wearing a t-shirt proclaiming himself as a ONE TRICK PONY. Funny, yes, but also borne of anxiety surrounding potential bad reviews, he wanted "to get in there before any critics could say it."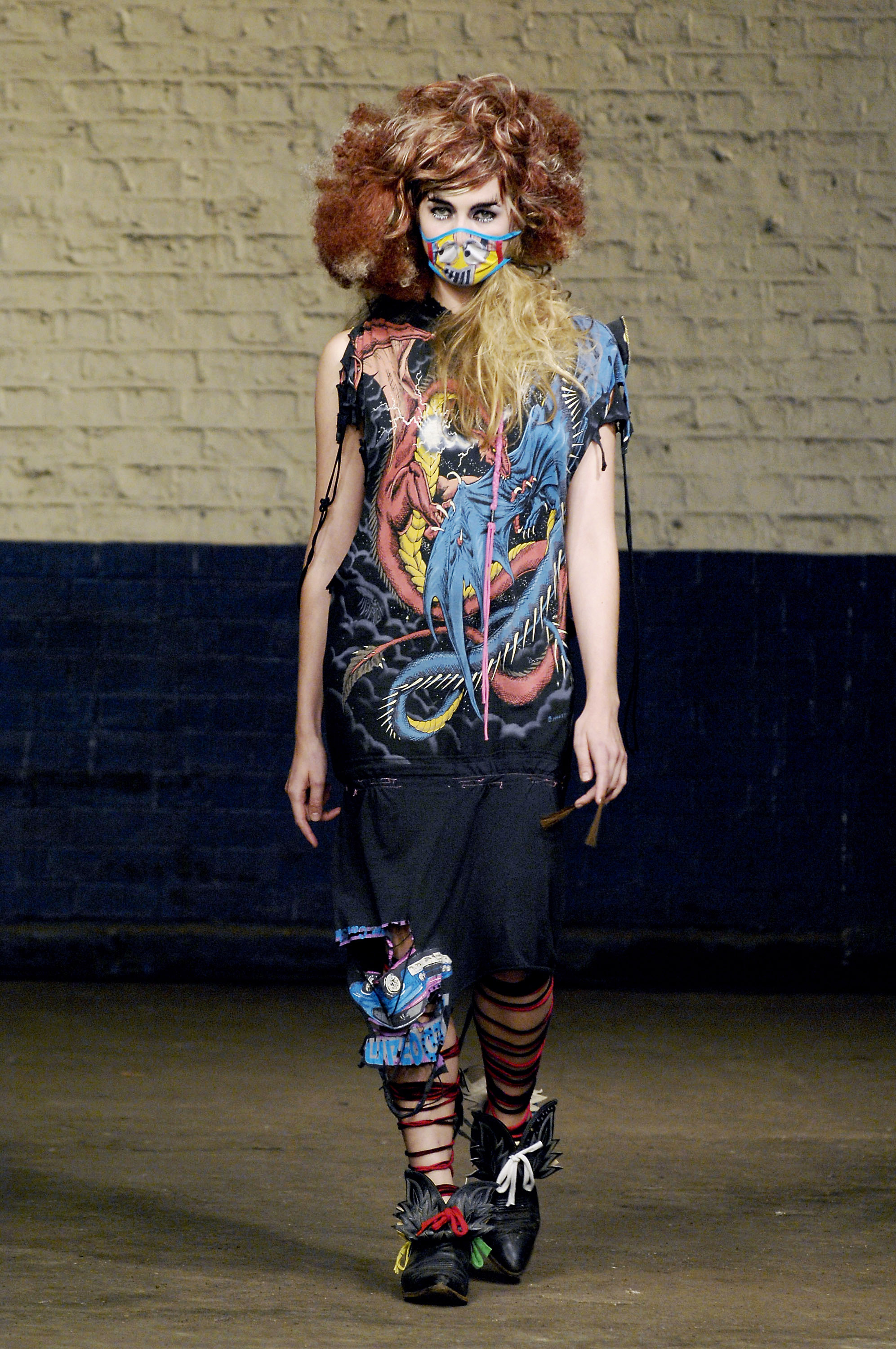 SS08: NOKI
In the name of sustainability Dr NOKI (aka Jonathan Hudson) decided he didn't need to present an entirely new NOKI's House of Sustainability (NHS) collection for SS08. Instead, he showed work dating back to the conception of his 'House', opening with the first piece he'd ever made: a slashed up t-shirt from 1996, emblazoned with the accusatory phrase: Have you evolved?
NOKI reworks old sportswear into his own particular post-apocalyptic raver style. Although reworking old garments has become a staple of young designers today, he insists that he's never really been a designer, but is an artist using clothes as his medium. Because of this, he asks potential customers to "copy" him, rather than buy his clothes. Back in 2007 "that was the big statement that freaked everybody out" he laughs, "the big journalists found that very hard to understand."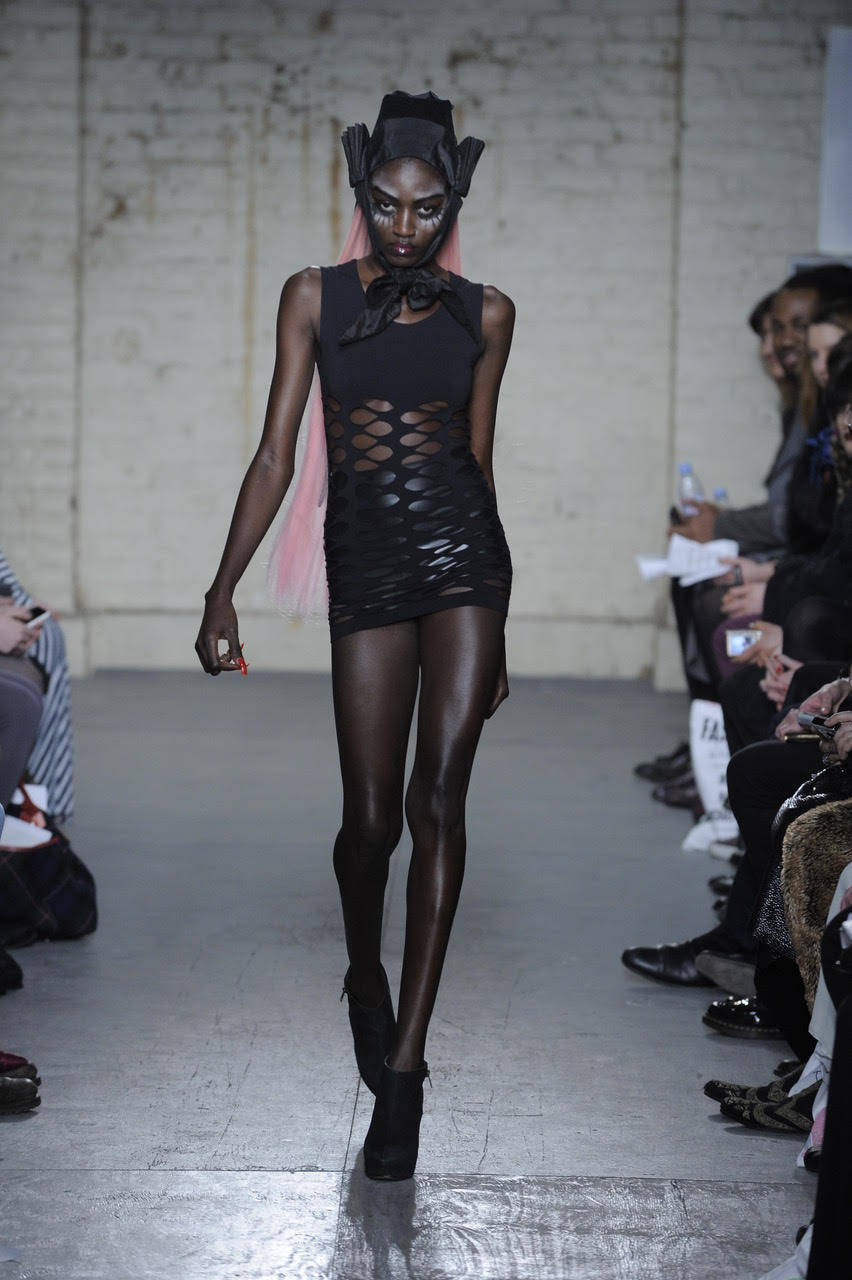 AW10: Nasir Mazhar
Nasir Mazhar wouldn't launch a fully-fledged eponymous clothing label until 2012, but two years earlier he was invited by Lulu Kennedy to show a range of headwear with Fashion East. "I knew the designers that Lulu had been supporting and they were always the coolest designers of the minute," he says, "so I knew it was the best representation for a young designer".
Nasir would come to be well-known for his 'bully' cap, a geometrically cut hat with a short boxed peak still revered by hype beasts around the world. But AW10 presented Nasir as much more than a streetwear designer, a term he actively dislikes. For this show, he flaunted a range of headwear which exercised the depth of his craft as a trained milliner: a leather dhuku, tall pillbox hat worn over what looks like a 17th century coif, and to finish it all off, a Tudor wimple, each piece of headgear styled out with a skimpy leather look which wouldn't look out of place at the club.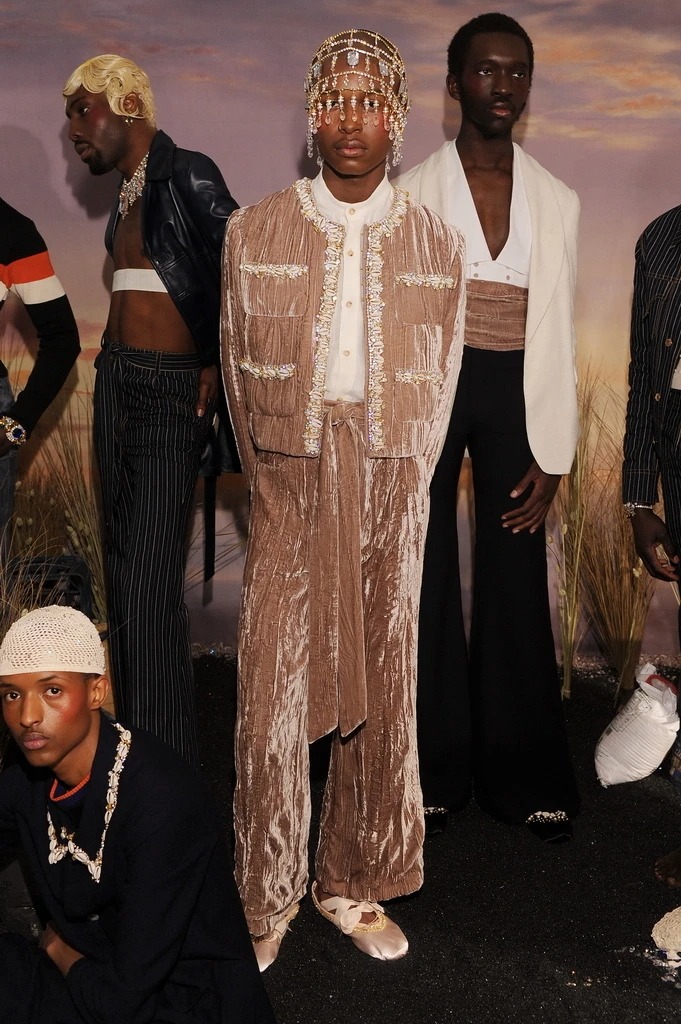 AW15: Grace Wales Bonner
It comes as no surprise that Grace Wales Bonner, before enrolling at Central Saint Martins, couldn't decide whether she wanted to be a historian or a fashion designer. It's not often that a young designer can mesh stealthy historical research with exquisite design which doesn't feel like costume, which is exactly what she managed for her AW15 collection with Fashion East, titled Ebonics.
She had accrued great acclaim after showing her graduate collection, but this was the first time much of the industry had encountered her work in the flesh. It came at a time when Black identity in fashion was being looked at primarily through the lens of streetwear. Grace, instead, looks deeper into the history of Blackness.
A continuation of her graduate collection, Afrique, where Grace looked to the 1960s and 70s Black Power Movement and representations of Blackness from the time. Ebonics took that research and morphed it into a dialogue about what Blackness is and what, in all its forms and from different perspectives, it could look like.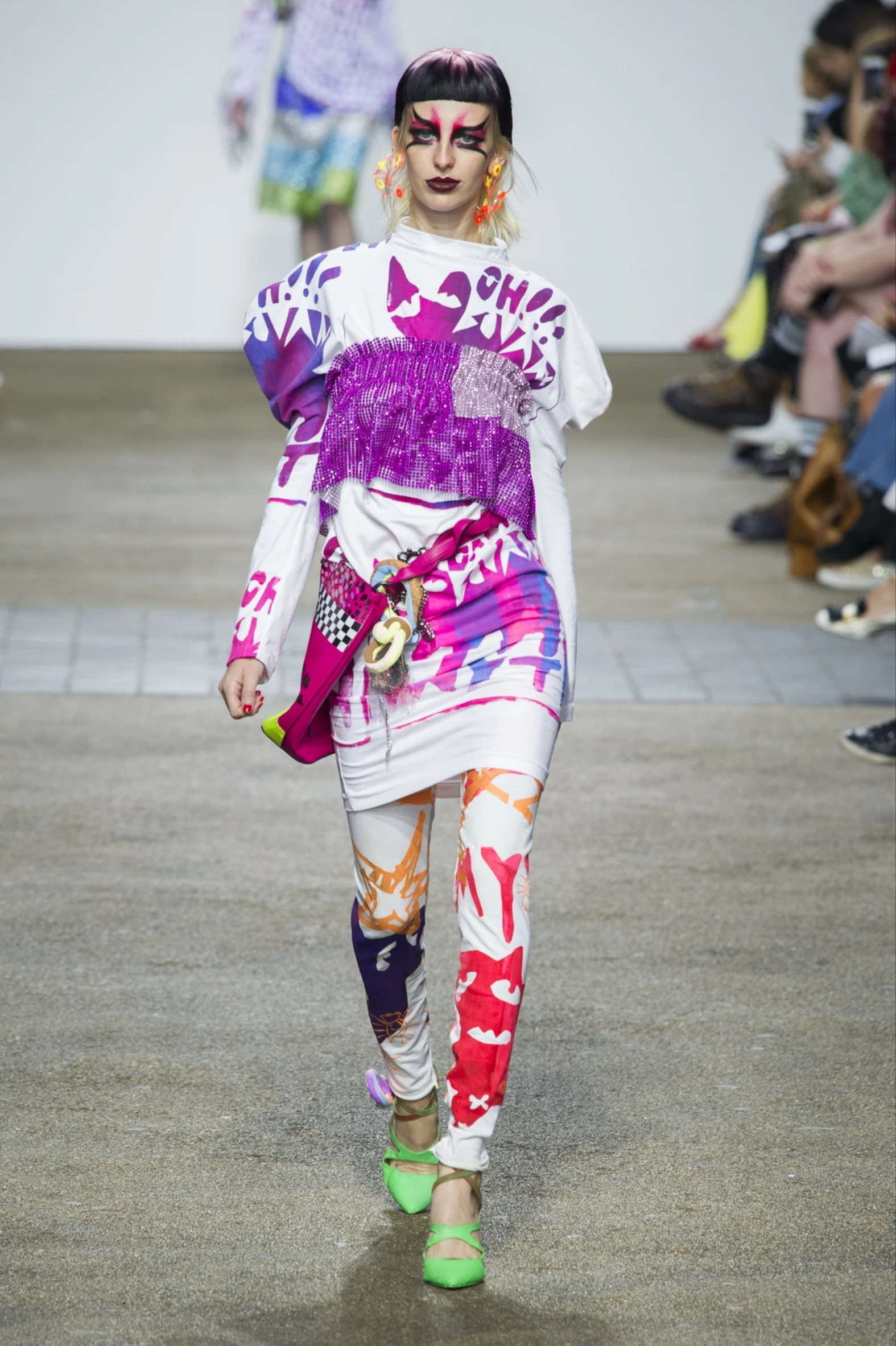 SS17: Matty Bovan
Matty graduated from Central Saint Martins in 2015 and spent his time between this and the SS17 show collaborating with Marc Jacobs and Miu Miu by way of Katie Grand. So when his time came to show at Fashion East, the industry was already waiting with bated breath. They were not to be disappointed.
For his big debut, Matty Bovan sent a flurry of models down the runway all made up in his own image. Based in Yorkshire, hundreds of miles away from London, Matty would have to fit everything on himself, so naturally the collection ended up looking just like him. But to Matty, the collection was just a 'greatest hits' of some of his favourite things: "It was a celebration of a lot of my fave references — 80s downtown NYC, Keith Haring, Stephen Sprouse, Nina Hagen, very neon, very glittery, very in your face."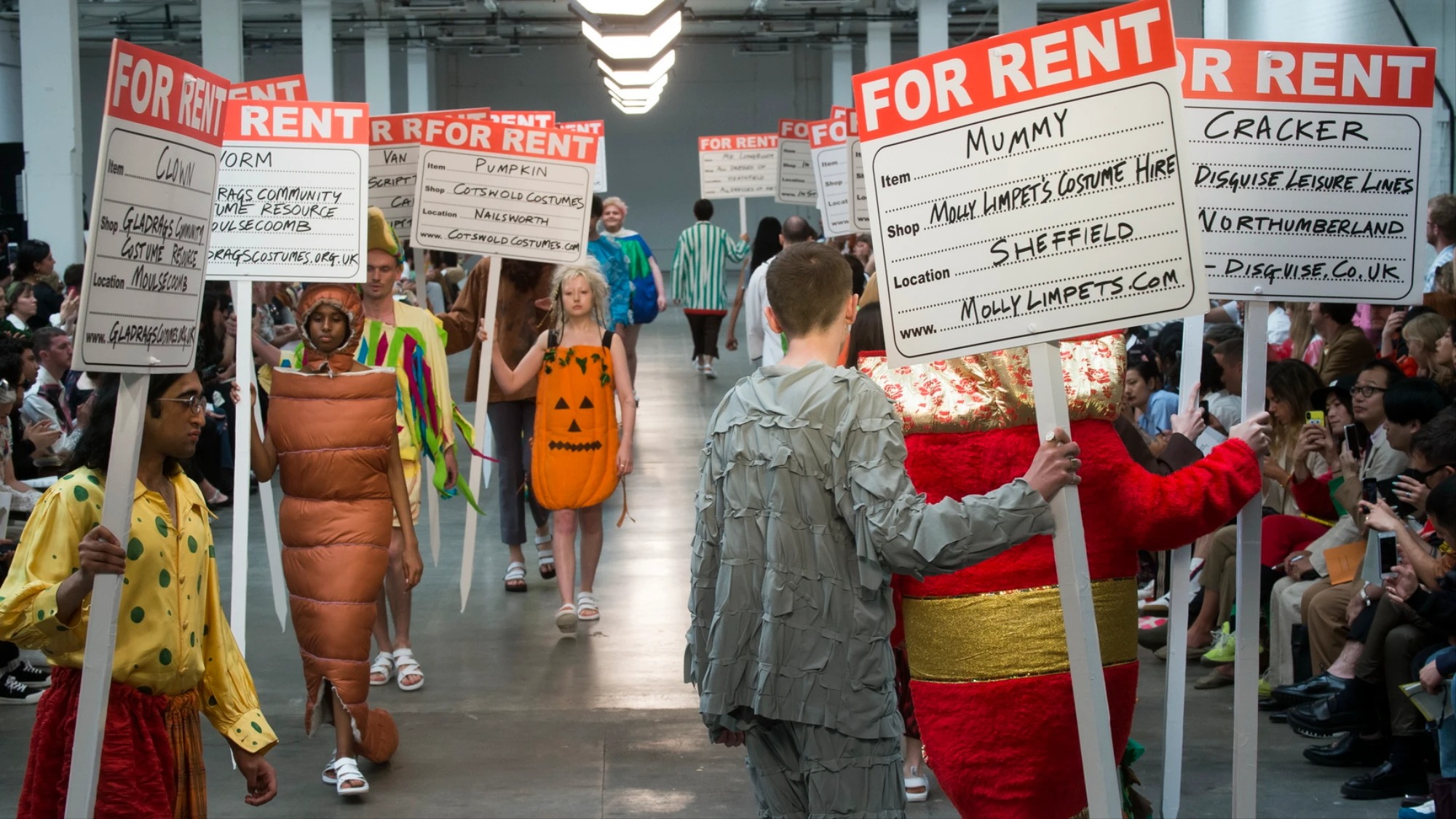 SS19: Rottingdean Bazaar
"We didn't really enjoy the conventional process of making and selling," says Luke Brooks of design duo Rottingdean Bazaar. With no PR and living outside of London, Luke and his other half, James Theseus Buck, were getting fed up with having to deal with call outs for editorial. So the pair dreamed up a way of completely outsourcing that labour. Instead of showing their own designs for SS19, they sent 20 costumes down the catwalk sourced from all over the UK, alongside Estate-agent-style placards outlining where they'd come from.
"I think the way that we interact with fashion is mainly through secondhand clothes at charity shops or vintage shops" Luke continues, "Selfridges just isn't our world." Citing costume as their favourite thing to find at second hand places, the two decided to trawl the country for the best pieces they could find.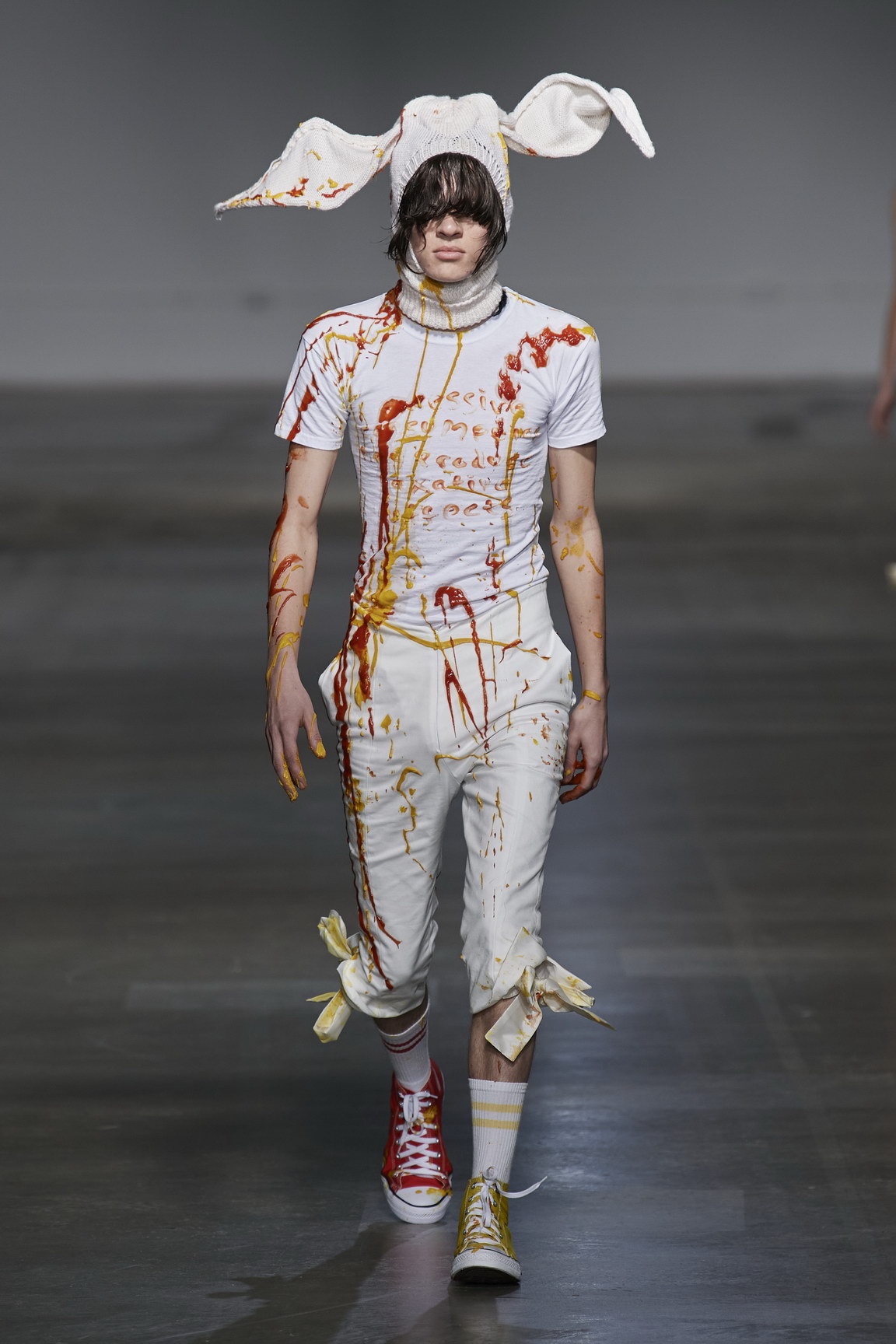 AW20: Gareth Wrighton
For Gareth Wrighton's final show with Fashion East he decided to show a rather premature retrospective of the last five years of his burgeoning career. His graduate project from Central Saint Martins, a video-game-meets-editorial e-comm site, The Maul, appeared in the form of a hand-knitted jumper emblazoned with the site's tagline 'excessive consumption may cause laxative effects'. Trousers were re-hashed from previous collections in the pattern of breeches designed for Soft Criminal, a collection of garments and images by himself and the stylist Ib Kamara released in 2018. A knitted landscape jumper from his AW19 collection with Fashion East was paired with a set of undies made from dead honey bees. "I just had zero incentive to breach another whole new theme, I thought it would be so much more profound to remake work I'd done before" Gareth explains, "I began sort of bootlegging myself."
Gareth's work, rooted in his experience as a fashion image-maker, mutters undertones of discontent with the way the fashion industry is run. But even so, he intends to keep participating in it. "I think of my three Fashion East shows as such a beautiful trilogy" he explains, "it is an unapologetic document of the rag trade in the late 2010s, and for that, it may not be finished."
Tagged: