Versace Men's SS23 was all about brazen sexiness and… homeware? 
Donatella offered up a full lifestyle package, spanning iconic Medusa print shirting and rhinestoned reusable coffee cups.
Images via Gorunway.com
Let's get one thing clear: Versace isn't just a brand – it's a whole damn lifestyle! It's a fact that you soon realise on attending one of the house's shows, staged in the sprawling garden of the Milanese palazzo that it calls home. While the usual coterie of press, buyers and co. turned out for what was its first men's runway show in three years, the most notable attendees were the die-hard fans who showed up in full force, decked head to toe in decadent silks printed with Versace's signature brazen Greco-Roman-inspired prints.
It's a testament to the cultish appeal that Donatella has managed to cultivate – those that buy into brand buy into it. And we're not just talking clothes – the truly obsessed out eat off Versace plates, sleep in Versace bed linens, stay in Versace hotels, and, after last night, will be drinking rhinestoned reusable Versace drinking coffee cups the moment they hit stores, too! Yes, in what almost felt like a nod to the creative ingenuity born of having spent so much time in our goddamn houses over the past few years, homeware pieces were translated into keystone accessories —- think: cup-and-saucer belt clip-ons, the aforementioned glitzy refillables, and even gigantic, ornately decorated ceramic urns, tucked under the arm like clutches.
The clothes toed a similar line between familiarity and zany eccentricity, with easily palatable louche suiting in muted stripes and cerulean blue and cargo-pocketed coats offset by the zing of acid python-effet outerwear and highlighter-hued zippered hobo bags and Pompeiian death-mask prints on inky satin polos and trousers that billowed with every step. A flair for logomania proudly declared itself in allover 'Versace' prints on silky separates and roomy structured totes – if you're a Versace boy, you're gonna wanna let the world know it! – as well as the house's instantly recognisable glinting gold leaf Medusa motifs.
The only thing that's more distinctly Versace than that is, of course, the shameless sex appeal it exudes. Here, that came through with gusto, from pieces that could just about be worn in chaste daytime context – like interpretations of the season's boxy shirting in glossy leather, slashed to create a grid of lozenges that offered peaks of flesh beneath – through to gasp-inducingly slinky tanks tops with naked backs and oblique cut-outs and subtly seedy latex coats – clothes you (well, probably) wouldn't wear to visit your granny in.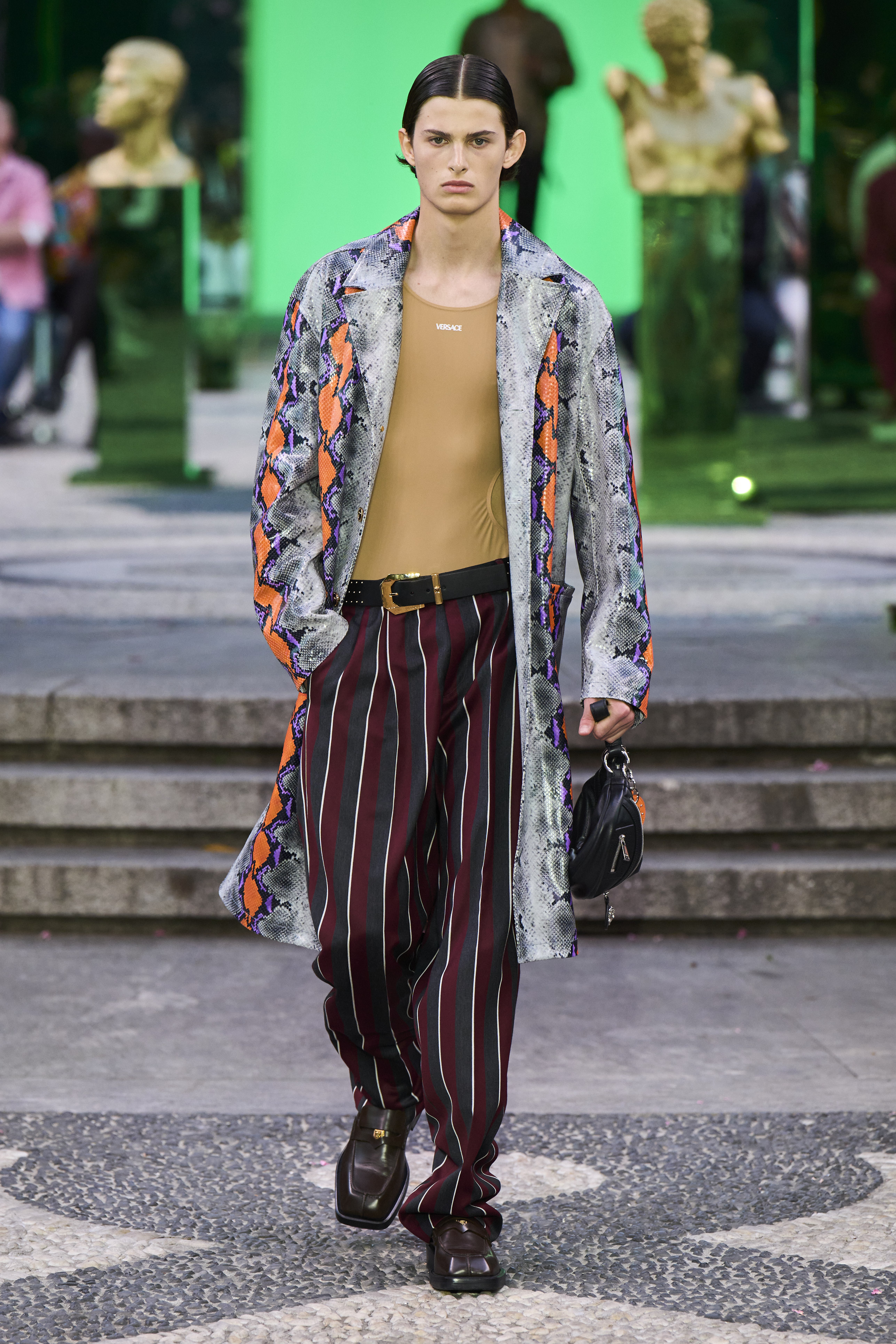 That bubbling hedonism spilled over into the after-show, with Donatella's bow swiftly followed by the emergence of a slick army of champagne-tray-toting waiters, an exponential jump in the volume. As revellers bobbed along, drinks in hand, to the thumping bass, it was immediately clear why so many people buy so heavily into the fantasy that the Milanese house sells: as we said, Versace's not just a brand, it's a whole lifestyle – and a bloody fun one at that.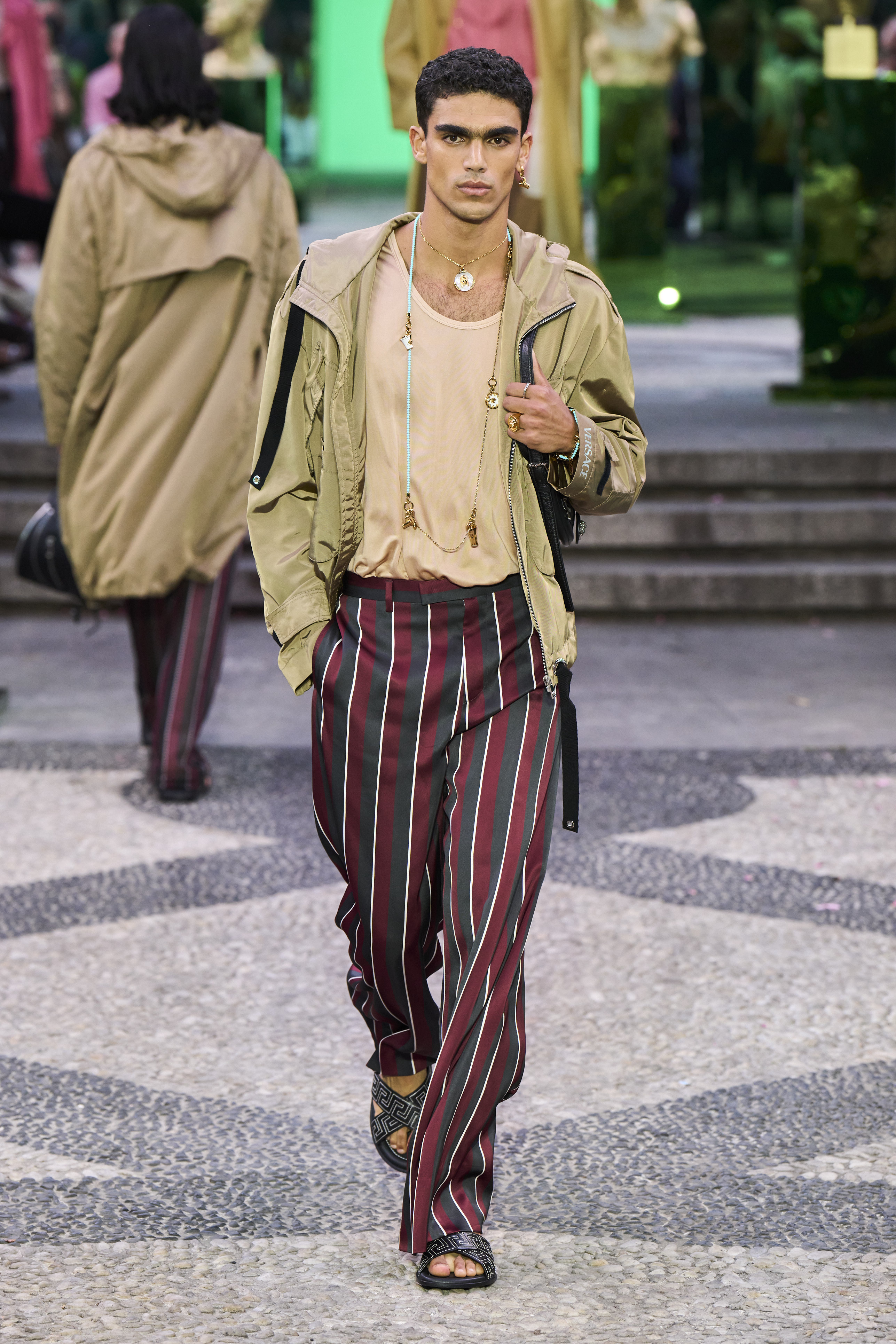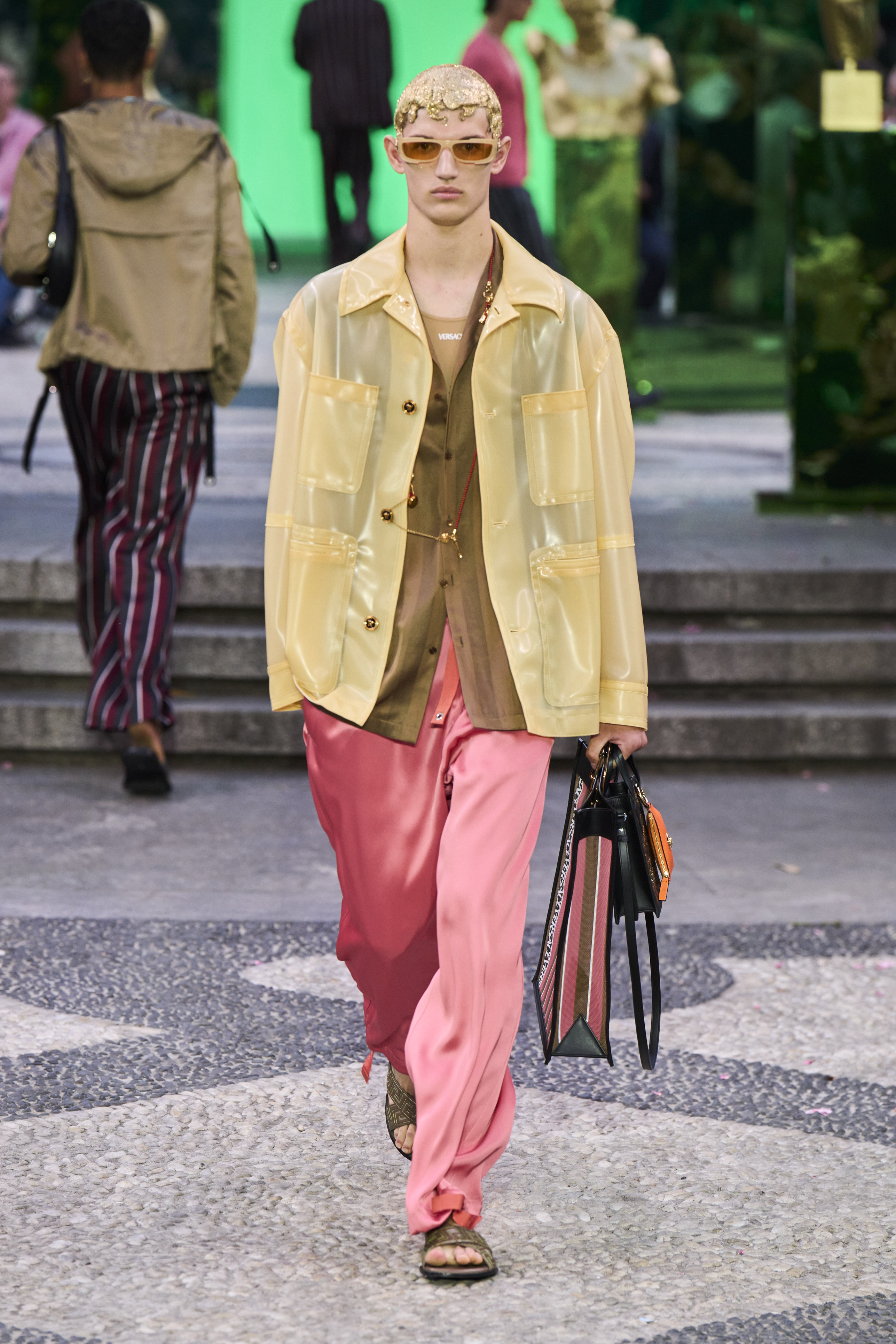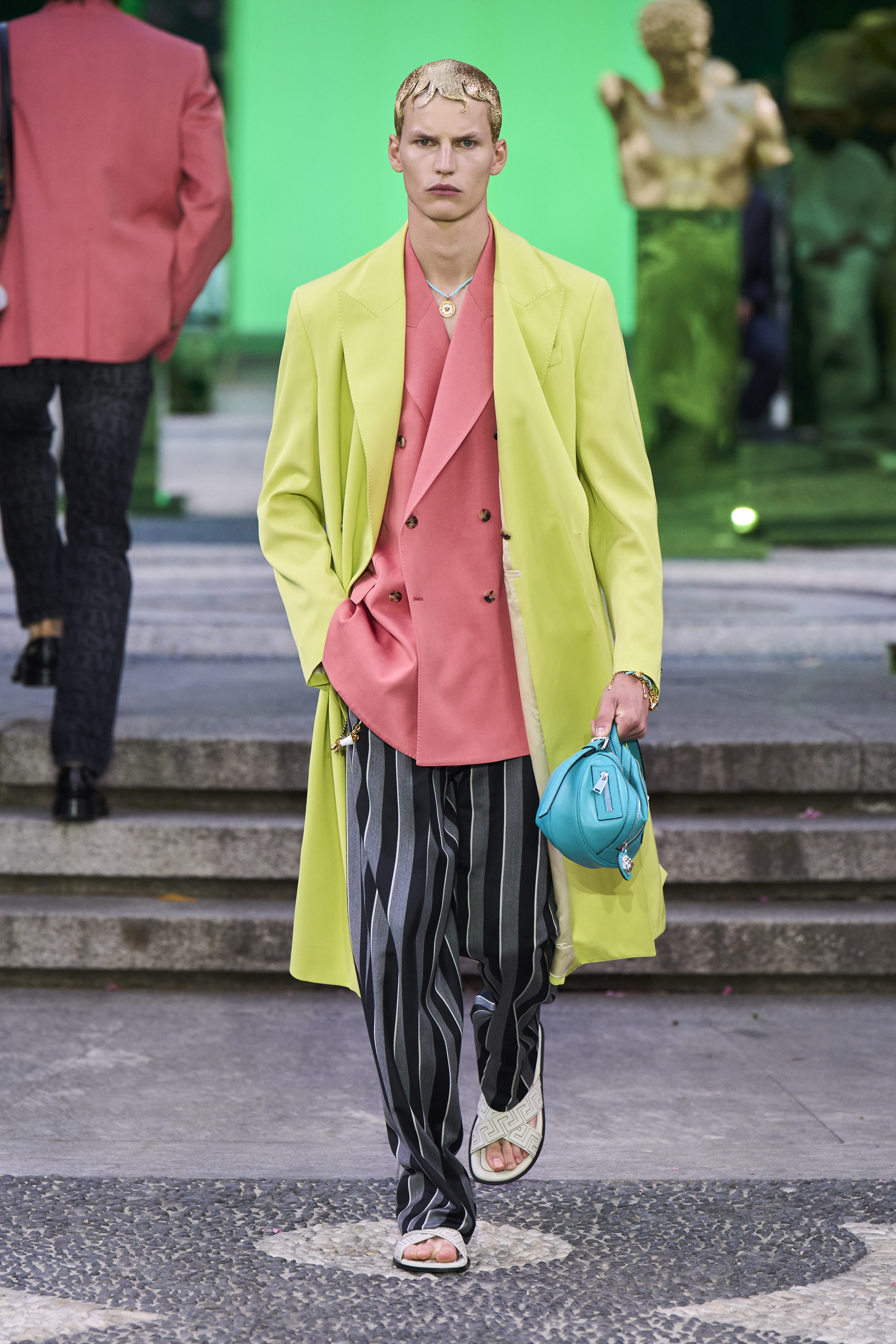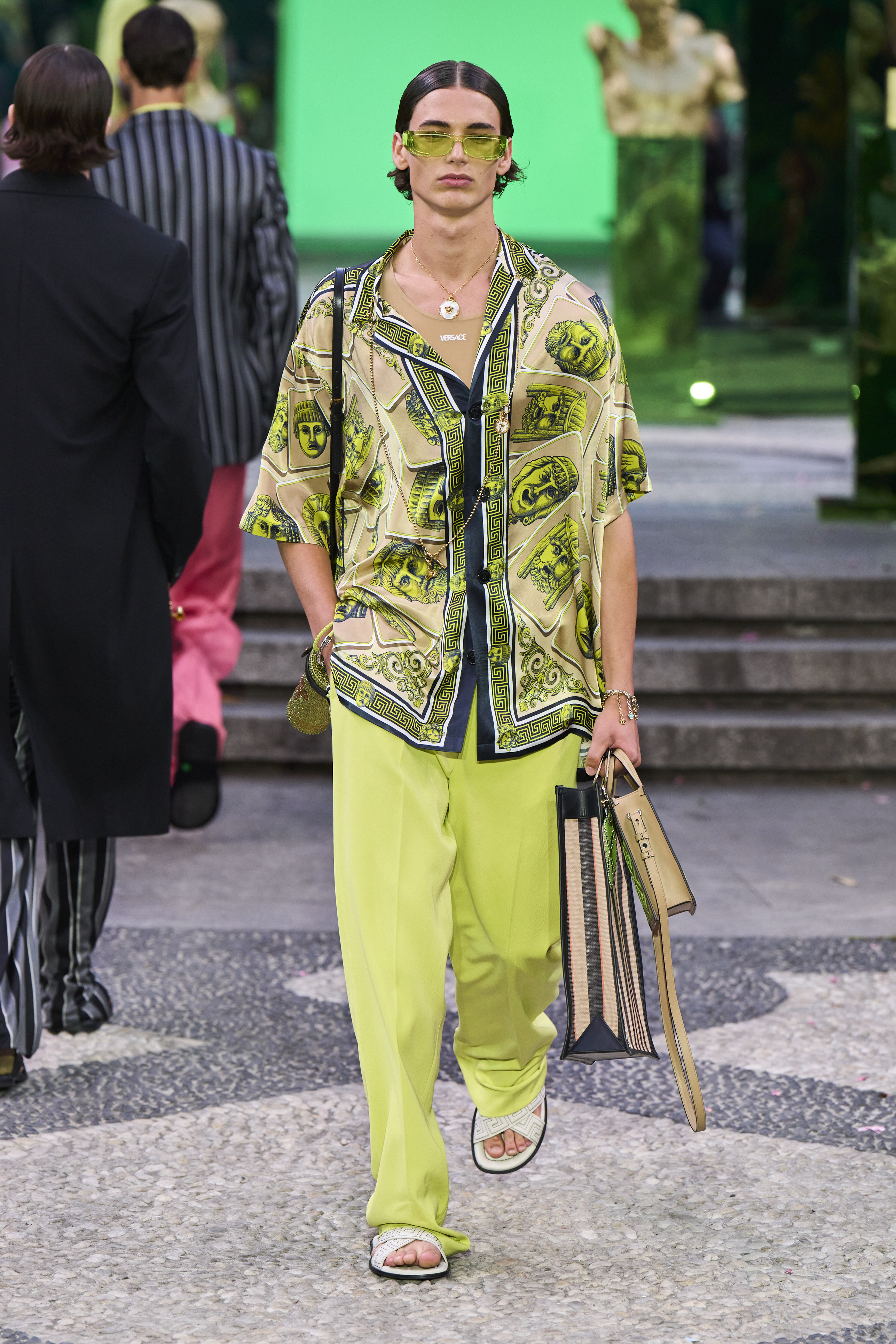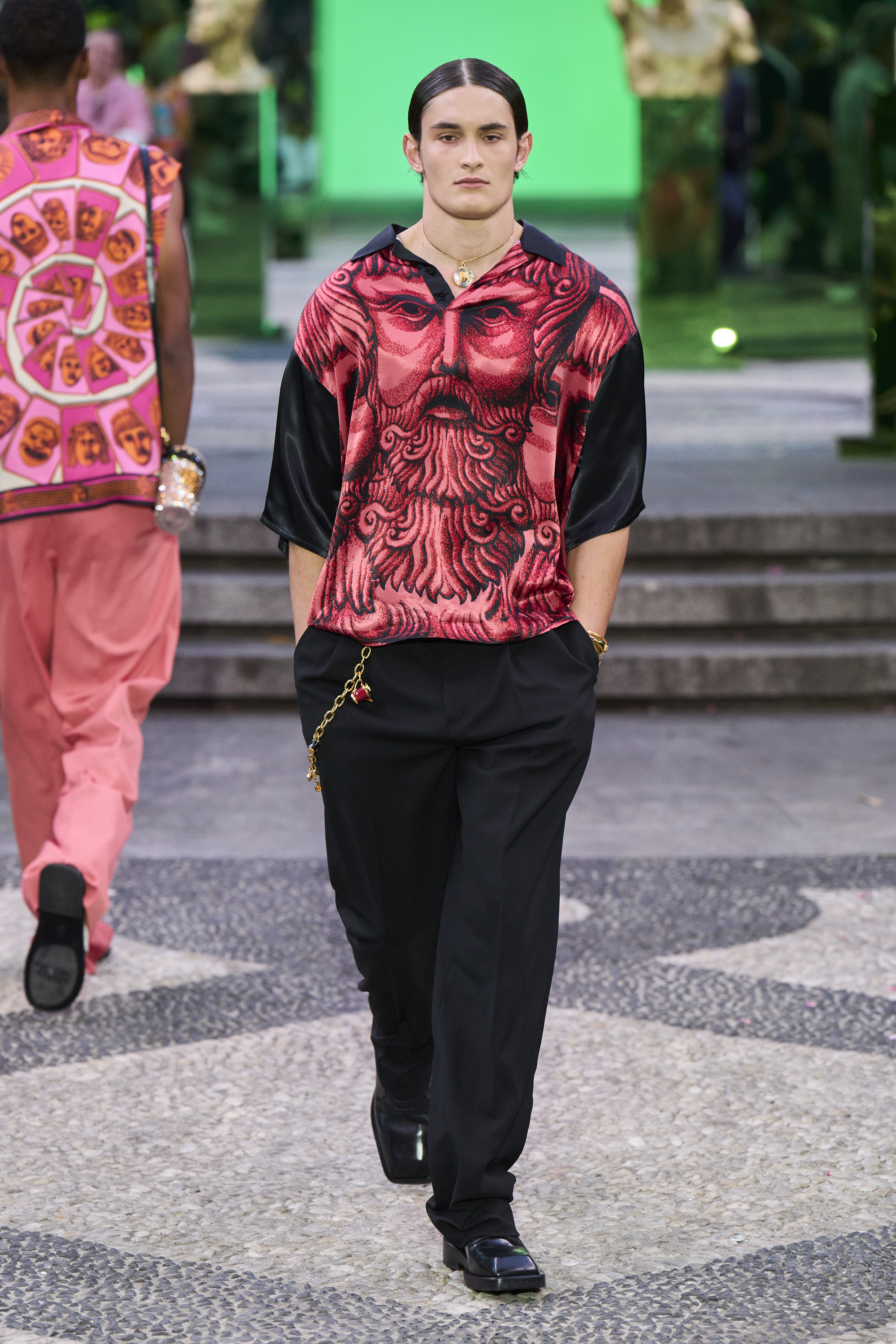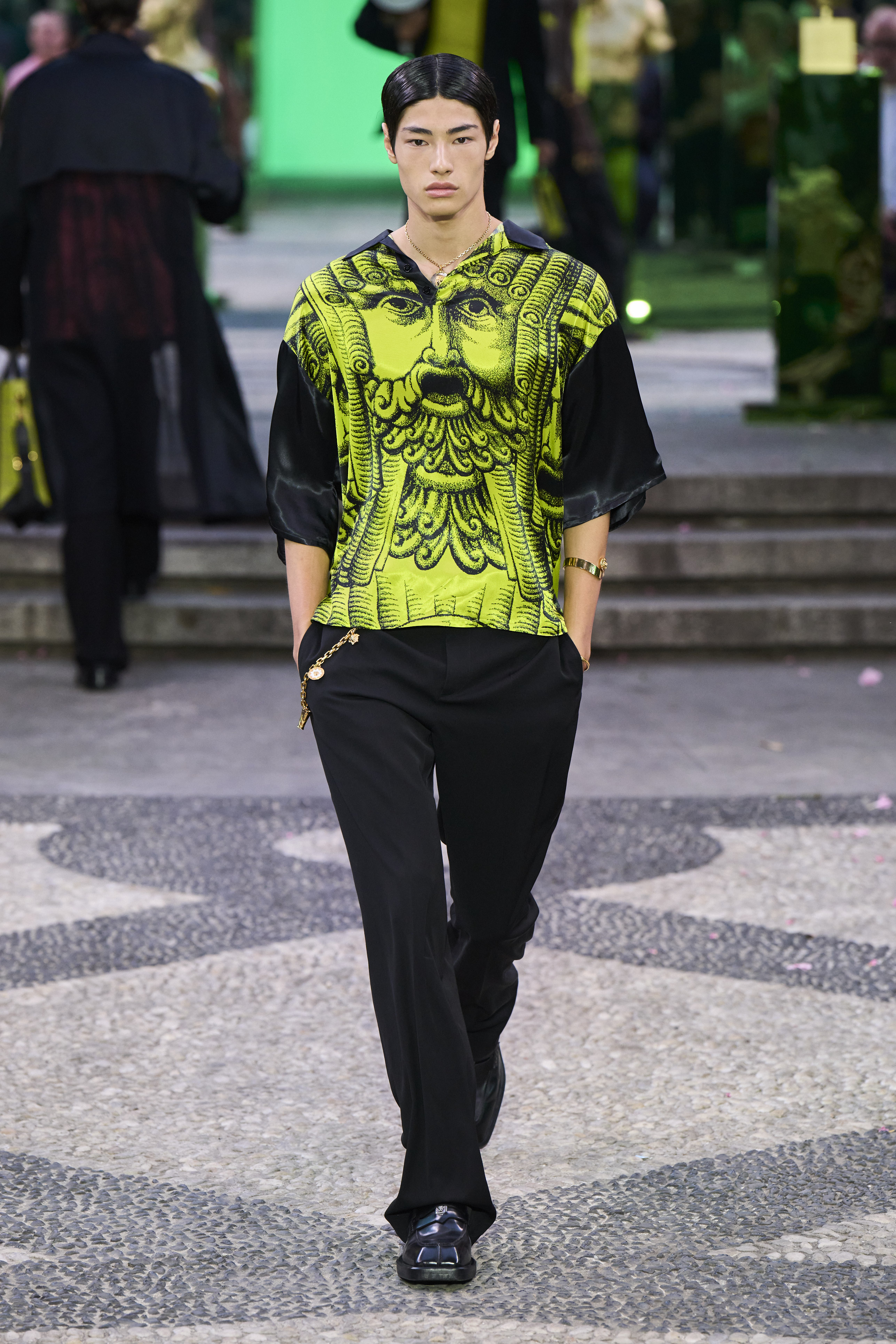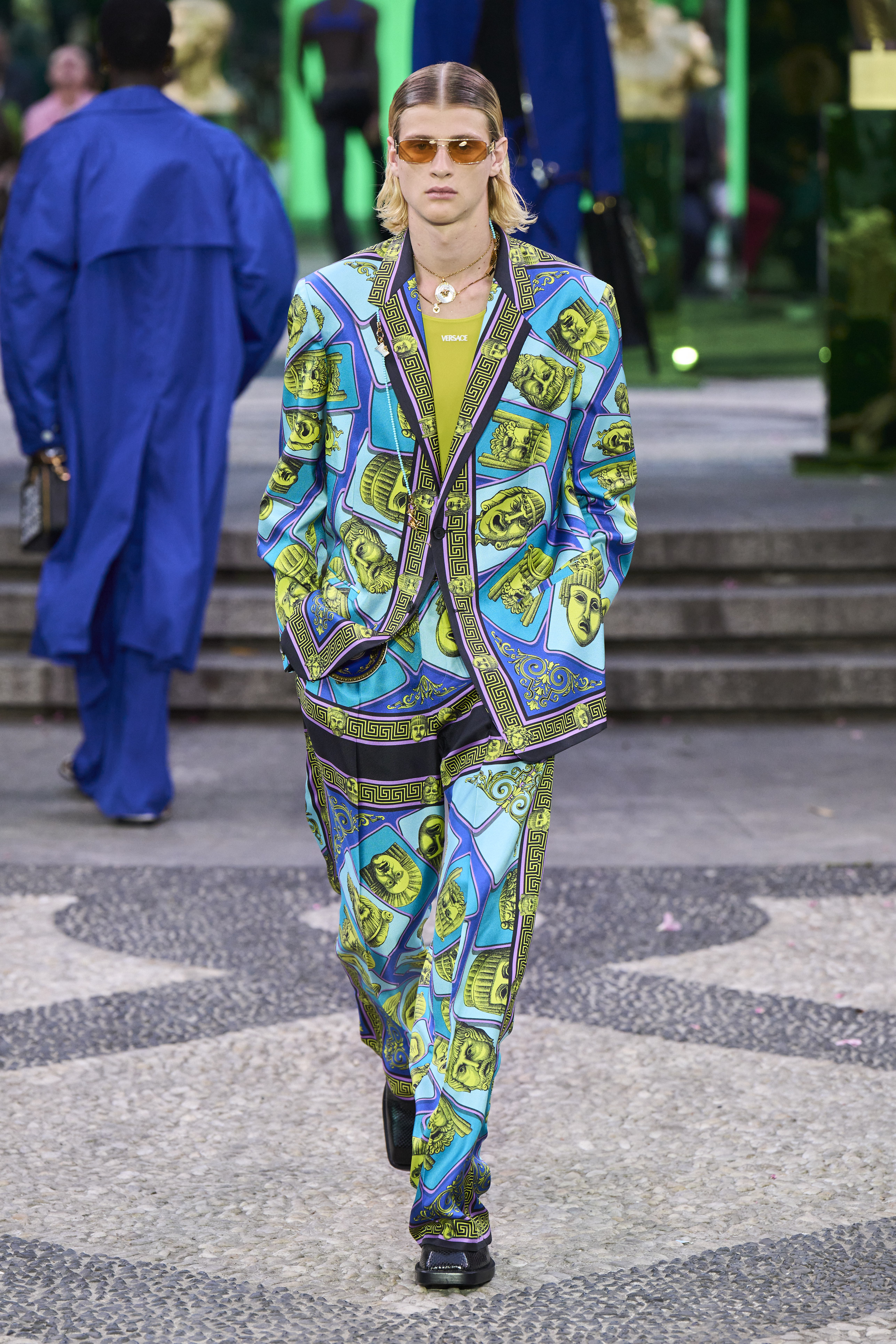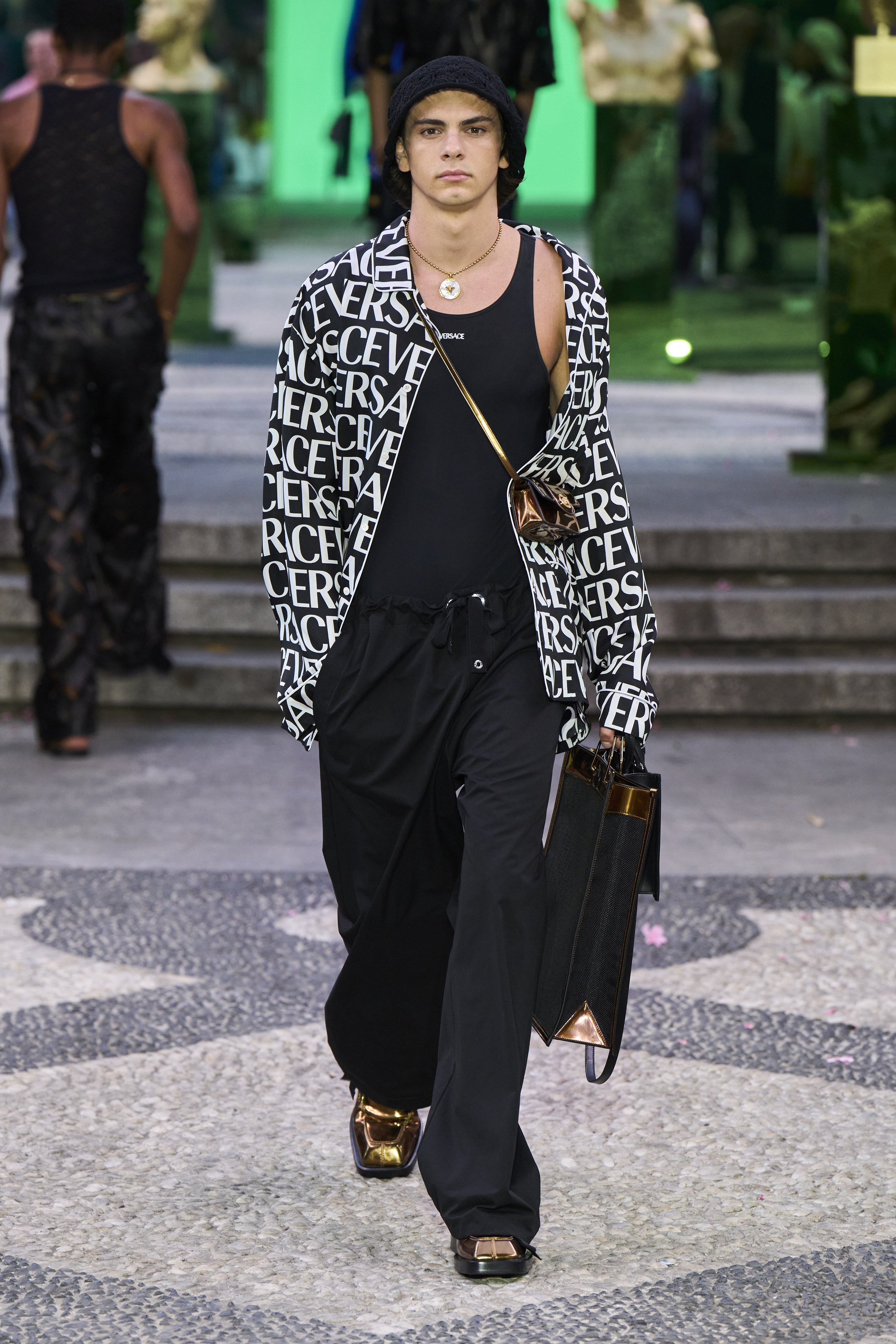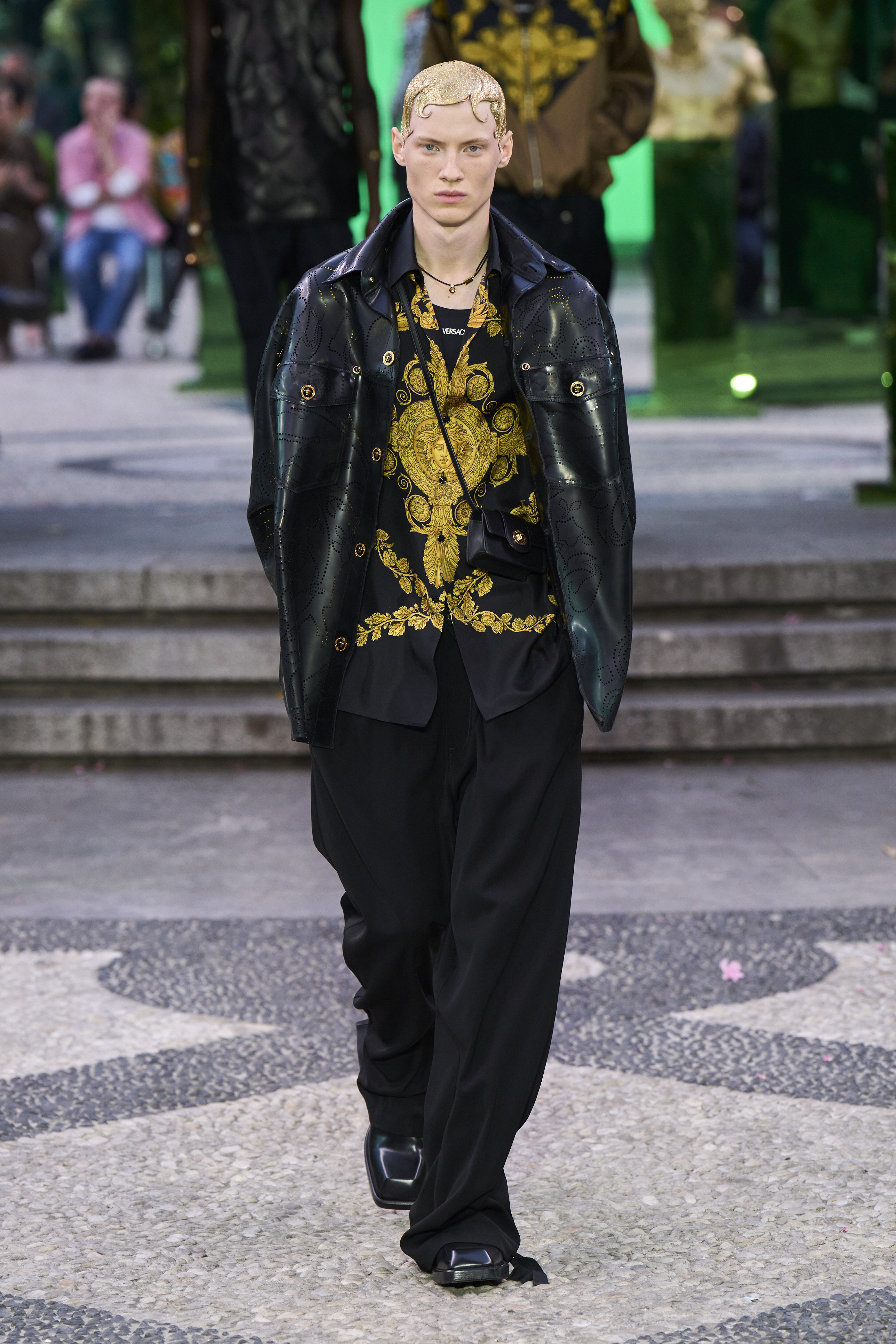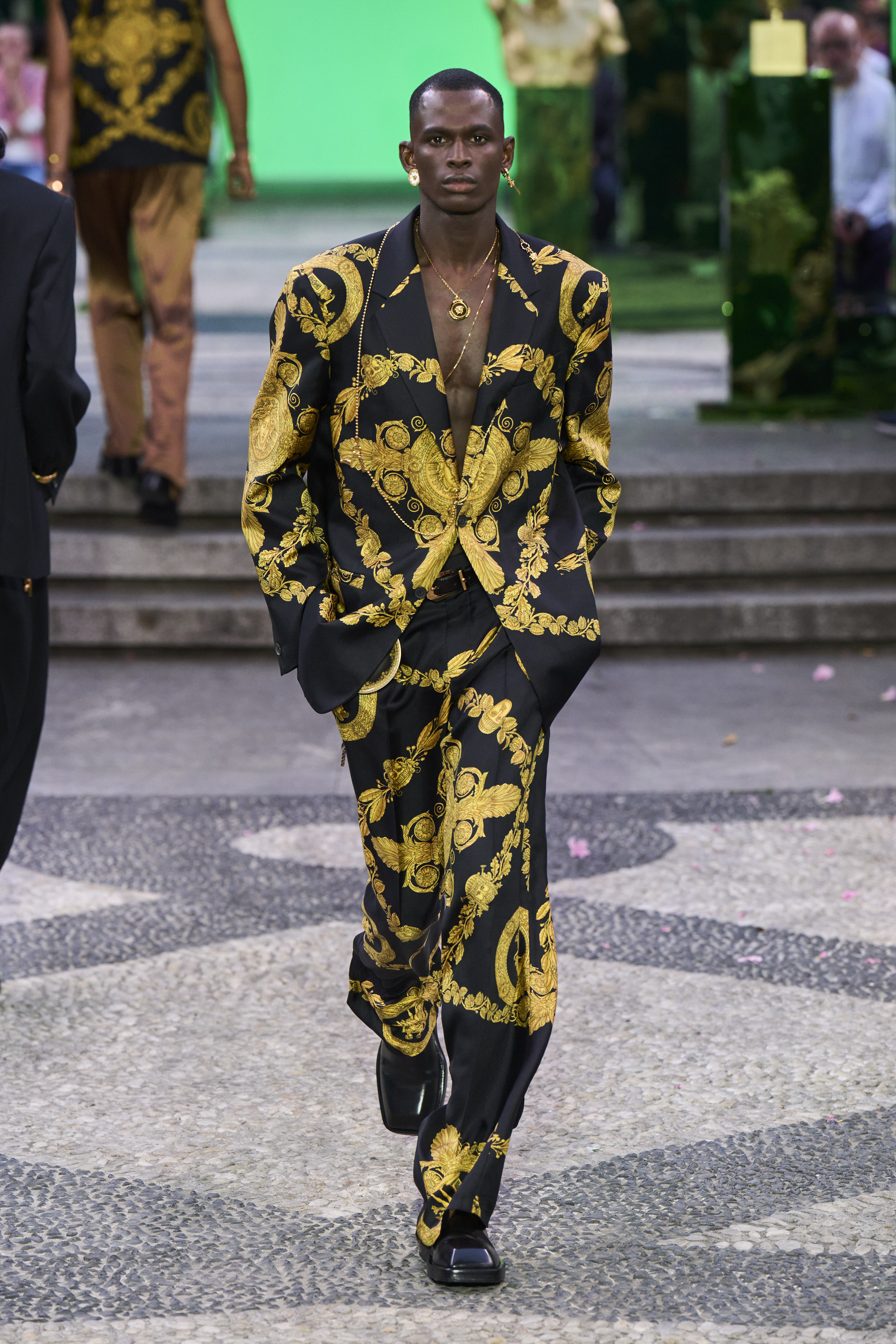 ---
Credits
All images via Gorunway.com