The latest hookup apps prove the sex recession is a myth
Forget Tinder, even Grindr, a new range of no-strings-attached platforms make cruising for casual sex easier than ordering a pizza.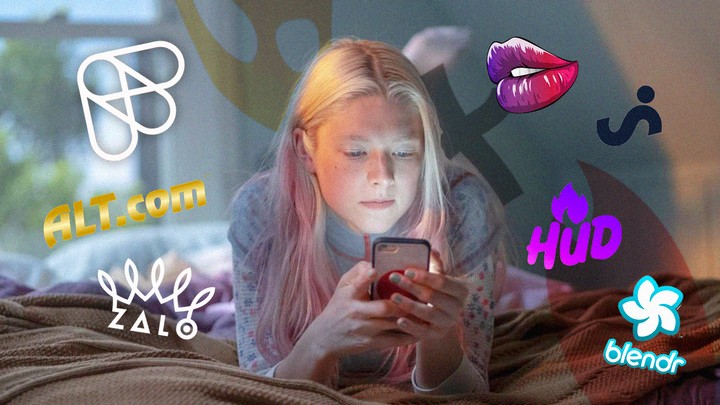 Still from Euphoria.
Casual sex has gone through many iterations, but nothing has propelled its evolution like smartphone technology. Today, finding a new partner is about as labor intensive as ordering a pizza, but, in both cases, it's difficult to ensure a quality experience.
This, in part, is due to a miscommunication of needs. 'Dating' technology that refuses to acknowledge a reputation for casual encounters vs. long-lasting connections, often sets users up for a murky exchange. Similarly, the likes of Grindr — famous for its dial-in approach to sex — still requires the back-and-forth of a traditional dating app. Our desire for something a bit more seamless and this gap in the market is spawning a whole new branch of hookup tech to satisfy the horny, where what you see – or ask for – is exactly what you get.
The apps are hard to ignore, considering the ads all over the subway. But what sets Sniffies apart, aside from its NSFW, very 2022 take on cruising, is that it's web, rather than app based. The homepage is essentially a map of your area dotted with headless torsos nearby — maybe even in the apartment next door. Clicking on the interface reveals countless invitations to a specific Home Depot bathroom stall or the-left-corner-of-the-third-level-parking-lot-in-the-Equinox-on-Sunset. While setting foot on Sniffies is certainly not for the faint-hearted, it makes no effort to disguise its users' intentions, unashamedly offering what most platforms won't: sex.
"Sniffies has revolutionized the hookup app space in that we've created a web-based cruising platform that exists outside of any constrictive app store 'terms of service,'" CMO Eli Martin says. "This means our users are free to use our platform without fearing the censorship baked into other apps."
Sniffies was born of founder Blake Gallagher and Eli's Facebook group, Boy Adventures; a space for queer men to swap kinky stories about their sexplorations. From that point, the pair brainstormed what it might look like to create an events app for gay men. What began as a "countercultural community," says Eli, evolved into a groundbreaking gay resource that took the guesswork out of cruising.
"Cruising is happening everywhere from the subway to the grocery store to the laundromat — Sniffies seek to tap into that raw cruising energy and amplify it through tech," he adds. "It's for the curious — it's not about waiting, it's about the thrill of finding out for yourself."
While the evolution of "wam, bam, thank you ma'am [or mister]" technology hasn't happened overnight, the industry is fast-evolving. The demand for resources that facilitate no-strings-attached sex for both parties has also birthed apps like HUD — allowing users to be anonymous, like Sniffies — or the post code-oriented Blendr, which both priotize physical over emotional intimacy. In general, the desire of the digital generation to subvert the back-and-forth chatting to immediately meet IRL.
"The other apps in our space are actually dating-hookup hybrid apps," Eli says. "What makes hybrid apps like Grindr especially frustrating to use is that you need to wade through all of the profiles who are looking for one or the other. When you're on Sniffies, there's no question that the guys you're chatting with are looking for pretty much exactly the same thing you are. Any time spent chatting comes down to aligning on specific kinks and fetishes."
There are, of course, many apps that cater to those specific niches, too. Cougar Life is for men and women who are looking for partners outside of their age demographic, BDSM aficionados can use Alt.com, while Swapfinder is for swingers. Nonetheless, crossover for hetero and homosexual connections in the tech space is rare. That's where Headero comes in. Informed by his sexperiences as a gay man in New York City, Stephen Quaderer was determined to create an inclusive, sex-positive and consent-grounded space. Headero is for oral pleasure aficionados to connect with fellow "head" lovers. And it can be used by anyone.
"Mainstream apps have largely focused either on the 'straight' community or on the LGBTQ+ community, and many have specialized further by narrowing in on even more specific identities (ethnicities, ages, body types), further separating us from each other on the basis of our identity," Stephen says. "We wanted to turn this problem on its head [and instead] create a space centered on a specific desire: oral pleasure."
Stephen hopes Headero's carousel interface will signal a new frontier for hookup apps that have long relied on swiping or grid formats. Headero "randomizes" profiles in groups of 20, to connect users with oral sex lovers in their area without resorting to the '0 feet away' approach of other apps which, Stephen notes, can feel a little "creepy".
Besides, sometimes distance can be a turn-on. For those unable to intimately connect in person, there's Zalo, the sex tech company behind an app-operated wearable vibrator operable. Designed with long-distance loving in mind, Zalo bridges the enormous gap between IRL intimacy and Facetime sex. Not only can partners message, voice call and video via the Zalo-created app, one partner can control the vibrator worn by the other and therefore, their pleasure.
Consent is at the core of Zalo's approach. The video feature means users can ensure their play is with their desired partner, and their 'Blacklist' feature can be enabled upon any misbehavior. Moreover, each toy holder must give access to the controller in order to initiate app-enabled play. Headero, alternatively, takes cues from the likes of Uber or Depop by deploying a feedback system. After a Headero interaction, you can rate your partner according to the Headero value system (inclusivity, sex positivity, enthusiastic consent), and the average sum of those ratings remains on your profile page. "This also creates a positive incentive structure for living up to our values that goes beyond the app's 'report' feature," Stephen says.
"When it comes to consent, it's our job on the digital side of the hookup to make sure users have the tools they need to exit an interaction," Eli says, adding the app also allows users to block incoming chats from anonymous profiles. "In fact, we're the only app where the deleting of a conversation is deeply ingrained into our platform's culture. Until that final moment on our platform when someone decides they're going to arrange the hookup, they have many 'outs' at their fingertips should they decide it's time to abandon ship."
Fundamentally, the goal of each platform is to create a stigma-free experience for sex-seekers. They're each designed with a frustrated digital native in mind, whose desire to subvert the dating culture underscoring the likes of Hinge or Tinder — even, at times, Grindr — are looking for alternative routes to meet their needs. For regular users of Sniffies and Headero, as well as Zalo's URL-meets-IRL technology, their presence on the platform alone communicates their desires — no, Hey, what brings you here? questions asked.
"We believe a world where we embrace our sexuality and dive into exploration is at the center of a better future for hookup apps and sex tech," Eli says. "Creating digital platforms where people everywhere can explore, experiment and express themselves without shame or censorship in order to create a fuller life."
Follow i-D on Instagram and TikTok for more on sex and dating.