Fashion gets green-fingered for SS23
Florals for spring are a given. Gardening tools, shoes spurting greenery, and growing your own leather? Now that's groundbreaking.
Ah, Mother Nature: a source of artistry as old as the earth itself. From Eden to the Hanging Gardens of Babylon, pastures green have long evoked ideas of purity, paradise and plenitude, or, as we know it today, 'wholesomeness'. Look at the masterpieces of Monet and Van Gogh and you'll be hard pressed to find works that don't lilt towards the floral and grassy. As for fashion, womenswear is no different. A brief gloss over dressmaking history reveals an abundance of florals, so much so that its mere mention summons the caustic tones of Miranda Priestly. Even in menswear, florals for spring are a given. Dangling moss bonnets of Alexander McQueen's ilk, however, would be ground-breaking.
But change is afoot. For SS23, the men's collections got down and dirty with the great outdoors, grass stains and all. Why this err towards the earthy occurred is hard to pinpoint, but, like that poorly watered houseplant beside your desk, it's growing despite all odds. Hot on the heels of a cultural shift that has seen terms like cottagecore and its trippier cousin, goblincore, enter our lexicon, menswear's bountiful garden makes space for the boys tape-seamed into Arc'teryx Beta jackets and the readers of the fungilicious literature that has consumed conversation at every 20-somethings' dinner party since 2020. Add to this an earnest and increasing concern for the natural world and perhaps this shift is less surprising.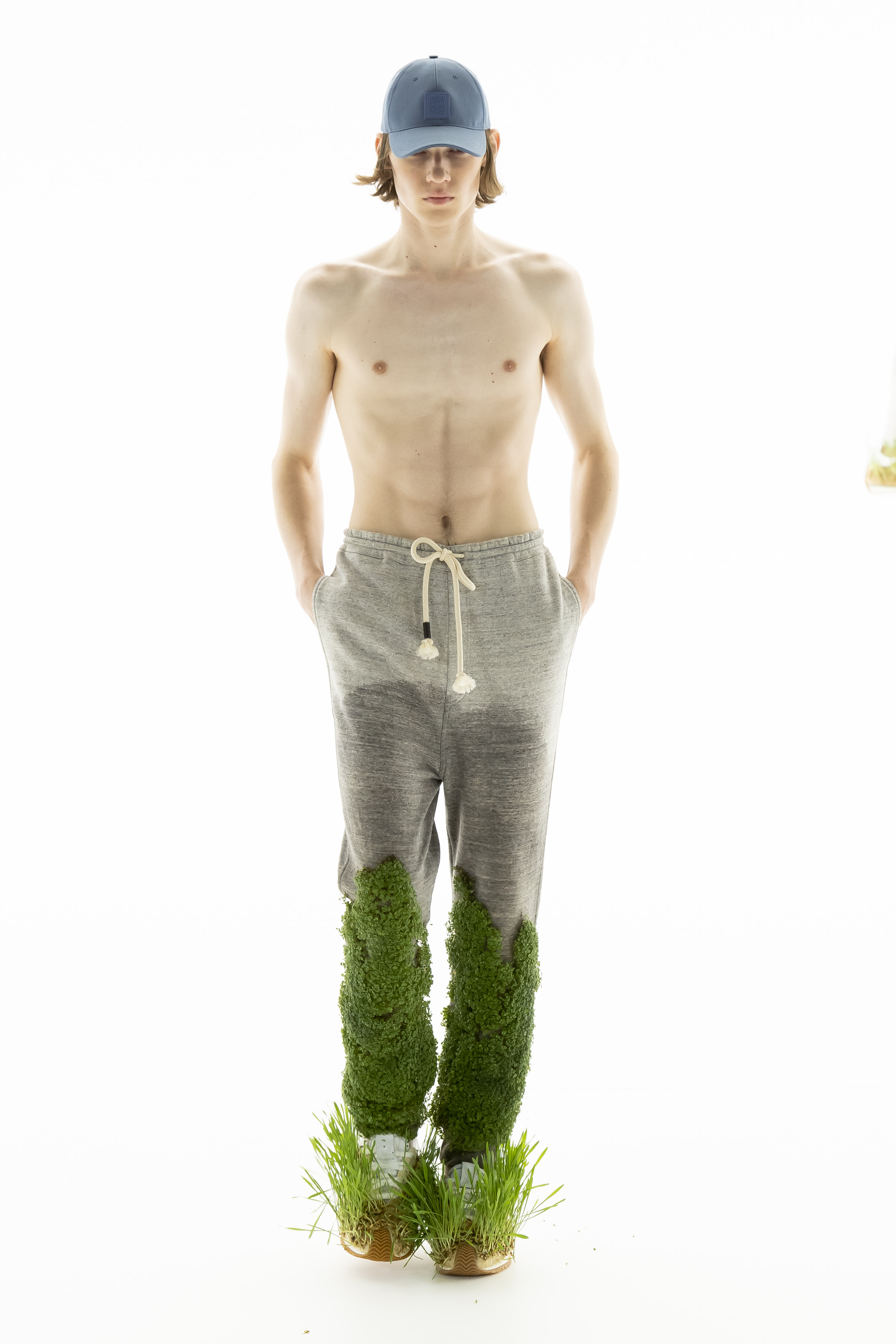 Part of this menswear-nature merger emanates also from that age-old dichotomy of fashion versus nature, which pits the former, like technology, as an excessive producer at odds with the natural world. Just as Karl Marx said of his linen overcoat – quite ungratefully, too – fashion has a tendency to value clothing beyond mere functionality (but, honey, it's Prada!). The result, in real time, is untenable excess, and also, a point of departure for Loewe's latest collection.
Calling on emerging designer Paula Ulargui Escalona to seed sneakers, sweatpants and tailored cashmere coats with cat's wort and chia plants, Jonathan Anderson drew us closer to the labour behind garments, which began in polytunnels skirting Paris. Presented on a backlit, sloped stage, they appeared alongside outerwear mosaiced with tablet screens broadcasting stock footage of dandelions fluttering in the breeze and circling birds. Through this juxtaposition, Jonathan explained in his post-show debrief, we might do away with the "dogma that fashion is about technology" and at odds with nature.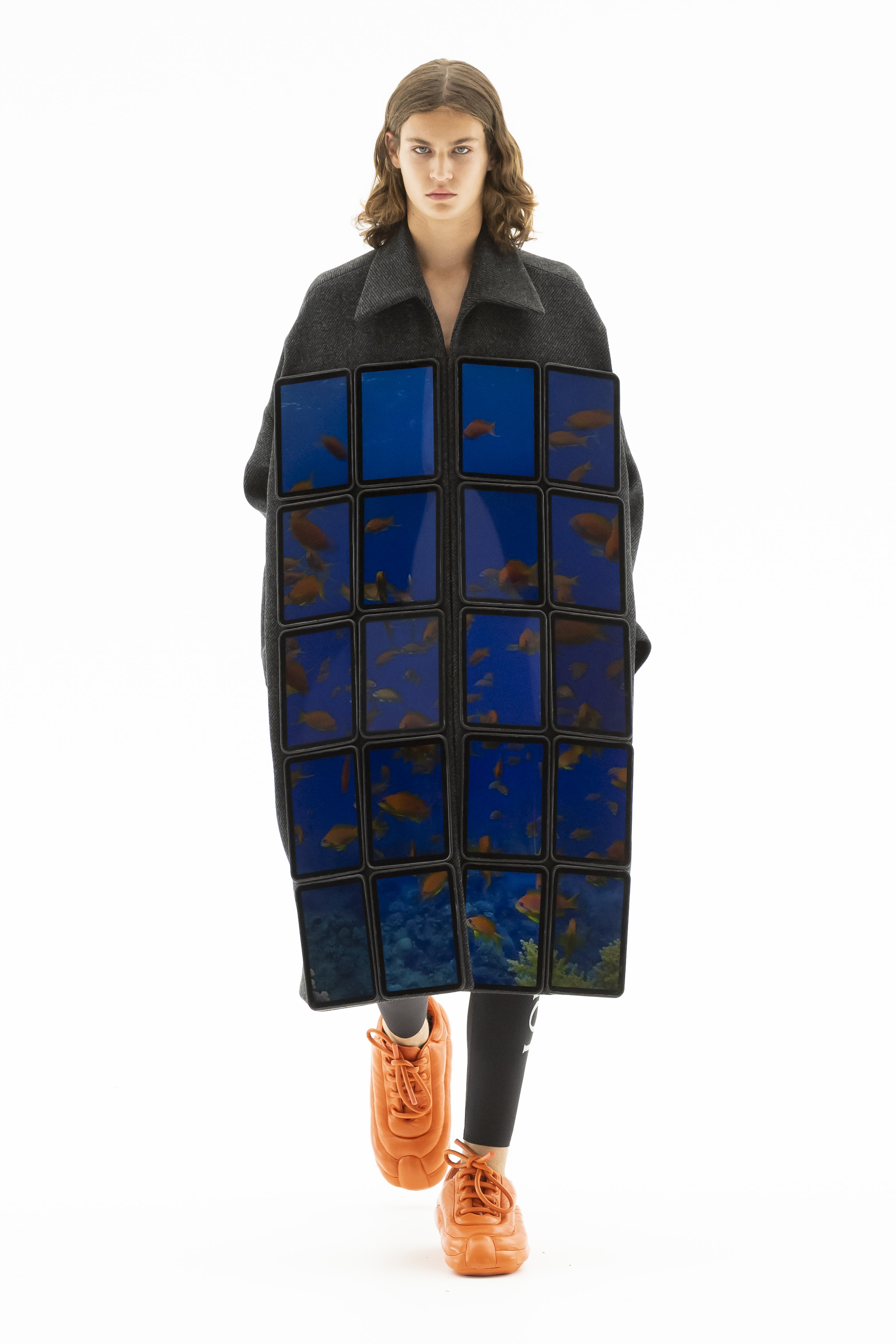 Positively outspoken, Jonathan addressed the issue with refreshing agnosticism, choosing not to cast judgement but instead, open questions. "I think there's something to say here about confrontation: you think of Silicon Valley and this oasis of tech and energy, surrounded by nature. And ultimately, they both communicate," he says. "Maybe there could be something out of this, that we could find progression somehow." Chiming with this revised understanding of nature, Paula uses her practice to highlight the entwined relations of man and nature. "I wanted to make these garments a second skin, a continuation of the wearer's own biology, a direct connection between two organic bodies of different species," she explains. How's that for de-commodifying the fetish object, Karl?
If we concede that fashion, like technology, is destined for doom, exemplary of capitalism's accelerationist tendency towards plunder and the unnatural (a dubious term, in itself) then perhaps we miss its potential for good. Across London and Paris, a fil rouge (or vert?!) for botanical and countrified references among designers provided new ways to think about our relationships with the earth and one another. This came from new juxtapositions, as with Loewe, as well as old ideas revitalised in the present.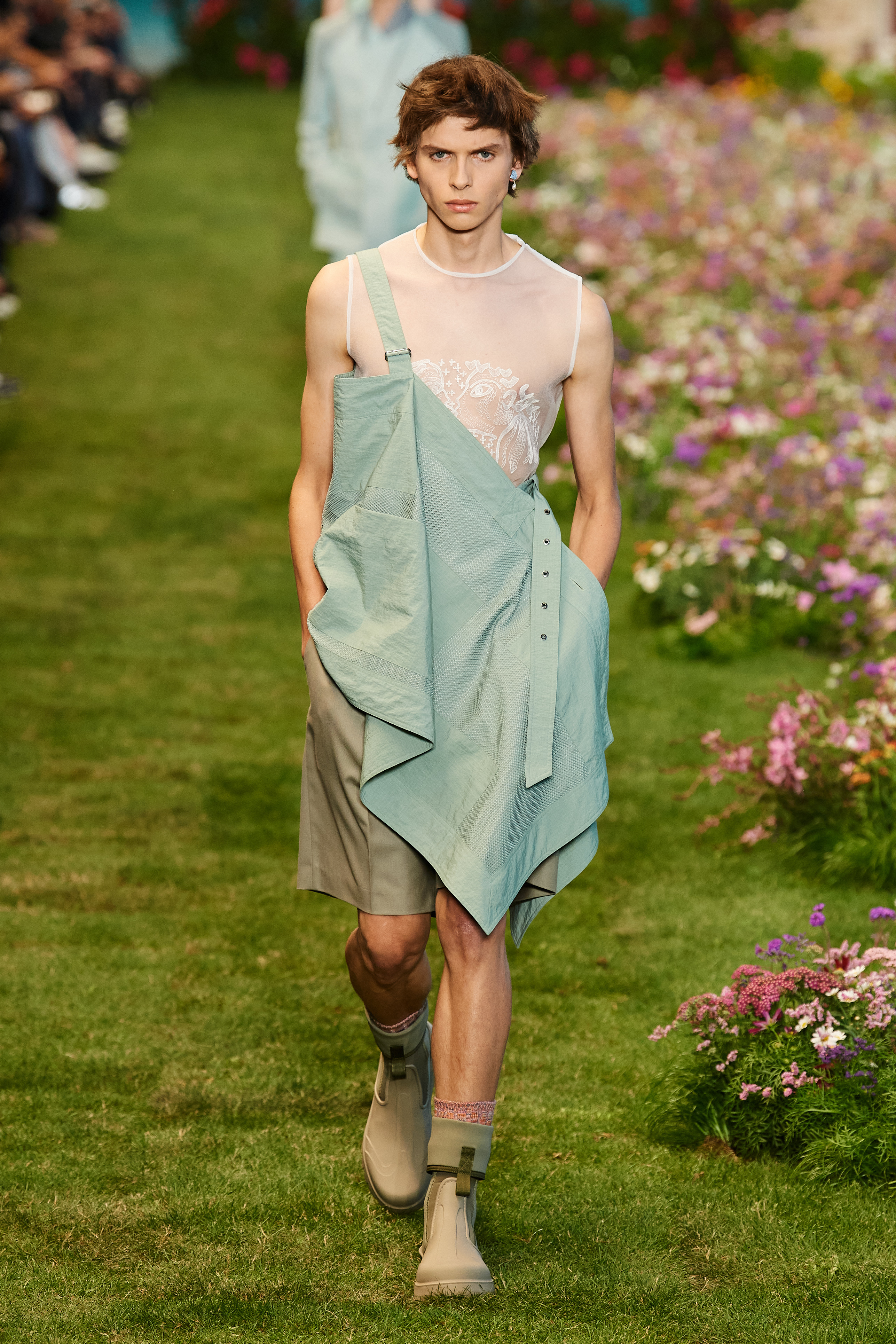 Exemplifying the latter approach, Kim Jones looked to the Bloomsbury Group's favourite country getaway, Charleston. A site of leftfield thought and creativity, the building was remodelled for the Dior Men show opposite a recreation of Granville, Monsieur Dior's childhood home in Normandy renowned for the exquisite garden cultivated by his mother Madeleine. Between them, models clad in a tailored, effete rendition of gorpcore strode across a wildflower meadow. Rattaned climbing shoes, pearlescent snail-shell necklaces and military-grade bumbags manufactured by American outfitter Mystery Ranch were aligned under Jones' techy skew via Matthew Williams' rollercoaster buckles. This was contemporary streetwear, emasculated with gardening hats designed by milliner Stephen Jones – apt shade for a day in the flowerbeds – plus French wellies and the paintings of Bloomsbury alumnus, Duncan Grant, splashed across torsos.
Besides aesthetic appeal, such references provided an entry-point to some of the early-twentieth century's most radical thinkers. Shorter working weeks? You have one of Grant's lovers, economist John Maynard Keynes, to thank for that possibility. Proto feminism with lesbian intersectionality? Say hello to their former housemate, Virginia Woolf. Polyamory? The Bloomsbury Group practically invented it.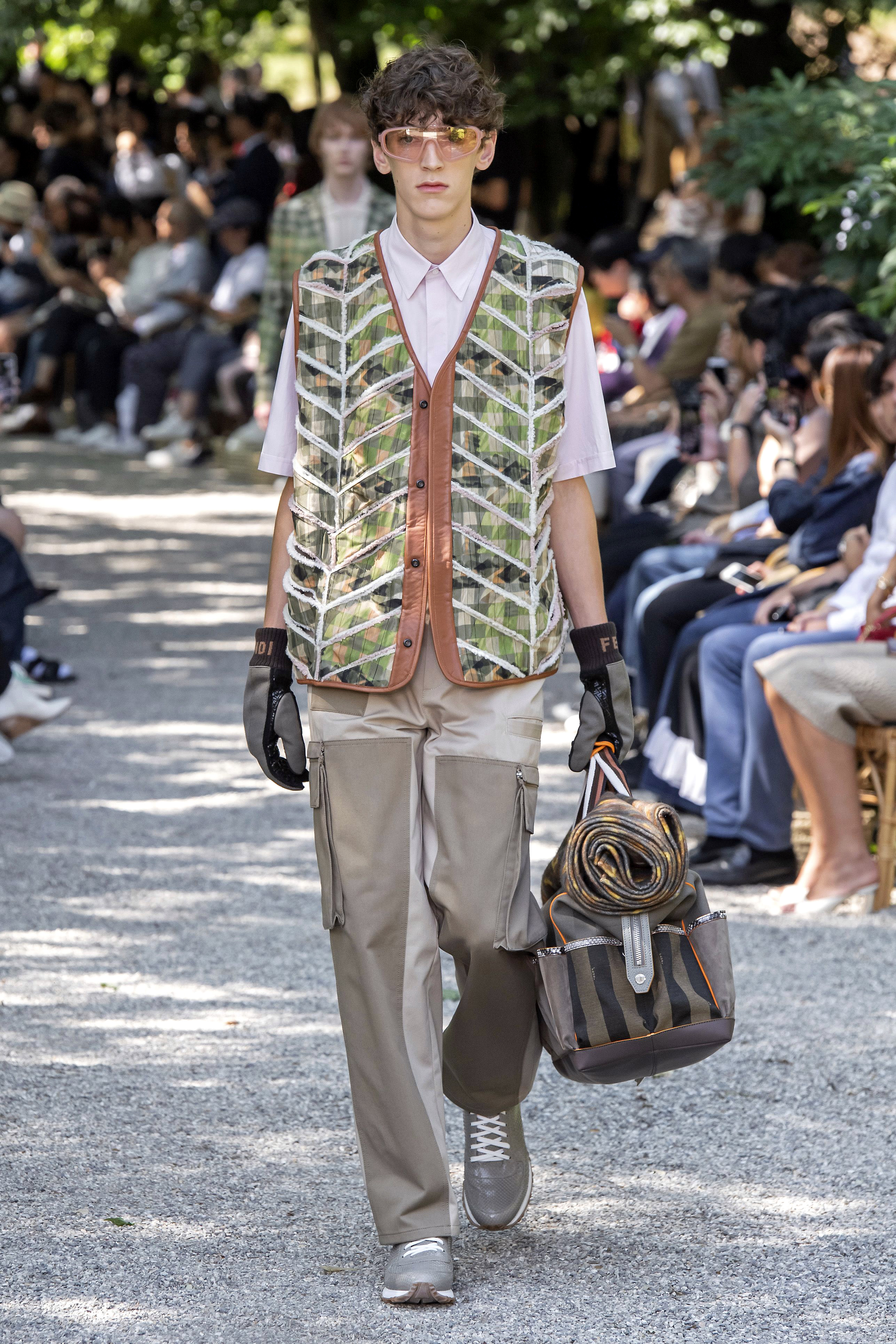 Kim's penchant for the green follies of queer aristocrats is not necessarily new, though. Even fashion's near past reveals no shortage of examples. Before Kim took the reins from Silvia Venturini, Fendi presented an earthy collection for SS20 in collaboration with Luca Guadagnino, the venerated director of bourgeois-twink romance, Call Me By Your Name. Dusty hues, rubber-coated gloves and watering-can handbags set a cool scene across Villa Reale's winding gardens for the Italian maison's take on masculinity.
Are gardens gay? Well, where there's pansies, sure – at least, that's what Erdem Moralioglu's oeuvre might be seen to suggest. His debut menswear collection for SS22 took direct inspiration from Derek Jarman's humble boiler suit, worn while sowing the seeds of his garden at Prospect Cottage in Kent – AKA, the Garden of England – and for SS23, Erdem resumed this queer lineage with a dandified lookbook of blouse shirts, Dijon tweed and elaborate bowties, shot in Suffolk's Benton End, another hub for green-fingered queer creatives such as Lucian Freud.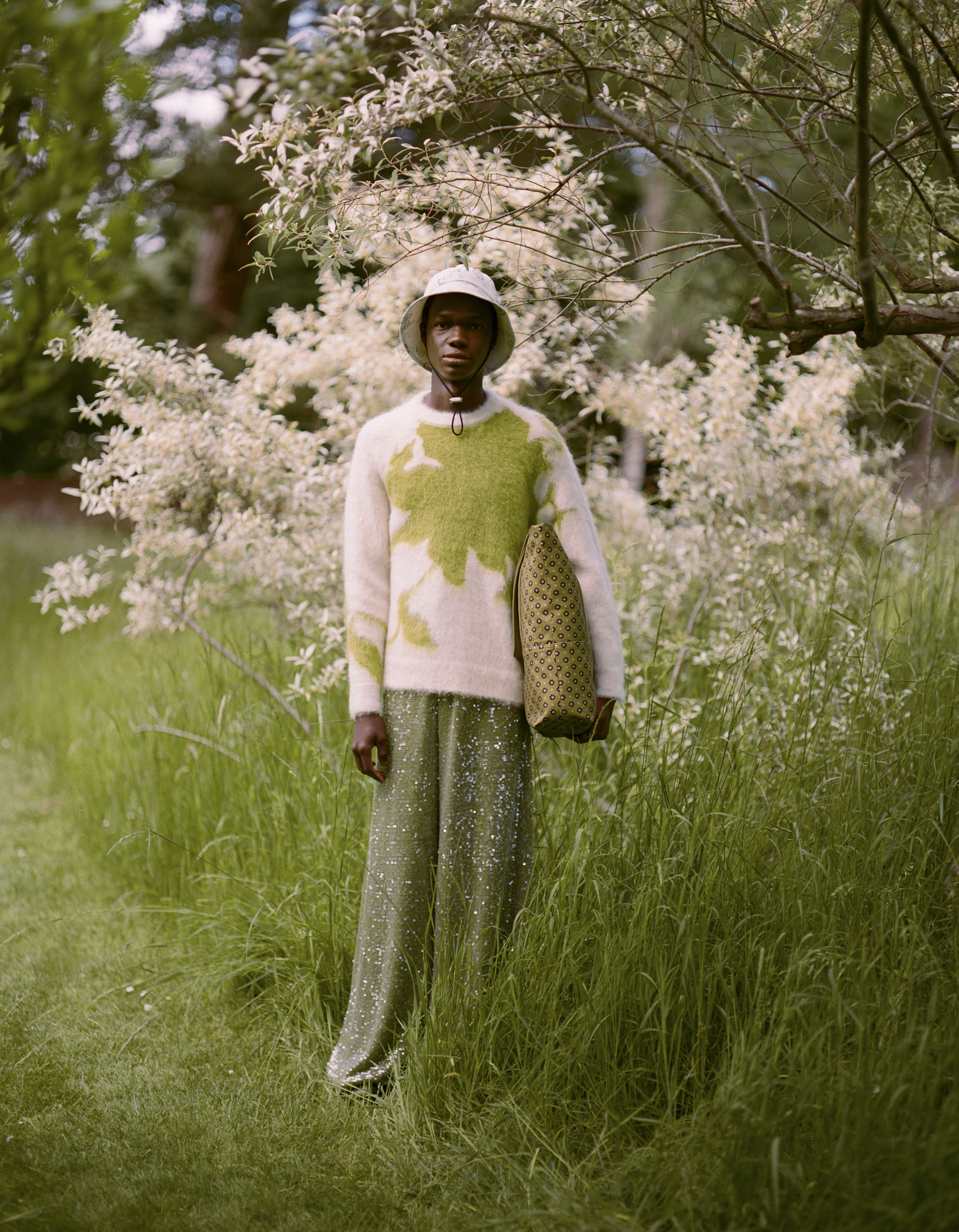 Owned by late artist-cum-plantsman Cedric Morris and his partner Arthur Lett-Haines, it was, Erdem says, "a place of liberation for the two of them. I loved seeing photographs of Cedric and Lett together, outdoors, in the gardens. They're so relaxed and languorous, and I think that this ease has translated into the collection." Known for his floral paintings, Morris shares with Erdem a taste at the heart of the designer's brand. These were clothes to pick flowers in: swishy, loosely tailored and defined by the colourist's flamboyant brilliance and queer kinship.
More broadly, it seems the deeper fashion digs below the soil, the more we discover of human relationships in and with the natural world. Kiko Kostadinov, for example, unearthed stories of rural content unfamiliar to his show's attendees. Taking style cues from Bulgarian figurative painter Zlatyu Boyadzhiev's agrarian landscapes, Kiko excavated art produced under state communism. "His work has always been quite mystical for me," says Kiko. "The position of the subject is always very close to the viewer with the land stretching far behind."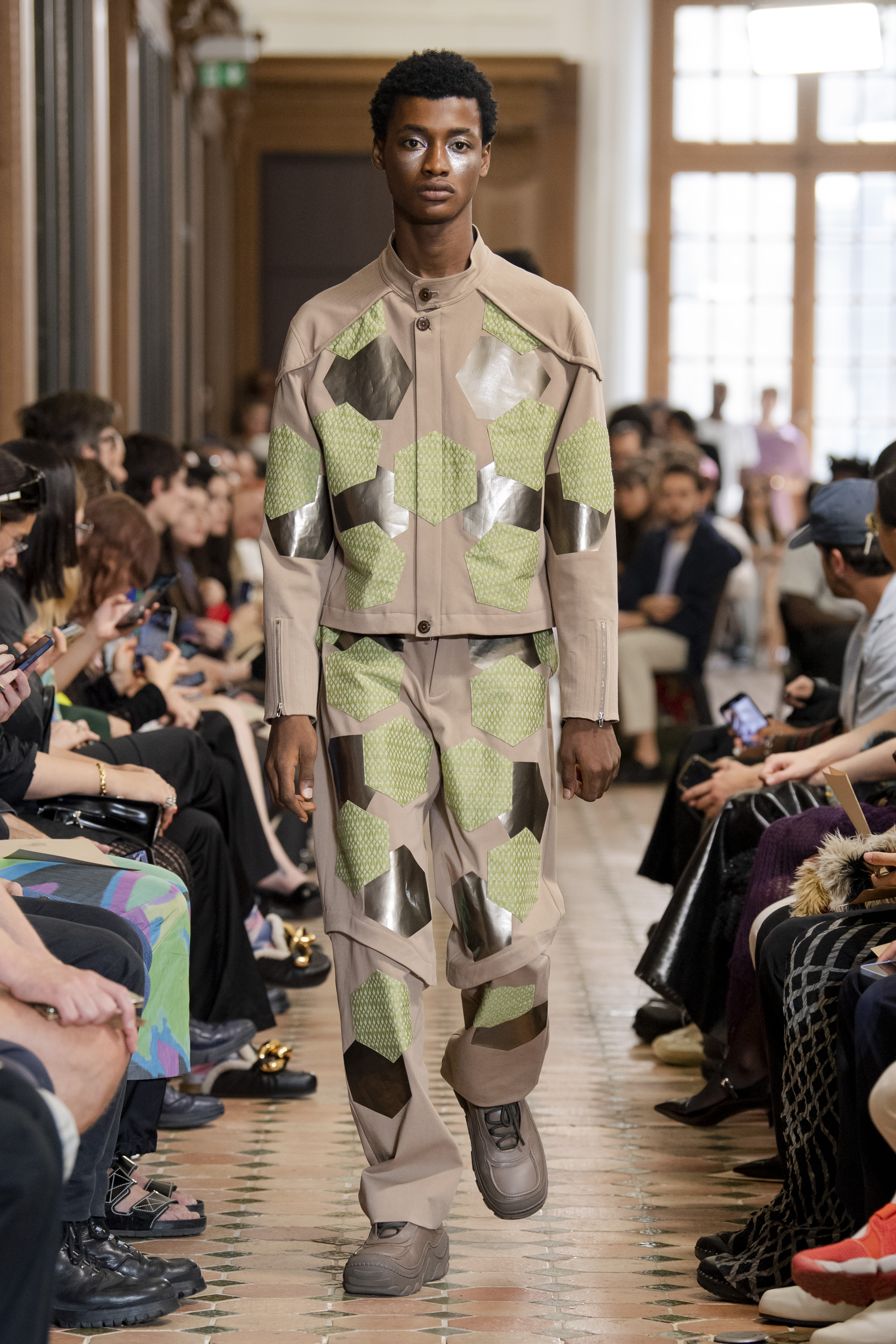 Portraying life in close relation to nature — albeit, through labour — Boyadzhiev was awarded Hero of Socialist Labour for his contributions to socialist art in 1967. In 2022, his moody contemplations on countryside graft reappear in twill and seersucker interpretations. Among fastened breeches and nods to painful histories of conquest and subjugation under Ottoman rule told through Janissary silhouettes, we experience history through the subaltern lens of Bulgaria, delivered by a first-generation native appreciative of such shapes, but also, ideologically troubled by them. Again, we confront the issue of how the land and its fruits should be treated and whose it is to treat. As well as being a space for queer liberation or technological reckoning, the earth is also a contested space.
Imperialism, queer histories and present technological reckoning. Weighty matters, indeed. But there is reason to smile, yet. That fashion can open, inspire and critique the ways we engage with Mother Nature is the cheery kernel at the heart of the abundance of rustic references we saw across the shows. As we engage with the clothes, we learn of novel and historic lifestyles, and the issues these confront and confronted, therein providing the horizon for new ideas. Fashion does not exist in a vacuum, but instead acts like a mirror unto the world it dwells in. Whether it likes it or not, nature is in fashion, and fashion is in nature.
Follow i-D on Instagram and TikTok for more on fashion trends.