Beyond BDSM, designers are reimagining latex and silicone looks for the now
Coperni, Marie Monique Fei, Esmay Wagemans and more are putting a sweet and surreal twist on the sexy, subversive fabrics.
Photos via Instagram, Getty Images and Ella Simone
Sartorially speaking, summer 2022 is all about being hot — and in more ways than one. Heat-reactive garments from Di Petsa and Sinead Gorey captured the season's horny energy while conjuring sweaty dancefloors. Designers Goom Heo and Sia Arnicka proposed puffer jackets for the warm season, all cropped and club-ready. Elsewhere, another cohort of designers have advanced a different kind of heat. "Silicone can be hot to wear," says designer Ella Angelee, speaking to her signature synthetic dresses. "In a sexy way… but also in a sweaty way." Alongside this season's "touch me" dresses and summer parkas, arrive a series of fleshy garments made from latex and silicone, all with a seasonal, surrealist twist, of course.
Now, obviously, latex and silicone aren't new to fashion. Primarily used in the world of fetish, the former fabric has long been appropriated by designers and houses looking to induce a frisson, to add a hint of subversion to seasonal ready-to-wear. In March, Demna Gvasalia accessorized Balenciaga's Cruise 2023 show looks with a series of latex gimp masks. For AW22, Versace decked runway models in latex leggings, near replicas of the original source material. Case in point: Donatella invited Julia Fox to sit in the show's front row. The actress, who describes her style as "dominatrix couture", wore head-to-toe Versace latex, a sleek ponytail wrapped in pleasure tape.
Adjacent to (but not outside of) the realm of BDSM, latex has also, historically, served as a signifier of Hollywood sex symbols. Think Michelle Pfeiffer's Catwoman but, perhaps more significantly, Pamela Anderson in a shiny silver maxi gown or squeaky pink mini — a subversive (and even sexier) answer to Hervé Léger's bandage dress. Cultural heirs to Pam's bombshell legacy, the Kardashian clan have, in recent months, taken up the actress' latex regalia. In April, Kim wore a series of rubbery looks that reminisced Pam's early-career style: a mockneck catsuit on Ellen and a bustiered gown to the Kardashians premiere. To the same event, Kylie also donned latex, albeit in a look less conventional.
Pulled from Coperni's cute-sy, schoolgirl-inspired AW22 offering, the gown in question was crafted from white latex which had been twisted into tiny rosette embellishments. Among the collection's cable knit sweaters, Batman-eared balaclavas and whimsical glass handbags, designers Arnaud Vaillant and Sébastien Meyer's latex confections, which arrived in lemon yellow and cotton candy pink, advanced a softer, sweeter approach to the sexy fabric.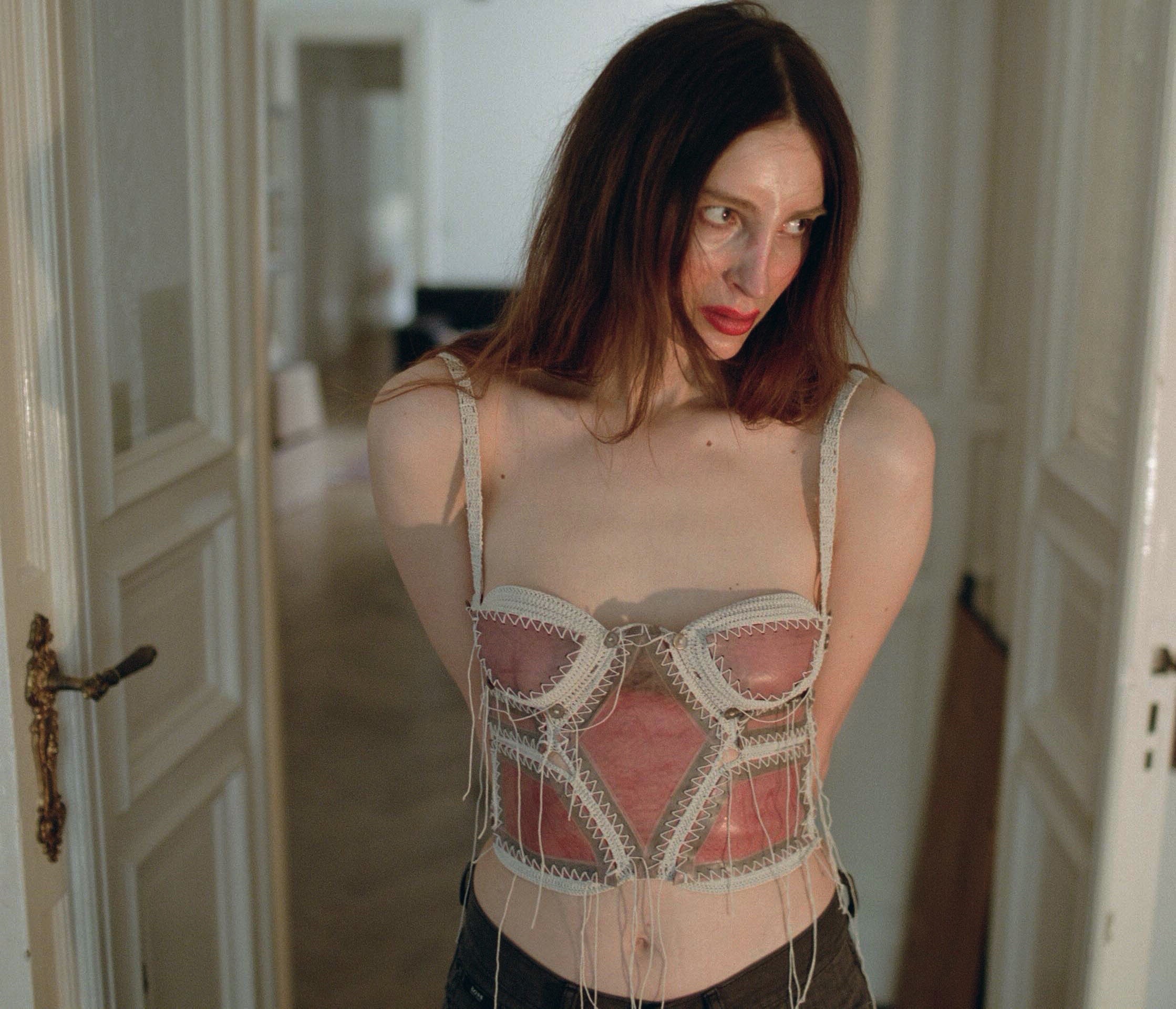 "There's always something extremely sexual about it," Marie Monique Fei says, referring to latex and its associations. "I can't really explain why but I was fascinated by latex. I wanted to know how it feels to touch it, to wear it, to play with it and to be covered in it." It's Marie's fabric of choice when creating what she describes as "fetish for grannies," a unique hybrid of knit and latex, developed over years spent learning crochet from 'aunties' in Shanghai and experimenting in the textiles classroom at Central Saint Martins.
"Latex and knitwear are drastically opposed as materials, but also are full of stereotypes and preconceptions," she says. "Knitwear is commonly associated with grannies, old maids, cable jumpers. Latex is mostly related to fetish-wear and club-wear." With her composite garments, Marie hopes to subvert the connotations associated with each textile, lending sensuality to knitwear's frump and, perhaps, a homeliness to latex's inherent sex appeal. "My point is to question what is sexy and desirable, or not," she explains. "I find aging and older women very sexy. I like to play with the idea of being glamorous. I love how seduction games and putting on sexy lingerie often happens to be something very clumsy."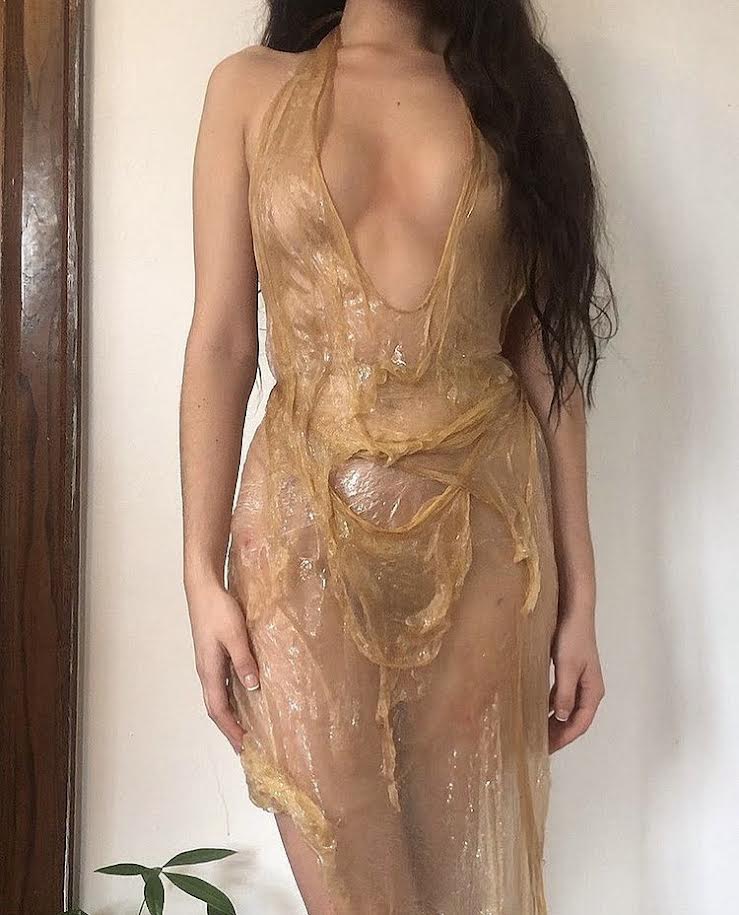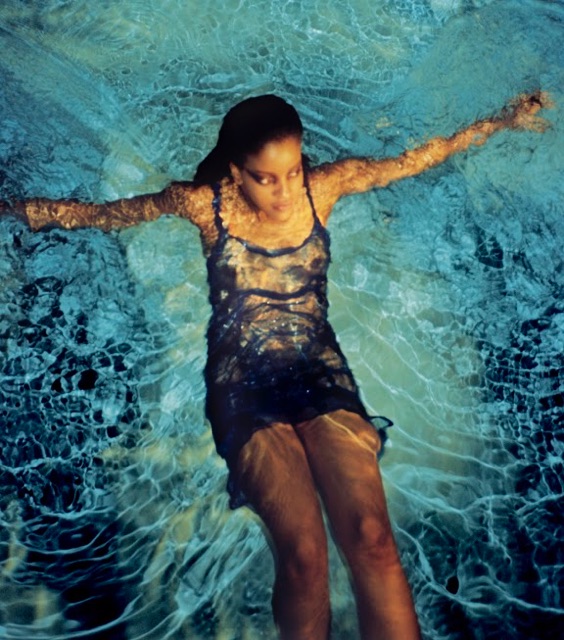 Launched last month, Marie's graduate collection is an ode to the figure of 'the spinster' and her relation to textile traditions. A jumper knitted from real cat fur harkens to the 'cat lady', while yarns spun from dryer lint speak to the drudge of domesticity. "I love the contrast between materials which would seem repulsive at first, like dryer lint, and something as attractive and sexual as latex. Once combined, the lint suddenly becomes an object of desire," Marie says. Both a celebration and a subversion of modern femininity, it's no surprise Marie's half-knitted, half-rubber bustiers, bras and capes have caught on with the zeitgeist's avant-pop girls, including Arca, Oklou and Caroline Polachek.
Elsewhere in the realm of fleshy fabrics, designer Ella Angelee. is creating ethereal naked dresses from silicone. Like latex, silicone is not new to the world of fashion and beautification. A former fibres and material practices student, Ella first thought to make dresses from the material after seeing a silicone dress designed by Thierry Mugler at an exhibition in Montreal. (You might also remember the late designer creating Kim's Met Gala wet look dress from the slippery material, as well.) "Breast implants, silicone in shampoo, cosmetics, prosthetics, silicone on and in the body, used for beauty or altering one's appearance is nothing new," Ella says.
Each of Ella's silicone dresses has a liquid-like quality, dripping from the body in hand-moulded ripples. Moreso than latex, the nature of silicone allows designers more room for play, to shape and sculpt the fabric into more-than-body-con shapes. Take Dutch artist Esmay Wagemans, for example, who creates wearable sculptures from silicone. Transparent and delicate, nearly cellophane-like in nature, the artist's signature body-cast breastplates have been worn notably by Solange, Justine Skye and Cardi B. Last month, a colourful butterfly-shaped top, no doubt inspired by the zeitgeist's Y2K obsession, blew up on social media. "I'm always looking for the so-called uncanny valley," Esmay told i-D in 2020. The viral top lands precisely in that desire-eliciting sweet spot, between strange and sexi-ness.