Photography Mitchell Sams
Simone Rocha AW20 explores life's full spectrum
The designer tracks birth, life and loss through delicate tailoring and elegantly gothic drape.
|
17 February 2020, 12:42pm
Photography Mitchell Sams
"Birth, life, loss" were the three words that Simone Rocha offered as an explanation of her latest collection, an ode to J.M Synge's 1904 play, Riders to the Sea, about family life on the Aran Islands. Throughout her career, Simone has paid tribute to her beloved Ireland, reinterpreting the nuanced leitmotifs of its urban and rural landscapes through a distinctly feminine perspective, each time with a new story to tell. This time, her show opened with a parade of ivory looks, fluidly layered with satin sashes, ribbon ties (prettified versions of a fisherman's utilitarian fastenings) and deconstructed Aran knits, arguably Ireland's most recognisable contribution to the fashion lexicon. The looks riffed on the church rituals of birthing smocks and Baptism clothes, while macramé net bags were strewn with shark teeth-shaped pearls, as though hauled from the sea by fishermen, and wisps of white chiffon and ornate broderie anglaise had all the sweet angelic nostalgia of an Irishwoman's communion dress.
So far, so innocent. What followed (the show was structured in three parts) was steadily darker, as life generally becomes once the naivety of youth fades. There was an abundance of sharp-yet-silky tailoring, something we haven't seen so much of from Simone, whose lodestone is voluminous dresses and puffed silhouettes. Instead, she wanted to add an "ergonomic workwear feeling" to counter the seaside softness and frothy femininity -- perhaps the young Irish cailín has grown up and got a job in an office, albeit one where her 9-to-5 uniform is punctuated by gestures of decadence, like silk sashes woven through lapels and abbreviated trousers worn under tulle skirts.
They certainly held their own among the grand portraits of aristocrats in silk robes and rococo splendour in the halls of Lancaster House, the stately Georgian mansion in which the show took place. Many looks were buoyed down by black satin backpacks and ribbon-handled leather handbags. Papal purple-and-red and embroidered sacred hearts made their way in there, too, because as Simone put it: "You can't research Ireland without Catholicism creeping in." St Malachy, the prophetic patron saint of Ireland, had his name printed in ecclesiastic lettering on dresses draped like ocean waves.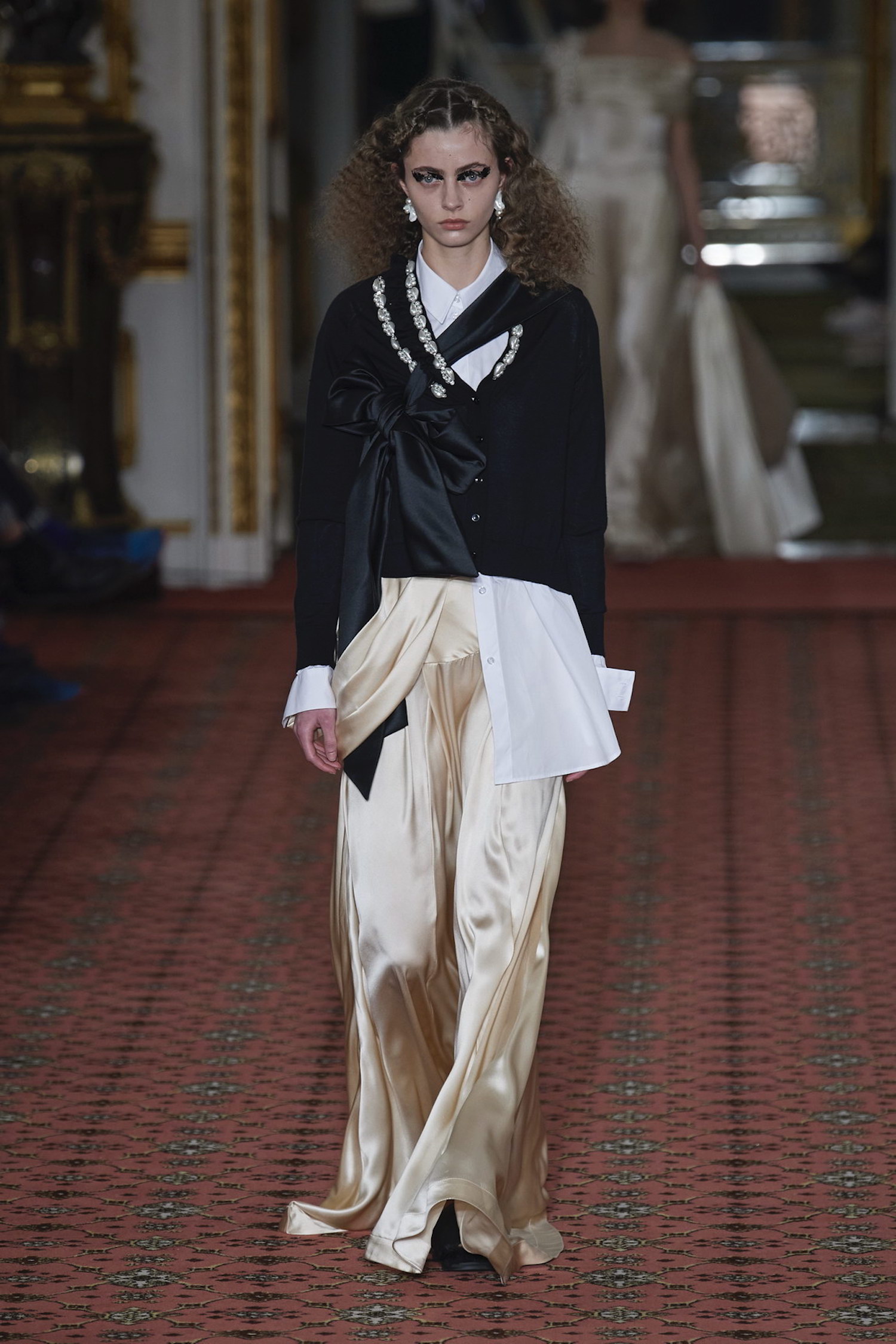 As for loss, that's when things got gothic. Red roses and night-sky black lurex came with violently elegant blood-red drapes and blood-drop crystal earrings. Riders to the Sea ends with a bleak funeral, but Simone didn't want the crescendo of her own procession to feel too ominous. So there were jolts of cobalt and cornflower blues (surely a nod to the Virgin Mary) and finale trio of bride-like dresses dramatically covered in Chantilly lace veils. "It's loss, but not so final," she explained. "I wanted to bring it back to the beginning." And so it was renewal that her show ended on -- a reminder that in dark moments, there's always the optimism of rebirth.