Photo by Lawrence Schwartzwald/Sygma via Getty Images, by Richard Corkery/NY Daily News Archive via Getty Images and by Evan Agostini/Liaison
7 of Carolyn Besette-Kennedy's most iconic outfits
The former Calvin Klein publicist and wife of JFK Jr. practically invented all-American athleisure.
Photo by Lawrence Schwartzwald/Sygma via Getty Images, by Richard Corkery/NY Daily News Archive via Getty Images and by Evan Agostini/Liaison
Perhaps nobody embodies the understated cool of 90s fashion like Carolyn Bessette-Kennedy. Formerly a publicist for Calvin Klein, Carolyn was catapulted from everywoman obscurity into the public eye when she wed America's most eligible bachelor and "Prince of Camelot", John F. Kennedy Jr., in 1996. Naturally, the couple's marriage stirred up a media frenzy of Meghan Markle-esque proportions. New York paparazzi flocked to Tribeca, hoping to snap a photo of the newlyweds outside their apartment. Editors quickly took interest in Carolyn's unique personal style: a mix of American sportswear and avant-garde pieces, unusual for the legendarily preppy Kennedys. Her aversion to the era's trends signalled exacting taste, and before the decade had even ended, the media labelled her a fashion icon of the 90s. Despite the brevity of her time on Earth (Carolyn and JFK Jr. were killed in a plane crash off the coast of Martha's Vineyard in 1999), she crafted a sartorial legacy that would endure for decades on (Carolyn and JFK Jr.'s romance has even inspired Ryan Murphy's new show American Love Story). Here, we take a look back at some of Carolyn Bessette-Kennedy's most iconic outfits.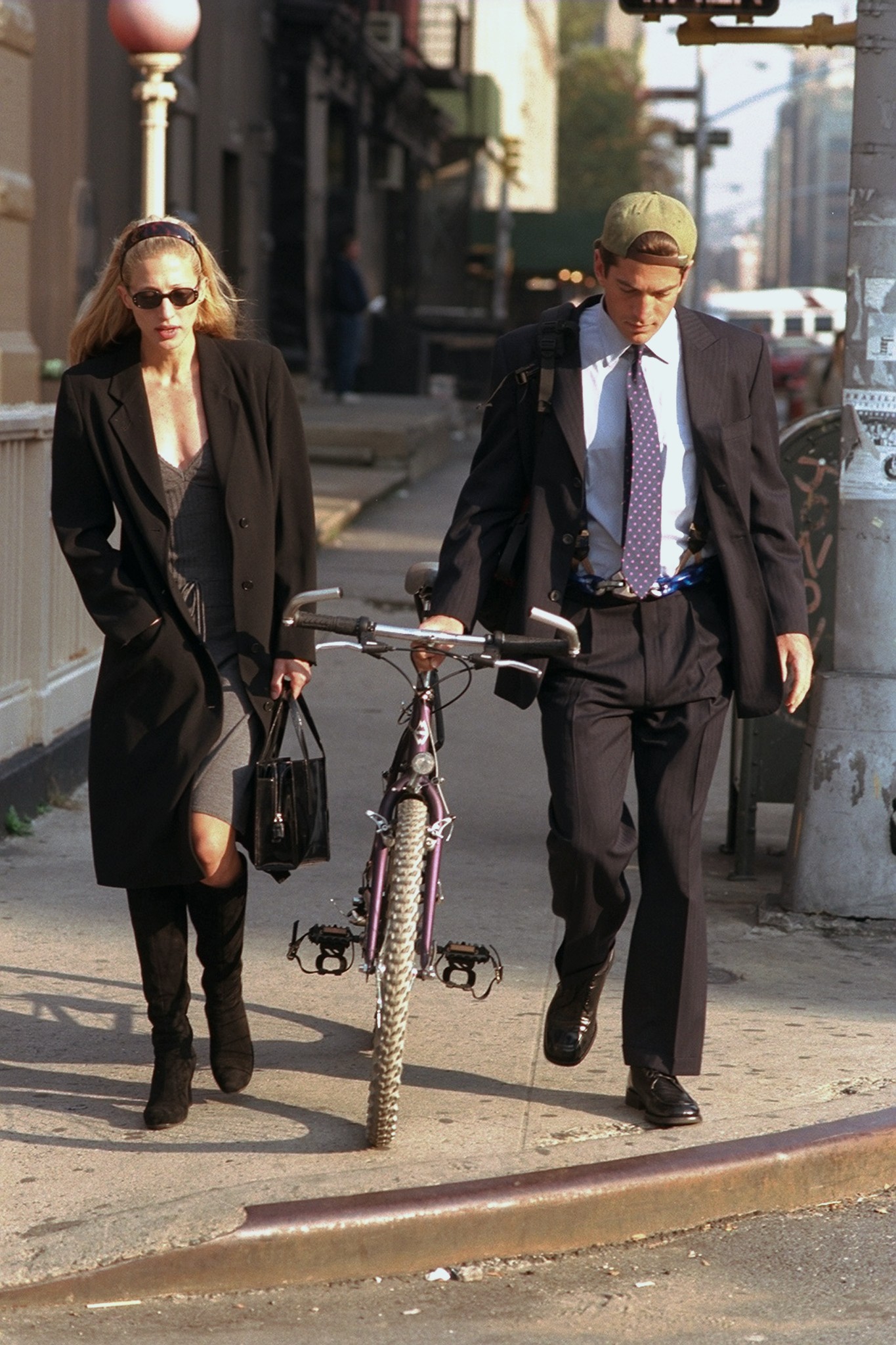 Newlyweds street style in New York City, 1996
The allure of Carolyn Bessette-Kennedy stems from a combination of her pristine personal style and her aversion to the press. Notoriously reserved, Carolyn avoided the media, refusing interviews and photoshoots during her high-profile relationship with JFK Jr. As a result, her public-facing life and style were captured primarily by the paparazzi. The candidness of Carolyn's style in these street snaps showcases what Allure editor-in-chief Linda Wells called an "effortful effortless[ness]." We can see it in this shot from 1996: her hair tucked neatly into a tortoiseshell headband, a simple Prada car coat thrown over a mix of knit and silk separates.
Walking in NYC, 90s
But her street style wasn't always so polished: Carolyn was a champion of athleisure long before the style dominated the fashion landscape. She was frequently caught by paparazzi, strolling Central Park with JFK Jr., walking her dog Friday, or taking family trips upstate, where she preferred to wear much more casual garb. On a newspaper run with her then-boyfriend, Carolyn sports an All-American athleisure look: bright Nike Air Streak sneakers, a half-zip fleece, loose jeans and a mussed ponytail.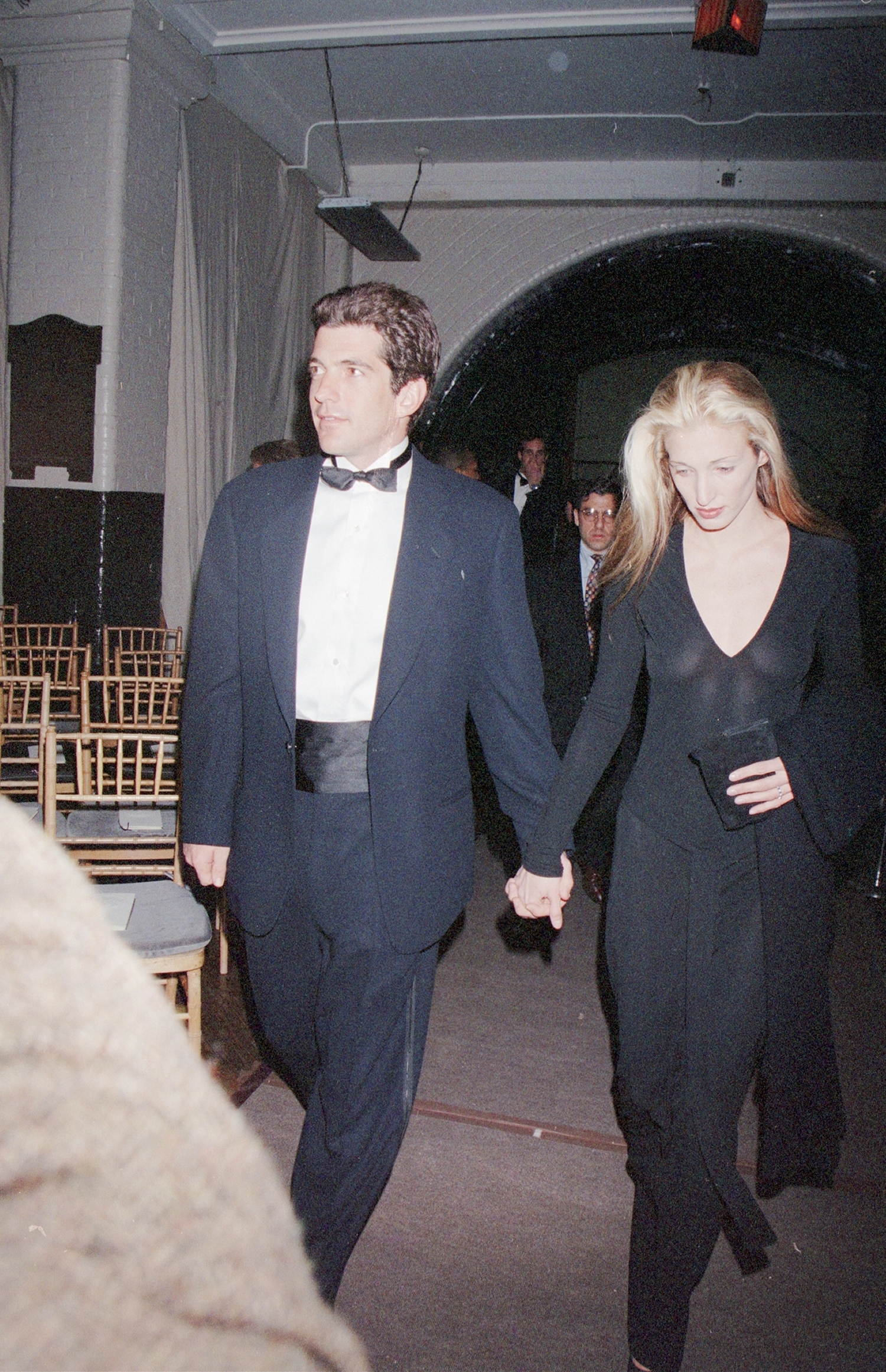 In Calvin Klein, 1995
Before tying the knot, Carolyn worked as a publicist at Calvin Klein for over seven years. Considering the length of her tenure, it's safe to assume that the American designer, known for his ultra-minimalist womenswear, had a hand in shaping Carolyn's style as we know it. Here, she wears the slinky evening gown that closed Calvin Klein's SS96 runway show.
At her wedding to John F. Kennedy Jr., 1996
Carolyn asked then unknown designer and friend Narciso Rodriguez to design her wedding dress over drinks at the Odeon restaurant in New York City. Months worth of drafting and two lengthy couture fittings later, he had created one of the most iconic wedding dresses of the 90s. Carolyn and JFK Jr. were married in a private ceremony on Cumberland Island, where the bride wore a pearl-colored silk crepe bias gown with a cowl décolletage and a sheer veil. Its simplicity marked a departure from the era's voluminous princess dresses and solidified an emerging trend: the understated slip-style wedding dress.
Off-duty in NYC, 90s
The thing that sets Carolyn's style apart from her peers, then and now, is that she regularly and repeatedly wore many of the same pieces. In an interview with The New York Post, JFK Jr.'s former assistant RoseMarie Terenzio divulged that Carolyn didn't have a "big" closet and that she never accepted freebies from designers. Instead, she kept a tight rotation of thoughtfully selected basics and investment pieces. Her favorites? Blue Levi's jeans, Gap T-shirts and this Prada coat, which she had custom-made in three colors.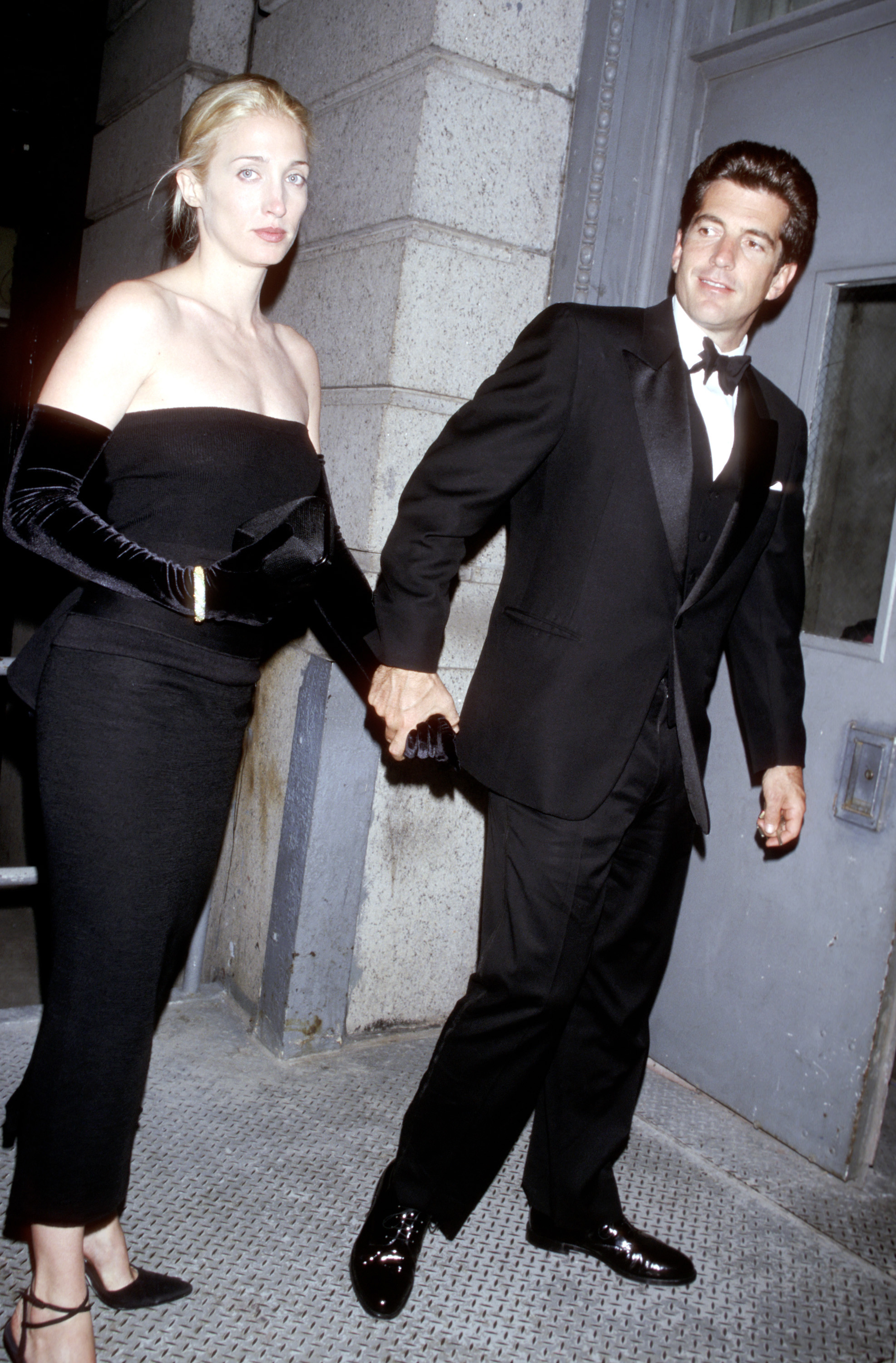 At the Municipal Art Society gala, 1998
Carolyn was also known for her somewhat esoteric fashion choices. She owned directional pieces from avant-garde designers like Ann Demeulemeester and Comme des Garçons, but kept a special (and sizable) place in her closet for Japanese designer Yohji Yamamoto. To a gala for the Municipal Art Society, she wore Yamamoto's AW98 obi gown with velvet opera gloves. Elsewhere, she was pictured in the label's skirts, menswear and suiting. So why all the Yohji love? It turns out that various advertising contracts with JFK Jr.'s political magazine George dictated which labels Carolyn could and couldn't wear. Since Yohji didn't advertise in print, he became Carolyn's go-to for the kind of elegant, black tie fare that wouldn't land her in a lawsuit.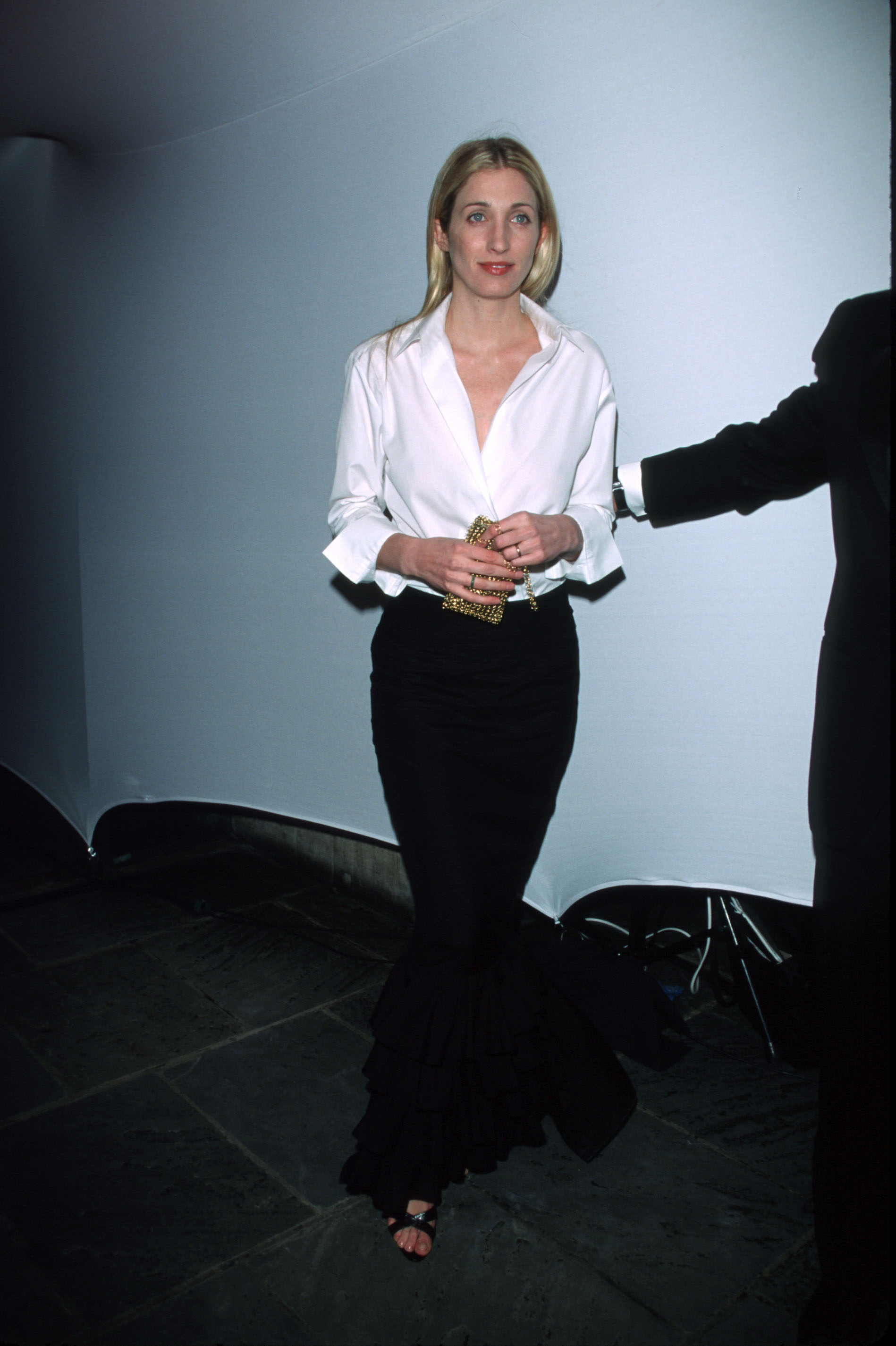 At the Whitney Museum's annual fundraiser, 1999
Carolyn eschewed the standard celebrity stylist in favor of picking out and putting together her own looks. "Hers was not an opulent style, but it was luxurious," designer Gabriella Hearst told Newsweek. "It was more about the shape and the silhouette." For the Whitney Museum's annual fundraiser, Carolyn put her own spin on the black tie dress code, pairing an oversized Yohji Yamamoto Homme shirt with a fitted, ruffled skirt from the designer's women's line. Notice how the shirt isn't buttoned up, but rather wrapped and tucked. The tiny chainmail purse, likely vintage, lends quirk to an otherwise balanced outfit. It's all in the details.