This designer is bringing Puerto Rico to life on the catwalk
Krystal Paniagua is on a mission to celebrate her homeland and change the way Puerto Ricans think of fashion.
|
26 February 2020, 5:00pm
Photography Kenneth Calo
For many designers an "alternative" choice of fashion show setting is just an edgy backdrop to their practice, but there are a select few for whom it represents the guiding motive behind their work.
One such creative is Krystal Paniagua. Based in London since graduating from the Royal College of Art's MA Womenswear course, earlier this year Krystal headed home to Puerto Rico. With her, she brought her graduate collection -- a richly-hued, artfully bedraggled range of printed knits -- and some vague thoughts of organising a shoot or something similarly low-key. A chance encounter on her first night back home, however, saw the idea quickly bloom into a fully-fledged show at Publica -- a gallery space in the U.S. territory's capital, San Juan.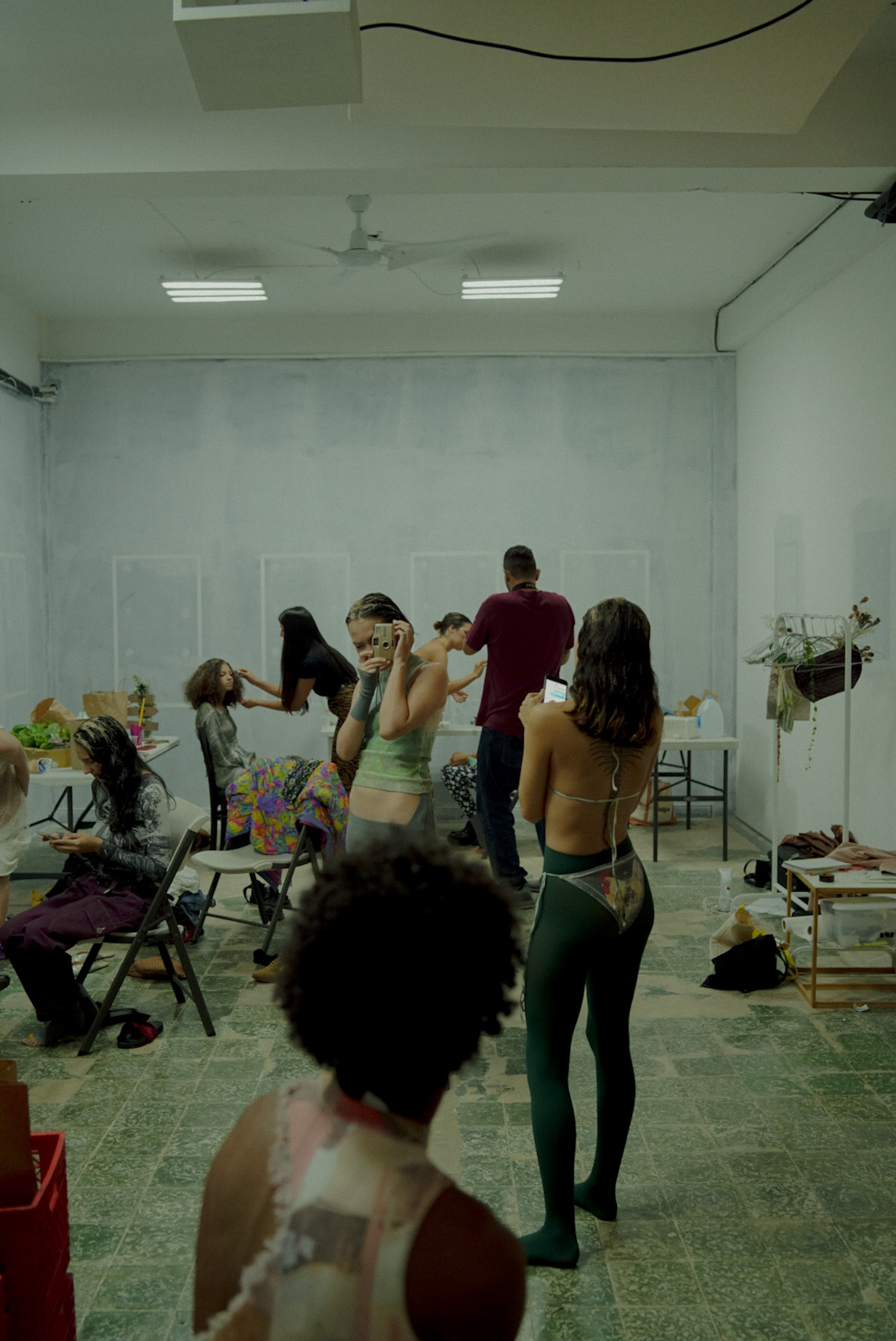 Impulsive as it may seem, Krystal's decision to show on the island fits coherently with her output and ethos. Her work -- sold in NYC's Cafe Forgot -- is perhaps best described as a frank love letter to Puerto Rico, in all its at-times-shabby glory. Trained in knitwear, she cuts, tears and frays the rulebook of the typically strict medium to produce purposefully dishevelled staple pieces.
Think cut-outs -- normally a big knit no-no -- with seemingly moth-eaten edges, or web-like tops made using a technique by which yarns are elasticated at high tension, the elastic then severed to create a see-through threadbare effect. This material ode to her homeland is complemented by the images sublimation-printed onto the clothes -- chickens scratching about courtyards, peeling paint and moss-flecked concrete walls.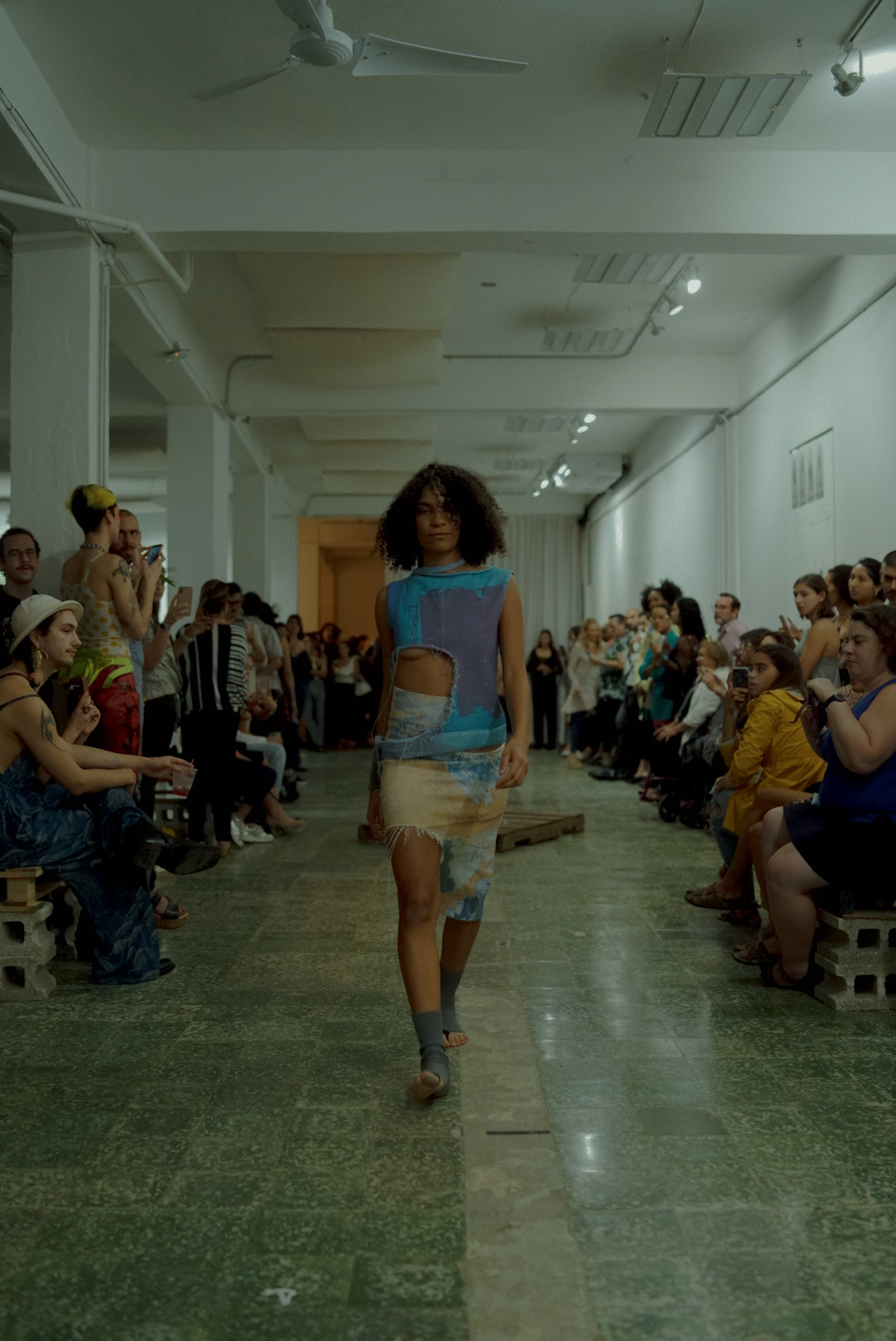 This approach carried over into the set, with many of the materials used sourced from around the San Juan district of Santurce. "Considering the images that I took, and the materials that I've worked with since the beginning, I wanted to use things you'd just find around the local environment, like wooden pallets -- which you'll find everywhere," she explains. "We used sand as a prop, and used plants you'd find growing in the street -- things you wouldn't expect to see in a fashion show context."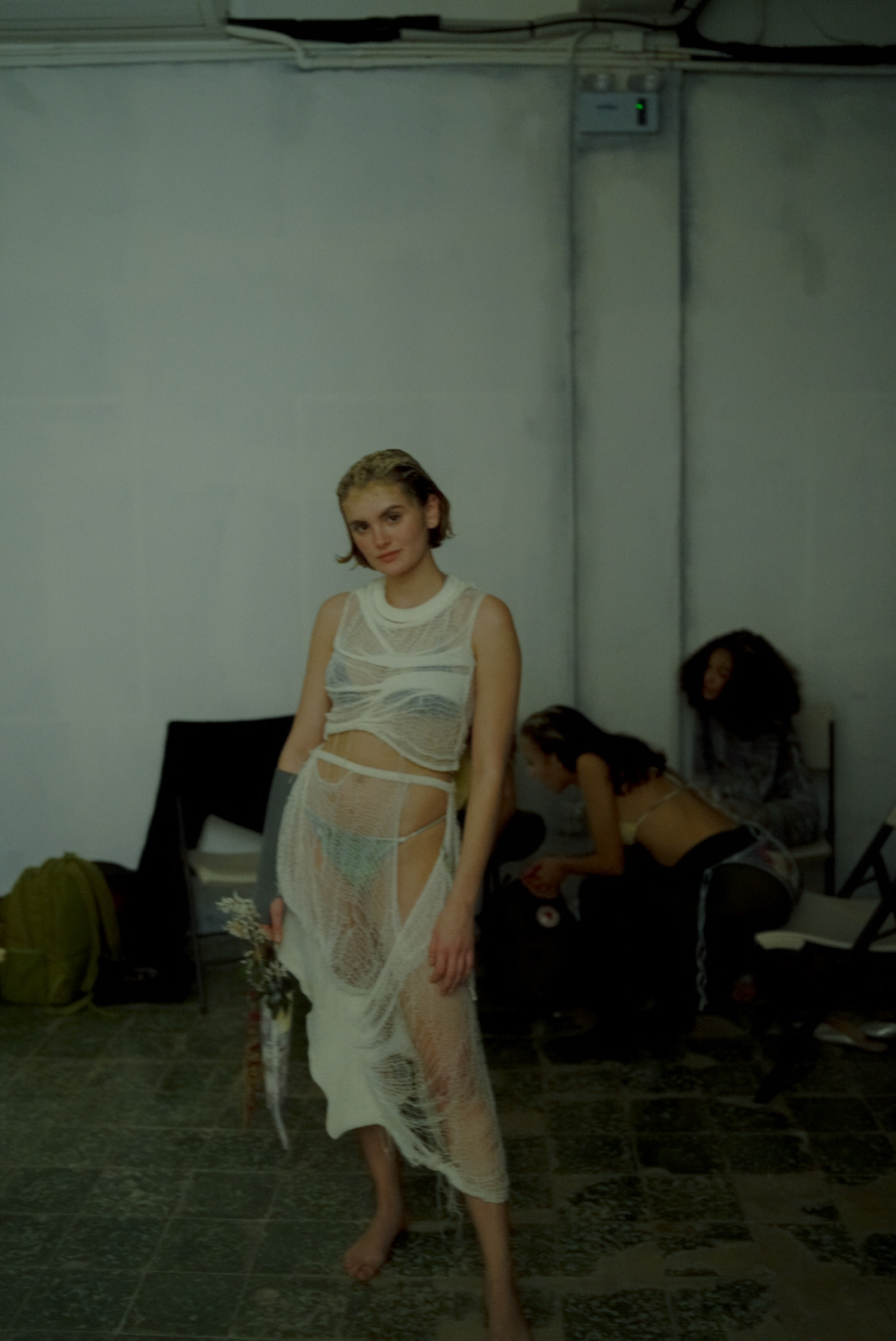 "When people typically think of fashion in Puerto Rico, they think of gala dresses shown on traditional models in exclusive hotels," she continues, "so I wanted to do something more down to Earth -- an event where everyone's welcome." Rather than perpetuate globalised ideas of grandeur, she wanted to create a fashion environment in which attendees could recognise the unexpected beauty of the island they call home. "We're taught that we're supposed to be fancy, that we're supposed to hide the reality of the island," says Krystal. "I wanted to give them the experience of feeling that they're welcome, that they're a part of this. And that here, what you see is what you get. I didn't want to beat around the bush and try to create an exclusive experience, but rather an event for all of us, for the community."
Community-mindedness informed the casting, too, with Krystal turning to the wealth of local talent that often goes untapped. "Since they come from the same area as I do, there was this understanding of the same aesthetic," she says. "All these people are here because they believe in something and they want to be part of a community." With their salt-sprayed curls and sand in their hair, it was almost as if the models had come straight from the beach and into the space. "We're surrounded by water!" Krystal exclaims. "The beach is a large part of our lives, so I wanted to include it as a theme. The entire event was about forcing people to question what their expectations are of a fashion show were, as well as how we relate to ourselves," she says. "You don't always have to be so glossy, or stick to a particular idea of how girls are supposed to present themselves. So many people in Puerto Rico want things to be so fancy when the current state of the island is the opposite. I wanted to present the reality of life on the island, and show how fashion can be a part of that in ways they might not have expected."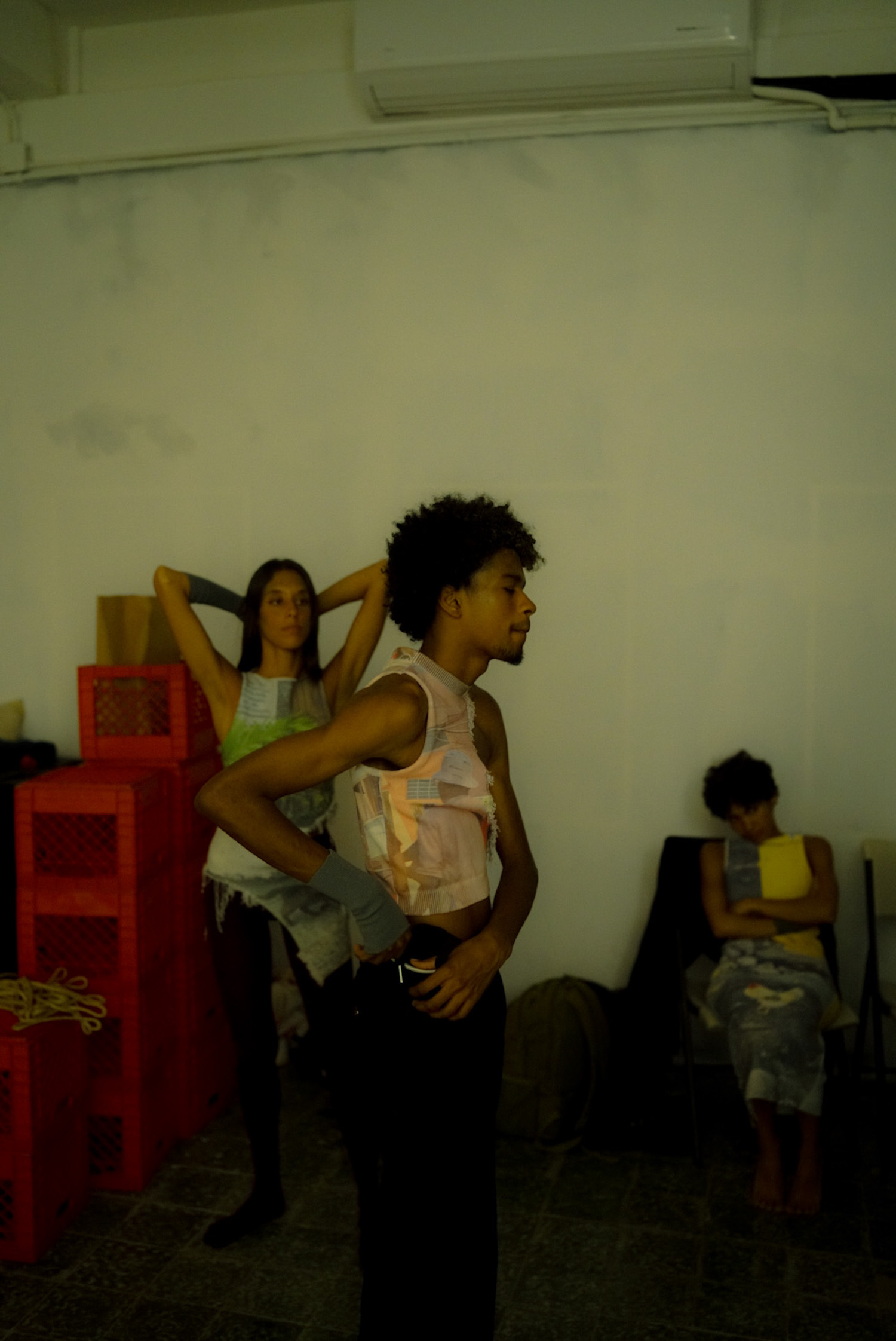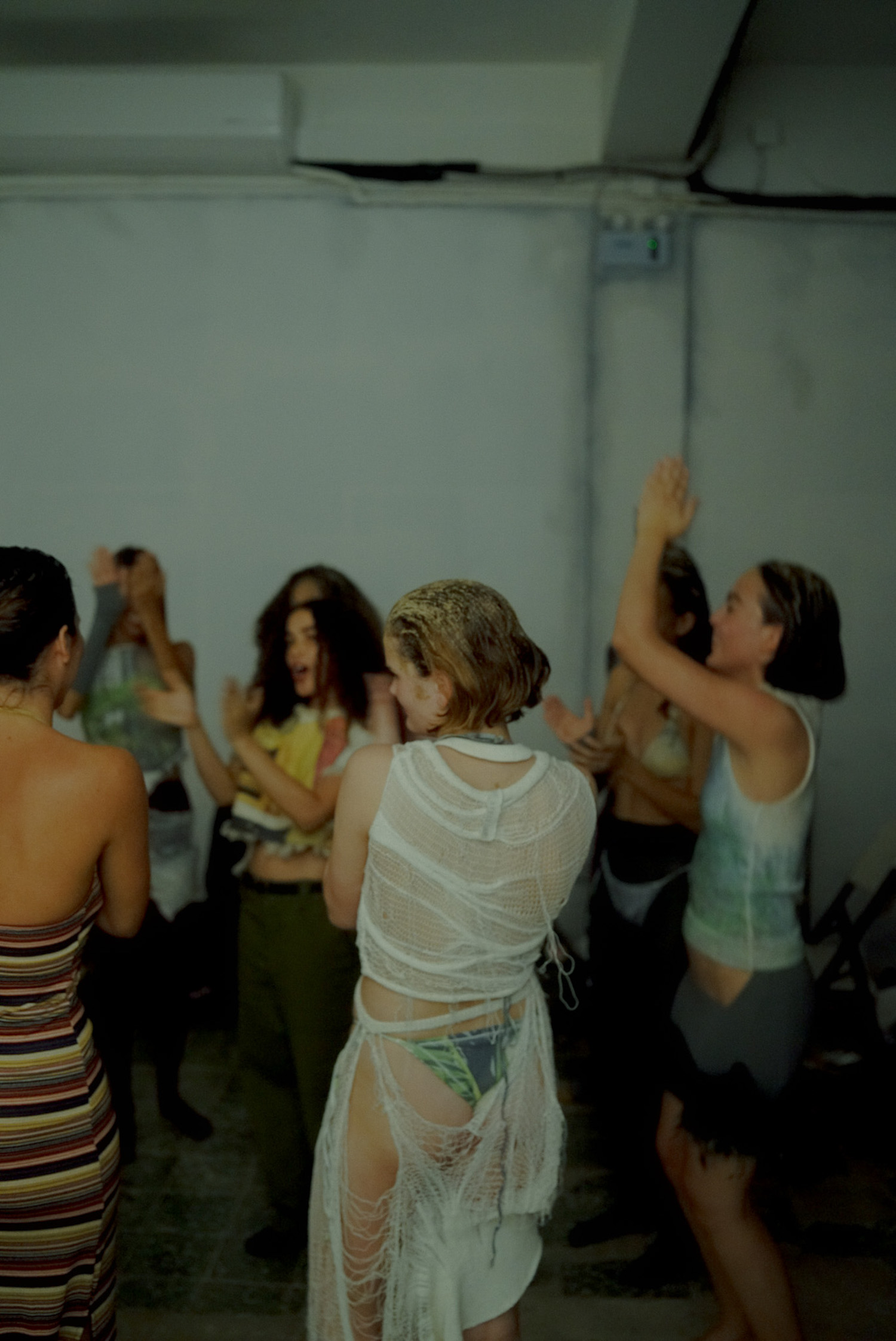 Credits
---
Photography Kenneth Calo