Ylang Ylang Poon: "I persevered, and look at me now"
The New York model and DJ tells Rihanna about learning to love herself and why she holds inclusivity so dear.
This story originally appeared in i-D's 'Rihannazine' Special Edition, no. 01, 2020. Order your copy here. For this one-off project, Rihanna put a series of questions to the women shaping culture today, and invited them to share their visions for 2020.
Can you introduce yourself
My name is Ylang Ylang. I'm a Virgo, I model sometimes, I DJ, I collect antiques. I love fashion. And I'm an artist, allegedly.
What do you think your biggest personal or professional success has been so far?
Overcoming all the obstacles I had to overcome in order to be myself, and live my truth. It was a lot of loss and trauma and pain coming to this point. But I persevered, and look at me now.
What about failure? Do you ever consider anything to be a failure, and how do you overcome it?
My biggest failure is that it took me so long to love myself. I think that I wasn't in a situation for a really long time where I could love myself. But there came a point – and I don't even know what the catalyst was – where somehow I was able to come to that realisation. Once you realise that you're born alone, and you die alone, being alone is not actually the worst thing. You always have yourself.
As we're heading into 2020, what are you taking with you and what are you leaving behind in 2019?
I'm trans and it generally feels like the world is against me a lot of the time, or people don't want to be tolerant or understand. It's only in the past few years that I've realised that not everyone is trying to antagonise me, or that I don't always have to be on my guard at all times, because there are people who are open. As much as I want the space to just be, I need to allow others that space as well.
Let's talk about Rihanna now. If you could ask her one question, what would it be?
What meaning have you attributed to your life, and why?
How do you think she might respond?
Who knows what the meaning of Rihanna's life is? Being a role model? Being inclusive actually feels extremely rare in this world. I think about how so many amazing people I know are just never given an opportunity because of who and what is valued in our society, and why? It's hierarchical. I love seeing everybody included, because it's a more realistic reflection of the world that we live in. And Rihanna does that.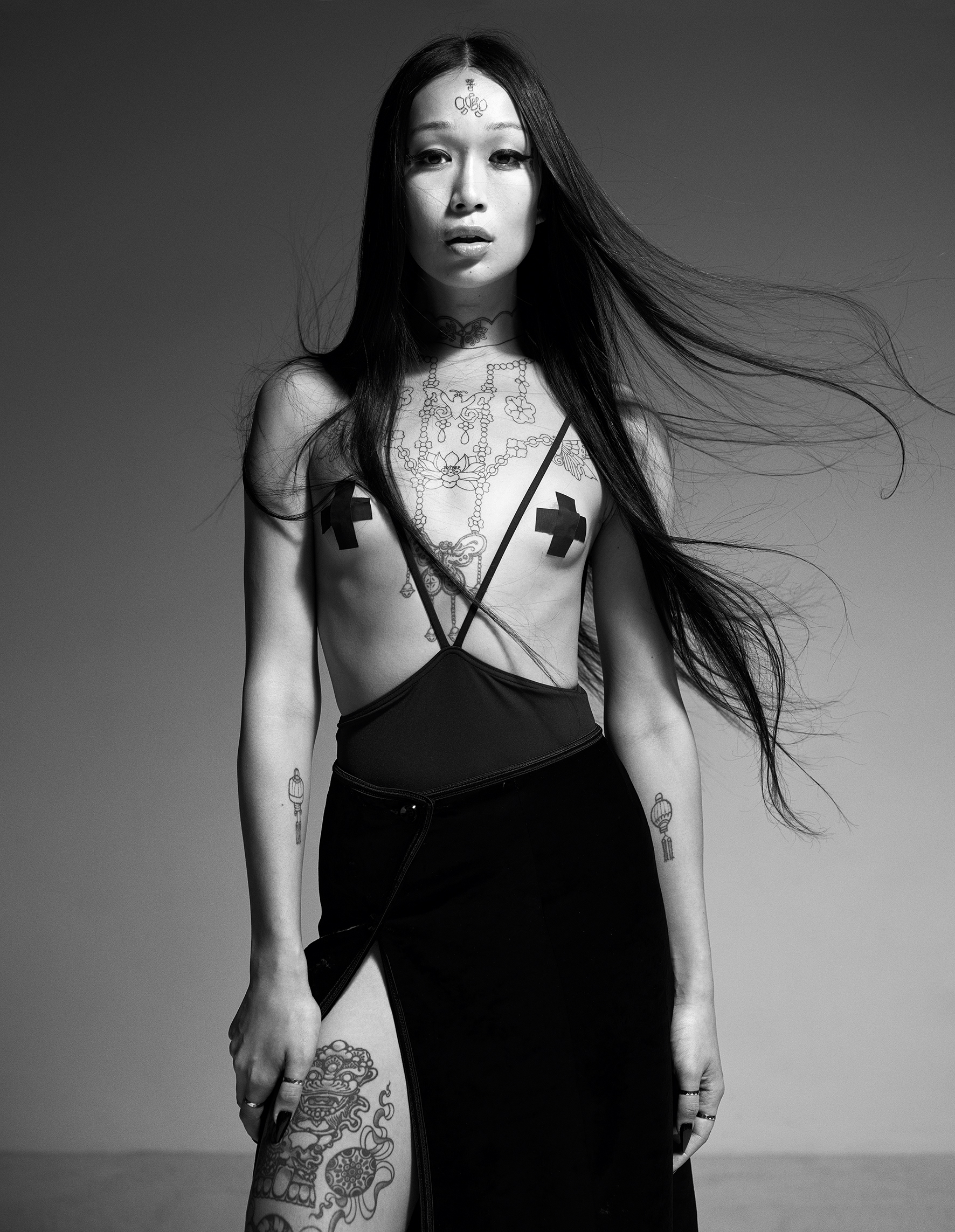 Credits
---
Photography Mario Sorrenti
Styling Alastair McKimm

Hair Duffy at Streeters.
Make-up Kanako Takase at Streeters using ADDICTION Beauty.
Nail technician Honey at Exposure NY using Tom Ford Beauty.
Set design Jack Flanagan at The Wall Group.
Colourist Lena Ott for Suite Caroline.
Lighting technician Lars Beaulieu.
Photography assistance Kotaro Kawashima, Javier Villegas and Jared Zagha.
Digital technician Johnny Vicari.
Styling assistance Madison Matusich and Milton Dixon.
Hair assistance Lukas Tralmer, Dale Delaporte and Allie J.
Make-up assistance Kuma, Tomoyo Shionome and Megumi Onishi.
Nail assistance Tera Darden.
Set design assistance Mike Williams, Akaylah Reed and Amy Sabel.
Production Katie Fash.
Production coordinator Layla Némejanski.
Production assistance Fujio Emura.
Casting director Samuel Ellis Scheinman for DMCASTING.
Casting assistance Cicek Brown for DMCASTING.