Watch the hilarious new trailer for Sex Education season 2
The return of the Netflix comedy features a chlamydia outbreak and a hot foreign exchange student.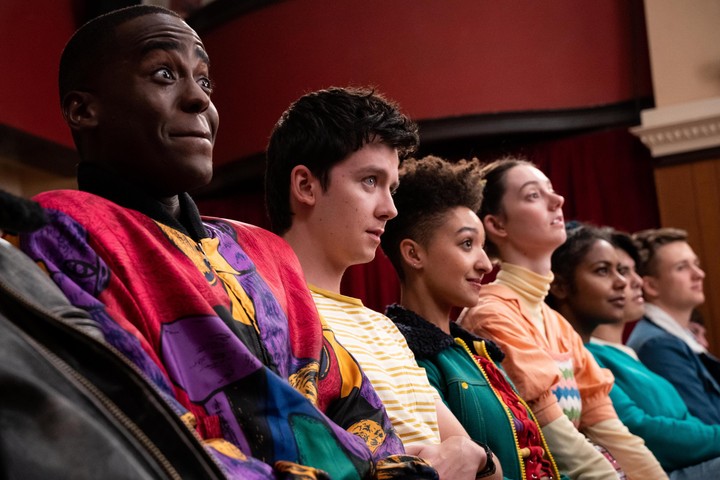 Photo by Sam Taylor / Netflix.
It's hard to believe that the first season of Netflix's Sex Education (which we were totally obsessed with), starring Asa Butterfield, Gillian Anderson, and Emma Mackey, premiered nearly a year ago. But thankfully, everyone's favorite comedy about s-e-x is back! Just this morning, the streaming service announced that Sex Education will return with a second season later this month and Netflix dropped a hilarious teaser trailer.
The first season saw the lovably awkward virgin Otis Milburn (Butterfield) set up an underground sex therapy clinic with the ever so slightly "bad girl" Maeve Wiley (Mackey). Though he hopes that's in the past now. "It's a new term. No more clinic, no more drama," Otis says, but it's clearly wishful thinking.
The trailer sees the sex-obsessed students of Moordale Secondary School in the throes of a chlamydia outbreak, suggesting that they're still in dire need of better sex education. And who better to come to the rescue than Otis' sex therapist mum Jean (Anderson)? "I'm here to start an open conversation about s-e-x," she says, at an assembly in front of the entire student body. Naturally, Otis is mortified and students begin to whisper all before someone one shouts, "Didn't you wank off a courgette?"
There will undoubtedly be plenty more laughs as Jean (and Otis?) begin to address the students curious new concerns like: "I've read that I should rub bleach on my vagina, is that true?" and "My cum tastes like kimchi!" Meanwhile, Otis is dealing with his own newly discovered sexual urges, navigating a new relationship with his girlfriend Ola (who's father seems to be involved Jean), and dealing with his feelings for Maeve. Plus, there's a new French exchange student in town. So really, we can't wait to see how this all goes down.
The second season of Sex Education premieres on Netflix on January 17 2020. Watch the full trailer and see what's in store below.