Photography Tyler Kohlhoff
Nico Hiraga: "I was a straight skate rat"
Since the loveable California skater turned to acting, he's landed roles in 'Skate Kitchen' and 'Booksmart', quickly becoming Hollywood's newest and cutest alt-heartthrob.
Photography Tyler Kohlhoff
Nico Hiraga's story originally appeared in i-D's The Icons and Idols Issue, no. 359, Spring 2020. Order your copy here.
In what is one of the most raucous scenes of the coming of age movie Booksmart, directed by Olivia Wilde, Nico Hiraga appears in a Thrasher T-shirt, brandishing a fire extinguisher which he sprays behind him as he skateboards down the main hallway of his high school. It's the last day of class and Nico, who plays the goofy skate jock Tanner, and his friends are celebrating their newfound freedom the way that most kids do when they no longer fear getting called into the principal's office – with silly string, confetti, and a water-balloon fight.
Few scenes embody the youthful spirit of the final days of high school like this one, yet according to the 21-year-old actor, who's quickly becoming Hollywood's newest and cutest alt-heartthrob, it was improvised on the spot. "I'm pretty sure Olivia was like, 'It'd be sick if you skated down the hall with the fire extinguisher.' I was like, 'OK, done. I'm so down,' Nico says, adding that the film's stunt coordinators suggested using a stunt double. "I was like, 'Excuse me, I'll do it better than a stunt double!' And Olivia was stoked on it. She was pushing for that and she always told me that she really liked that shot."
Nico certainly was the best man for the job given that he grew up on a skateboard, cruising down the hills of his native San Francisco. His cousins bought him his first board at nine, and soon he was spending all day at the skatepark. By the age of 14, he was sponsored. "From that moment on, I just kind of levelled up, you know?" Nico says, laughing. "I tried to get better everyday. Get out of school, go skate. I wanted to be home schooled so I could skate more, but my parents weren't fucking with that."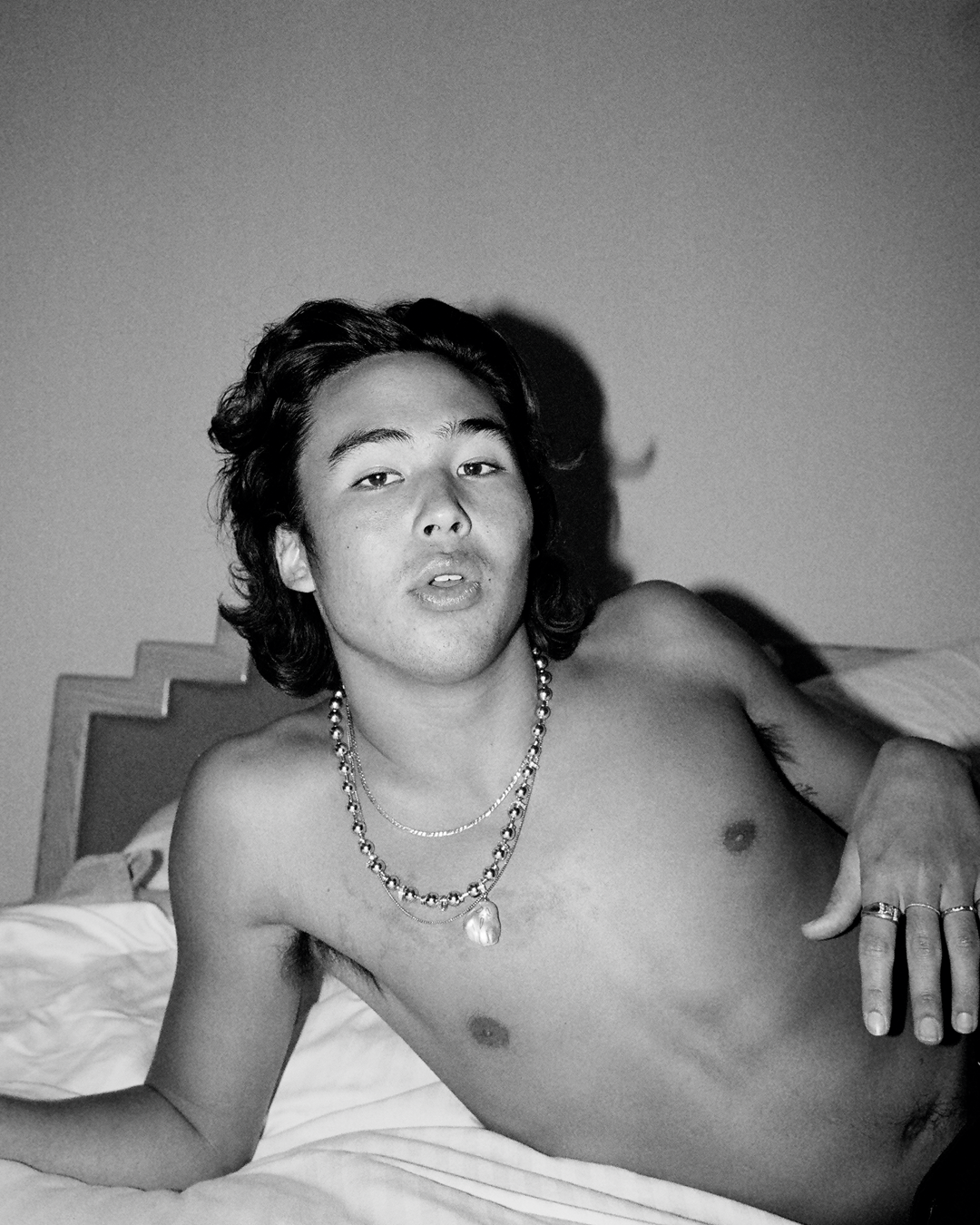 Nico's mom called him Mowgli when he was younger because, like the wild child of The Jungle Book, he'd constantly be running around, getting into mischief, never wearing a shirt. Little has changed, though Nico seems to have parlayed his high energy, trouble-making antics into lovable skater-boy charm. He describes himself as a bit of a "misfit," but with his very natural California cool vibe, and such long, luscious locks, it's hard to believe he wasn't always the coolest kid in the room. "I wasn't quite an outsider, but I was always in my own head," Nico explains. "Skating is what I wanted, but at the school that I was going to, no one else was skating, so I had to make my own friends."
"I liked the mentality. People would always be like, 'skate or die'," Nico continues. "Coming home every day with new cuts on my elbows, open wounds from falling over. I was just always dirty. I was a straight skate rat. I really liked that lifestyle. Being a little Asian kid, smelling like shit, skating all the time with my shirt off, just going around SF, bombing hills with the homies."
Nico says this all very casually, though expressively, over the phone. He's calling from Mikey Alfred's house in Los Angeles. The pair met nearly seven years ago at the premiere of IC2 – a film documenting the Illegal Civilization skate crew and company that Mikey founded when he was 12, and which Nico would later join. "I met Mikey and he took me under his wing. Treated me like his own, like his little brother," Nico says. "I mean, that's what I am to him pretty much. It was just a matter of time before I started skating for his company. It's sick. The team is like a family."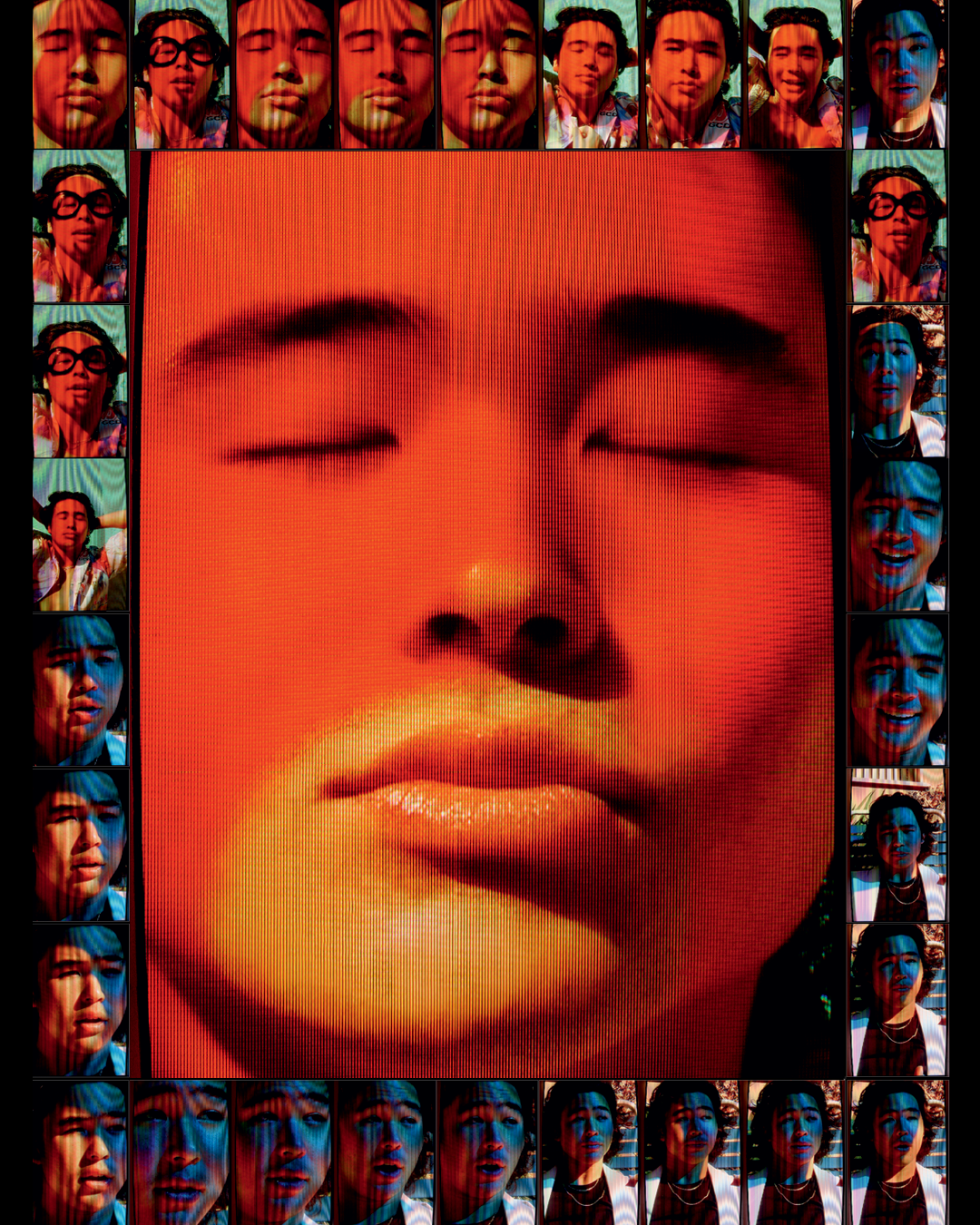 The Illegal Civ family not only stars in Jonah Hill's film Mid90s, but Mikey's own directorial debut North Hollywood, which is due out later this year. "It's about a kid who wants to be a skater, but his dad wants him to go to college," Mikey told us last year. "At the core, it's really about when you want to follow your passion, but your parents want you to do the safer thing. We've all been there in our own way, whether with skating or music or whatever."
Nico stars in the film alongside his fictional and real life best friends Ryder McLaughlin and Aramis Hudson. "I play Jay, the one who is going to go off to college, has it kind of nice, and is the fucking goofball," Nico explains, rather convincingly. "I'm the feel-good dude in the film, always cracking jokes and not taking anything too seriously. That's my character. I'm like the designated goofy friend."
It's a character that comes naturally to Nico, in the same way that skating led to modelling which then led to his first few acting roles. "Skating was my main focus, but then I tore a ligament in my ankle. I was fucked. I was out of the game," Nico says. "When I was injured, I got a manager. I booked a film out in New York called Skate Kitchen. I got a very, very small role in that, but it was my first film ever. Then shortly after, I booked Booksmart. That's how I got into it. I was hung up on my ass on my couch like, 'What am I going to do?' But I started acting and it worked."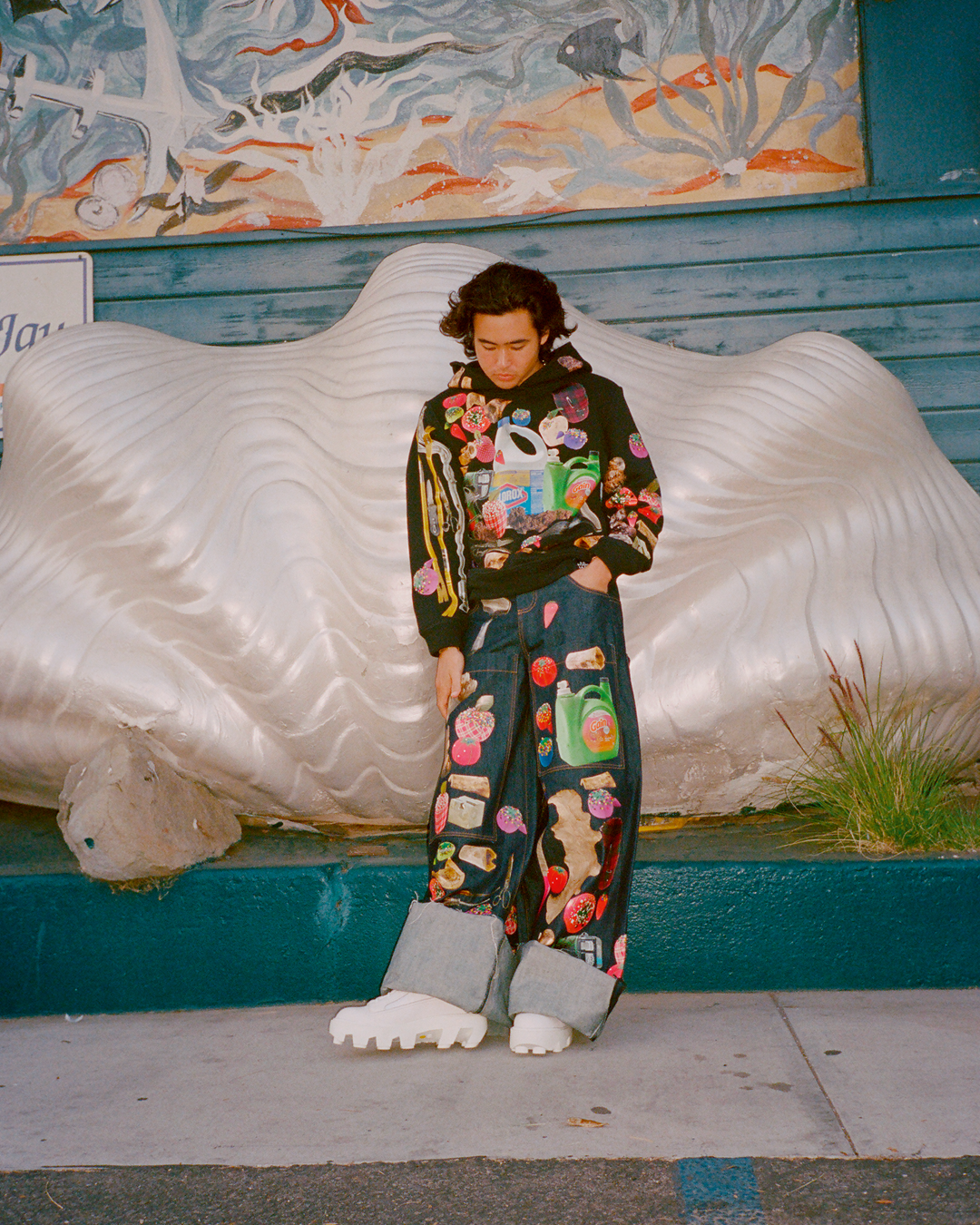 Aside from a role in his middle school play and the various homespun skate videos Nico has appeared in ("It's completely different!" he says), he has little formal acting experience. But whether skating over the Williamsburg Bridge with his crew or crushing empty beer cans on his forehead at a high school party, he's a natural. Just not without a little stage fright. The latter was the first scene that Nico shot for Booksmart and not only did he catch nerves and forget his lines, he put his overalls on backwards. And accidentally criss-crossed the straps, too. "I didn't know I put those on backwards," he says. "I saw Olivia and she was like 'Holy shit. I love it… Keep it. This is exactly how I want it.' But that was improvised, too. Tanner wasn't supposed to have overalls like that."
It helps that Nico's played characters that mesh well with his own personality, but not every role is entirely relatable. "Tanner is kind of a dick in the beginning of Booksmart. He says some foul stuff," Nico says, referring to one of his first scenes where he's talking shit and drawing graffiti dicks on the bathroom stalls. "I wouldn't say those things, but the role is relatable. Causing havoc in your halls and being the prankster. That was exactly what I was. It hit very close to home."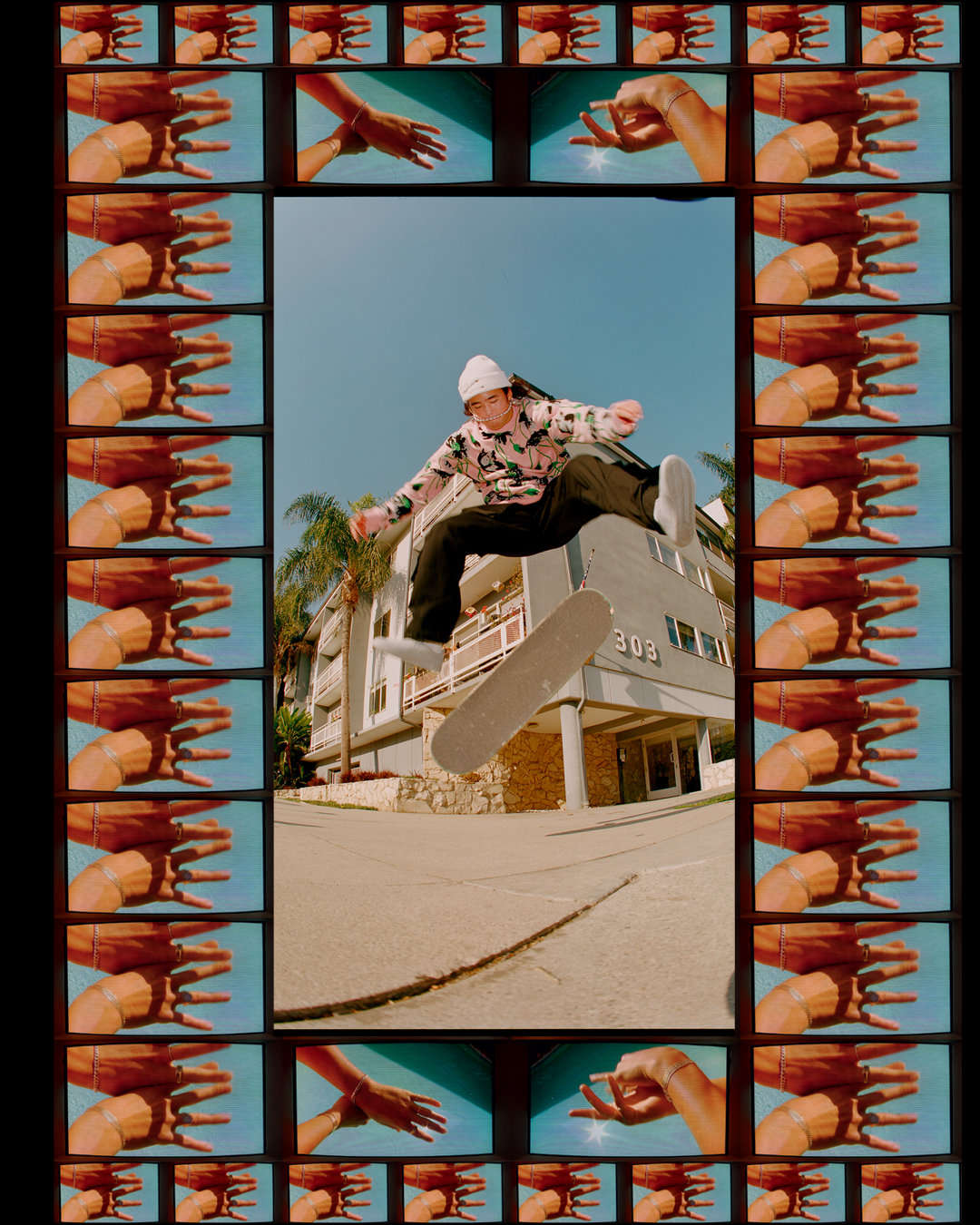 His next on screen role is "the nice guy" in the upcoming Amy Poehler-directed Netflix film Moxie, based on the novel of the same name by Jennifer Mathieu. The story follows the Riot Grrrl-inspired story of Vivian Carter, played by Hadley Robinson, who starts a feminist zine called Moxie to take down the "dickhead jocks" at her school. Nico plays the sensitive and supportive skater boyfriend, which he found to be his most challenging role so far.
"I play Seth, who ends up dating Vivian. He's very supportive and sensitive. I'd say that I'm sensitive, too. I've got a soft side," he says, audibly grinning. "I didn't have a lot of funny lines in the film so I had to work my charm a bit more. I prefer being the funny guy – it's a little easier – but I like a challenge... because I'm really not that charming in real life!" We disagree. Nico is obviously humble as well as very charming.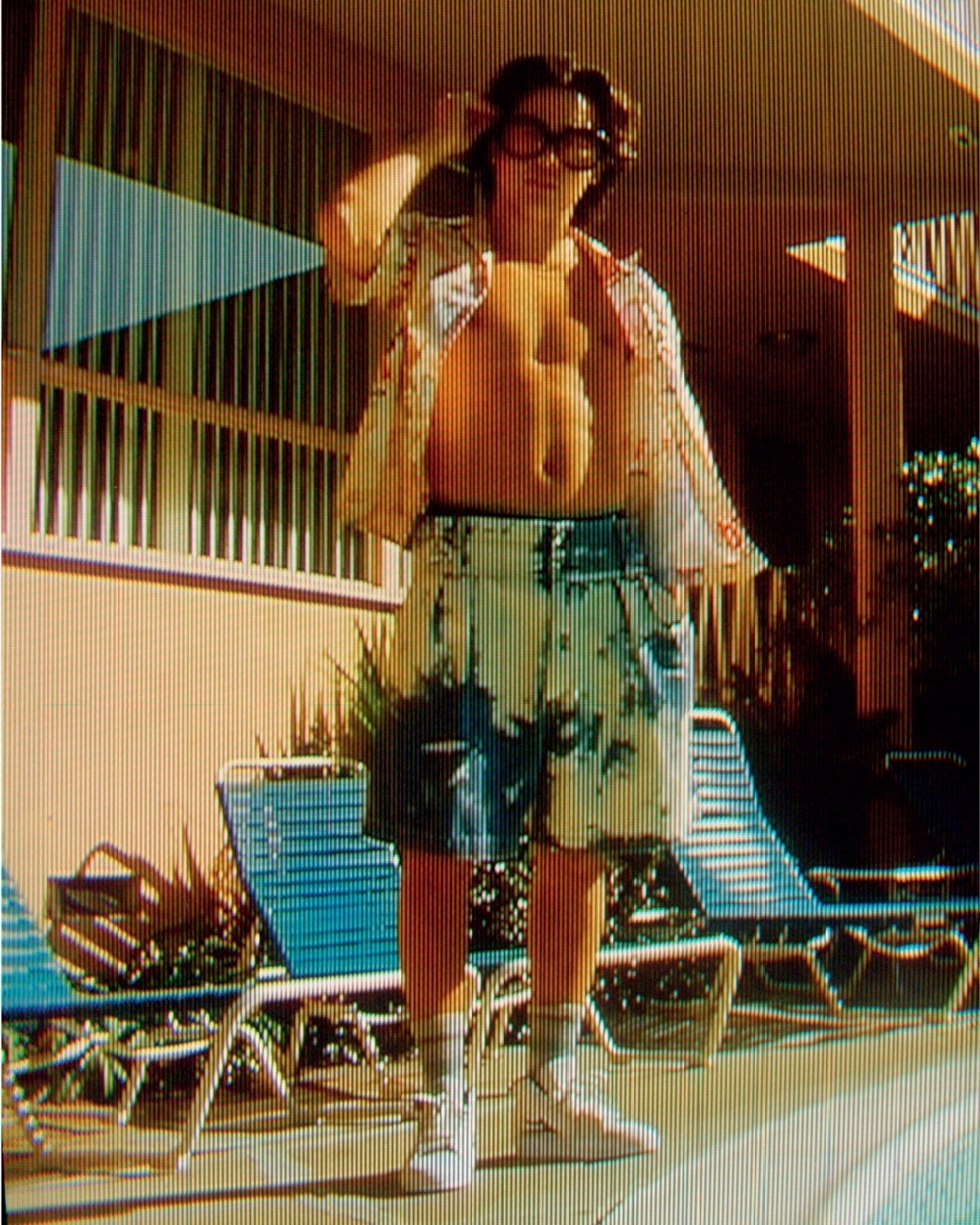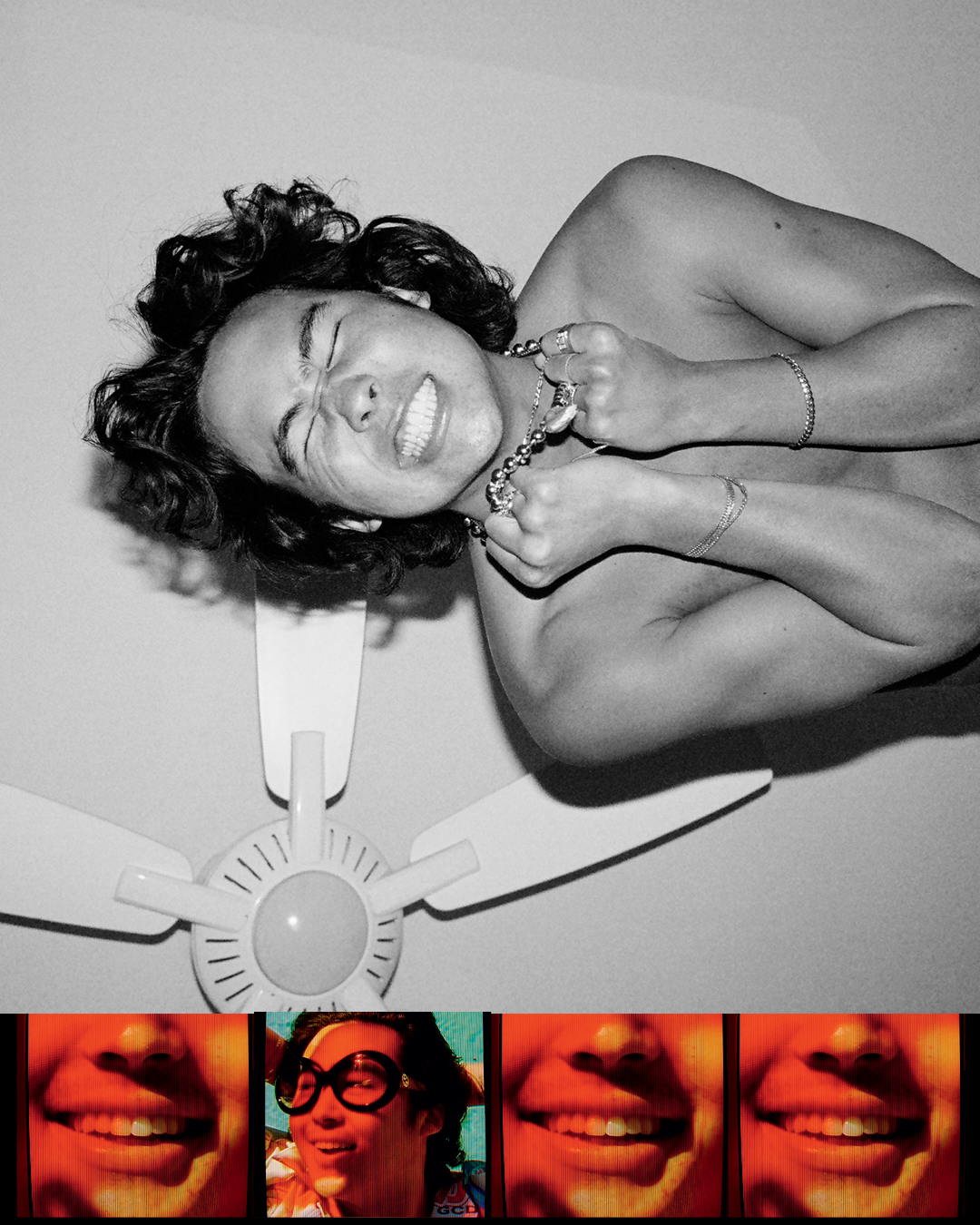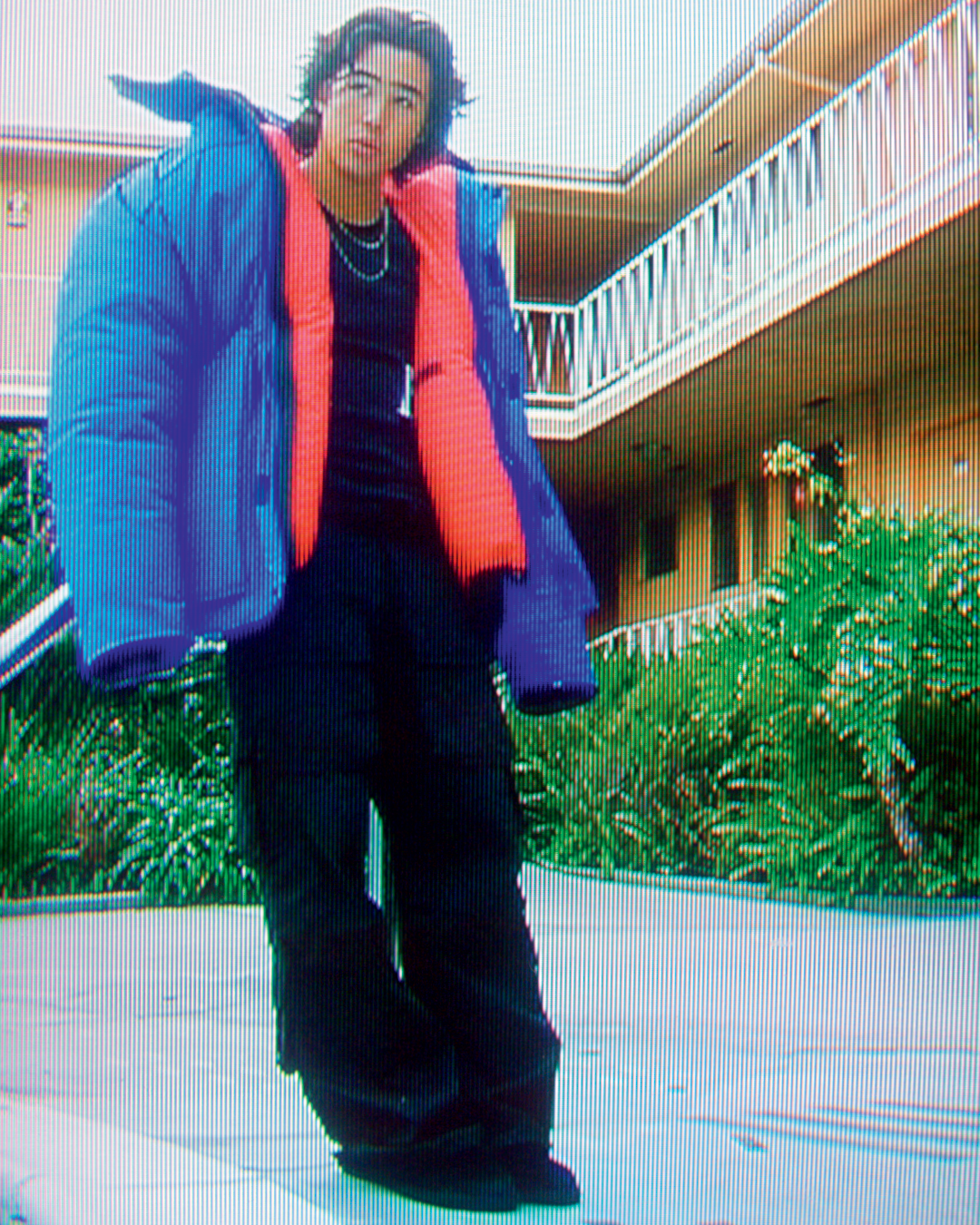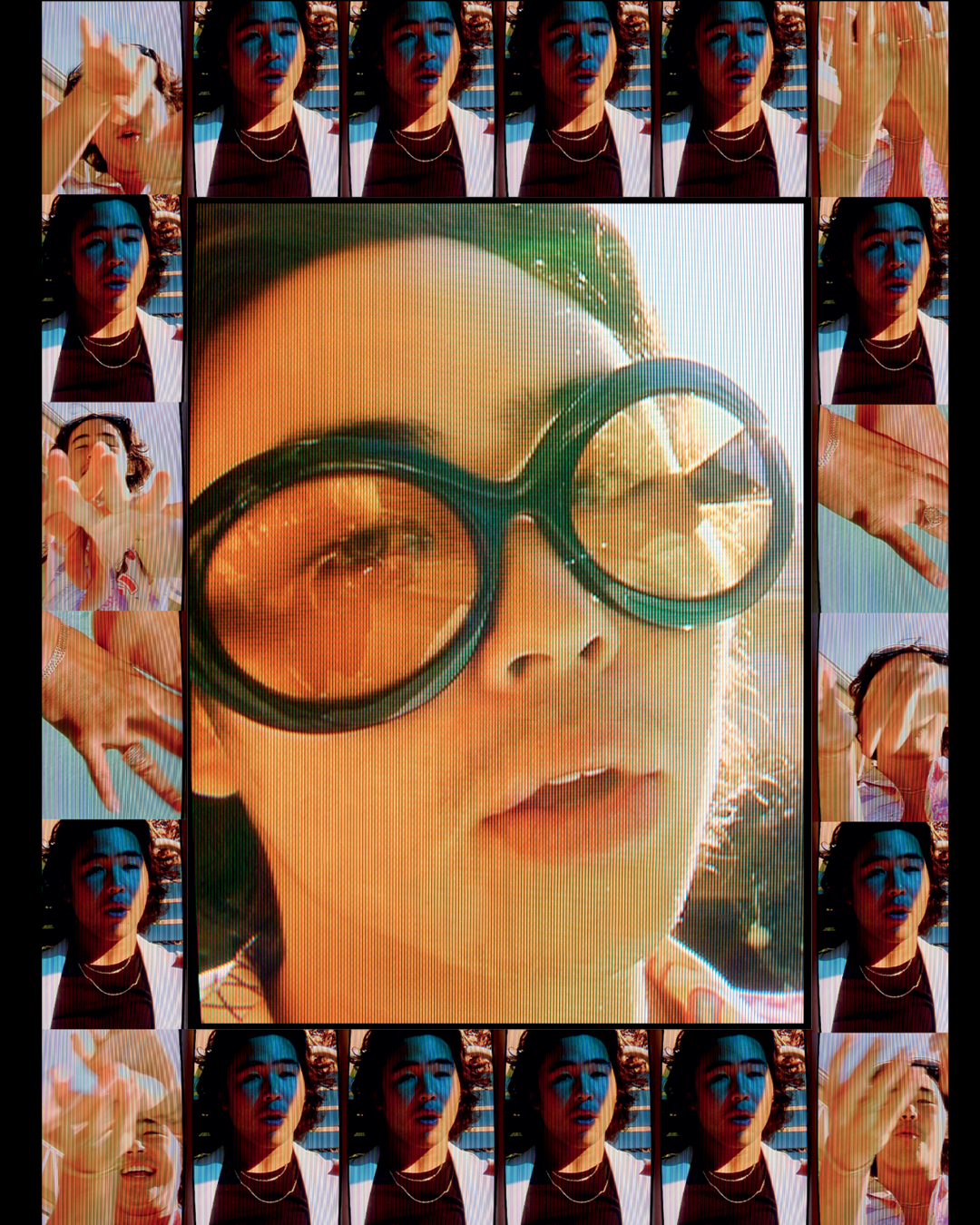 Credits
---
Photography Tyler Kohlhoff
Styling Lana Jay Lackey
Grooming Lauren Palmer Smith using Bumble and bumble.
Photography assistance Cindy Leaf.
Styling assistance Toni Munton and Paulina Olivares.
Production Tyler Kohlhoff Productions Inc.
Production assistance Dan Fleming.
Main image clothing: Jacket FILA. Vest Helmut Lang. Trousers 85 Eldridge.