Images courtesy of GmBH, Prada and Loewe
Faux fur, feathers and frou-frou: menswear's most flamboyant AW22 trend
From teddy bear shearlings to opulent feathered collars, this season's men's collections came with all the trimmings.
Images courtesy of GmBH, Prada and Loewe
Maybe it's a slightly over-optimistic need for 'post-pandemic' (knock on wood) excess, maybe we're all collectively manifesting our own Roaring Twenties, or maybe we're all so deprived of touch that we just want to look huggable — whatever the reason, fluffy is definitely in for AW22. This season's collections at Dior, GmbH, Loewe, Prada, and more included an abundance of soft and supple furs (much of which was faux) and shearlings, which came in the shape of exuberant coats, trims, cuffs, collars, and even campy long boas. Yes, we are indeed talking about the menswear collections, where we –finally– saw a renewed interest in opulence and an unapologetic embrace of flamboyance that is often reserved for women's runways or relegated to the menswear collections of niche, usually queer, designers. After a couple of seasons for oversized hoodies and 'relaxed' tailoring, our eyes were definitely starving for beauty, to quote André Leon Talley, the king of fluffy touches.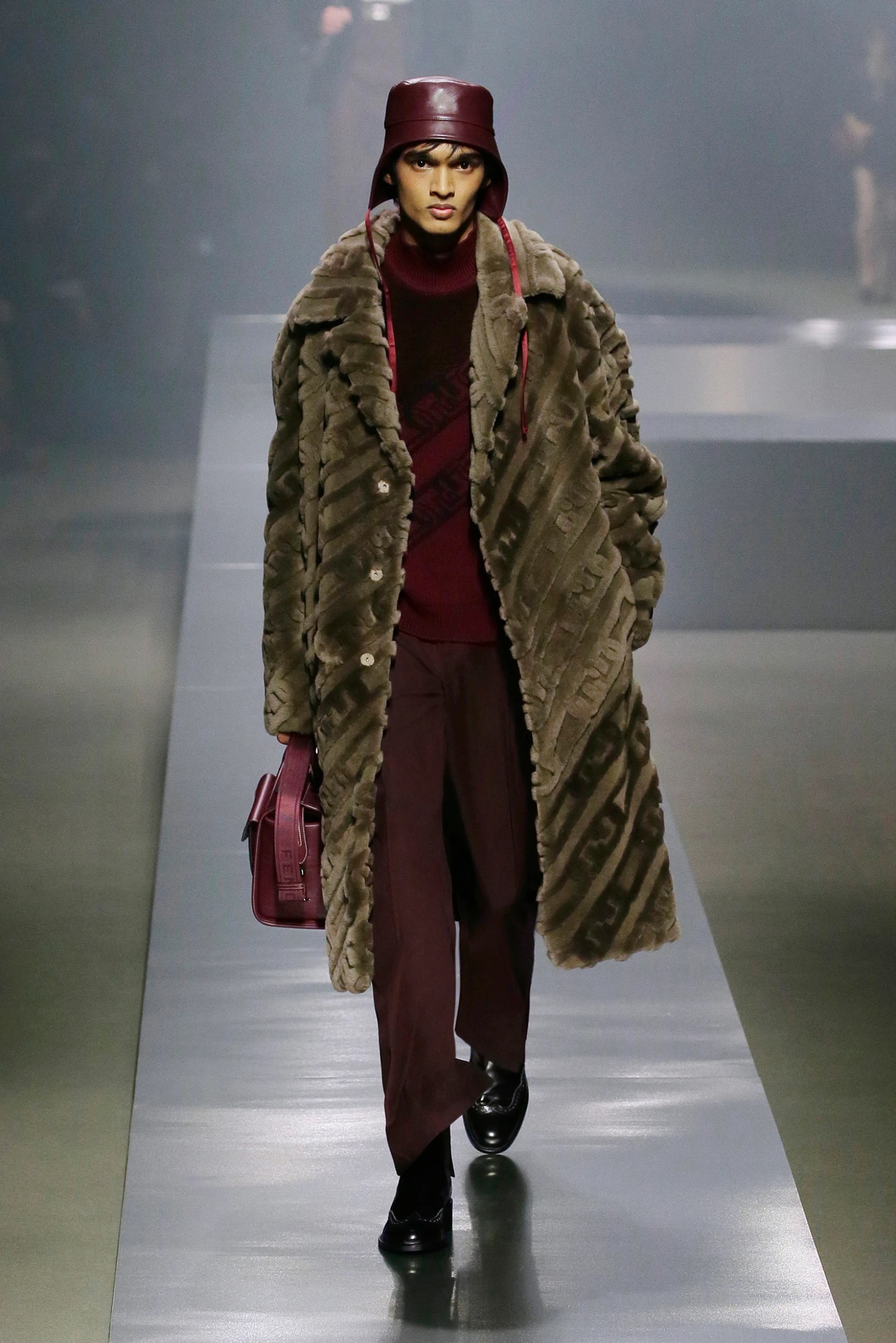 At Rhude, EGONlab., and Fendi, Margot Tenenbaum-like brown coats hinted at a definite departure from austerity, invoking the opulence we all hoped to see two years ago when we entered our very own twenty-first-century 20s. These coats, equal parts dandy and pimp (think Oscar Wilde and J-Lo in Hustlers), will keep you warm and stylish come autumn, or they'll at least make you feel like you're in a Wes Anderson film, gladly there's no loss either way.
At the same, it's not just about external appearances. Indeed, few things feel better than wearing something furry on the inside — seriously, it's cold out there — a shearling-lined Hermès jacket, for example. There's something about luxury in the truest sense of the word that is deeply personal, it can look subdued to the naked eye but make you feel opulent and rich when you throw it on – it's something just for yourself. At Dior, Kim Jones presented arguably the most sumptuous bomber jacket of the season — the kind of jacket you text the group chat about; the kind that lets you know that the wearer's rich-rich (especially when worn with complementing cashmere-jersey sweatpants) — his own 2022 spin of Yves Saint Laurent's beatnik 'Chicago' jacket from his AW60-61 Dior collection. On a similar wavelength, Silvia Venturini Fendi added gorgeous oversized fur collars to leather jackets at Fendi, giving her neo-dandy something to keep warm come the first chill of autumn.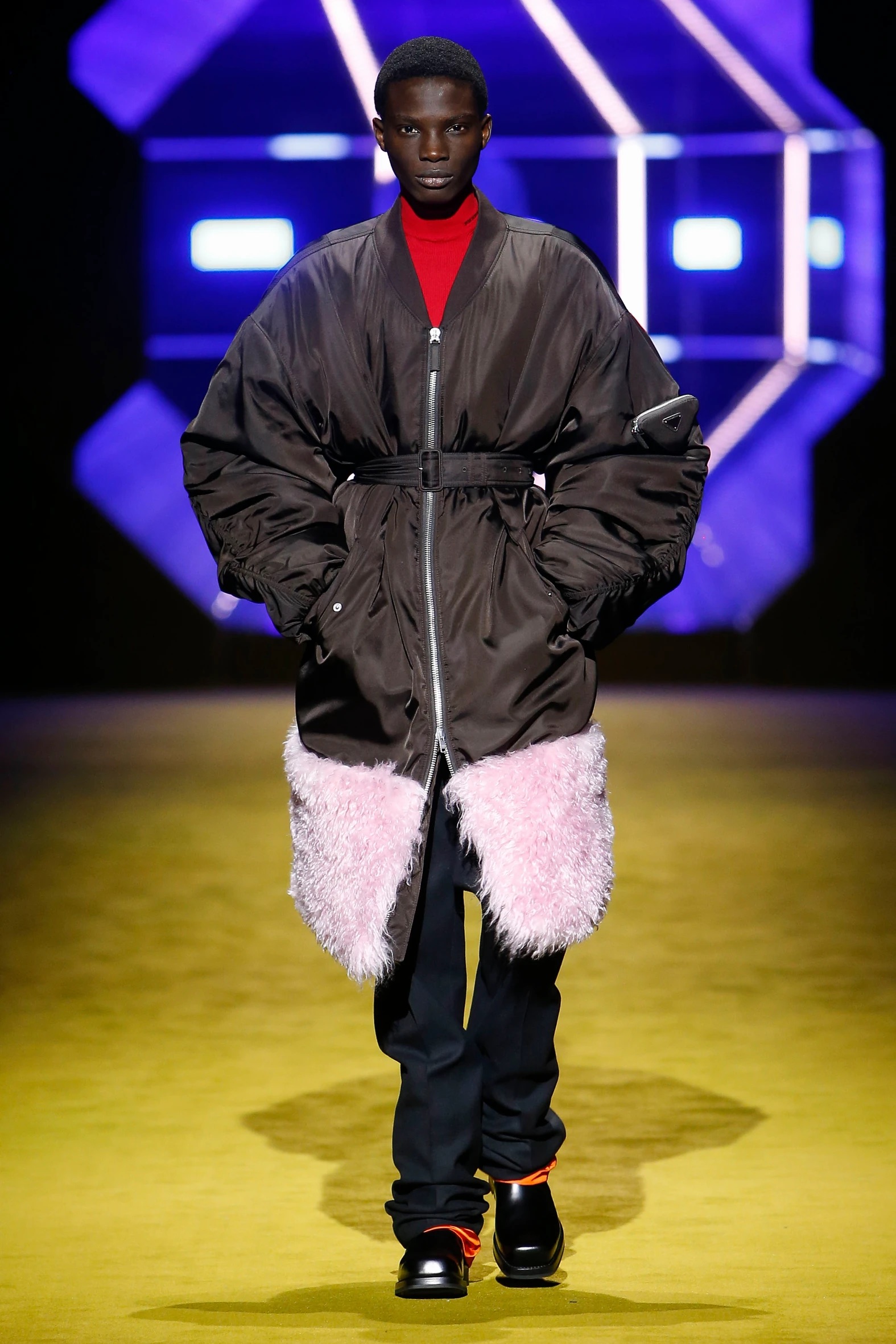 It is the balancing act these furs and shearlings strike in these collections that is the most fascinating, though. There's something to be said about juxtapositions and counterbalances — fluffiness and softness softening the coldness and edge of this season's menswear. Take Prada, which had an intense severity to it with some of the widest shoulders of the season sharply cut in leather and wool suiting. These, with their Johnny Bravo silhouettes, built a cartoon-like archetype of a pragmatic, sanitized masculinity. Here, though, long-haired shearling trims came in to add a much-needed element suppleness, counterbalancing its sense of self-importance with a teddy bear softness. Suddenly this sharp and self-serious character becomes… approachable, huggable, cute!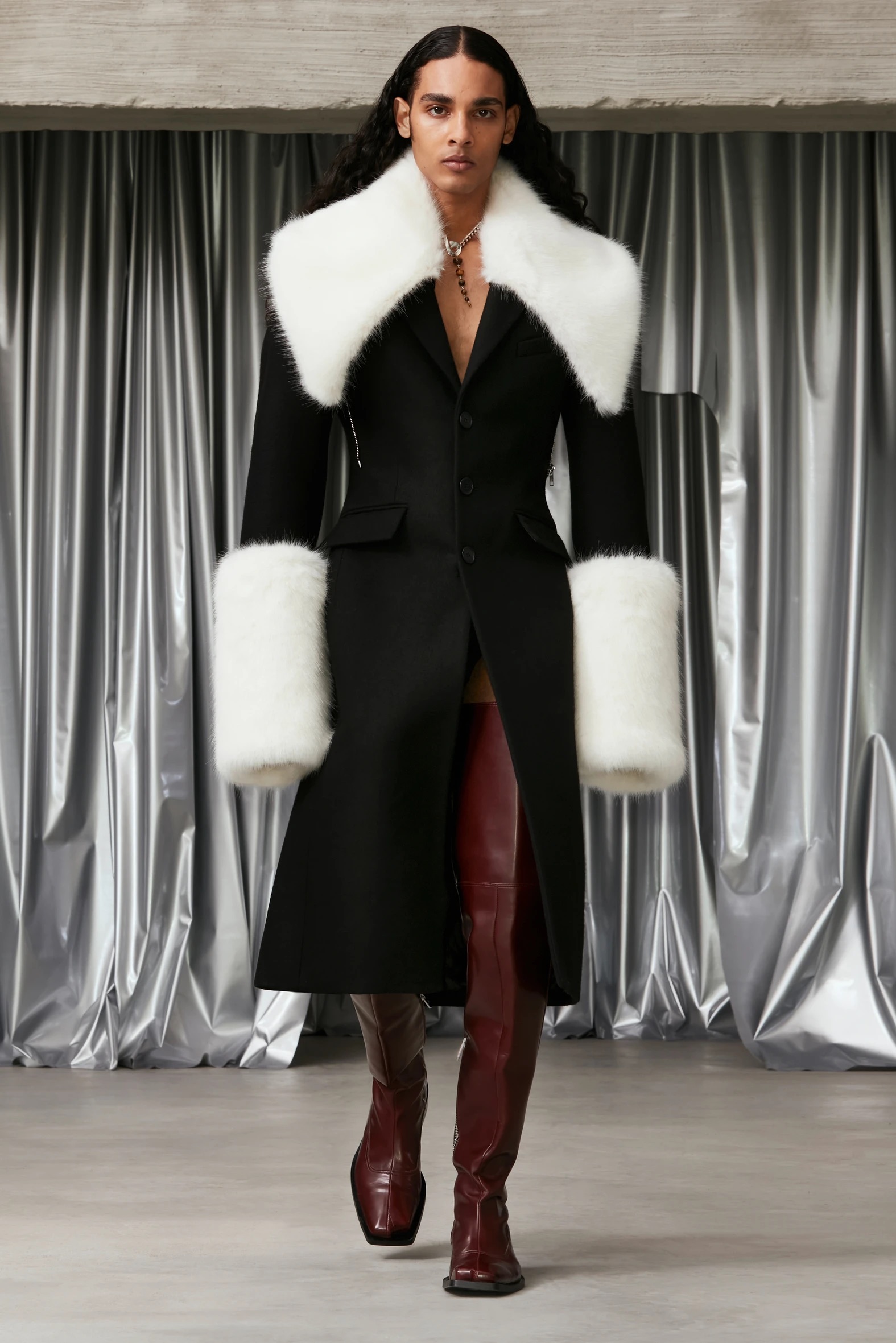 Ostrich feathers poking out of the coats at Alyx had a similar softening effect on Matthew Williams' cool, hard-edged man, ditto at EGONlab., where a luscious olive green fluffy collar buffed the edge of a sharp black sequin coat. At Courrèges, a long wool fur coat and some shearling trims countered the slickness of their now-signature nightclub vinyl, while Ami Paris' campy fur boas – I guess you can also call them scarves if you must – glided down the runway, bringing a sense of liveliness to Alexandre Mattiussi's effortless cool. At Rick Owens, Theda Bara parkas — named after the iconic American silent film and stage actress from the 20s – came with extravagant goat hair trims, tilting the scale away from Rick's signature industrial edge with their campy fluffy bounciness. There's something deliciously camp about naming a menswear piece after a woman widely considered to be the first sex symbol of the film era.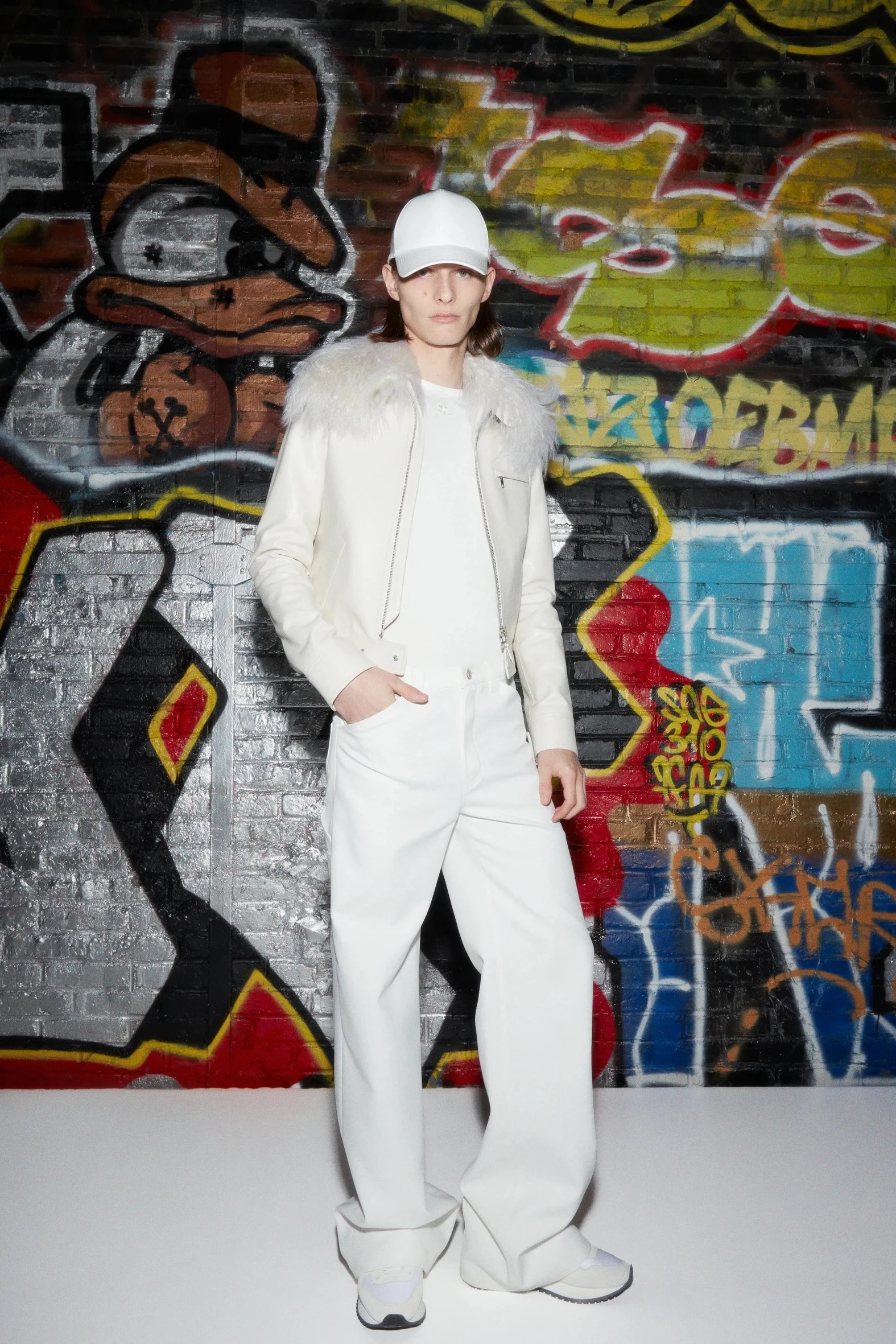 For some other designers, though, it was all about the fantasy, an unbridled flamboyance reminiscent of only the best years in fashion. Picture Halston arriving at Studio 54 with Bianca Jagger and Liza Manelli, draped in furs and sequins for a night of unhinged excess, or André Leon Talley, draped in custom Fendi furs by Karl Lagerfeld (here sitting with Lord Snowdon, photographed for Vanity Fair in 1987 by Milton Gendel). Such was the case at GmbH, Loewe, and Dries Van Noten. There was something generously opulent to the oversized fur collars and cuffs at GmbH –which came in black, white, and rich scarlet–, something almost cartoon-y and inherently camp in the truest, queerest sense of the word.
See also Jonathan Anderson's delicious furry coat at Loewe, which came with fiber-optic lights inserted in sleeve hems and lapels, creating a techy fairytale effect. The model wore the piece shirtless, which is not only inarguably hot but also epitomizes the beautiful opulence of wearing a fluffy coat, it makes you feel tender and soft. A light cerulean blue Dries Van Noten shearling coat had a less sexy and more romantic effect, though it encapsulated the same softness. These are the kind of coats that make people want to hug you.
An honorable mention goes to the unrestrained opulence on show at Pieter Mulier's sophomore collection for Alaïa, which represented the kind of excess menswear collections could only dream of with its beautiful snow leopard gilet, buoyant Mongolian goat ultra-high boots, and fluffy mermaid hem.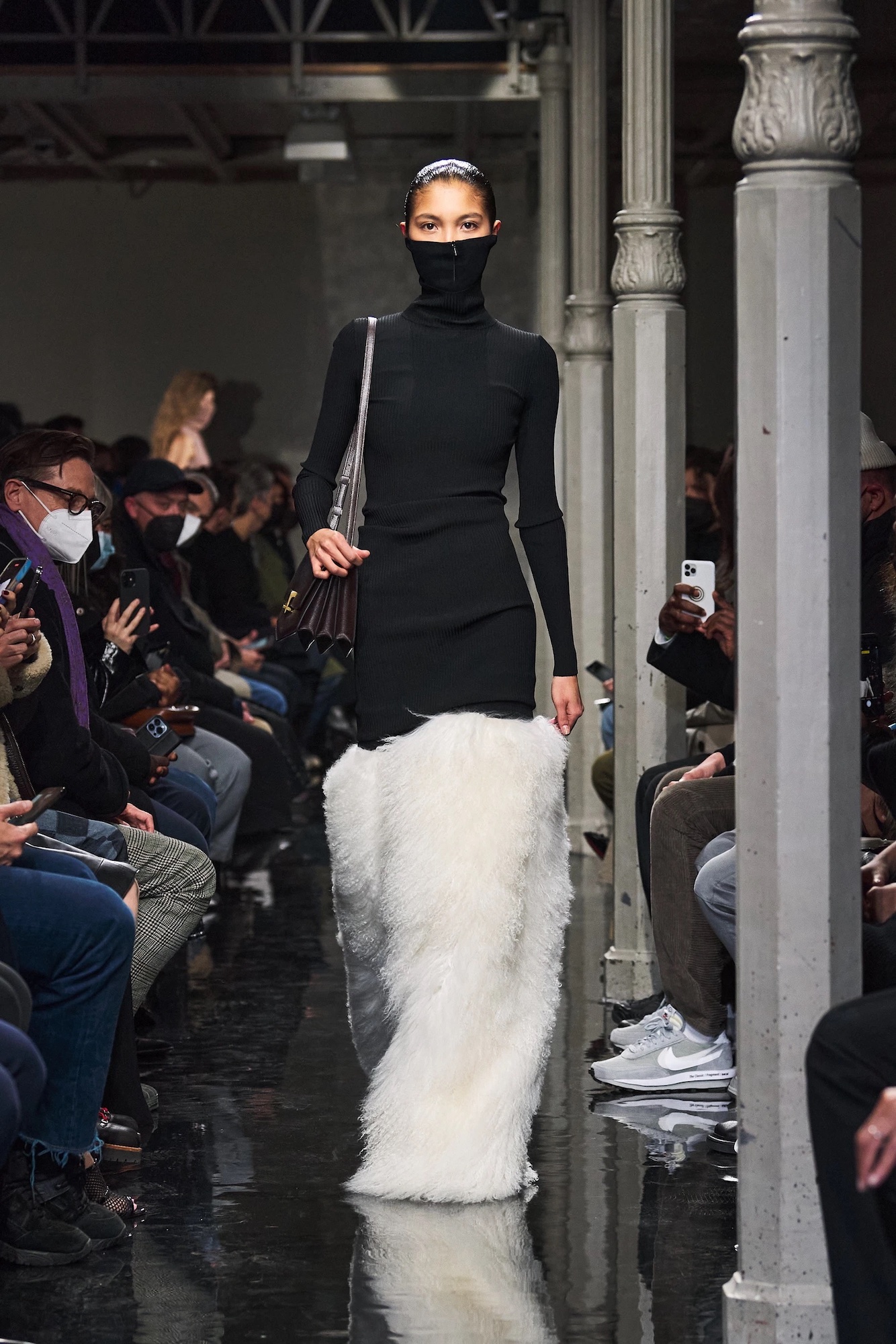 Such is the kind of opulence that men deserve today. In his show notes, Rick Owens mentioned how he had started doing his hulking, exaggerated shoulder silhouette as a parody of masculinity, but ended up enjoying wearing them. "Camp has always been about exaggerating earnestly naive urges," he wrote in his signature capslock. And the truth is that whether these urges are to embrace or reject masculinity, to look softer and more tender, or simply to feel the lushness of being draped in furs, there's no denying how downright fab the end result is.