The Euphoria stars have shared more about season 2's love triangle
Zendaya and Hunter Schafer were originally not happy about Dominic Fike's character coming in between the fan favourite couple.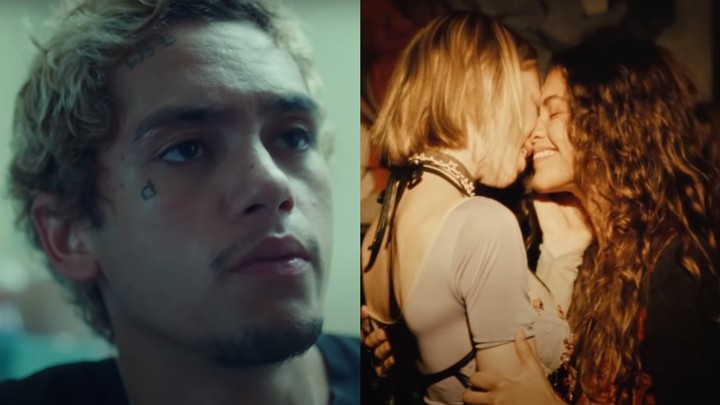 Stills from Euphoria season 2
It's been two and a half years since season one of A24's groundbreaking hit show Euphoria ended, leaving the fate of star-crossed lovers Rue and Jules in the balance. And although we got two specials a year ago, offering us insights into the girls' Christmases apart, this week we'll finally begin the next chapter of their love affair and we cannot wait! We already know that a new boy, played by musician Dominic Fike, will be coming in between our favourite couple and that Zendaya, who last year won an Emmy for her portrayal of Rue and her addictions, has warned the sophomore season will be heavy. Now, in a new interview with Variety, Zendaya, Dominic and Hunter Schafer (Jules), have given us more details on the love triangle we shall watch unfold.
After the second season was rewritten when the pandemic delayed production, the plotline for Dominic Fike's character Elliot was adapted to involve a romantic relationship with a now relapsed Rue. When she first read the script, Zendaya was not happy about it. "There were a lot of conversations over the years about where the show was going to go and what it was going to evolve into, and I remember when Sam first kind of talked about the idea of this Elliot character, I wasn't feeling it – as someone who ships 'Rules' to the bitter end," she said. "And I was like, 'whoa, whoa, whoa, what are we doing here? But, in retrospect, and also as someone who understands where the show needs to go and what needs to happen for these characters, it's crucial that Elliot exists and that he be the person that is honestly the catalyst for a lot of things that just have to happen."
Season two will pick up just after last year's Christmas specials and will follow Rue as she once again battles her drug addiction, especially after meeting "degenerate homie" Elliot, and in the wake of her break-up with Jules. "I think I was in a similar boat to Z when I first heard about this 'Elliot boy'," Hunter Schafer also told Variety. "But, you know, as we saw more of what it brought into the story and the script, it became a more interesting and exciting prospect, and once Dom came on board, he made it a lot of fun."
Dominic himself is also excited to shake things up for the fan favourite couple when the second season premieres 9 January 2022. "I can't wait to see where people go with that and for all the hate messages I'll get on my Instagram… and going into hiding. I can't wait." We can't wait for some new iconic fashion moments from ageless queen Alexa Demie along the way too.
Tagged: