9 new musicians to soundtrack summer 2022
From emo cutie Charlie Hickey to Manchester's Witch Fever and Billie Eilish fave, Dora Jar.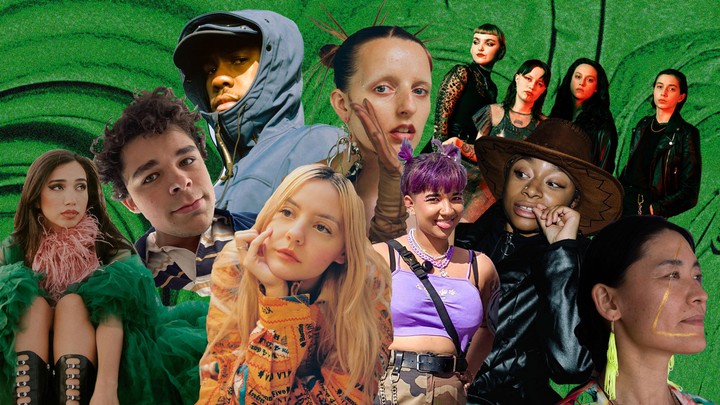 Summer 2022 is fast approaching and you'll soon be in need of something to make festival road trips and days spent lounging about in the sun feel even more cinematic. And yes, you might still have Harry's House on repeat or indeed be holding out for Beatopia (put July 15th in your diary) but it's important to not let your musical education slip — even if you are on your holidays. Lucky for you, we just spent a long weekend in Brighton for The Great Escape – the UK's answer to SXSW and a veritable who's who of new music from across the globe – and we're serving up a selection of our favourite emerging artists.
So whether you're into UK rap, Japanese psychedelia or existential Welsh pop, read on for your new summer soundtrack – as discovered at TGE.
Charlie Hickey
You know who has good taste? Phoebe Bridgers. So far, the skeleton queen and big Paul Mescal fan has signed the likes of Claud, Sloppy Jane and MUNA to Saddest Factory Records. The latest recruit? Her childhood friend Charlie Hickey, a 21-year-old Pasadena kid with a real knack for writing clever lyrics. Produced by Phoebe's long-term collaborator Marshall Vore, Charlie's debut album Nervous At Night – 11 tracks of gloriously catchy emo dealing with anxiety, OCD and relationships – just dropped on the label. Stumbling upon his intimate gig at Brighton's Unitarian Church was undoubtedly a TGE highlight.
Dora Jar
It can be hard to overcome dark times without letting them define you. This internal struggle is the subject of Dora Jar's playful new EP, comfortably in pain, which came out in March and reframes the experience as a reminder of what it means to feel alive. Some of you might remember the LA-based artist's 2021 breakout single "Multiply" (if not, dive in here); others might know her as the Billie Eilish tour support who was carried on stage in a bodybag. Yes, really. Dora is fearless; one of those rare few who think nothing of expressing themselves fully, who appear to have kept a fierce hold of their childhood imagination and use it to craft songs about lonely mermaids and love and whatever the hell else she wants.
BXKS
Luton rapper BXKS is inspired by everything from Jamaican MC culture to anime, something evidenced across her considered lyrics and colourful artwork. Her 2021 mixtape Hack The Planet was impressive; the video for lead single "321 ft. Oscar #Worldpeace" nodding to So Solid Crew as well as Blade and The Matrix. But new single "Collateral Damage" – the first from her next mixtape, Knight Rider – comes with an aesthetic rebrand. "I'm moving on to cowboy hats… don't ask me no questions about it," BXKS announced recently. Catch her wearing one (probably) when she plays Glastonbury next month.
Witch Fever
While not technically new – they've been making music together since 2017 – grungy Manchester band Witch Fever are having a real moment. Their fanbase has broadened way beyond the local alt scene from which they sprung, taking them on tour with Surfbort and straight into an opening slot for My Chemical Romance. And it's all happening just in time for the four-piece's debut album, Congregation, out later this year. Promising "everything from sludge to new wave", the record sees the band at their heaviest as they draw from singer Amy Walpole's experience growing up in the Charismatic Church – a form of Christianity that focuses on spiritual gifts and miracles. As such, themes include abuse of power, control and patriarchal violence – as well as those beyond religion.
Gracie T
Sheffield has famously blessed the music world with Pulp, Bring Me the Horizon and now Gracie T. A longtime member of South Asian collective Daytimers, the BBC Asian Network resident DJ can be relied upon for their diverse sets that nod to the Asian Underground revival. Along with friends Kitty and Shannon, Gracie recently stepped away from Daytimers to launch The Beatriarchy, a collective for underrepresented people in electronic music. The group just sold out their first night up north – join them at the next instalment for guaranteed good times and more strong suits from Gracie.
Wallice
Dirty Hit babe Wallice is funny, talented, brilliant and very much on the rise. The LA musician's new project 90s American Superstar – a concept record that tracks the rise and dramatic fall of a fictional idol – confirms this. "The EP is a hypothetical look into the celebrity life that lots of musicians and the LA entertainment industry crowd seeks," the not-so-secret ceramicist explains. "I love it here, but it's a strange place and it can feel like everyone is just looking for their big break." Our personal highlight is "Funeral", the closer whose just-dropped video sees Wallice killed (for "leaning too hard on the cowboy aesthetic") and carried off to her own funeral by the reaper and his pals. Bring on the next era!
Sainté
Sainté is one of the UK's brightest young rappers. Hailing from Leicester, the ex semi-pro basketball player (what can't he do!) and introspective artist put out his debut album, Out the Blue, last year, with guest features from Knucks, Chi Virgo and Miraa May. His latest release though, the melodic double A-side "Queen x Aim" steps things up a notch with a trippy music video shot on an actual submarine and further evidence that this guy is all about positivity. And there's plenty more where that came from.
Yama Warashi
Releasing music under a name that means 'mountain spirit', London-based Yoshino Shigihara aka Yama Warashi blends Japanese folk with free jazz until the whole thing crescendos in a psychedelic nature-worshipping dance party. The Londoner's latest single "Saku Saku" is, she explains, "an onomatopoeia of crispy sound in Japanese, but it also means things going really well or being productive. It's a song about a crispy moon; when [the] moon is big and crispy. People are a bit mad, people are feeling dizzy, falling in love, lured by the magic". Obsessed. Londoners can catch her at the Shacklewell Arms on Friday 2 June, followed by an extensive UK tour.
Greta Isaac
Criminally overlooked Welsh artist Greta Isaac is a truth teller. The 26-year-old's new, harmony-laden acoustic number "Mediocrity" details an all-too-relatable time in her life when she was settling for less in order to feel safe. But it's "how are you not freaking out?", released back in March, that we can't get enough of. Exploring similar themes, she wrote it with her good friends and fellow artists Orla Gartland and Matt Zara. "This song has always felt like a dark, wet, cold suburban neighbourhood," she explains. "I guess what that brings up for me is the suppression of emotion in a bid to keep up with appearances, or to avoid becoming difficult. And even when you're brave enough to speak up and be truthful about your emotions, and you're met with resistance or rejection, you can feel lonely and it can be difficult to trust yourself ever again." See? Greta gets it. Both tracks feature on her well-named, just-dropped EP, I Think You'd Hate It Here.
Tagged: