Netflix have a new documentary about a terrifying cult leader
Watch the trailer for 'Keep Sweet: Pray and Obey', which charts the insidious rise of the extreme Mormon leader Warren Jeffs.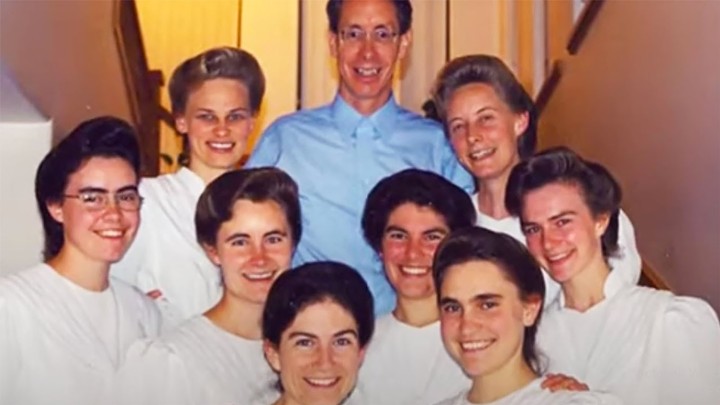 Netflix
You may have not heard of Warren Jeffs before, but his crimes are so vast they've warranted a new, four-part Netflix documentary series, Keep Sweet: Pray and Obey. He's a man whose impact in certain religious circles is terrifying: the current leader of Fundamentalist Church of Jesus Christ of Latter-Day Saints, an extreme offshoot of the Mormon religion, he's become infamous in the States for using his faith as a justifier for polygamy and sexual abuse. He's headed up the church since 2002 but has been imprisoned for his crimes since 2011, serving a life sentence. Still, he runs the organisation from behind bars.
His actions, justified by his interpretation of the Book of Mormon, have impacted thousands. Now, Keep Sweet: Pray and Obey will chart his rise and fall, told from the perspectives of those who existed under his rule.
Watch the trailer below and read up on everything we know about the series so far.
What is Keep Sweet: Pray and Obey about?
Directed by the Peabody-winning filmmaker Rachel Dretzin (who has previously worked on Who Killed Malcolm X and Hope & Fury: MLK), Keep Sweet: Prey and Obey retells the horrifying story of Warren Jeffs' reign over the Fundamentalist Church of Jesus Christ of Latter-Day Saints, based in Short Creek, Utah, an enclave exclusively occupied by Mormon fundamentalists. He assumed his position in 2002, after the death of his father Rulon Jeffs, who himself had multiple wives and a rumoured 60 children (Warren married all but two of his father's wives after he passed).
The documentary captures how Warren impacted the community, and the dozens of women he married, many of them minors, in the name of religion. He was widely accused of child sex crimes and rape by many dissidents, crimes that lead him to go on the run and a place on the FBI's Top 10 Most Wanted list. He was captured in 2006, and imprisoned in 2011. The documentary tells Warren's story from the perspective of his multiple victims.
Are there any other documentaries about Warren Jeffs?
This isn't the first non-fiction work to dissect Warren Jeffs' crimes. The Oscar-winning documentary filmmaker Amy Berg directed Prophet's Prey for Showtime in 2015. It was based on a book by Jon Krakauer, who also wrote Under the Banner of Heaven, and Sam Brower.
When is Keep Sweet: Pray and Obey coming to Netflix?
Keep Sweet: Pray and Obey will be released in full on Netflix on 4 June.
Follow i-D on Instagram and TikTok for more on Netflix documentaries.
Tagged: