All images courtesy of Christian Dior
At Dior Men, Grey Sweatpant Season like you've never seen it before
Kim Jones' latest collaboration was Christian Dior himself. To celebrate the 75th anniversary of Dior, went back to the start to create a new New Look.
All images courtesy of Christian Dior
Kim Jones is no stranger to collaborations, but his latest is perhaps the most obvious, and therefore the best. "Monsieur Dior!" marvels Stephen Jones during a preview, who suggested to Kim that it would be the ultimate collaboration of all. Coincidentally, AW22 lines up with the 75th anniversary of Christian Dior — and the 25th of Stephen Jones first walking up those grey-carpeted stairs of 30 Avenue Montaigne. Surrounded by images of haughty mid-century models with wasp waists and full skirts, the collection offers a counterpoint to what Monsieur Dior called his "flower women" with Kim Jones' vision of "flower men" today. In other words, a new outlook on the New Look, albeit with the much-needed ease and, dare we say, comfort that the last two years has demanded, and which is the antithesis of the upholstered silhouette of Dior's postwar years (there was a collaboration with Birkenstocks, for crying out loud).
The show took place along a recreation of a crisp winter's morning on the Pont Alexandre III, the Seine gently flowing in the background. Yes, we're in Paris for the show and the actual bridge is a stone's throw away — but Dior is Paris, and this was a moment to bring Paris to the rest of the world. Not the Paris on Netflix — but the Paris of our wildest dreams, where boys wear berets and carry bouquets of fresh flowers, the air is filled with the smell of freshly-baked bread and, who knows, where you might just fall in love on a bridge at sunset.
Naturally, the collection was pretty as a 1950s postcard, too, with delicate Japonisme lily-of-the-valley embroideries on organza-covered puffer jackets and the linings of lapels, Mitzah Bricard-style leopard damasks in powder-blue and dusky dijon, jaunty little satin berets by Stephen Jones and jewel-encrusted Derby shoes, and coats in the cannage quilting of the Lady Dior bag (name me an homme fleur who doesn't love Princess Di). Christian Dior loved gardens and flowers, so Kim made slouchy gardening slacks and felt tote bags, too, and even leather Saddle bags designed for carrying those bouquets of dusky pink roses, as some of the boys did. Yoon Ahn created beautiful ropes of freshwater grey pearls and emerald pendants and there were real diamonds, too: a Deco-style tennis bracelet made by Victoire de Castellane (she's doing one high jewellery piece for Dior Men per season).
Ah, the optimism of romance! It's why so many people gravitate towards fashion — even if we hate to admit it, there's a bit of Emily in all of us. Even Kim Jones, who is perhaps the most hard-working designer in fashion today and should therefore be the most jaded. Instead, he's more ready to challenge himself than ever before. You see, for every creative director to ever carry the mantle of Christian Dior, there is one piece that remains the house's sacred cow: the Bar jacket. Kim has avoided it so far, merely borrowing from its covered buttons on jackets. At the time, Dior's New Look was perceived as nostalgic, dramatic and even immoral (rationing and food shortages were still in place) and despite the fact that Monsieur Dior introduced new lines — the Ligne Princesse (pretty and high-waisted), the Ligne Coupole (barrel-shaped), the A Line, the H line, and finally the Sack — he will forever be associated with 1947's New Look, which reinstate women as an object of luxury. Eventually, even the most ardent critics grew to love it because glamour has a tendency to prevail in moments of uncertainty.
And though it would be silly to draw parallels to today, in a menswear season shrouded by darkness, there's something heartwarming about seeing romanticism within our reach. Kim introduced beautifully sculpted tailored Bar jackets in a medley of textures (stone-washed denim, the felt typically found under tailoring collars, crêpe-de-chine, heavyweight jersey), each of which were created by pleating a man's blazer to create a cinched too prissy). Each one is fully-canvassed, right down to the hem, to create a slight hourglass flare, but without any of the extremities of the traditionally corseted and padded original, which truly belong in the past. Some of the silkier blazers were even made with trailing fluted drapes at the front, to be wrapped around and tied at the waist, "almost like a DIY Bar jacket," as someone in the studio pointed out.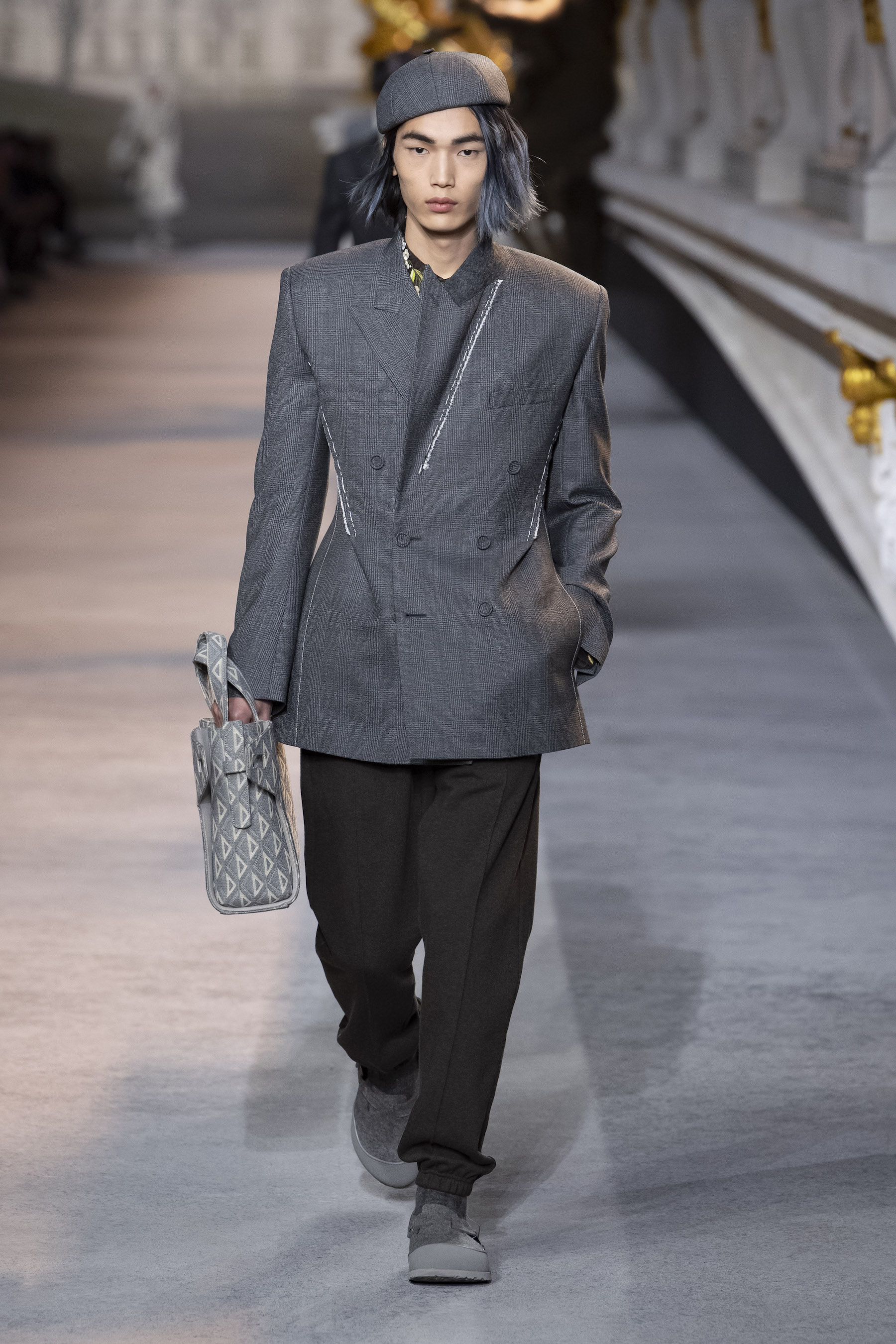 If the top halves were fancy, a symbol of Dior's impressive tailleur ateliers, the bottom halves were far more casual — the results, perhaps, of SO MANY ZOOM CALLS. Most of the trousers were elegantly piped cashmere-jersey sweatpants, with Charvet-style striped cotton drawers peeping out from the waistline — sexy in that BDE, can't-be-bothered-with-a-belt kind of way. It was the perfect salve to all the couture formality, a way of making it seem more real, more now. Plus, there was a collaboration with Birkenstocks, reimagined with delicate embroidery and the collection's fabrics. Kim knows what he's doing when it comes to making hot-cakes.
As it happens, the collection arrives in stores in time for Grey Sweatpants Season. If you don't know what I'm talking about, this is the signal of autumn's arrival, the sartorial (and horny) equivalent of the brisk walks on crunchy leaves and spiced lattes, with a devoted cult following and not one but four definitions on Urban Dictionary. Christian Dior loved grey — a very specific eighteenth-century, Provençal dove grey — which he used in the interiors of the Louis Quinze salons at 30 Avenue Montaigne. During our preview, quite coincidentally, Kim Jones is wearing a grey jersey ensemble (yes, sweatpants) and points out that his AW 2005 namesake collection was a precursor to this dressed-up sportiness in slate tones. The circle is now complete, and it couldn't be more appropriate for the high-low, smart-cazh mood of 2022. "I'm really proud of it," Kim said with a smile. Who knows, perhaps even Monsieur Dior would be, too.