Fendi ushers in the age of the neo-dandy for AW22
Shown on the second day of Milan Fashion Week, Silvia Venturini Fendi's latest collection was a clarion call for sophistication and elegance in menswear.
|
16 January 2022, 12:20pm
Images courtesy of Fendi
When the calendar ticked over to 2020, hopes were high that we'd be in for the same sort of cultural renaissance that our predecessors lived through 100 years ago. How naïve we were! Two years into the decade, the experience for most of us has been more Great Depression than Great Gatsby. Still, if Fendi's AW22 menswear show was anything to go by, there's still good cause for hope that the 2020s will pan out a little more chicly than they have thus far.
Ushering in a new era of sartorial self-pride, Silvia Venturini Fendi presented her vision of a wardrobe for the New Roaring Twenties, a directional pivot away from the lounge-friendly attire we've all grown a little too used to. The agenda for the year ahead, according to the Roman house, is defined by uncompromising elegance and sophistication — getting all dressed up, even if just for the sake of, well, getting all dressed up.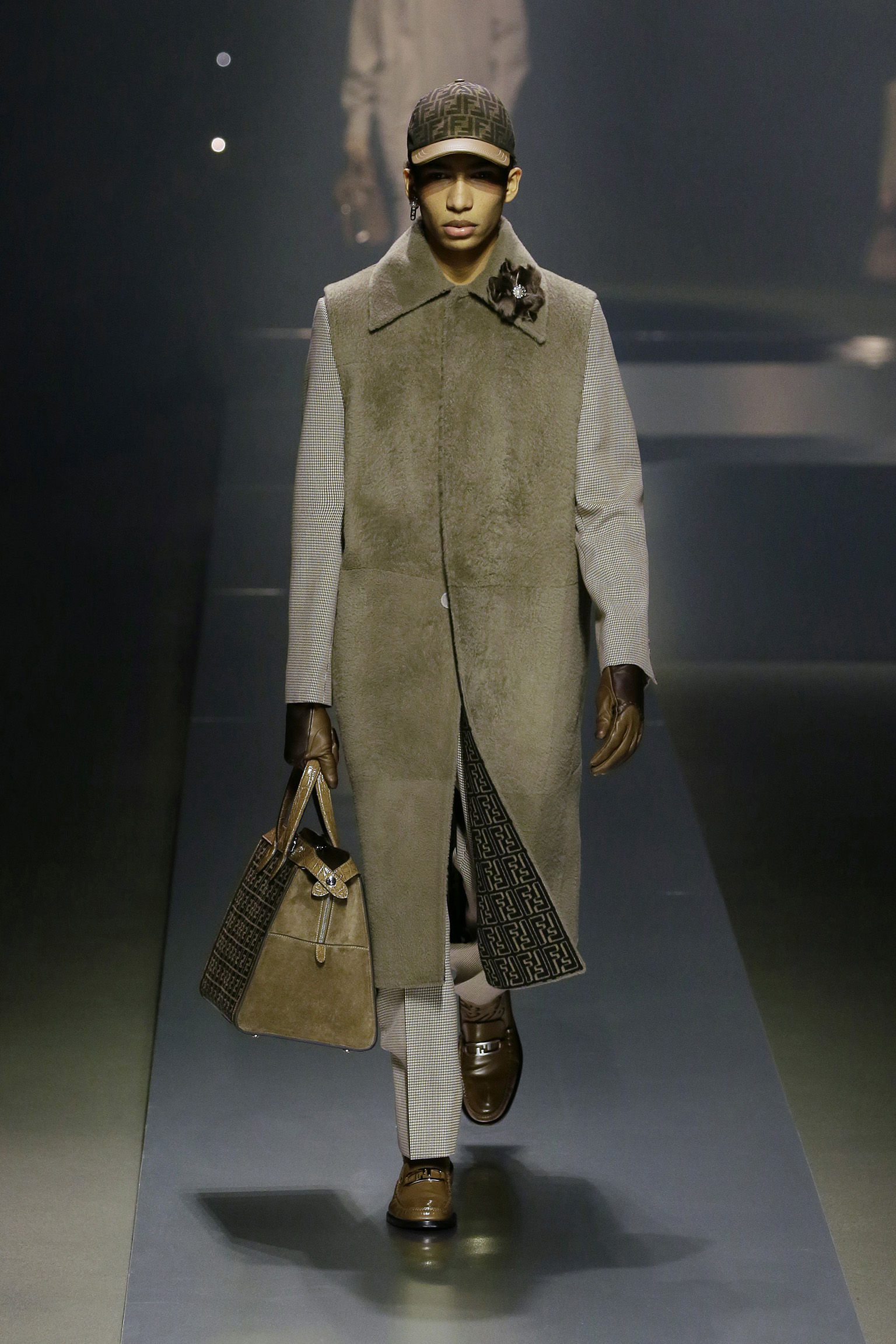 Slick tailoring naturally gave the collection its backbone. Rather than stuffy or regressive, however, the spiffy dressing on show here channeled the spirit of early Modern dandies like Baudelaire, Wilde and Proust, reimagined anew. The staid bourgeois feel of double-F monogram-lined overcoats in cashmere and houndstooth check wool was uplifted by furs featuring shaved O'Lock chain motifs, a new elongated monogram for the season that could also be spotted on architectural totes, chrome hardware and intarsia knits. Elsewhere, a tension between a dynastic elegance and a more liberated air informed a pair of ultra high-waisted tailored trousers — which sculpted the lower silhouette to an almost toreador like-effect — worn with a dramatically abbreviated single-breasted jacket, an extension of a story Silvia debuted in her SS22 collection.
Back then, these ab-bearing cropped looks had us pondering a tidal shift that seemed to be underway in menswear — a movement away from 'masc' modes of dress towards a more liberated, fluid, or even intentionally queer approach to outfitting the modern man. Rather than gloss over the conversation, this season, Silvia pushed it further, placing this body-conscious, revelatory sensibility at the heart of her proposal for the Fendi man. Archetypically masculine garments — a varsity-style jacket in smooth calfskin and a satin-trimmed single-breasted blazer — were slashed at the neckline, exposing the collarbones, while cable knit djellabas and sweaters had sternum-baring cut-outs. Ribbed neckwarmers with pearl strings featured throughout, and for the closing look, a slim morning suit was accessorised with a flouncy velvet bow-tie, a dainty chain bag and a pair of wristwatch-strapped Mary-Janes.
Granted, motifs like these certainly did well to playfully twist expectations and tropes of masculine sartoriality, but what made them more successful than anything was how inconspicuous they felt. Rather than provocatively declare the dawning of a new era of men's dressing, this was a calm, assured statement that it's already here.