Here's what Timothée Chalamet has been up to in London
Yes we cover the hard topics other news outlets won't touch.
|
25 October 2021, 12:29pm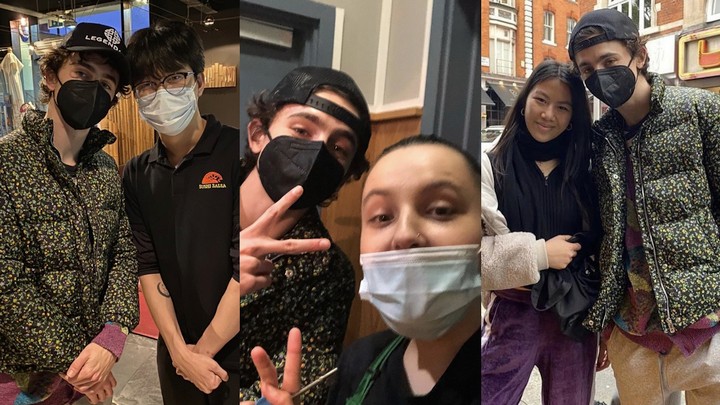 via Instagram
Last weekend was a good one for everybody's favourite young actor Timothée Chalamet: two of his movies, delayed by the pandemic, finally hit theatres and are racking up good money at the box office. While Dune is heading for a number one box office slot, Wes Anderson's The French Dispatch is breaking pandemic box office records of its own, bringing in the most money per screening of any title since March 2020. So how did our king celebrate? Well, he wandered around central London, taking pictures with fans.
Despite being so famous that he couldn't walk to the Met Gala without being swarmed by fans, Timmy -- who's in town while shooting Wonka -- seems to just be sauntering about Soho, minding his own business. He might have mostly evaded the paparazzi (Soho is the last place famous people tend to hang out, since it's the most densely populated part of the city), but stans have spotted him walking down Wardour Street, in Starbucks and, as he posted on his own Instagram story, posing outside the Curzon cinema.
Timmy is fairly familiar with London, having spent some time here at the start of 2020 in rehearsals for the now-delayed production of 4000 Miles at The Old Vic theatre. Wonka is currently shooting on the north-west outskirts of the city at the Warner Bros. Studios, but, unsurprisingly, he seems to be spending his off-time in central London rather than, you know, Watford.
Our first sign that Timmy had arrived was on Friday 22 October, when he revealed he'd seen our queen Saoirse Ronan in her sold-out production of The Tragedy of Macbeth at the Almeida Theatre on his Instagram story.

Sunday was when things really kicked off, though. First, he was spotted somewhere around Camden by an employee from Sushi Salsa, who asked him for a pic.
Timothée even liked his Studio Ghibli tattoo enough to upload it to his Instagram story.
Next, he headed to central London. After a quick look in Supreme, a fan stopped him outside that the Wardour Street casino-slash-slot machine place.
Now, please do not come for the writer of this article, but we can guess he probably stopped for a bathroom break in the Wardour Street Starbucks opposite. We know this because the writer of this article may or may not spend several hours working in this Starbucks nursing a £1.90 filter coffee, and has, thus, used these bathrooms several times before (They're clean, btw).
From there, it was a quick jaunt down Old Compton Street (gay rights) or another adjacent road past Curzon Soho, where TC would have spotted the posters for his new movies (in theatres now), and stopped to take a photo or two with them.
Which leads us to where Timmy left us on his IG central London escapades: outside one of the vintage book shops on Charing Cross Road (how this man got past the Bunsik queue of TikTokers unscathed is beyond us). There, he snapped a photo of a book about Stanislavski, the man behind the famous Stanislavski system: a go-to method for serious actors.
And so, there we have it. The most famous, fawned-over actor in the world is comfortable kicking about Soho, running into fans, potentially using Starbucks bathrooms and stanning his own movies outside cinemas. King.
Tagged: