FKA Twigs has been cast in a remake of The Crow
The reboot of the cult 90s supernatural thriller will start shooting this summer.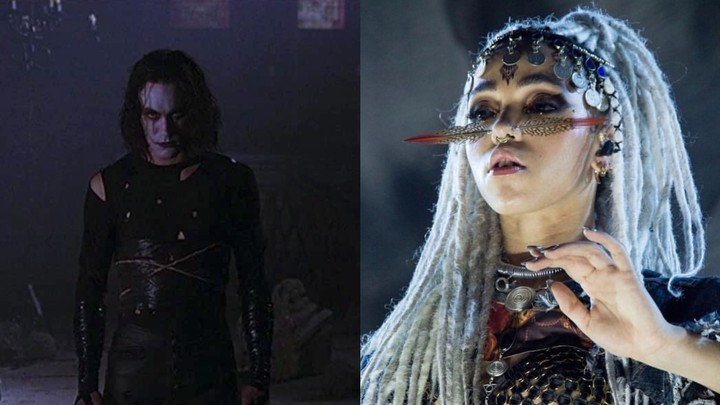 L: Still from The Crow (1994), R: Instagram @fkatwigs
We love it when our favourite things come together, like an iconic pop girlie getting cast in a remake of a beloved, creepy 90s thriller. Deadline has reported that FKA Twigs is expected to appear in an upcoming reboot of the cult classic supernatural superhero movie The Crow (1994), set to begin filming this June. The reboot comes from Rupert Sanders, the director behind Snow White and the Huntsman (2012) and Ghost in the Shell (2017), so we can expect the new iteration in The Crow franchise will be just as dark, eerie and foreboding as the original.
Twigs will be joined by Bill Skarsgård, known for playing creepy clown Pennywise in the It remake, as lead character Eric Draven: a murdered musician resurrected from the grave by a crow, looking to avenge those responsible for his death. In the original movie – which was in turn based on the popular graphic novel from 1989 by James O'Barr – Eric was played by actor and martial artist Brandon Lee. It would be Lee's final movie, when he died on the set of The Crow from a fatal shot wound from a prop gun. Having filmed most of his scenes prior to the accident, Brandon was posthumously lauded for his performance.
As of yet no other cast members have been announced for the reboot. It's not clear which role Twigs will be playing, but perhaps she will be taking on an iconic opening scene death (Drew Barrymore-style) as Shelley. Shelley is also murdered in the original, fuelling Eric's rage and desire for revenge. Alternatively, Twigs could be playing Sarah, a young friend of the deceased couple looking for closure who gets caught up in Eric's nefarious plans.
The script for The Crow has been written by Zach Baylin, who was nominated for an Oscar for his writing on King Richard (2021), and will be produced by Edward R. Pressman (who also produced the original) and Malcolm Gray. "The Crow is beautiful, dark, poetic and sometimes disturbing," director Rupert Sanders said to Deadline. "It is a story of love, loss, grief and revenge. It is a great honour to revisit James O'Barr's iconic comic and reimagine The Crow as a foreboding voice of today."
This isn't the first time a reboot of the franchise has been attempted either. After three sequel movies — in 1996, 2000 and 2005 respectively — and two seasons of a 90s TV show, this particular remake has been in the works since 2008. Over the years Mark Wahlberg, Channing Tatum, Ryan Gosling, Tom Hiddleston, Luke Evans, Nicholas Hoult, and, most recently, Jason Momoa have all been attached to play the lead before the gauntlet was passed to Bill. At one point, in 2013, Kristen Stewart was even considered for the role of Shelley (tbh, we would like to have seen it).
With filming soon to commence, it won't be long until we get answers to what Twigs' role in The Crow reboot attempt will actually be. Whichever character she takes on, we know the singer will give us all the spooky vibes we crave when the movie eventually hits cinemas.