A guide to Taylor Swift's style evolution
From country queen to cottagecore, by way of glittery pop stardom, we unpack all of Tay-tay's iconic fashion eras.
|
12 November 2021, 1:36pm
Images via Getty
Across her 15 year career, Taylor Swift has had her fair share of fashion eras. From the country-loving girl with wild curly hair and cowboy boots (Fearless), to the pop superstar taking over the music industry with bonafide hits (1989), she's no stranger to transformation. And who could forget when she burned it all down, going grunge in 2017 (Reputation) before testing out a candy-coated, rainbow-coloured aesthetic a couple of years later (Lover)? It's all led up to the woman we know now: one settled on a dreamy cottagecore fantasy for her sister albums Folklore and Evermore – but for how much longer? One thing's for certain, no guitar-toting singer has switched up their style quite so often, or as well, as Taylor.
She's in a period of revisiting her past lives now, re-recording her old records to reclaim her masters. So as she dusts off the glittery scarlet heels and jackets for Red (Taylor's Version), we too are looking back. Here's the fashion evolution of one of pop's most exciting stars: Taylor Swift.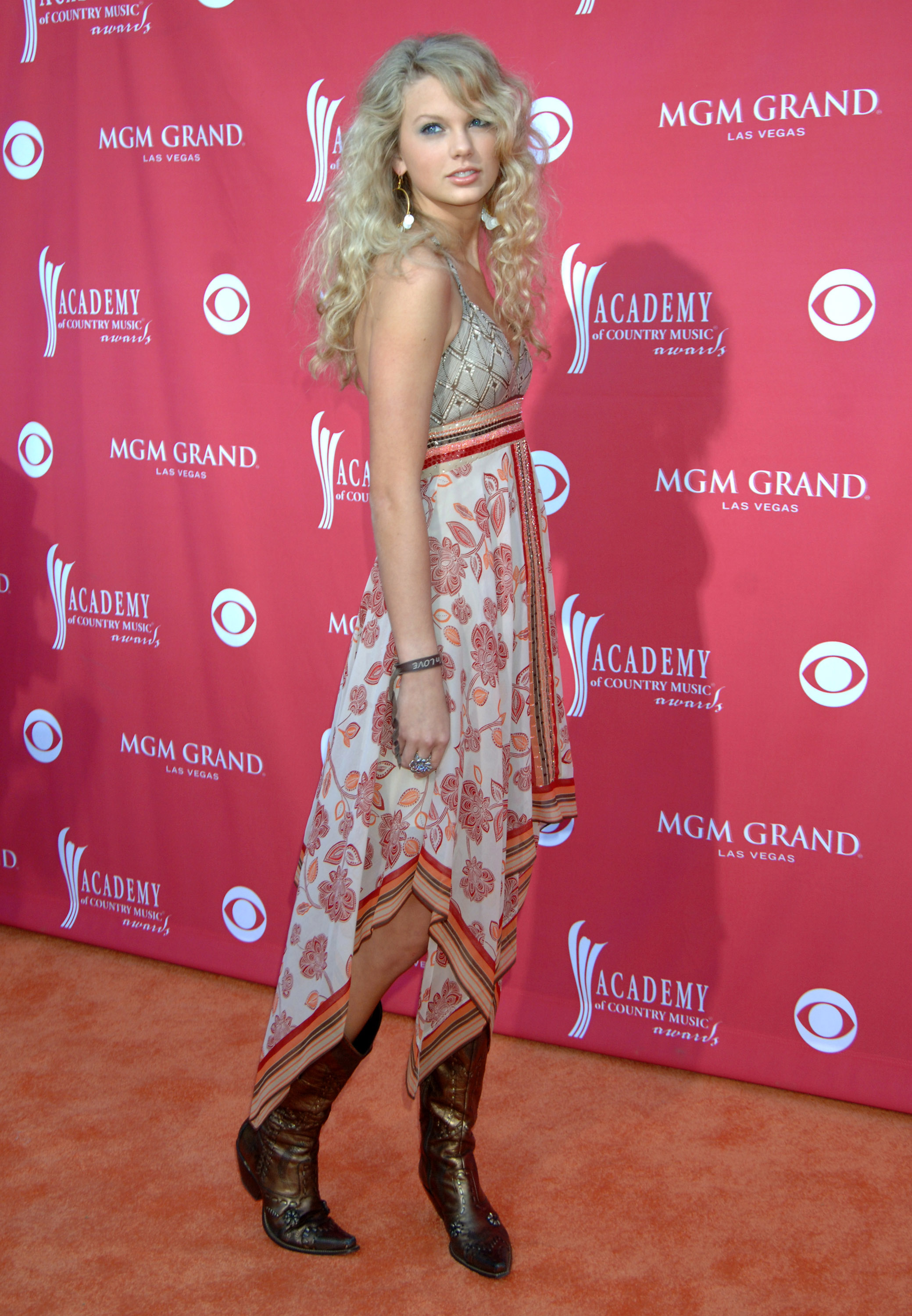 At the Academy of Country Music Awards, 2006
Taylor's love of country music made her a bit of an outsider at school, while the music industry questioned how much listeners would care for the self-written songs of a teenage girl. Nevertheless, Taylor persevered, moving to Nashville from Pennsylvania and getting signed at the age of 14. Turning up to the Academy of Country Music Awards one month before the release of her debut single -- little did she know she would win Album of the Year there three years later -- Taylor watched her idols win awards in her usual distressed cowboy boots, a sweet flowy floral dress and her hair in its natural ringlets. It's a look so emblematic of her early appearances, you can hear the guitar riffs of "Picture to Burn" when you look at it.
In the music video for "Fifteen", 2009
In 2009, Taylor Swift was living a fairytale. Her sophomore album Fearless, released the year prior, is still to this day the most awarded country album in history. Meanwhile, it's lead single "Love Story", a wholesome rewriting of Romeo & Juliet, had catapulted to the top of charts around the world. The album was built on storytelling, fantasies and daydreams and it reflected in her fashion at the time — from the purple mermaid dress she wore to the Grammys to the literal ball gown she wore to perform at the Academy of Country Music Awards. In the music video for "Fifteen" -- in which she lyrically reminisces over high school loves and friendships -- Taylor's frilly white dress, baby doll makeup, signature tight ringlets, bare feet and glossy wooden guitar paired her all-American vibe with the ethereal story world of her own making.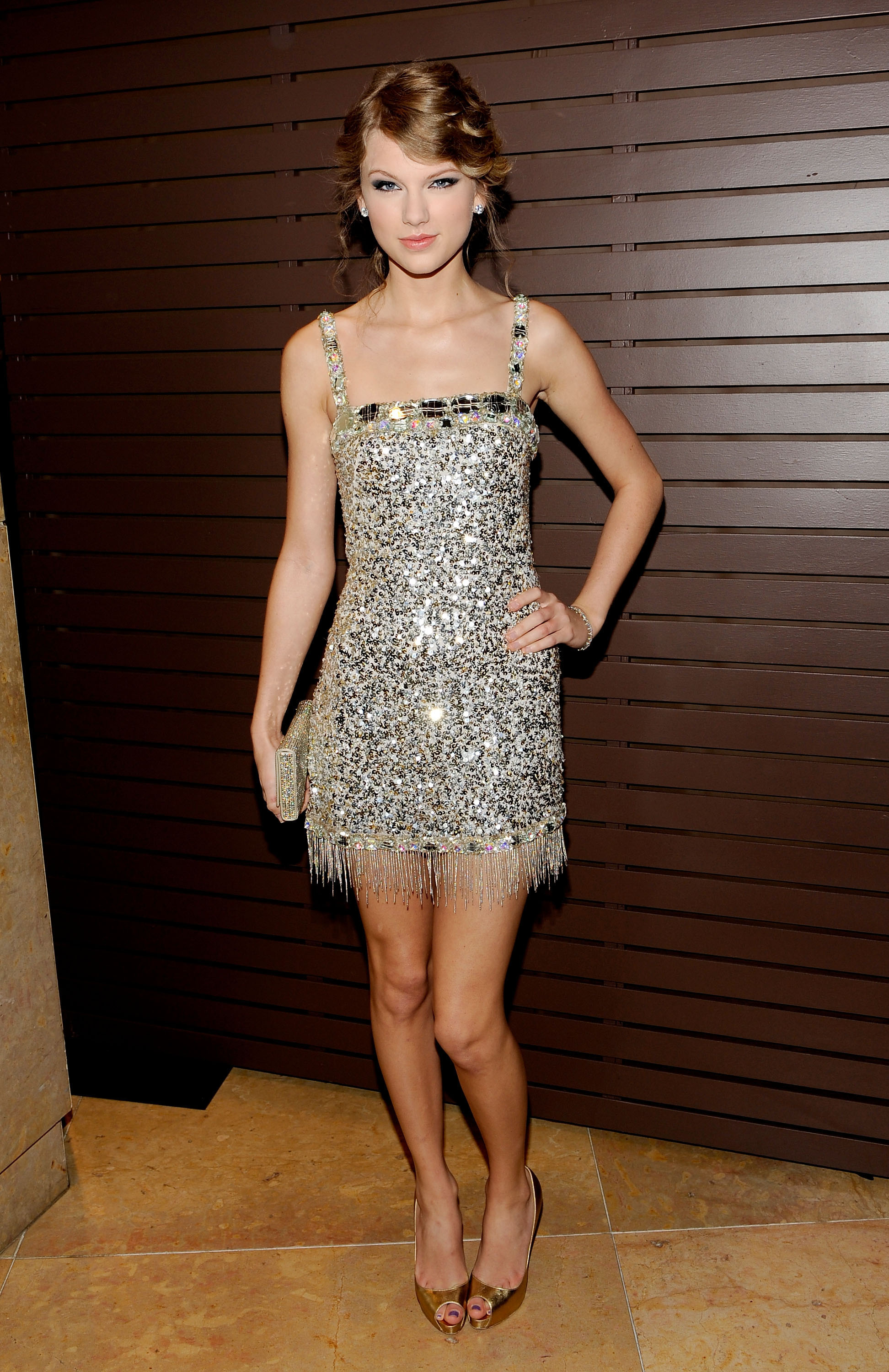 At a pre-Grammy party, 2010
As she wrote songs for her Speak Now era, a deeply personal album that served as a platform for all the things a 21-year-old Taylor had left unsaid in the past, her fashion sense too started to become reminiscent of a bygone era. While some looks went Old Hollywood -- think long sleek gowns and finger-waved hair -- others, such as her pre-Grammy event outfit in 2010, channeled the flapper girls of the Roaring Twenties with shimmering mini-dresses and lots of fringe. Later that night, she'd win her first four Grammy awards.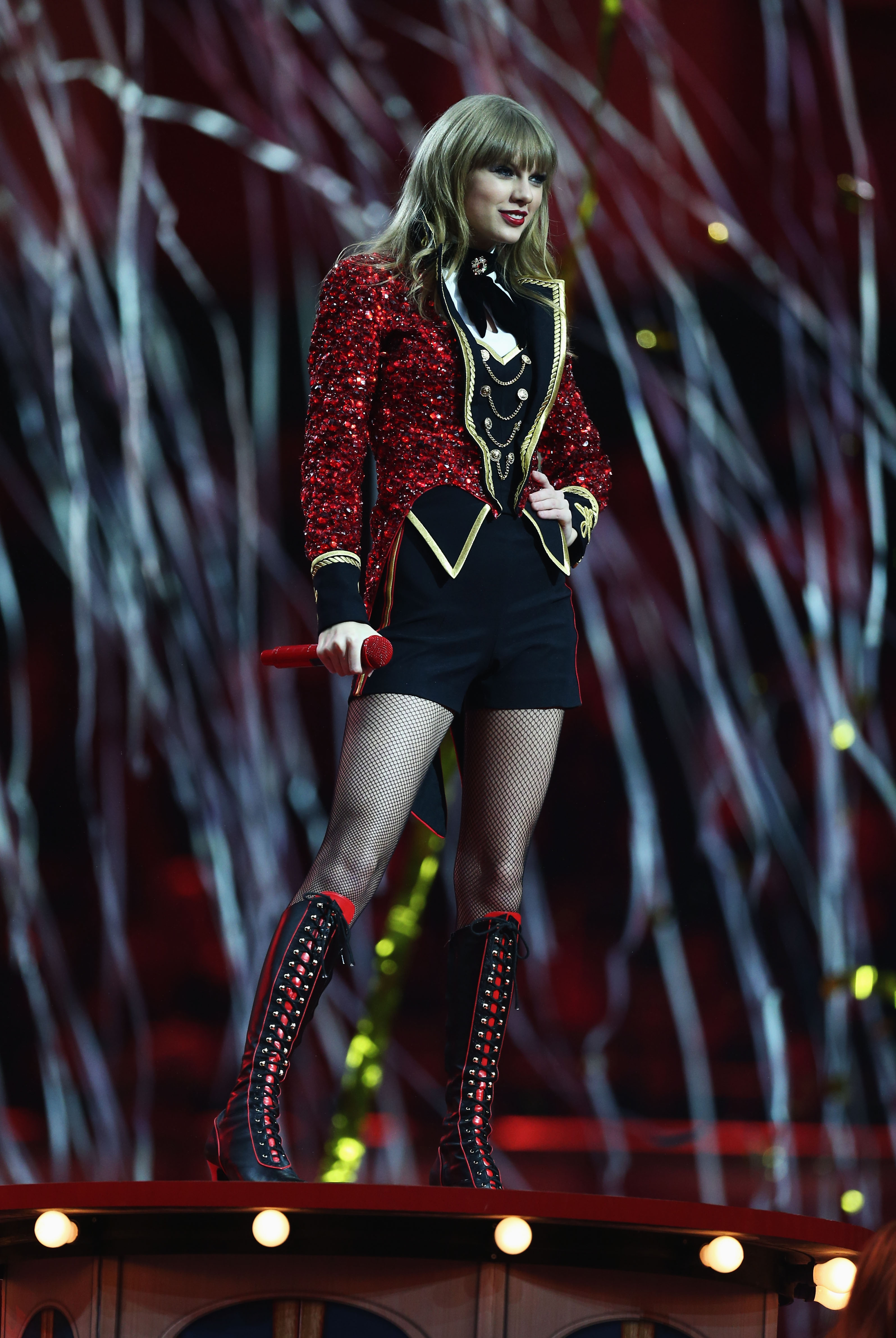 At the MTV European Music Awards, 2012
In the song "Circus", Britney Spears famously said: "There are two types of people in the world: the ones who entertain and the ones that observe." Winning the awards for Best Live Act and Best Female at the MTV EMAs 2012, Taylor had very much cemented her position in the former category. One of her performance looks for the song "We Are Never Ever Getting Back Together" was a camp glittery ring-leader ensemble. It felt like a revived version of her marching band look from the Fearless tour four years prior, and was replicated again in frosty silver and white tones at the 2013 Grammy Awards.
In the music video for "Red", 2013
Taylor's fourth album Red defined the early 2010s. From the dip-dyed pink hair stuck beneath a black bowler hat in the "I Knew You Were Trouble" music video, to the way Taylor sings: "It feels like the perfect night to dress up like hipsters" in "22", she was making music for those of us who were heading to our local cinema to pop the lenses out of some 3D glasses to emulate her looks. Using footage from her world tour that year, the music video for "Red" perfectly surmises her look from the era: black, white and glittery red ensembles made up of hot pants, lacy tops, tap-dancing shoes and varsity jackets; all paired with Taylor's signature bold red lip.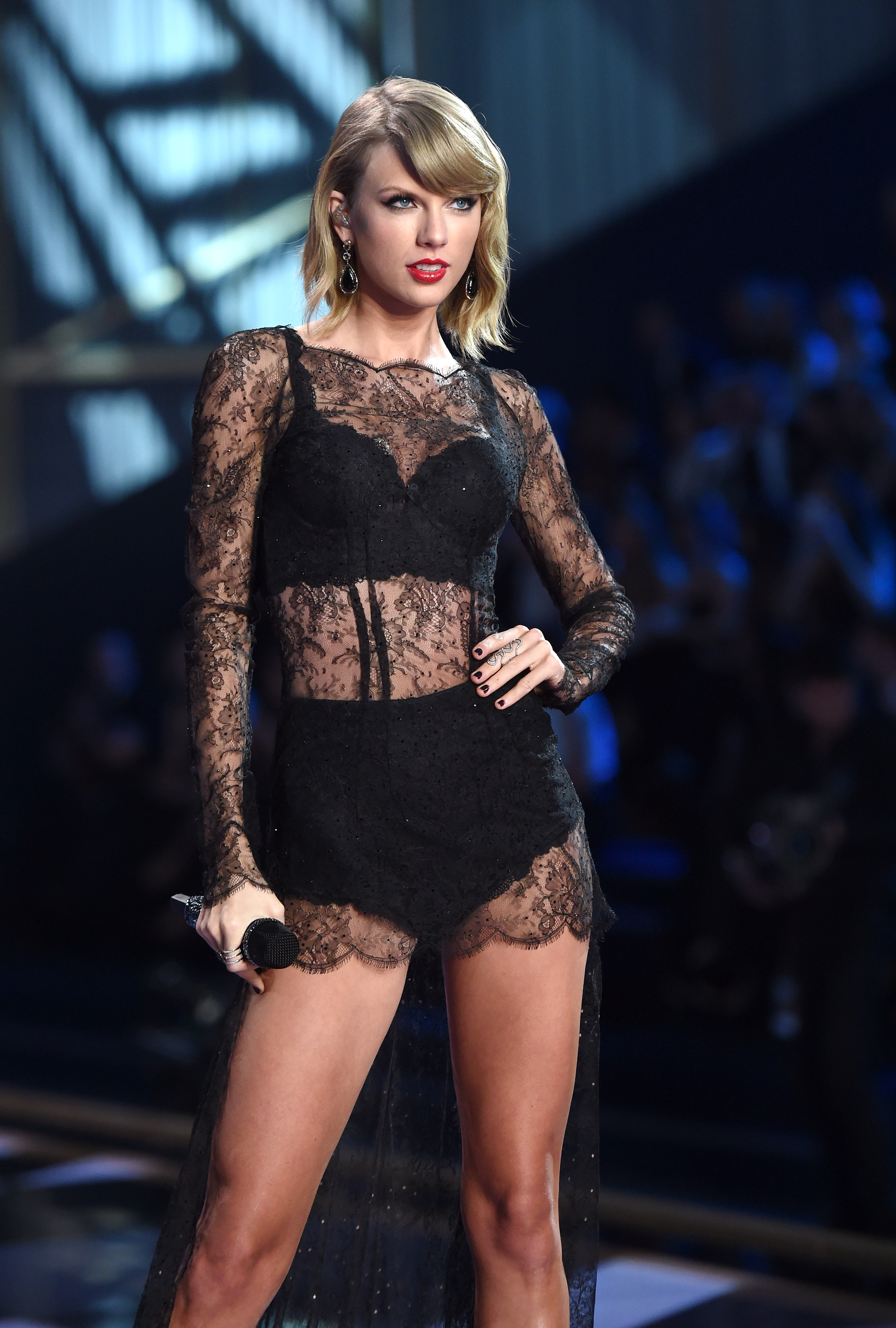 At the Victoria Secret Fashion Show, 2014
Strutting hand-in-hand along the runway with bestie Karlie Kloss as she sung her new song "Style", Taylor made her Victoria's Secret debut in a black bra top and high waisted shorts layered over with lace that extended into a train that pooled at her platform heels. The look felt apt and of the era alongside the wardrobe for her massive 1989 World Tour. On stage in stadiums around the world, Tay-Tay was wearing fun riffs on traditionally sexy looks — from sleek leather catsuits to thigh-high boots and glittery bralettes.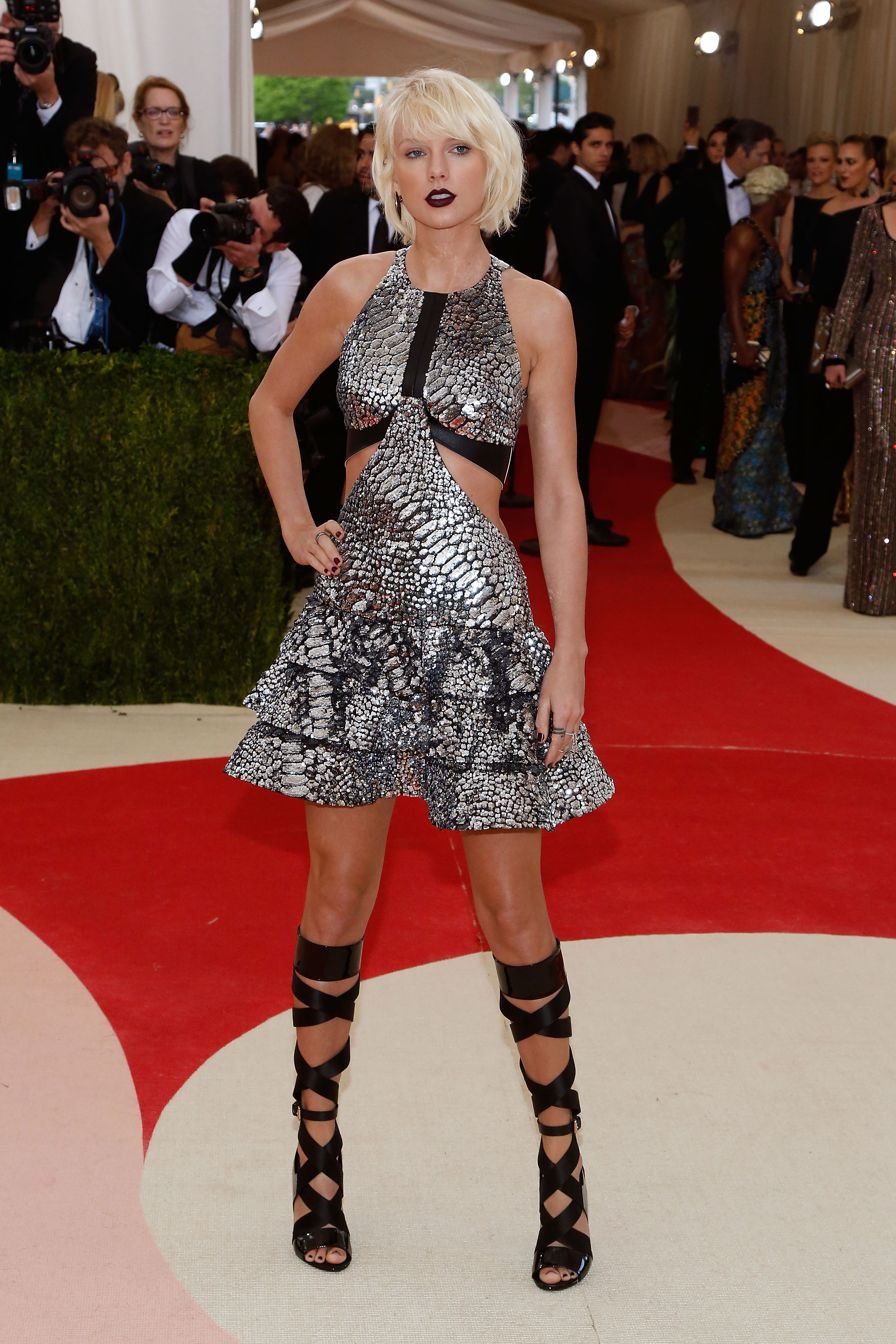 At the MET Gala, 2016
Serving as Co-chair of the 2016 MET Gala alongside Idris Elba and Apple CDO Jonathan Ive (quite the blunt rotation), Taylor brought a strong sartorial offering for that year's theme, Manus x Machina: Fashion in the Age of Technology. Styling the custom Louis Vuitton silver snakeskin cutout dress with a pair of gladiator heels, a new platinum-blonde messy bob and unexpected dark lipstick, the edgy look feels like a sign of where her head space was at the time. Her grungy, revenge fantasy-driven album Reputation was just around the corner.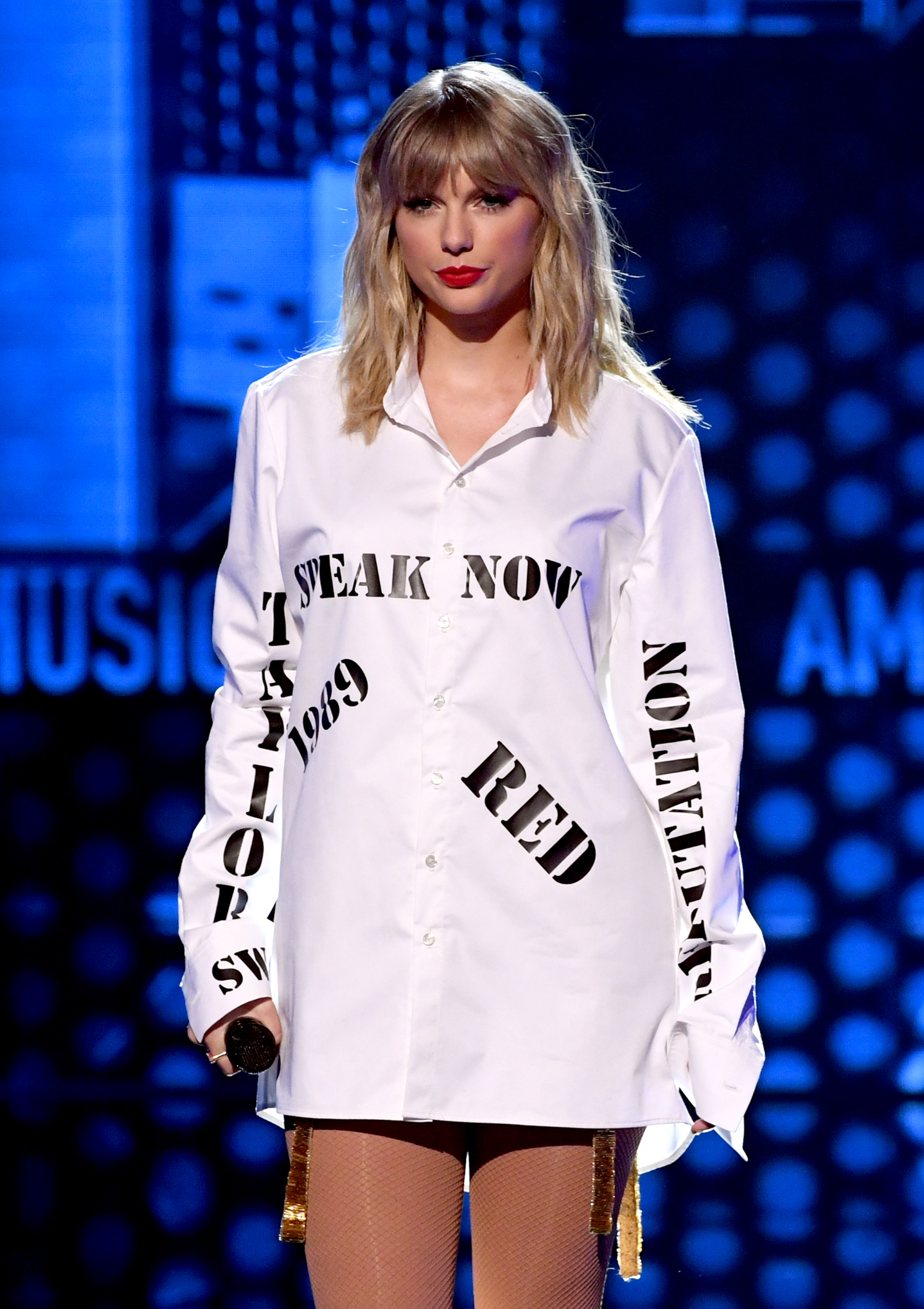 At the American Music Awards, 2019
There are few who do shade better than Taylor Swift. A few months after releasing 2019's best-selling album Lover, and just before she put on a British accent and some CGI fur in the much maligned movie Cats, she won the Artist of the Decade prize at the American Music Awards, accepting it in a white shirt with the names of her first six albums branded across it. The look was a clear middle finger to her past label after they sold off her master recordings and she vowed to re-record over 100 of her songs from across a 13 year career. According to a recent article from the Financial Times, Scooter Braun, who bought the masters, thought she was bluffing and was enjoying the initial publicity Taylor's public vendetta was giving her back catalogue. But this was a new post-Reputation Taylor, and she wasn't playing around.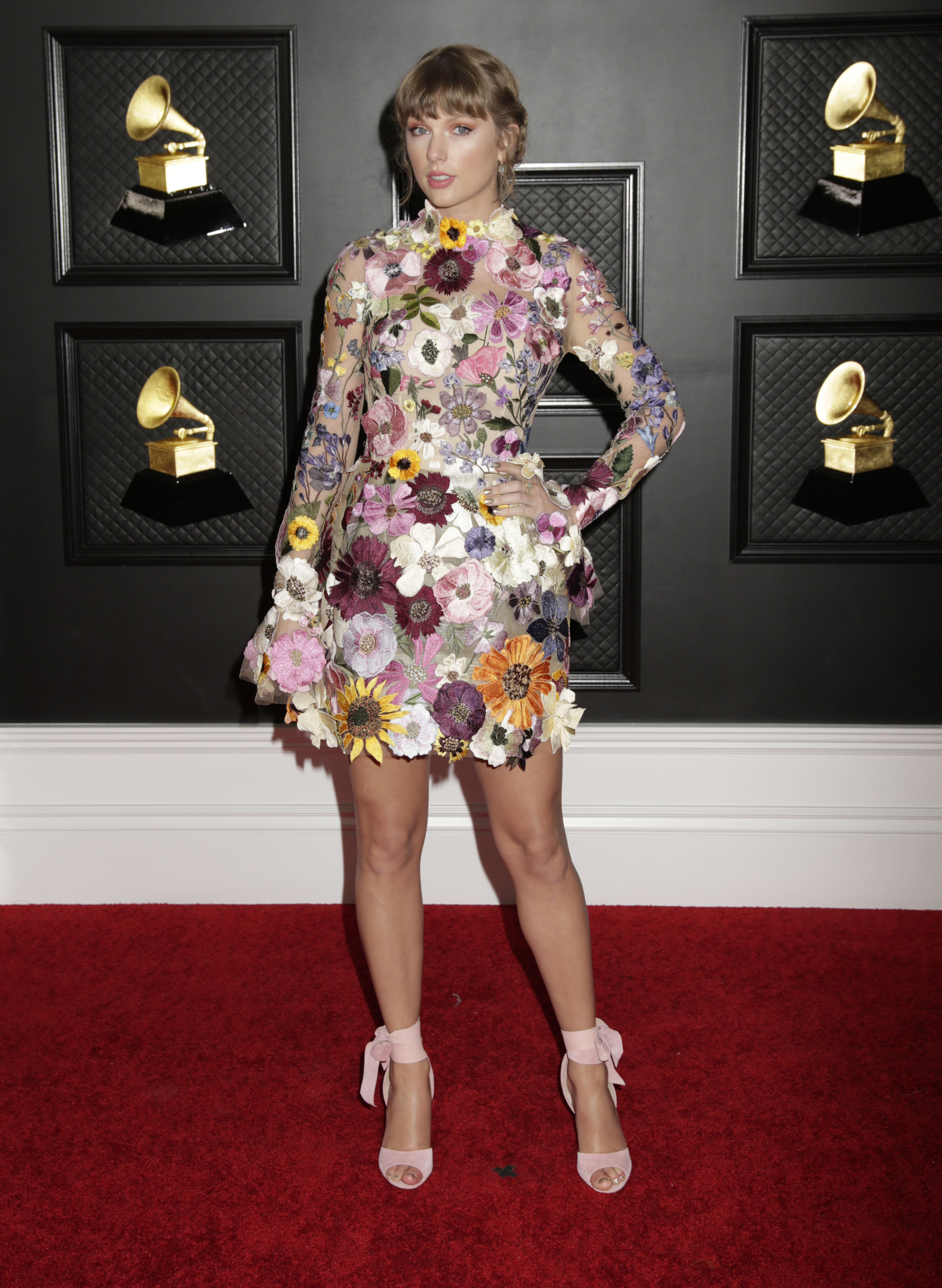 At the Grammy Awards, 2021
While most of us spent the lockdowns of 2020 making those TikTok coffees while binge watching reruns of Gossip Girl, Taylor was in her element. With a new poet-living-in-the-forest, cottagecore aesthetic, she released two folk-infused albums Folklore and Evermore. Her hair had started to return to the natural curls of her early career and her fashion was very much autumnal, cosy chic. Heading to the Grammys wearing a stunning Oscar de la Renta dress, with flowers patched across every inch and a matching face mask, she accepted her third Album of the Year award (the only female artist to win that many, alongside Frank Sinatra and Stevie Wonder). The out-of-the-woods, botanical style felt like the perfect look for a singer-songwriter who had blossomed into one of the leading artists of a generation.