Dior just got a high-tech makeover for AW22
Maria Grazia Chiuri offered extreme protection through inflatable airbags, supportive ankle straps and temperature-controlled Bar jackets.
Designers in Paris often describe couture ateliers as laboratories — but Maria Grazia Chiuri actually looked to a real-life lab for her AW22 collection: the Italian tech company D-Air Lab, which develops body-mapping and ergonomic technology more commonly found in (extreme) sportswear. Given that she has been developing a line of athleisure and Dior-branded treadmills, surfboards and ski wear, it was inevitable that she would begin incorporating some of that high-spec utility into her typically romantic ready-to-wear collections. Hence, the show opened with bodysuits lit up by high-vis seams, mapping the arteric geography of the body.
It was temperature-controlled tech, designed to keep you warm when you feel cold, cool you down when you're feeling flustered — ideal for the extreme weather conditions we'll undoubtedly see as a result of you-know-what. The second look, the quintessential grey Bar Jacket, came with a puffed-up mesh peplum that was in actual fact a sort-of grisaille airbag designed to protect the wearer should she fall over. Yes, really.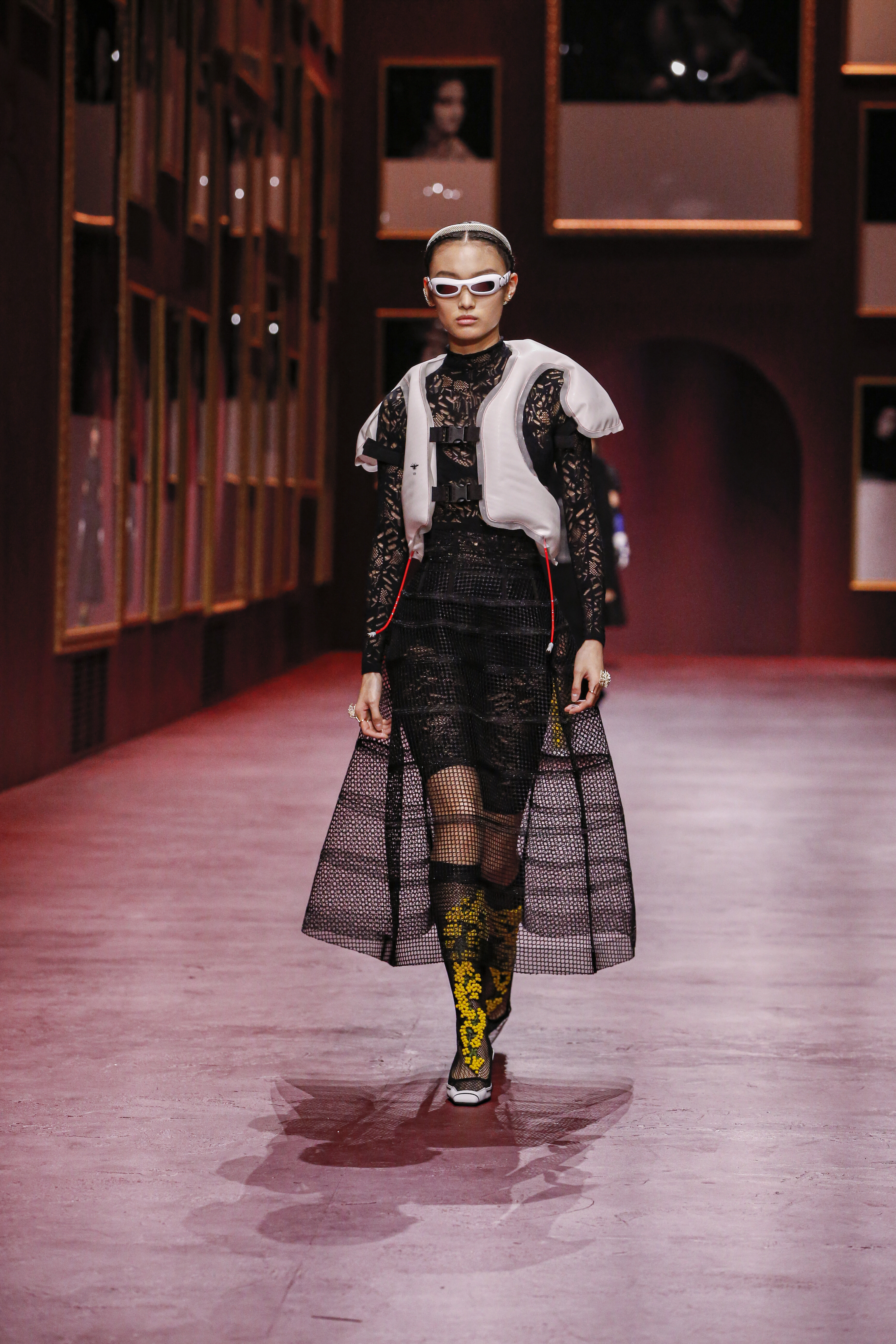 Why would she fall over, you ask? In the case of most catwalk tumbles, it's those damn high-heeled shoes. Fear not. The classic MGC-era Dior kitten heels came with "anti-twist" straps that protect against damage of, say, battling the cobblestones of Paris. If it looked extreme, that's because it was. Alongside the trusty tweed trench coats, asymmetrically-pleated skirts and diaphanous plissé chiffon gowns that are mainstays of Dior these days, the robotic-looking gadgetry gave the impression of female cyborgs with mechanised silhouettes. At times, it looked jarring, perhaps intentionally — after all, we're living in extreme times (!!!!) and bodies are more weaponised than ever. I guess this was Maria Grazia's way of protecting women's bodies from the literal and figurative risks at play in a patriarchal society. Or, a simpler explanation: Dior has recently appointed a bevvy of female athletes as house ambassadors; their high-performance training gear and equipment is having its influence.
Not to mention the metaverse and all that jazz. If the collection was about the capabilities — or even craftsmanship — of technology within the Elysian realm of Dior, then perhaps the most interesting facet was how ordinary things seemed in comparison to the techy fibres and armour-like padding. Plus ça change! Though it may be extreme in one sense, the abundance of Dior checks, pleated chiffon, dusky brocades and classically hourglass grey suiting insisted that the technological demands of "The Next Era" — the unofficial title of the collection, which came emblazoned across certain pieces — may have existed in strange harmony with the hallmarks of sartorial classicism. Come autumn, we may be wearing a body-mapping catsuit one minute and a Delphic chiffon gown the next. And when you think about how fragmented our social media timelines are, there may be some kind of prophetic message hiding in the seams of biker leathers, embroidered dresses and tech-y Lady Diors.
The set for the show offered some important context, too. A rich burgundy box with gallery-style walls piled high with artworks by Italian feminist artist Mariella Bettineschi, who digitises famous portraits of women throughout the ages (often painted by men) and recentres them as the ones looking out, rather than being gazed at. As ever with her feminist artist collaborations, which often unpack the male gaze, it set the tone for Maria Grazia's latest tackling of the legacy of Christian Dior, a man who arguably constricted women with his wasp waists and rigid corsetry. If the original New Look was all about encasing women into old-fashioned Edwardian ideals, the 2022 New Look is about protecting them through inflatable airbags, supportive ankle straps and temperature-controlled Bar jackets. Fashion at the precipice of an extreme next era.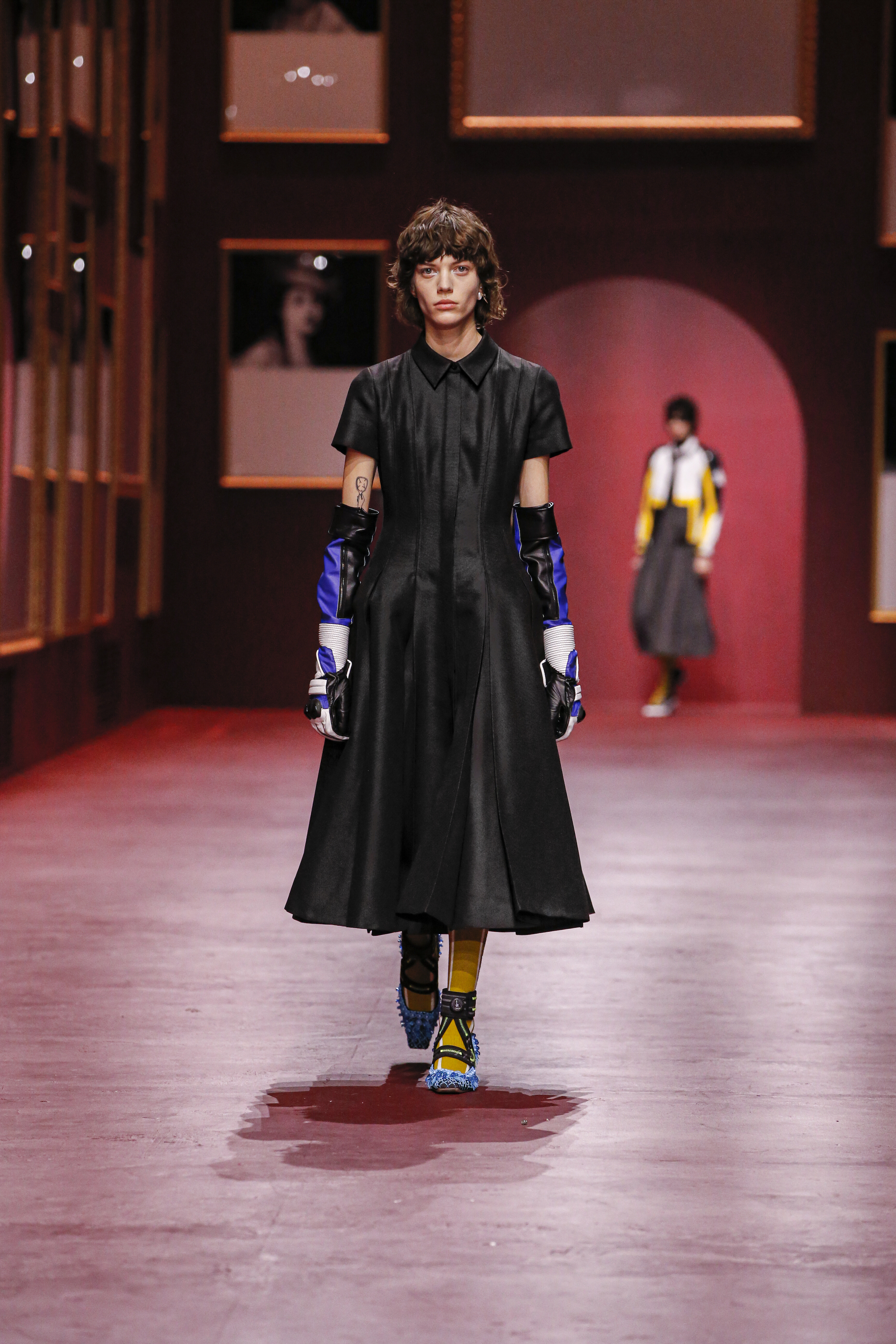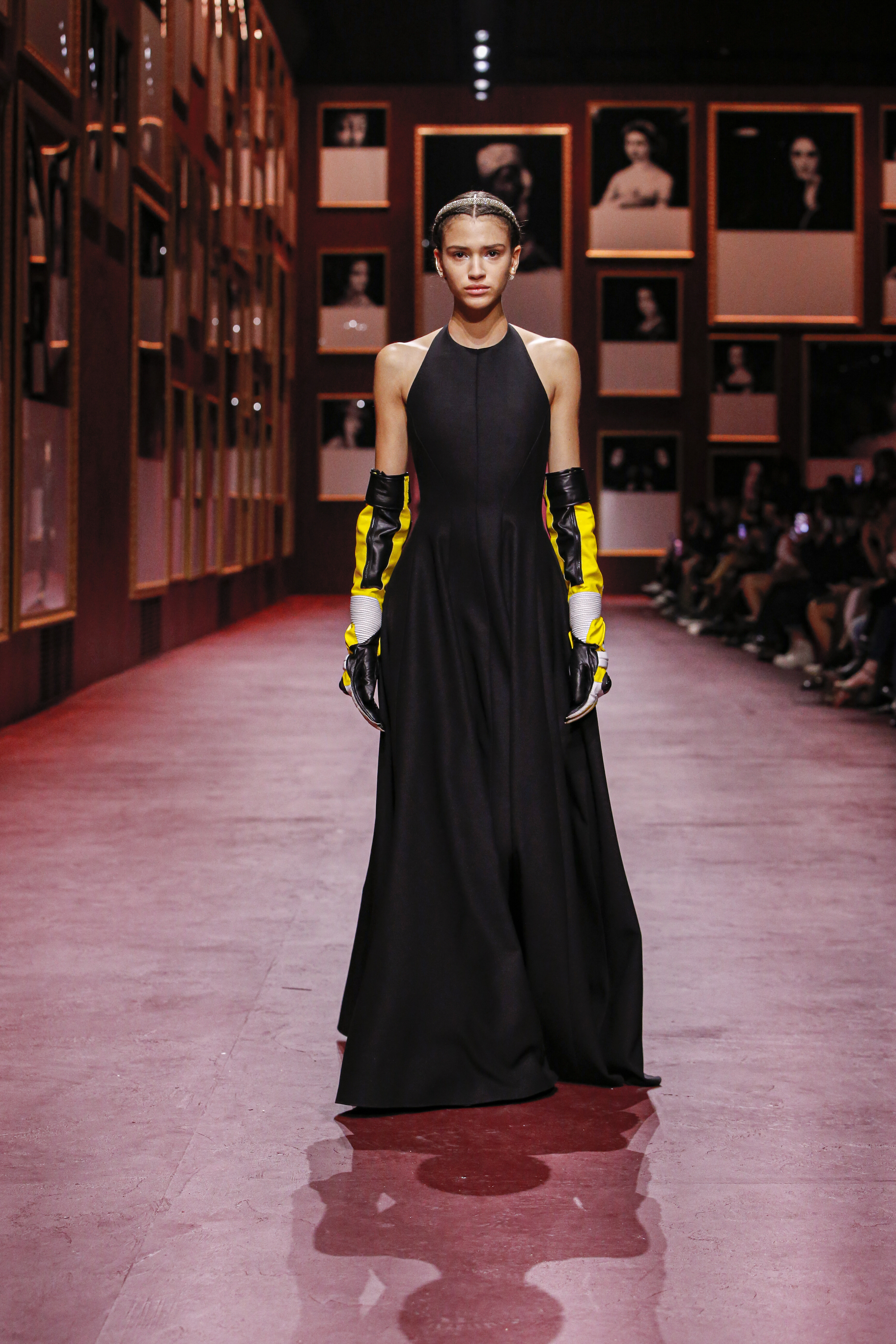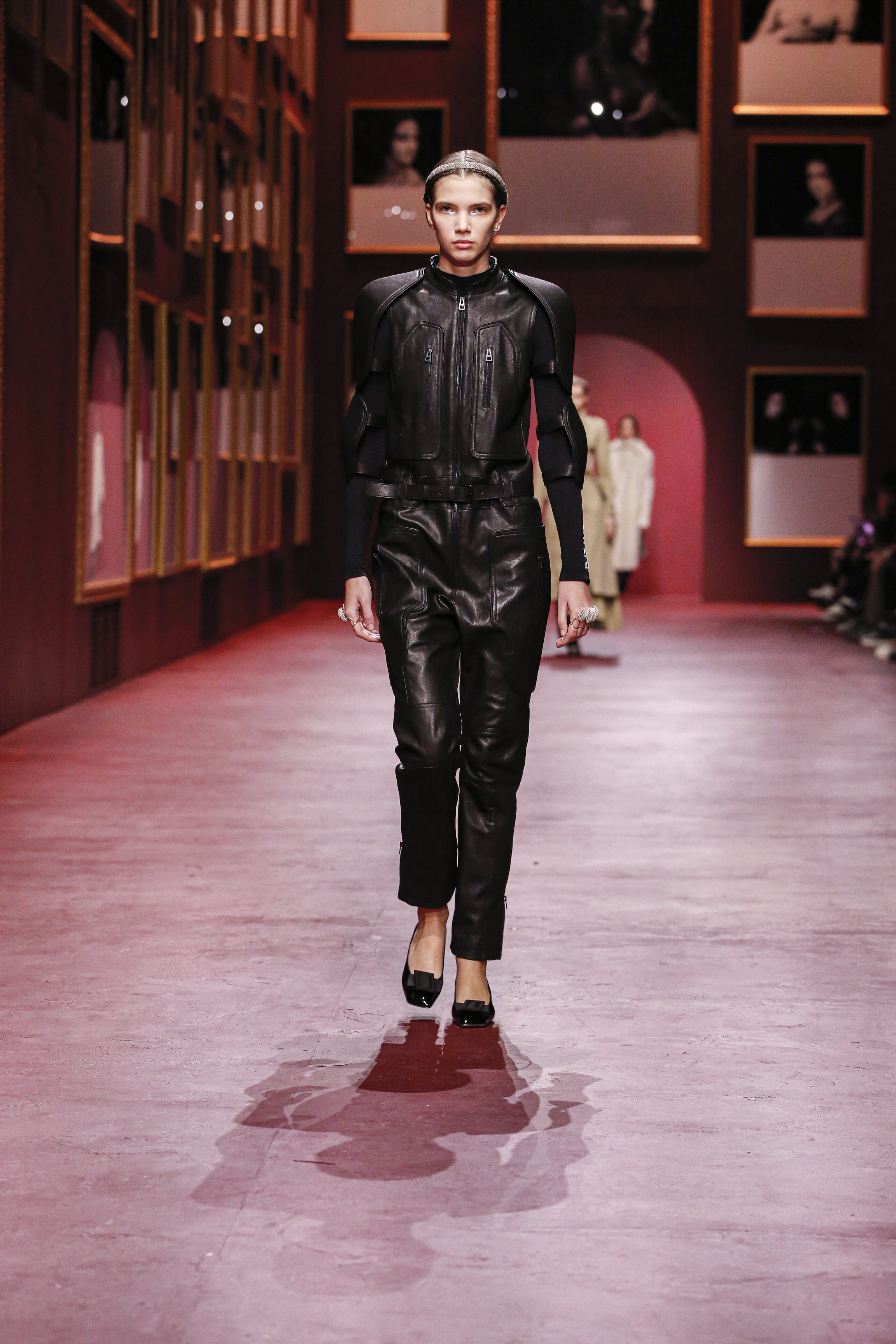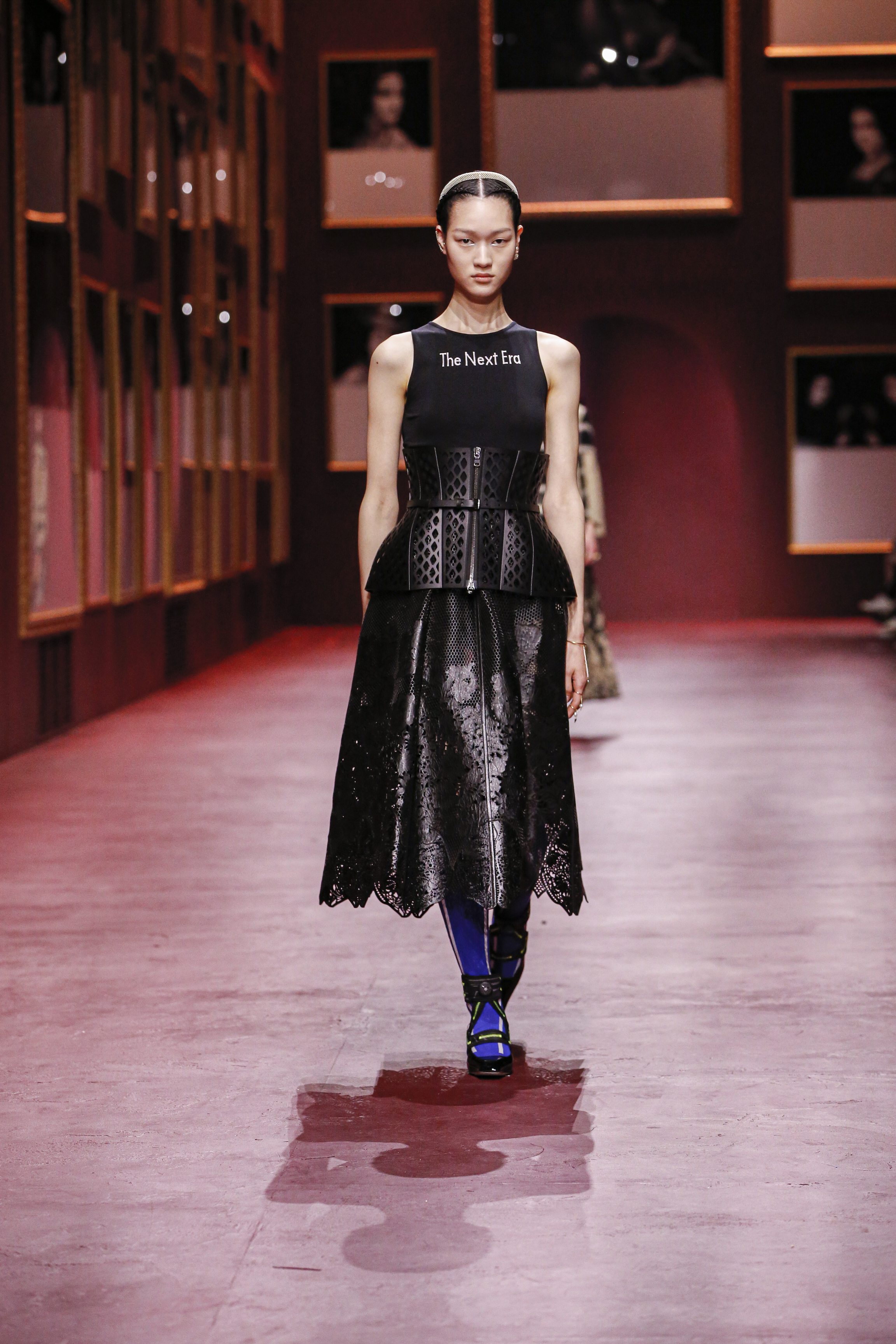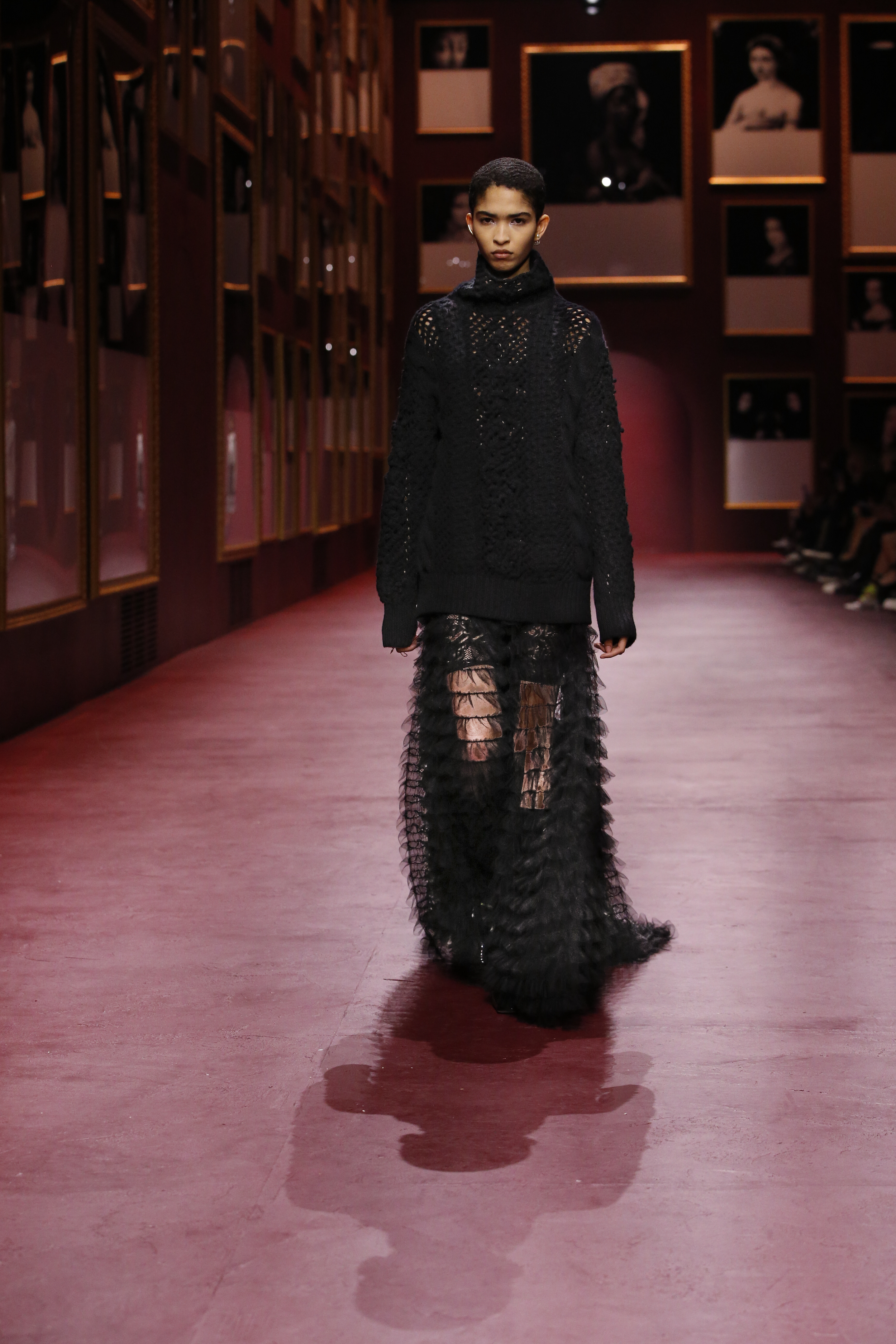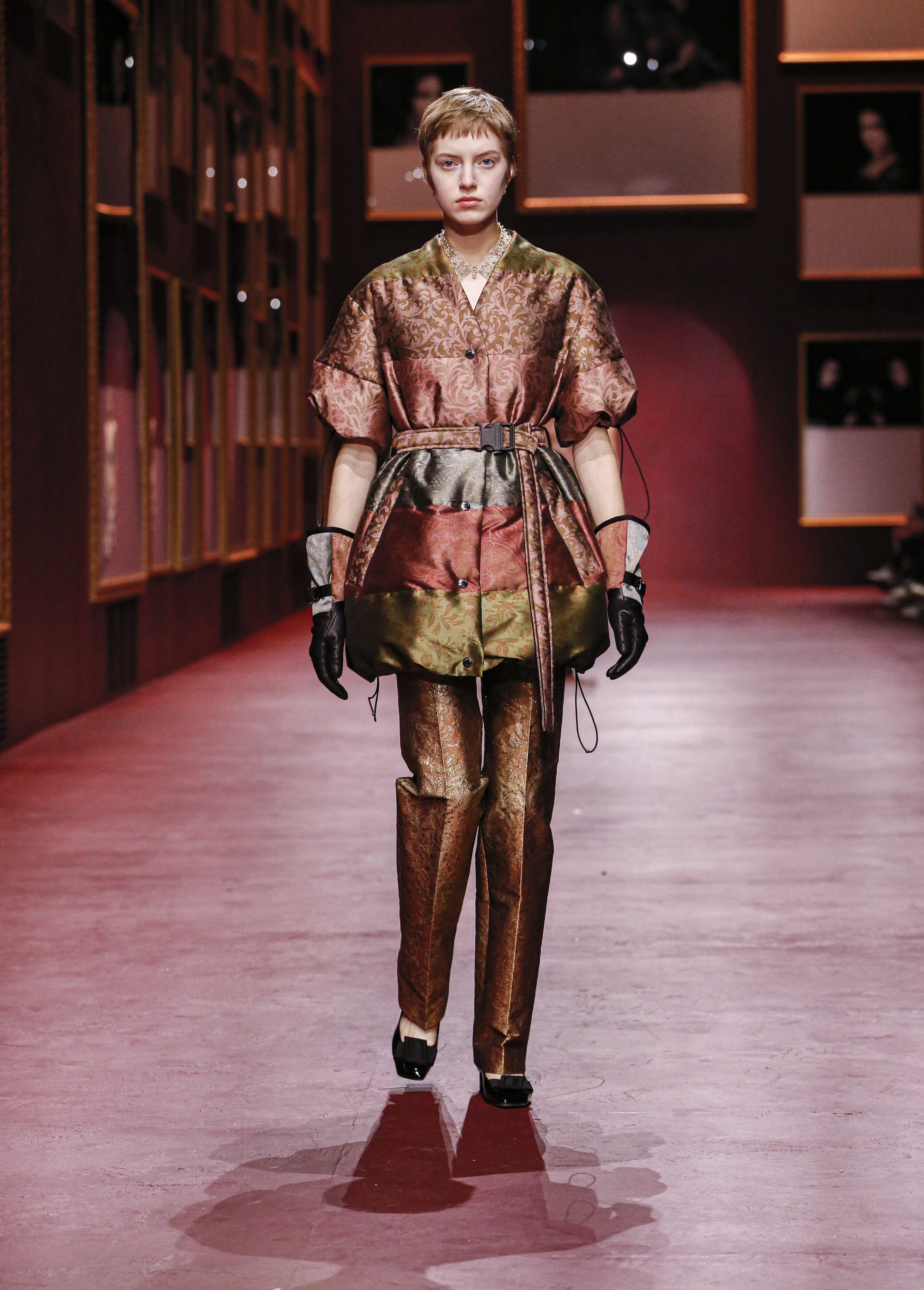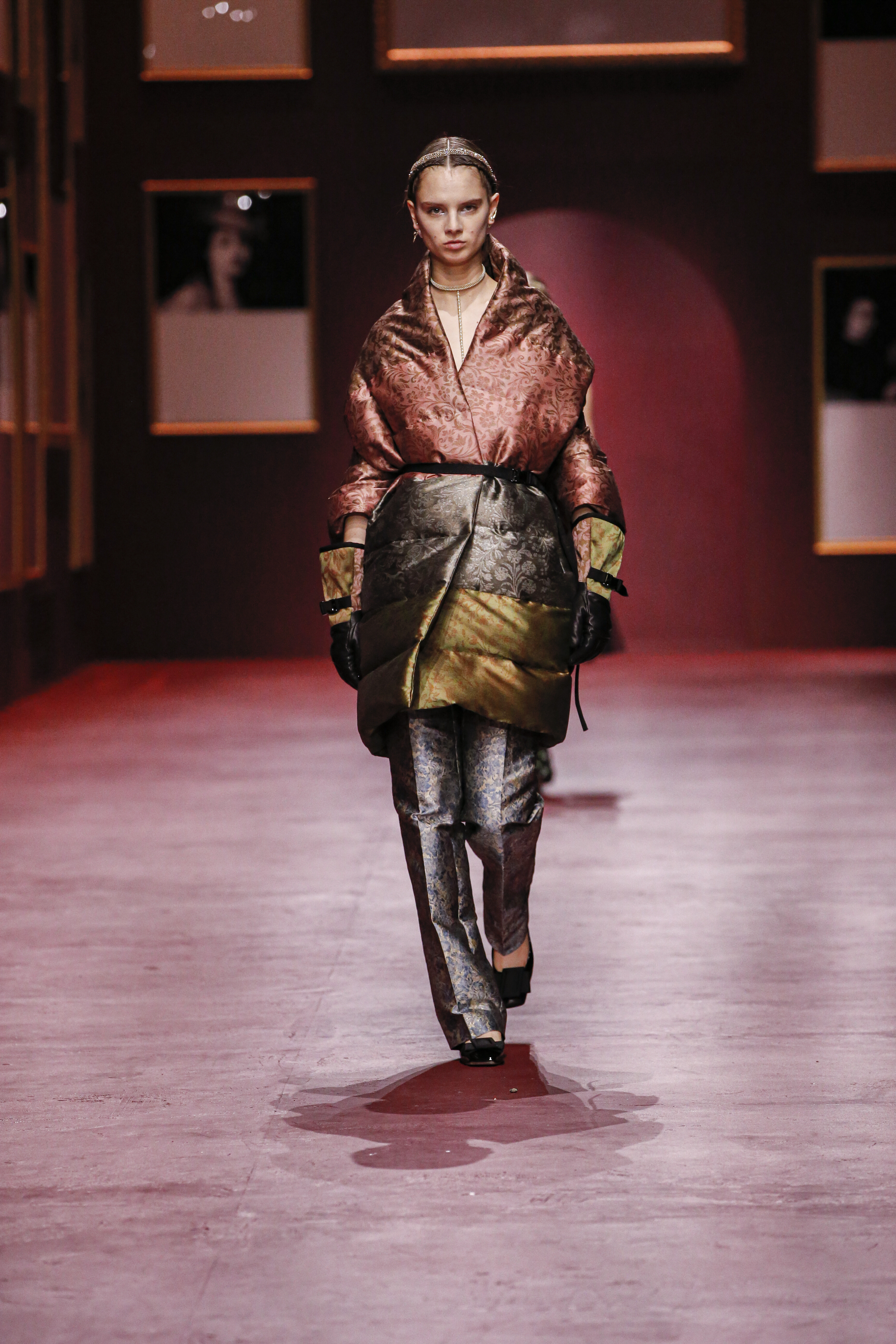 Credits
---
All images courtesy Dior