How Kim Jones defined the way a generation of men dress
The creative director of Dior Men's discusses his Beat Generation-inspired AW22 show and nurturing London's up-and-coming design talent.
This story originally appeared in i-D's The Out Of Body Issue, no. 367, Spring 2022. Order your copy here.
When Kim Jones arrived on the fashion scene in the early 00s, he offered himself as the synthesis of all of men's fashion history; someone with the ability to marry luxury to subculture, flamboyance to uniform. He could see a place where all these diverse and different aspects of men's fashion made sense together, and manifested it. Over the twenty years since, he has subtly and powerfully evolved and defined the way men dress while totally changing the wider culture both around men's fashion specifically, and luxury fashion in general.
He's done so by taking garments deeply rooted in both the traditions of menswear and the rebellions of subculture, and elevating them into luxurious items of desirability. He has taken from fashion history and made it modern and living, and if, in some lights, it appears hard to see what he does against fashion's frenetic backdrop, it is because he has set the template for everything else. His revolution seems so obvious and all consuming that it's hard to imagine a time before it existed.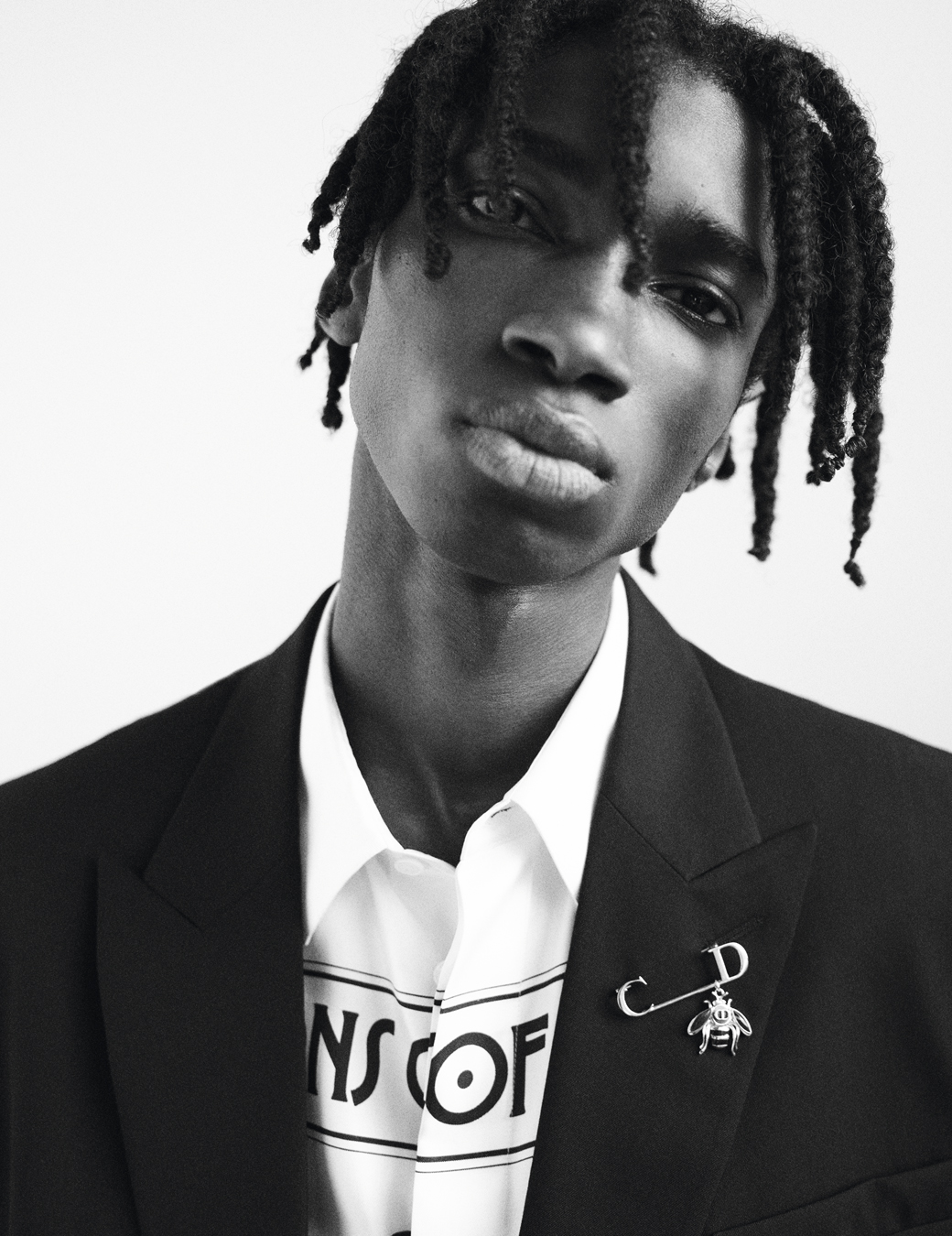 Fashion has always loved a moment of subcultural inspiration though, because it allows designers to directly address ideas of identity and belonging through clothing. Fashion is something that is beautifully and paradoxically both totally superficial and also about depth, feeling, truth, who we are. And this is true of subcultures, too. The idea that the right shoes or the right jacket or the right haircut could totally transform you, give you access to some new world where everyone feels the same as you. Punks, ravers, goths, grungers, junglists, B-boys, and their coded garments and associated lifestyles have all been repurposed by the fashion industry over the years, some quicker and more endearingly, some more problematically, than others.
In December 2021, Kim returned to London for his first show since 2003, and he also came back to the beginning of it all – to the first subculture – and used the Beat Generation as his source material for his Fall 22 Dior collection. As he entered another new chapter, with his first job in womenswear at Fendi, it felt like a neat, circular moment, almost one of taking stock, if Kim wasn't so relentlessly and continually moving forwards.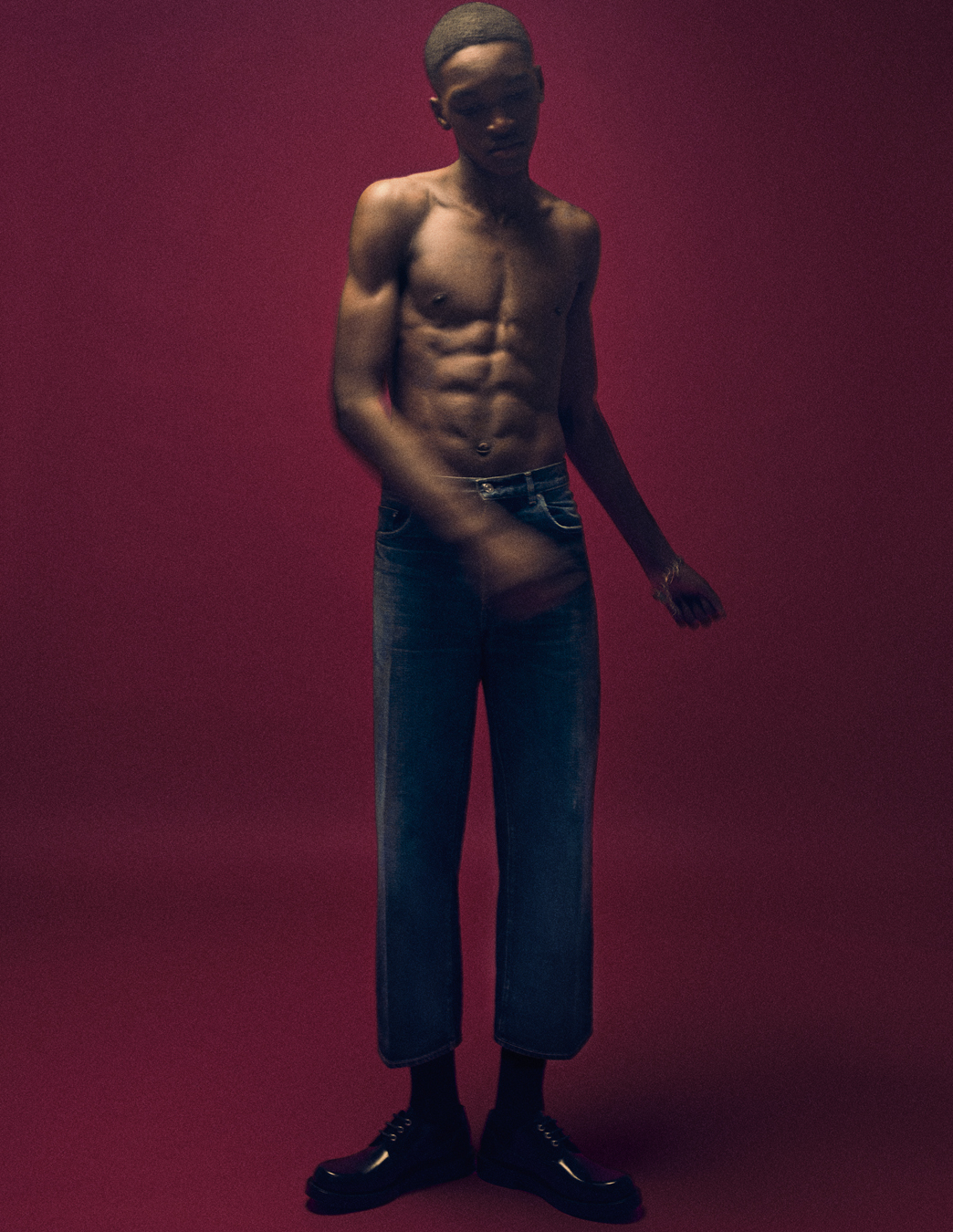 It's easy to draw a through-line in culture that stretches from the Beats to the Hippies, to the Mods, the Punks, New Romantics and Ravers, Britpop and Grunge, and all of these are all things that Kim has spent his career exploring, looking into, finding inspiration in, and pulling – with sympathy and obsession – into his work in luxury fashion.
"I think Jack Kerouac and Christian Dior had these simultaneous lives. They changed people's perceptions of the world." Kim Jones
We are talking in Bloomsbury — another Kim Jones obsession — the day before the show, in early December. It is torrential with rain outside, and chaotic with Christmas shoppers, but Kim is calm, even after the end of a long day of fittings and previews. He has his OBE pinned on his sweater. Earlier in the week, he had picked up another award from The Fashion Awards, for his work with Dior and Fendi over the last twelve months. "I don't know if it means anything," Kim says, "But it's nice to receive."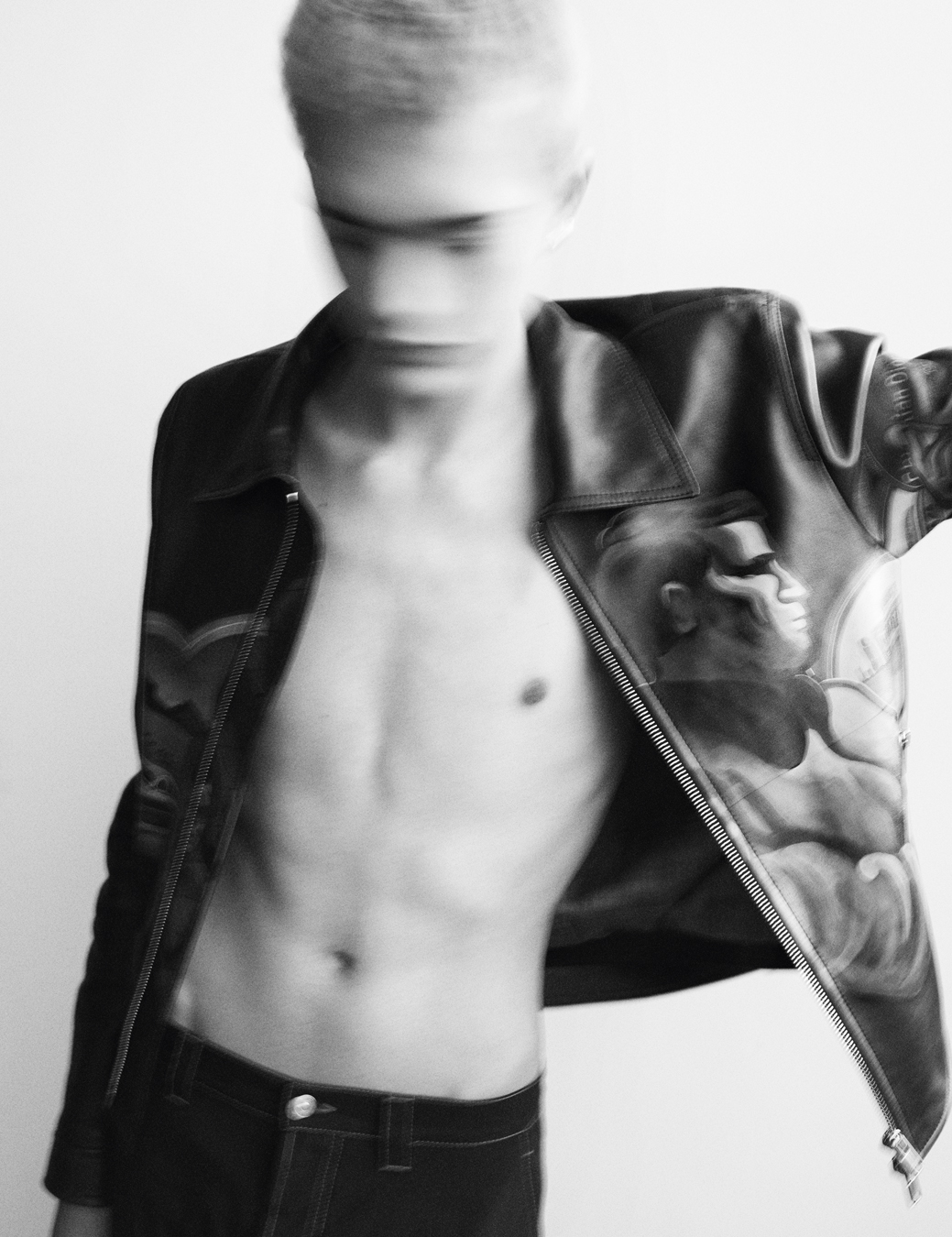 Which is very humble – a humility which could cloud understanding of Kim's success, were it not for the fact that he is visibly dressing a generation of men. So often, fashion is designed not to be worn, but to be a statement or a concept – but Kim's work is of the sort that you actually see people buying, wearing, and loving.
"I think that's why I always find it hard talking about collections," he says, "because we finished this six weeks ago, and I've designed seven collections since then. I'm used to just next, next, next. So success? You do something and you get marked on it, people critique it, but I don't know how much relevance that has anymore. I don't know if the press or the reviews sell clothes. Success to me is seeing people buy the clothes and wear them. They're not cheap things – people spend a lot of money on them, and so if they buy them it's because they like them. Seeing someone I don't know wearing something I've designed is the biggest compliment I could get."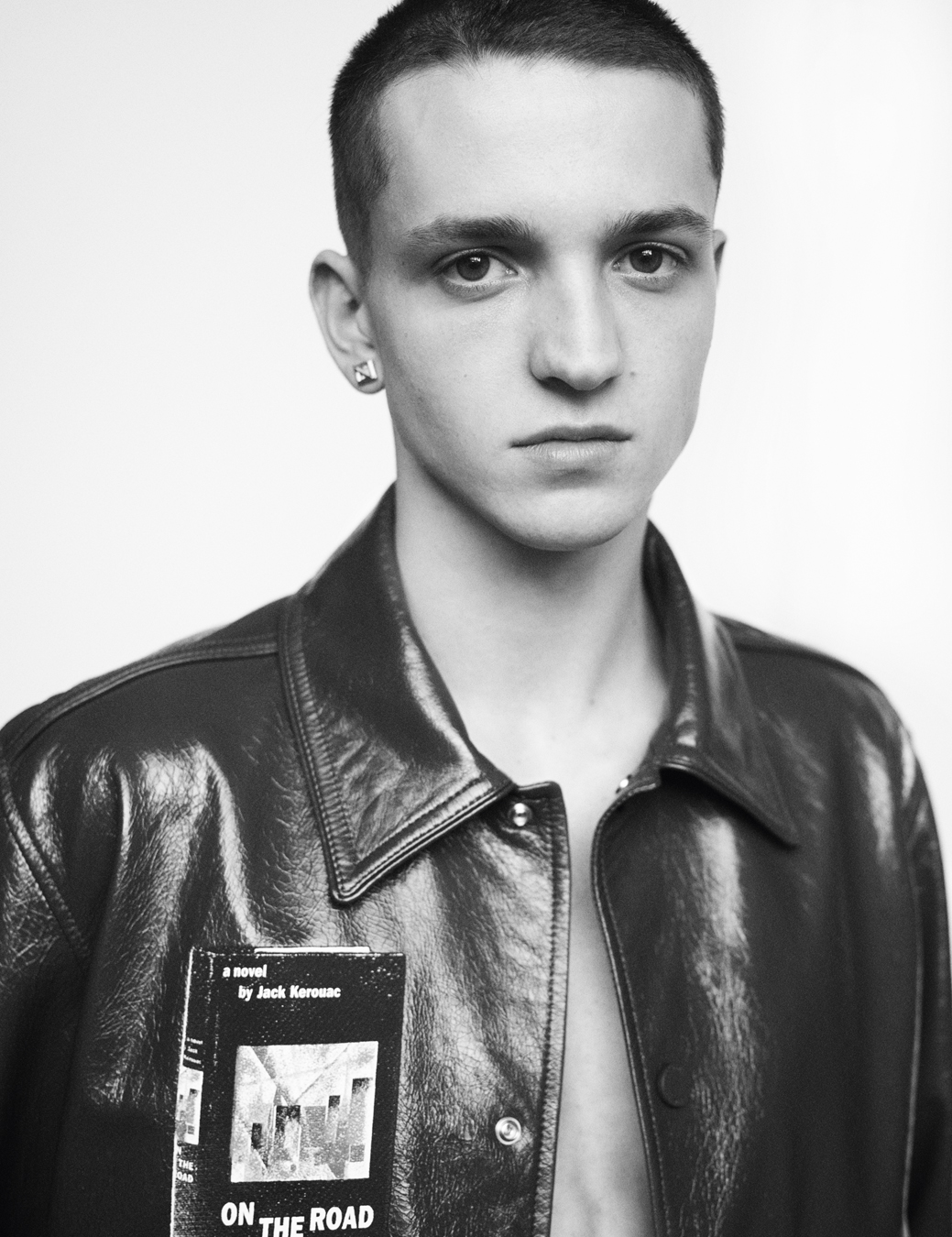 If his clothes are loved and worn, it is down to his ability as a communicator and collaborator, and as someone who can pinpoint and expand upon cultural connections and wire them into the current moment. That sentiment has rested at the heart of his vision for Dior, where Jones has sought parallels between Christian Dior's interests and his own, rooting the fascinations of the house's founder in contemporary climes. He's done that with collaboration, primarily, to build this creative world around his Dior, finding inspiration in Christian Dior's time as a gallerist, before he was a designer, to create an air of the artistic salon around the house, a space for creative cross-field cross-pollination, whether that has been working with Peter Doig, Raymond Pettibon, Shawn Stussy or Amoako Boafo.
This idea of collaboration is something he has always promoted and pioneered. His Louis Vuitton x Supreme collection still stands as a highwater mark, an exemplar – something that has helped define the way men wear clothes – in destroying the boundaries between luxury and streetwear, or at least not seeing them as relevant anymore.
But you could also look to his collaboration between Louis Vuitton and Christopher Nemeth too, for another encapsulation of Kim's personality. By offering up the weight of LV to a not-quite-forgotten, yet unjustly overlooked designer like Christopher Nemeth, Kim used the height of his platform to shine a light on Christopher's work; both to help Christopher's house and family financially, while also giving this designer his long-deserved moment. There is nothing Kim loves more than to share the spotlight with those he loves.
He is a connector, and the connection to be made in London for this show: Christian Dior died in 1957, the same year that Jack Kerouac published On The Road. Both were involved in the emergence of a new kind of "cool" in the 50s, both burned brightly and have left a huge influence in their wake. The Beats set the template for revolutionary youth culture; Christian Dior for the revolutionary new movements in fashion. Yves Saint Laurent, after Christian's death in 1960, showed his own Beat Collection for the house, and he shocked and scandalised with the first Couture leather jacket, embossed with crocodile patterns and lined in mink. For Kim, the inspiration for it, the root, comes from the example of the eternal radicalness of youth.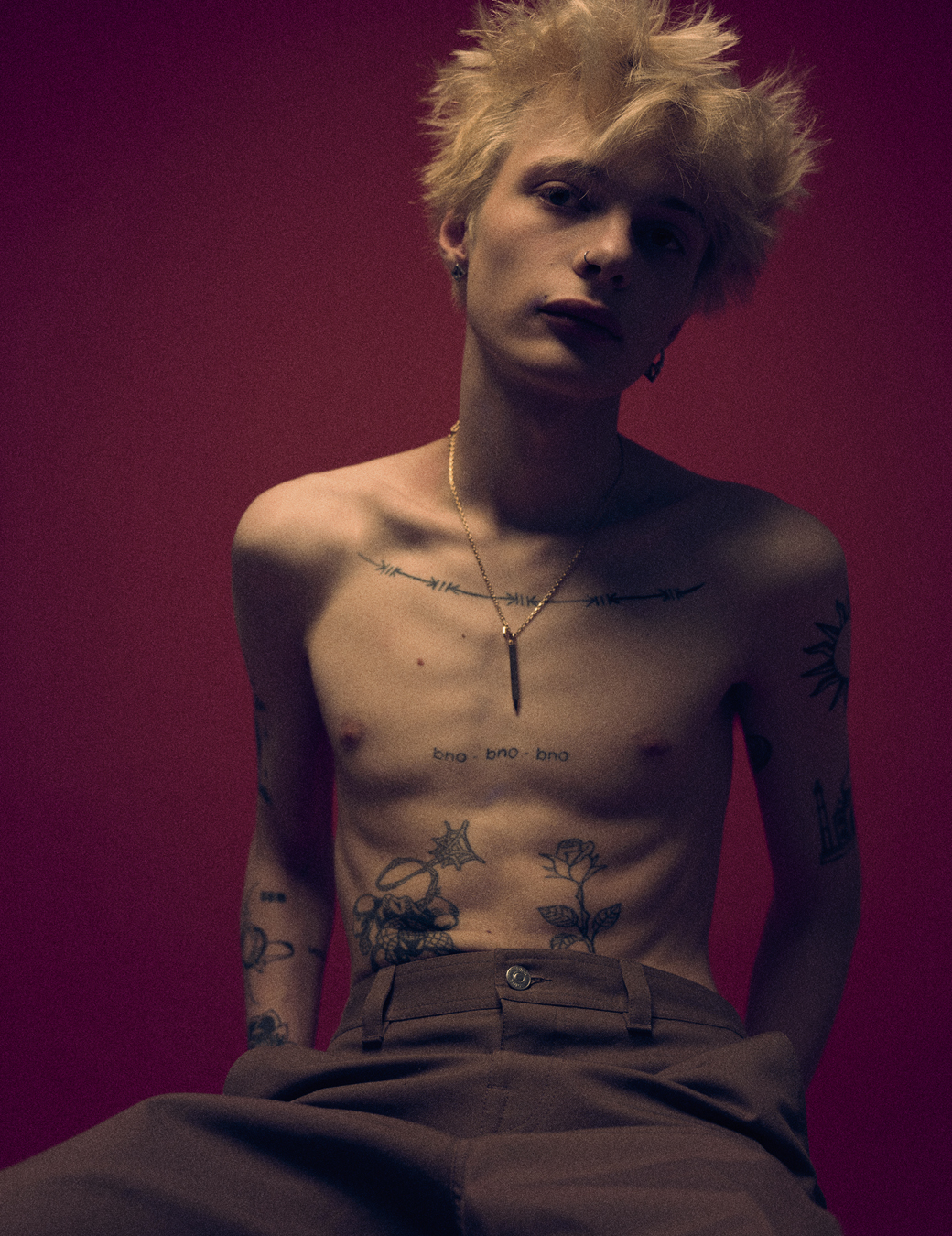 "Both Christian Dior and Jack Kerouac changed people's perceptions of
the world," he says, quite simply. What Kim does so well, is that he has the ability to take these two moments – this historical inspiration – and draw it into the present moment, making it modern. So this is a collection about the 50s, but it looks new, it looks now: "It's 2022 and not 1962," he says. But he looked to the wardrobes of Jack Kerouac and Allen Ginsberg, classic American sportswear, preppy Ivy League-ish style and the outdoorsiness of Big Sur.
The new, emergent youth cultures, were still embryonic and the Beats were the originators, mixing jazz, Buddhism, poetry, drugs, adventure, rebellion and creating new ways of living, a new kind of America, and Kim find places where these concerns overlap with his own aesthetic concerns, and elements drawing from the Dior archive.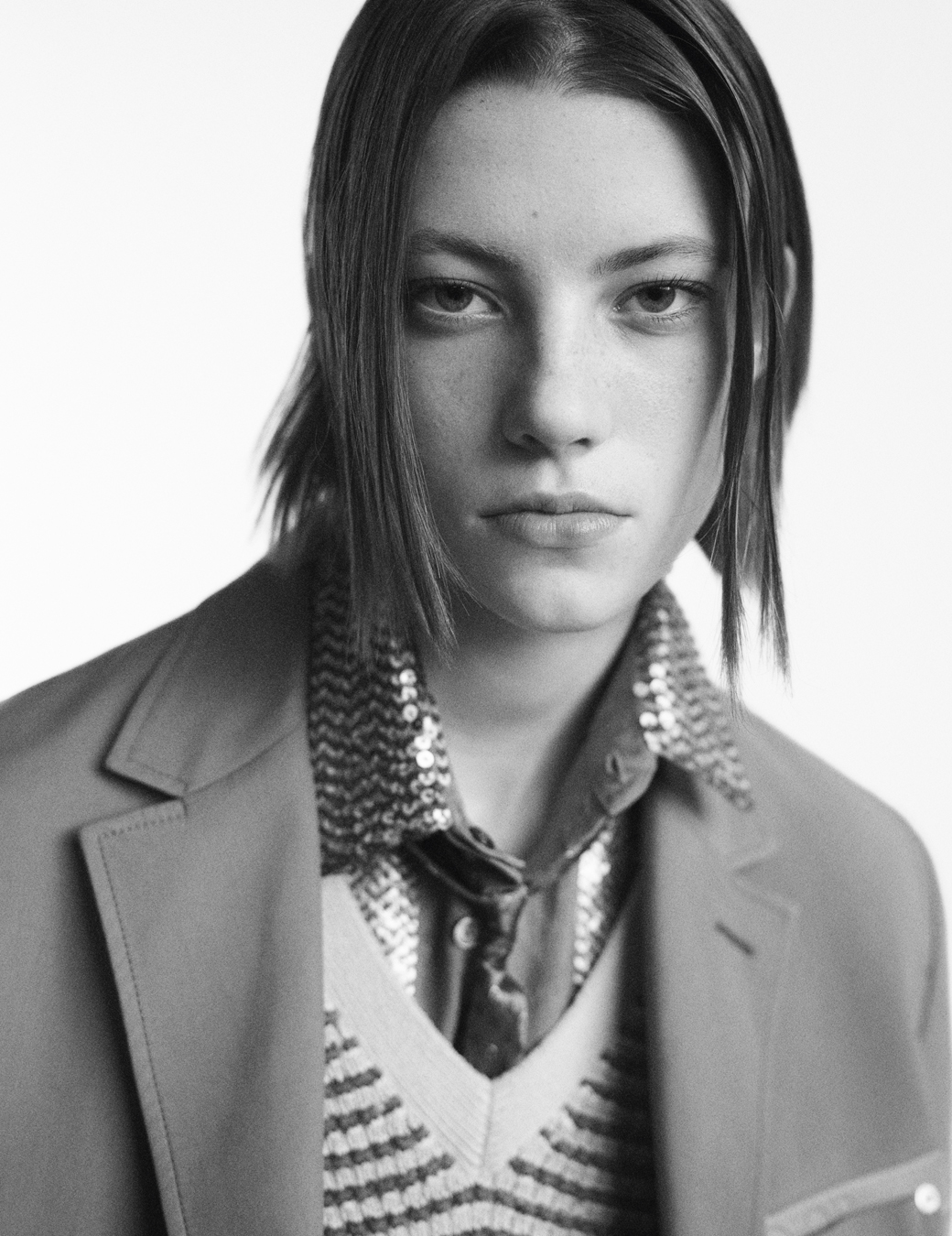 "The Beats were so free-spirited, and I wanted the collection to feel like you had all these clothes in a suitcase – stuff from both the Beats and the Dior archive – and you can pull them out and wear them in different ways for each look."
"Society was so conservative then and I think the Beats helped break that down," he continues, on the relationship between Dior and the creative set. "Especially with the youth culture in Paris, for example, which was really the thing that Yves was looking at in his 1960 collection. I think Jack Kerouac and Christian Dior had these simultaneous lives, which was interesting to me, you can tell a story with it."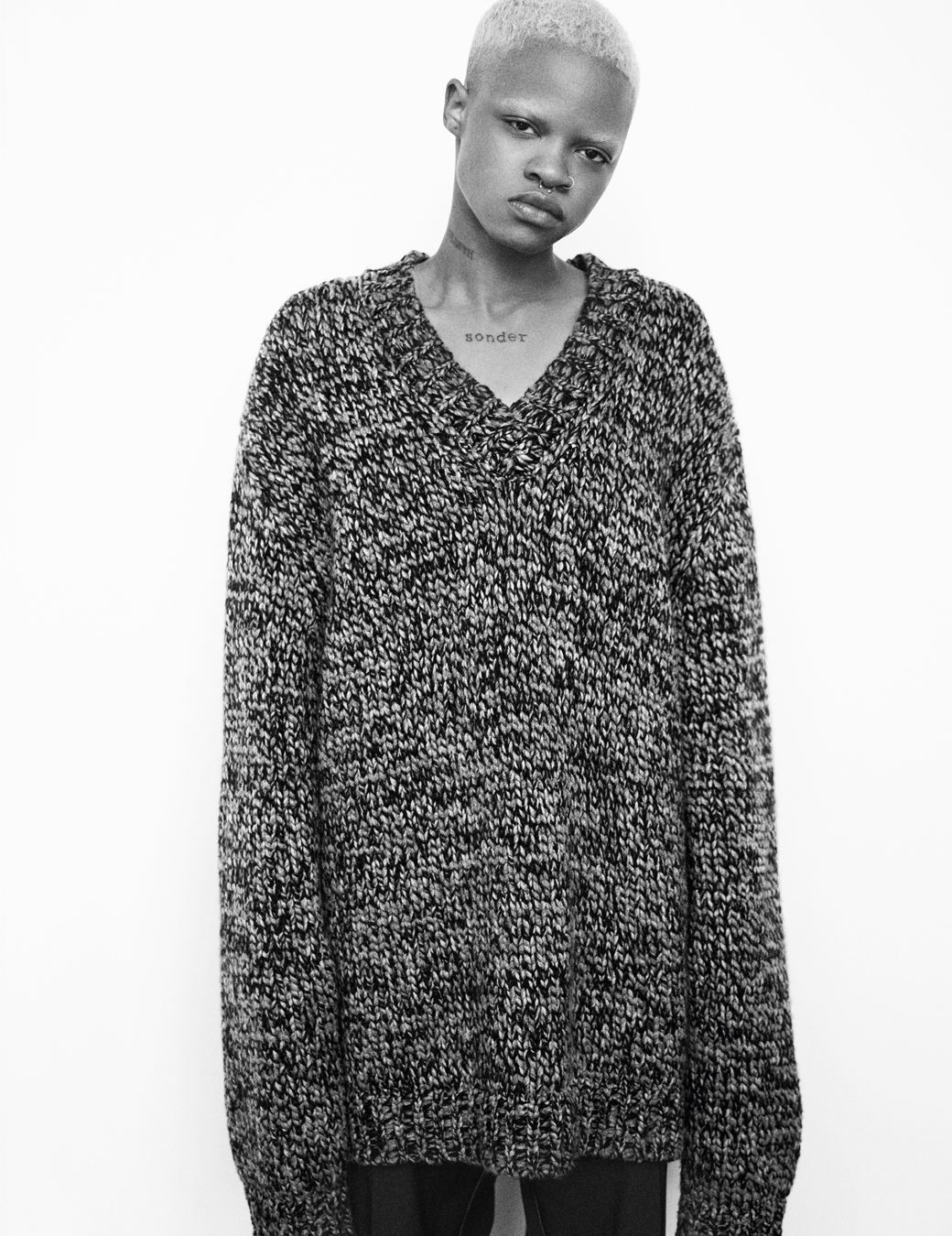 The story unfolded on the runway across a blown-up facsimile of the On The Road manuscript, famously written on one long continuous scroll of paper over three weeks. Kim enlisted his friend Robert Pattinson to read excerpts from On The Road over the soundtrack. He also displayed his own personal collection of Beat-related artefacts at the show, held at Kensington Olympia, tracing links between various elements of the emergent counterculture.
Kim is famously an obsessive collector – an "organised hoarder", as he puts it. He collects everything; fashion, clothes, ephemera, art, paintings, books, and manuscripts. He'd spent lockdown at home in London, and his collection has proved a valuable source of inspiration for his work over the last few years of pandemic-enforced solitude. After all, pre-lockdown, Kim was also, famously and quite literally, on the road himself – for most of the working year, and throughout most of his life, too. Travel has long formed an integral part of his inspiration, especially at Louis Vuitton. His father, a hydrogeologist and thus a lifelong traveller, died last year, and that also inspired him to organise his collection – perhaps somewhat morbidly, but also entirely pragmatically. He is in possession of some very important pieces – first editions of books, artworks, whole archives of clothing – and he wanted to catalogue exactly what he has, and make plans as to what might happen to it after him, whether that is an artwork by Vanessa Bell or a club-used Leigh Bowery look.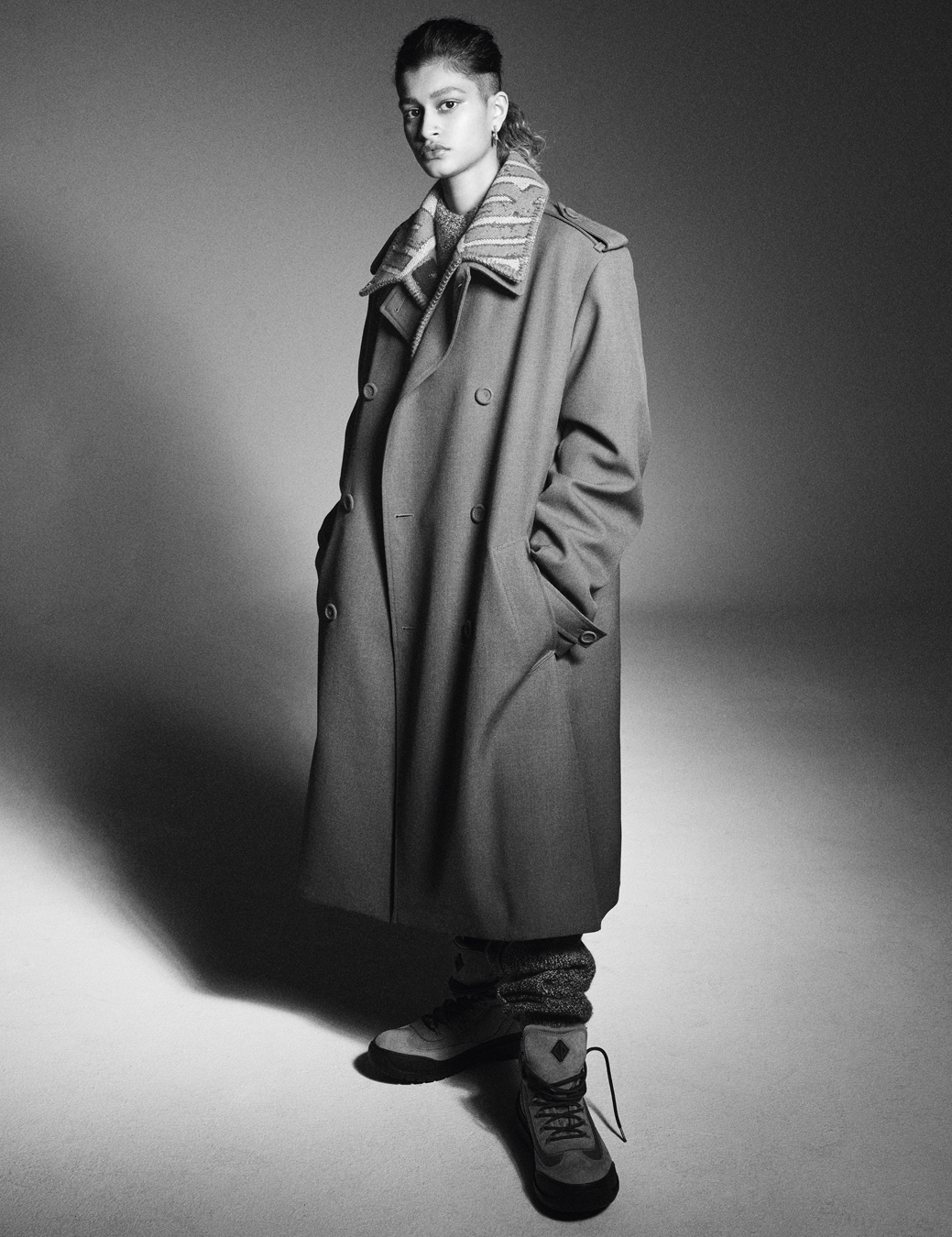 "Before the lockdown, I was living between London and Paris, and everything was everywhere. I wanted everything in one place, so I knew where everything was. During the first lockdown, I organised everything in my house. There was a point where I think everyone was quite relieved they could stop for a bit – I'd been flying around the world non-stop for fifteen years, so it was nice to have a bit of a break. Then I think everyone got a bit depressed, and it really became about focussing my time into being productive." But lockdown also led him back to London, and showing there for the first time since 2003. "We've got a slightly bigger budget now," he says; it's a long way from showing with Lulu Kennedy's MAN showcase, or having his friend Marios Schwab design a womenswear collection to be shown alongside his menswear in order to even get on the LFW schedule.
"It's nice to actually be able to invite kids from Central Saint Martins to come, and to invite young designers that I really admire to come, because they've gone through a really hard time. And I speak to lots of them, I give them advice and help them, and I give them money and do whatever I can to keep them going. I think I have a responsibility, as someone who has done well, to see the next generation do well, too." A statement indicative of Kim's renowned openness and generosity. "But London for me is like a force of energy," he continues. "I love all the young designers and all the extreme talent, and you see things here that you wouldn't see in other cities."
It's also approaching the twentieth anniversary of his debut in fashion, with
his CSM MA collection, but Kim isn't someone to look back and reminisce about how much fashion has changed, or how he has played a formative role in its evolved narrative. He says, simply, his main inspiration for becoming a designer was in order to create a creative world around what he does – something he couldn't have done if he was a photographer or a graphic designer. And that is something he has has successfully achieved and by doing that he has been able to combine very different stylistic worlds. He's brought the counterculture and subculture into luxury, not just superficially either, but in a way that has also changed luxury totally; in its shapes, forms, its sense of itself, and how a luxury garment feels and looks and makes you feel too. These were separate worlds but now they are one.
"I'm always looking forward," he says, refusing this impact. "I have plenty of key Kim Jones looks at home. I have key Vuitton looks. I have some of the Dior stuff, but if someone comes around and loves it and it looks good on them, I let them keep it. I'm not precious about it. You can't have my books, but you can have my designs."
Follow i-D on Instagram and TikTok for more on fashion.
Credits
---
Photography Karim Sadli.
Fashion Alastair McKimm.
Hair Michael Harding at Streeters.
Make- up Lauren Parsons at Art Partner.
Nail technician Simone Cummings at CLM.
Set design Julia Dias at Canvas Represent.
Photography assistance Antoni Ciufo, Shahram Saadat and Ben Turner.
Digital operator Edouard Malfettes at Imagin Productions.
Styling assistance Madison Matusich and Marina de Magalhaes.
Hair assistance Michael Pitsillides and Ryunoshin Tomoyose.
Make-up assistance Anastasia Hess and Eddy Liu.
Production Ragi Dholakia Productions.
Casting director Samuel Ellis Scheinman for DMCASTING.
Casting assistance Helena Balladino and Alejandra Perez for DMCASTING.
Models Anton Blomberg at Nisch Management, Dana Smith and Kyra Kaur at Storm, Jim Bannister at Named, Jorben de Jonghe at Imm, Khalifa Saliu at Chapter, Lars Jammer at Rebel, Moses Kamanga at Brother, Tunji Obembe at Forte.
All clothing, accessories and shoes (worn throughout) DIOR Fall 22 men's collection.