All images courtesy of Getty.
7 of Julia Fox's most iconic outfits
From 'Uncut Jammmms' to New York Fashion Week, Josh Safdie and Kanye West's muse has always been a style icon.
|
18 February 2022, 8:00am
All images courtesy of Getty.
Is there anyone more talked about than Julia Fox right now? The muse of Josh Safdie and the artist formerly known as Kanye West, has been bringing provocative, sexy moments to New York City's fashion scene for nearly a decade now but it was during her whirlwind relationship with the Jeen-yuhs artist over the first two months of 2022 that some of her most iconic, viral moments have occurred. Despite the relationship with Ye now being a thing of the past, over New York Fashion Week AW22, Julia has shown that she hasn't finished turning our heads.
Tbh, we wouldn't expect anything less from Julia. Born in Milan before moving to NYC as a child, the star's early career began working as a shoe store clerk and ice-cream server as well as a dominatrix. In the early 2010s she made her mark with her own fashion label, debaucherous photo books, a Playboy cover and controversial art shows before making her acting debut in the acclaimed crime thriller Uncut Gems. Since, Julia has continued to write, produce and star in movies that provide insight into modern day sex work whilst becoming a mainstay on the front row of runways, sometimes even walking it herself! Here, we look back at some of Julia's most iconic outfits.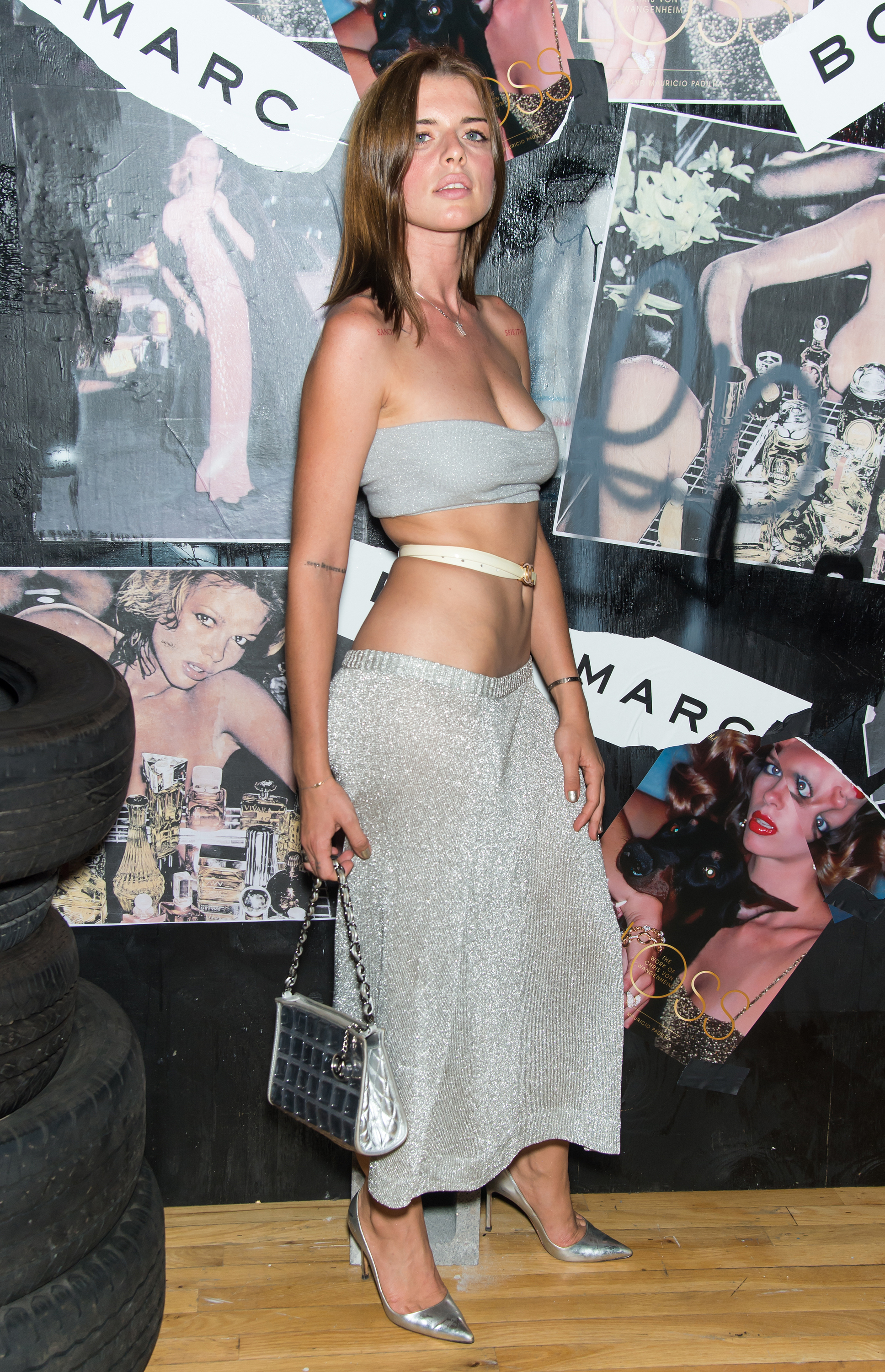 At a Marc Jacobs Fashion Week After Party, 2015
By 2015 Julia Fox was already becoming known as a fashion-slayer having co-founded the sexy knitwear brand Franzia Fox that adorned the bodies of Kylie Jenner and Lindsay Lohan, releasing intensely personal, sometimes NSFW photo books, and starring on the final nude cover of an about to be rebranded Playboy. No wonder then, she was invited to a Marc Jacobs event where the strict dress code was: "dress to kill". At the party, to celebrate the new book Gloss: The Work of Chris von Wangenheim, she wore a shimmery yet understated mint green bandeau top with a matching skirt and white leather Chanel belt as she spent the evening with Solange Knowles, Laverne Cox, Bianca Jagger and RuPaul's Drag Race's Milk.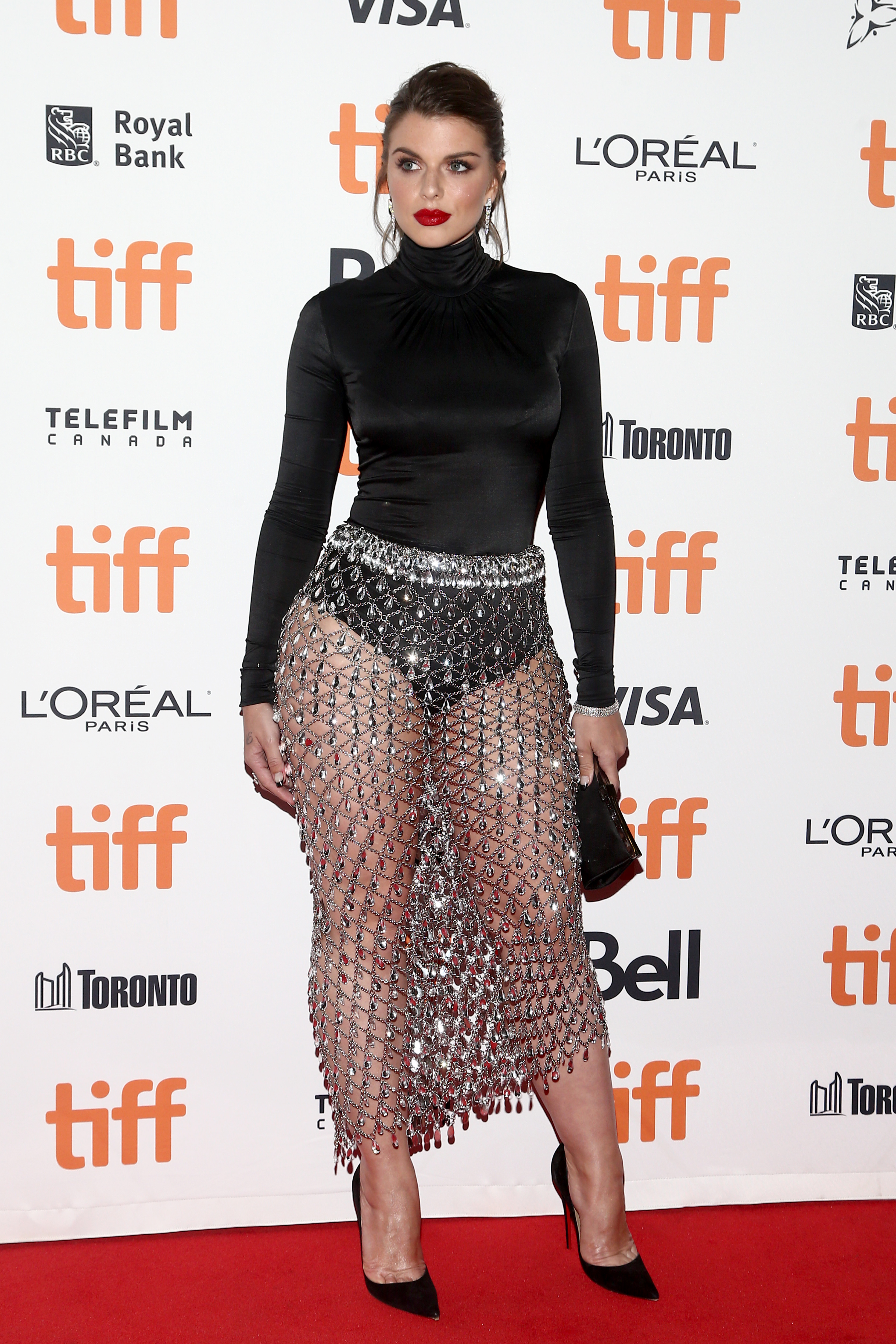 At the Uncut Gems premiere, 2019
While she may have already established her fashion credentials, the acclaimed 2019 scammer thriller from A24 is what put Julia Fox on the cultural map. In her first ever movie role, Julia plays Julia, the employee and mistress of jeweller and gambling addict Howard Ratner played by Adam Sandler. Arriving at the Toronto International Film Festival for the movie's premiere the star wore a svelty bodysuit with a sheer crystal-embellished net skirt by Paco Rabanne. The film would go on to be a cult classic, leading to Julia being nominated for multiple awards and being cast in more sexy crime thrillers, but mainly we're just obsessed with the way she pronounces the movie's name.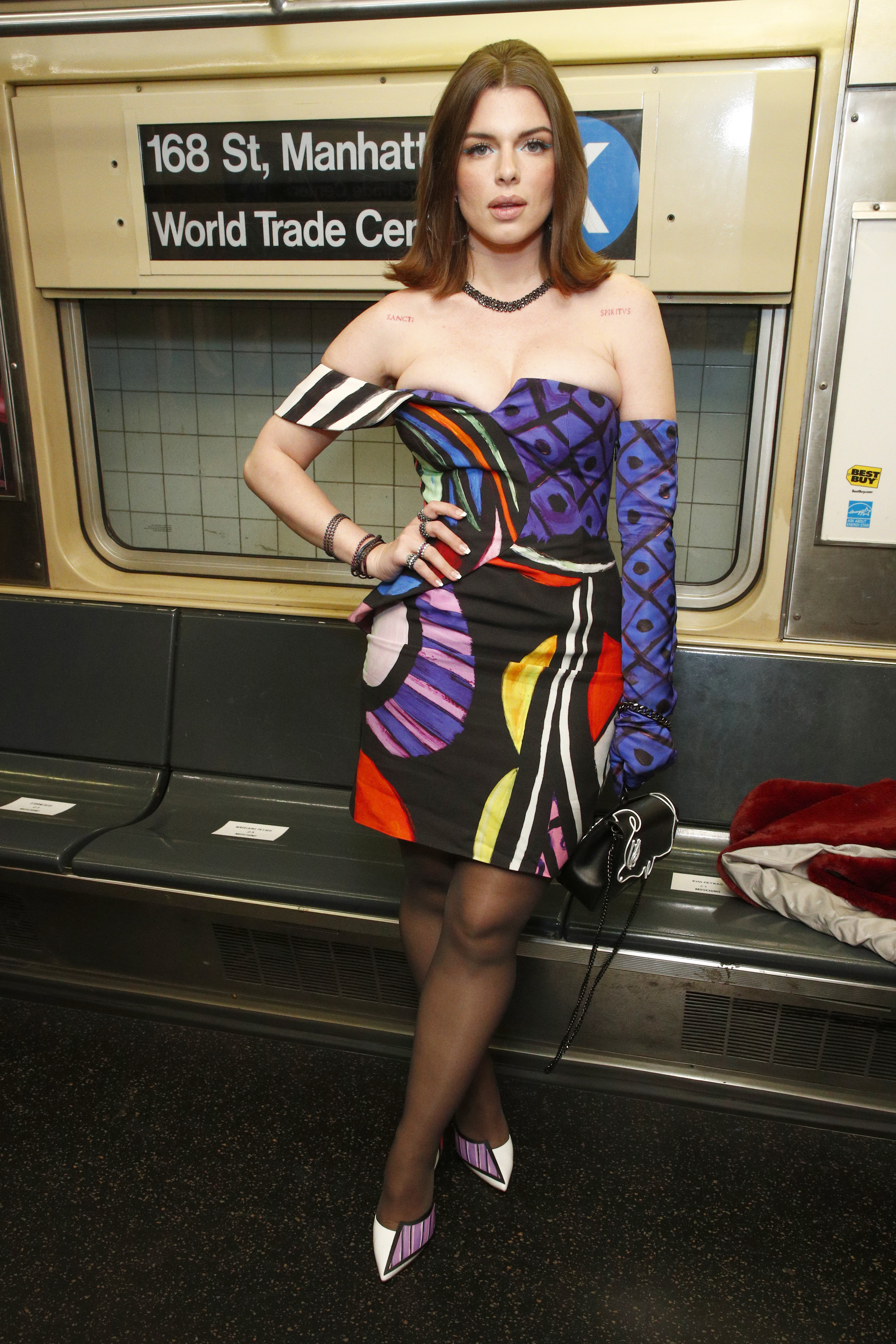 At the Moschino pre-fall 2020 show, 2019
Remember that Moschino pre-fall slash menswear 2020 show set within a replica of an NYC subway train? At the time, i-D called it "Jeremy Scott's over-the-top love letter to New York City, reflecting all the things that make the Big Apple so great." Well, sitting in one of the metal benches fixed to the carriage walls was Julia. Wearing a pop art style patchwork dress from the famed colourful Italian house as she posed for pictures with Aquaria, Kim Petras, Kasey Musgraves and Riverdale's Madelaine Petsch.
At a Jean Paul Gaultier party, 2021
When Julia turned up to the launch party of Jean Paul Gaultier's "Scandal Homme", she was channelling the signature look of the luxury French house's perfume bottles with her sheer striped bodycon dress. Little did we know that in a few months time the actress would become the name on everyone's lips.
At Kenzo AW22 show, 2022
One of the best things the Y2K nostalgia trends of the 2020s have brought with them is the return of chaotic celebrity couples. We don't want to see the stars of today have normie relationships and wholesome dates. Give us an impromptu mid-restaurant photoshoot (Julia and Ye) and unhinged emo engagements that sound like they were written by a Twilight fan on Tumblr in 2008 (MGK and Megan Fox). But with the cursed rich people dating drama, there's also been the comeback of iconic couple couture. Turning up to the menswear AW22 show of the rebranded Nigo-era Kenzo, new lovers Ye and Julia stepped out of their car in matching double denim looks, a nod to the famed 00s look of Britney Spears and Justin Timberlake. Kanye was of course in Balenciaga while Julia's denim trousers and boots were by designer of the moment Glenn Martens. Julia's look also paid homage to Madonna, with her cropped denim jacket embellished with spiralised jean boob cones (joob cones?) by Schiaparelli referencing the Jean Paul Gaultier-crafted looks from the legendary "Blonde Ambition" tour. We live!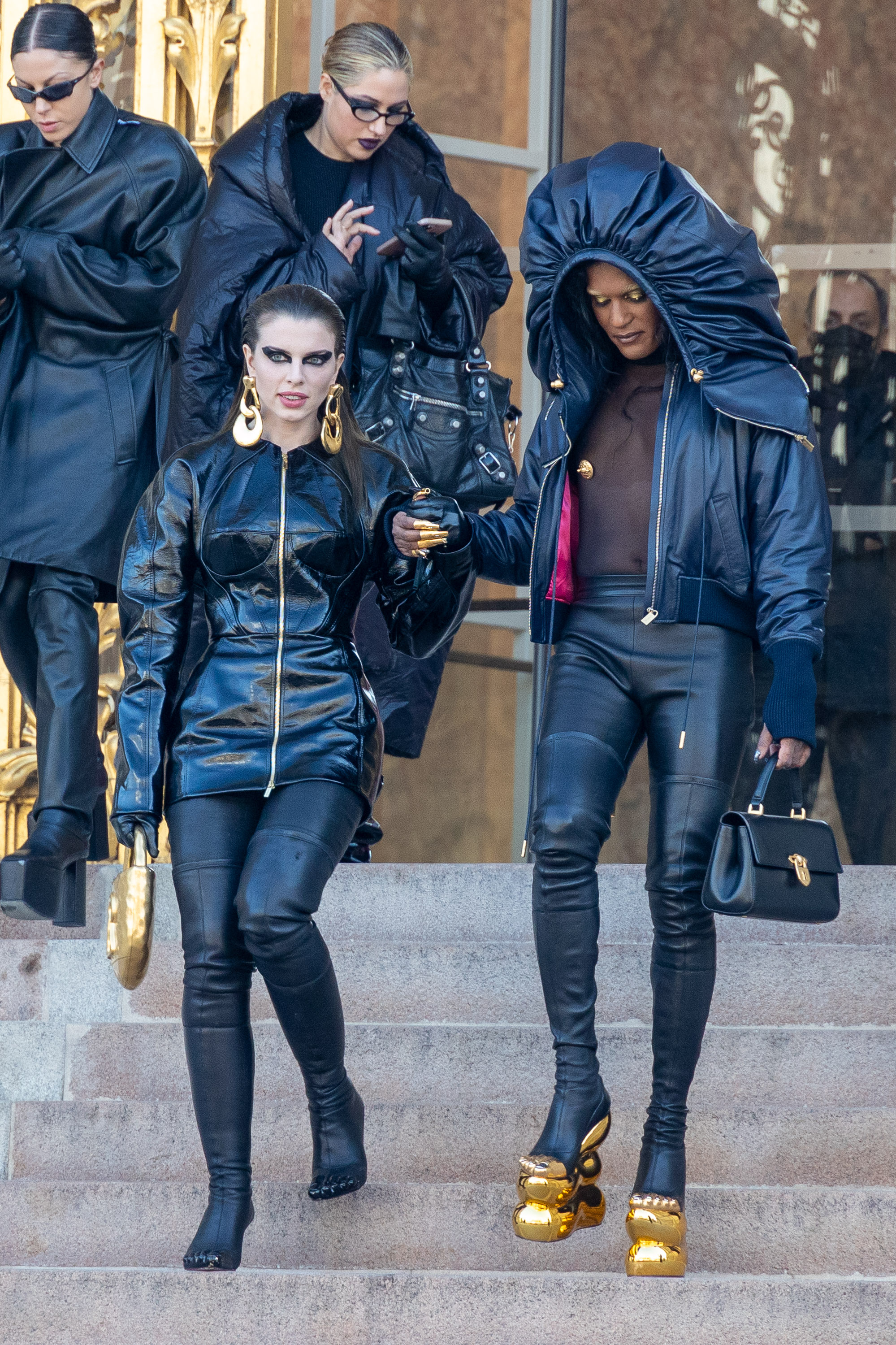 At Schiaparelli Haute Couture show, 2022
Julia's star power has skyrocketed over the AW22 fashion season as fast as her ever-growing winged eyeliner. Attending the show of sculptural fashion designer Schiaparelli with Ye and bestie Richie Shazam, Julia wore a zipped leather dress from the Italian house, with coned boobs once again, dramatic thigh-high boots with trompe l'oeil toes and kitsch oversized golden accessories.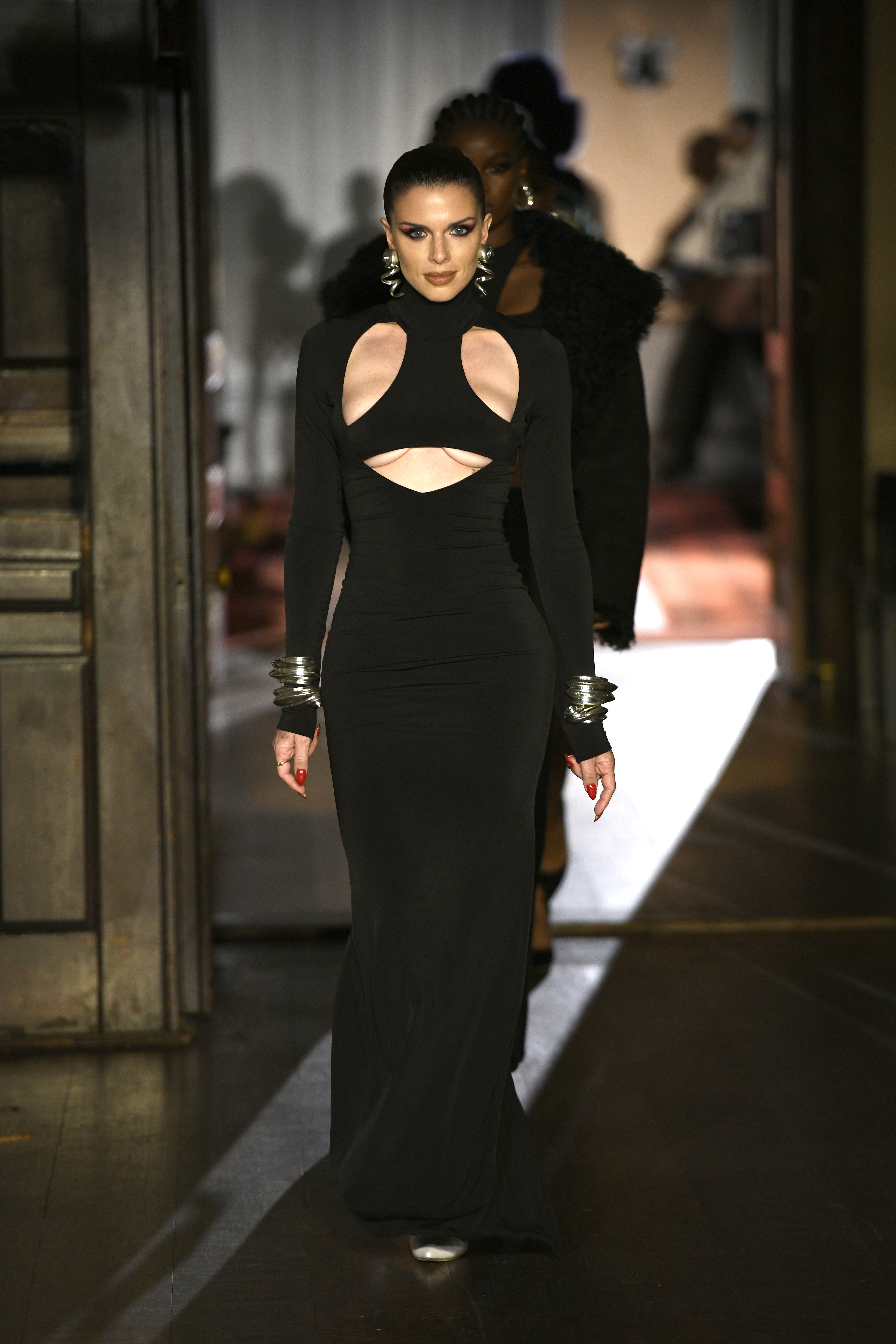 Walking in LaQuan Smith's AW22 show, 2022
When Princess Diana wore a stunning off the shoulder Christina Stambolian dress to the Serpentine Gallery in 1994 on the eve a TV show about her estranged Prince husband aired, did she know she would invent the cultural phenomenon known as "Revenge Dressing"? 28 years later and Julia stepped out onto the runway of Queens' designer LaQuan Smith in a stunning black floor-length cut out dress on Valentine's Day whilst confirming she and Ye had broken up. In an Instagram story the "#1 hustler" said she wasn't hung up over the end of the "Gemini-Aquarius connection" whilst the iconic runway moment confirmed that Julia would still be making eye-catching, provocative moves within the fashion world without Ye. Sorry to this man.