Think CMBYN needed more sex? You missed the point, says Luca Guadagnino
In a recent interview with Fantastic Man, the director explained where viewers often go wrong in analysing his hit 2017 film.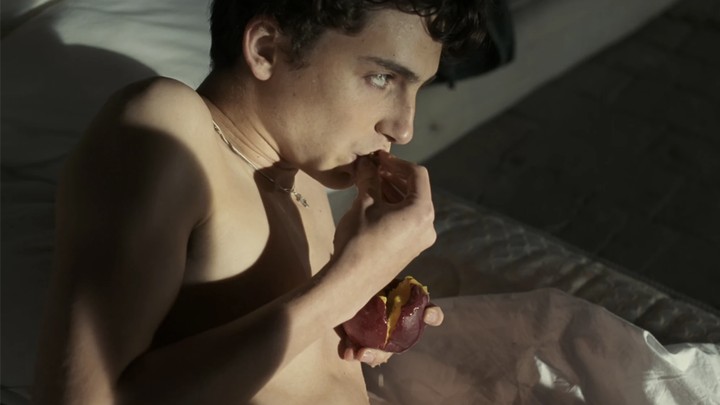 Still from Call Me By Your Name
The cinematic sex scene — particularly its alleged demise — has been eulogised all over the internet as of late. In a recent discursive summit, the New Yorker's critics attributed this "death" to widespread online access to pornography, the Marvel-isation (and subsequent infantilisation) of the movie industry, the decline of the erotic thriller genre, and "a general shift towards Puritanism", as diagnosed by Benedetta director Paul Verhoeven. Call Me By Your Name, the gay coming-of-age film that everyone made their personality in 2017, has fielded criticism on similar grounds. Its supposedly "empty, sanitized intimacy" is a sticking point for fans looking for more explicit queer representation, including the author Ocean Vuong.
"There's this puritan anxiety," the writer told Fantastic Man last year. "Even in a 'revolutionary' film like Call Me by Your Name. The moment where the camera goes out the window. To a tree. We haven't fallen far from the Bible." Ocean goes on to illustrate a double standard, citing a scene where Timothée Chalamet's Elio gets down and dirty with a female character: "It's fully there, it's recognisable. It has this context that does not need translation. And I think when the camera pans, it's the failure of translation or the refusal to depict it. And it's almost like the format of the film surrendering or turning its back on its subjects. It's a betrayal to turn to the tree, which is just absurd."
But before it was a mainstream box office smash, CMBYN was simply the final installment in Luca Guadagnino's Desire trilogy, a relatively niche series of cult films. The director responded to Ocean in his own Fantastic Man cover story: "I was never trying to make a mainstream film. I never con­sidered whether anything we were filming would annoy a mainstream audience. That was never a consid­eration. Nobody thought while we were filming that we were making a mainstream film about gay love, or that we were going to have a huge audience. Who could have known? The idea of us deciding that we didn't want to show what it means when two boys fuck – it's preposterous!"
Both accomplished queer storytellers in their own right, Ocean and Luca have a deep mutual respect for each other's work. "I feel strongly connected with Ocean [but] I don't think he's accurate in his remark." Luca continued: "I think there's a shallowness in what he's saying, and a self­-seriousness that I find disappointing. Because I would never put myself in the position of saying something about the artistic perspective of someone else. It's not about liking the film or not; that's another story. I think to complain about not literally showing sex – it's a little bit of a narrow way of looking at that movie."
When asked what the pan away moment meant to him personally, Luca said that it was his way of "leaving the lovers alone". "I didn't want to make a movie about the lust of two bodies. Call Me by Your Name is a movie about love. It's never about showing a raunchy moment of sex, or whatever kind of sex they were having. I don't know how these guys were having sex. That's not the point."
If you do happen to be in the market for a 16-minute blowjob scene, however, Luca recommends his 1997 short film Qui: "I was 24 or 25 when I shot it, and I presented it at the Taormina Film Festival," he said, "I'm not squeamish. I am not. If I have to show what sex is, I'll show it. But let me finish by saying that I was very happy to see Ocean on the cover of Fantastic Man. He looked very chic." Finally, something we can all agree on!
Follow i-D on Instagram and TikTok for more on sex (or lack thereof) in movies.