What is Glastonbury's Live at Worthy Farm?
With the festival delayed for two years in a row, organisers are staging an alternative featuring HAIM and Jorja Smith. Here's how to get tickets.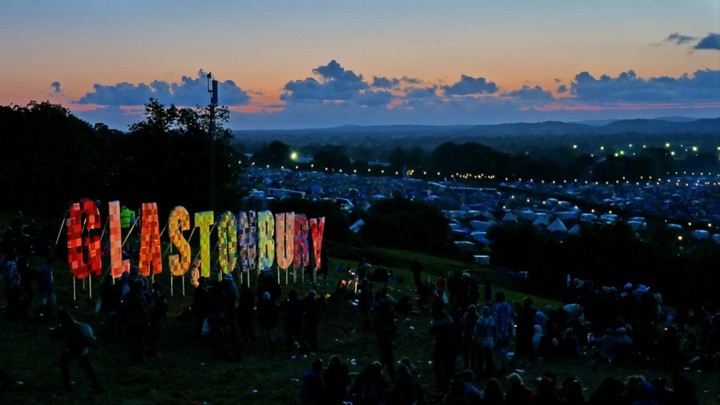 For some reason, for two years now the fate of mankind has been measured by whether or not Glastonbury would go ahead. The legendary music festival, which was slated to kick off summer 2020 with a line-up featuring Kendrick Lamar, Taylor Swift and Pul MCartney as headliners, was postponed in the wake of Rona's arrival. Hopes for a normal 2021 rested on the event going ahead this summer instead. But festival organiser Emily Eavis decided that it would be too difficult to call, and so postponed the next Glasto till summer 2022, just to be safe. But not all is lost! The festival will be going ahead this summer… just in a far less crowded manner. Enter: Live at Worthy Farm.

So what is Glastonbury's Live at Worthy Farm? In lieu of a full festival, Glasto have put together a live streamed event with a series of high-profile performers, all set on the Worthy Farm sites' Pyramid Stage and, for the first time, the Stone Circle. Encompassing acts from across the musical and artistic spectrum, confirmed performers include Coldplay, Damon Albarn, HAIM, IDLES, Jorja Smith, Kano, Michael Kiwanuka, Wolf Alice and Honey Dijon. The event will be interspersed with spoken word performances, and a number of surprise guests. The whole pre-recorded spectacular will run for five hours, so you can almost replicate a boozy Sunday Glasto afternoon in your living room. It's arriving a little earlier than the usual June festival too, taking place on 22 May.

Where can you get Live at Worthy Farm tickets? They're available to buy online from the Glastonbury website here for £20, with different slots depending on what timezone you're tuning in from. Check out your relevant timezone and the trailer for the event below.

Livestream #1 – UK, Europe, Africa and the Middle East: 19.00 BST / 20.00 CEST & SAST / 21.00 MSK & EEST / 22.00 GST
Livestream #2 – North American (East Coast) and Central/South America: 18.00 CDT / 19.00 EDT / 20.00 ART & BRT
Livestream #3 – North America (West Coast): 19.00 PDT
Livestream #4 – Australia, New Zealand and Asia (on Sunday 23rd May): 16.00 ICT / 17.00 HKT & PHST / 18.00 JST & KST/ 19.00 AEST / 21.00 NZST

Tagged: