It's official: 2020 was the year women shaped cinema
As braggadocious male filmmakers sat out a year of pandemic moviemaking, a series of projects by women got the respect they deserved instead.
|
05 January 2021, 12:16pm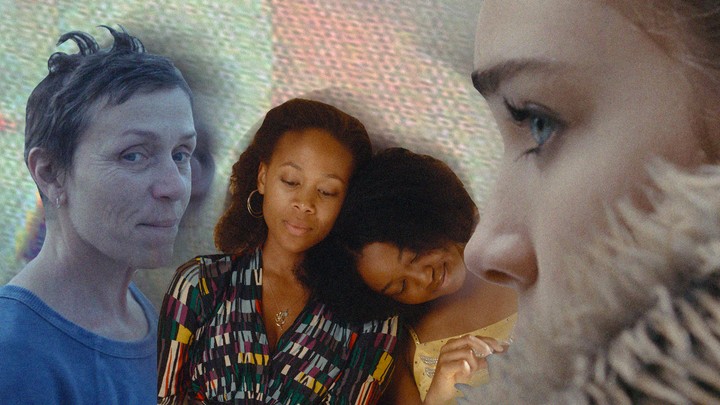 In 2020, films by women have been able to push back and gain some of the real estate men have long claimed in movie history. According to San Diego State University's Center for the Study of Women in Television and Film, stories directed by women accounted for a record 16 per cent (yes, that's still depressing) of the highest-grossing movies of 2020, with two earning spots in the top 10: Cathy Yan's Harley Quinn spin-off Birds of Prey and Greta Gerwig's Little Women (YES queen!!). That's an increase on 12% in 2019, and double the dismal 8% that appeared in 2018's list.
2020 was, however, the year that cinemas in the US and further afield went into freefall. After they closed pretty much internationally in March (following, you know…), huge movie studios were too scared to release most of their big popcorn hitters even as some cinemas reopened, worried they'd make huge losses on multi-million dollar projects. That was for two reasons: because pandemic-required social distancing meant only half as many tickets could be sold per screen, and the big US cities like New York and Los Angeles kept their theatres shut, meaning most would be destined to flop. A phobia of said flopping meant most movies by male filmmakers, often the ones trusted with big-budget blockbusters with mass-market appeal, didn't bother taking risks. 2019's American box office figures totalled $11.3 billion. In 2020, that dropped over 80% to just $2 billion. It's a long road to recovery that's already being battered in 2021 by our inability to suppress a virus that other countries are looking back upon as a part of recent history.
But there is a silver lining. If the pandemic hadn't hit, then that aforementioned percentage of women filmmakers in the top 100 box office hits would have been even stronger. Four of the woman-helmed movies that were slated to dominate 2020's global top 10 were either relegated to VOD platforms (Patty Jenkins' Wonder Woman 1984; Niki Caro's Mulan), damaging their box office potential, or delayed until 2021, such as superhero epics like Chloe Zhao's The Eternals and Cate Shortland's Black Widow, or Nia DaCosta's Candyman remake. But these gargantuan, ambitious projects -- finally in the hands of artists who know how to give them depth and not just make them colourful, basic, or loud -- are mere footnotes in the grander scheme of the movies that truly acted as a tonic in a hellfire year. The more modest indie features -- once overshadowed by those bombastic projects or chin-strokey movies made by male counterparts -- finally had their moment.
You can trace it back as far as March, at the moment American movie theatres closed in tandem with the US release of Eliza Hittman's miraculous abortion drama, Never Rarely Sometimes Always. Here was a film that spoke deftly of the crises with American healthcare; a nationwide epidemic fuelled by deep-rooted right-wing bigotry standing in the way of women having autonomy over their bodies. It was an issue that would be exacerbated by the pandemic, but Hittman's film -- which follows a teenage girl crossing state lines in search of an abortion -- is timeless, and will, most likely, still carry a depressing prescience for years to come. In most situations, even a stunning film like this released early in the year would go under the radar for any sort of awards or year-end recognition. But in an otherwise sparse release schedule, it shone. At this year's Gotham Independent Film Awards -- considered a strong predictor of Oscar glory -- it's wrangled a well deserved Best Picture nomination. The other four films it joins are also directed by women; a first in the organisation's 30-year history.
Another Gotham nominee -- for Breakthrough Director and Best Actress (Nicole Beharie) -- was Miss Juneteeth, Channing Godfrey People's Sundance smash that hit streaming services in the midst of the summer's Black Lives Matter movement, an accidental educator on the experience of Black womanhood, told through the lens of a former beauty queen and her daughter, who follows in her footsteps.
You could look at this two ways: either 2020 was the year women's art was used as the sandbags for a decimated industry, or it was given the chance to be seen in a landscape free of buzzy competitors.
Chloe Zhao, director of the masterful The Rider and Marvel's aforementioned The Eternals movie, worked simultaneously on the latter and a hardy, lyrical masterpiece that, as it stands, looks set to win the Best Picture prize at next year's Oscars: Nomadland. The movie, starring Frances McDormand as a woman who loses her home and chooses to drift across the barren American landscape in lieu of a typical lifestyle, has been a critic's favourite in 2020, winning Venice Film Festival's top prize (which went to Joker in 2019) and Toronto Film Festival's People's Choice Award, which has famously predicted Oscar Best Picture nominees and winners for 12 years running. It's not set to hit proper cinemas until this year, but its mark was made in 2020: a movie about the pursuit of a real American dream told by a Chinese immigrant who has subsequently cemented herself as one of the country's most consistent filmmakers. Which begs the question: if women filmmakers are so great at their craft, and have managed to ride out the worst year in the medium's modern history, is there any justification for overlooking their creative credentials when seeking a director for a big-budget project?
Chloe Zhao, whose work on The Eternals is yet to be seen, is living proof that women filmmakers are more than capable -- in fact, probably more capable -- of flitting between low-budget projects and multi-million dollar box office draws with ease. She worked on post-production for both The Eternals and Nomadland simultaneously; a colourful superhero outing and a story that captures the coalescence of pain and beauty in modern, torn-up America. She's as much of a maker of masterpieces as Scorsese in our eyes -- doesn't that deserve some kind of respect?
It's a concept that studio heads are still reckoning with, even as Kelly Reichardt -- a beloved filmmaker with 26 years of experience, but with no major studio-funded films to her name -- creates movies that audiences and critics seem to love. Her A24-produced outing in 2020 was First Cow, a charming western period drama about travellers in America crossing the land in search of fortune, and it won the Best Picture prize at New York Film Critics' Circle. Again, a story so modest that it may have otherwise struggled to have been seen and considered by those who cast the votes for big awards ceremonies. But 2020 has done it a favour somehow; despite the fact the pandemic cut its theatrical release short, a year of Film Twitter memes have made it a mainstay in our cultural consciousness throughout 2020.
Even as the year drew to a close, on Christmas Day two of the year's most anticipated movies -- also directed by women -- arrived. Patty Jenkins' Wonder Woman 1984 racked up millions of views on HBO Max, while Emerald Fennell's prickly revenge thriller Promising Young Woman delivered a jugular shock to audiences in cinemas and received notable critical acclaim. It was a sweet sign-off in a year of cinematic tragedies, but one that reminded us of the value major studios place on the work of women in particular. While Denis Villeneuve has caused enough of a fuss to potentially force Warner Bros to shift his epic sci-fi Dune to a cinema-only run -- following the news that HBO Max would be doing simultaneous cinema and streaming releases for all of Warner Bros movies in 2021 -- Patty Jenkins' big-budget movie wasn't afforded the same fate. As Disney haemorrhaged money, they used a $200 million movie directed by an Asian woman as an experiment for Disney +, forgoing a big-screen release in most countries around the world.
You could look at this two ways: either 2020 was the year women's art was used as the sandbags for a decimated industry, or it was given the chance to be seen in a landscape free of buzzy competitors. Either way, it was a year in which those who hold the power and purse strings were finally forced to recognise that cinema is decidedly better, both for arthouse and mainstream audiences, when women are the ones making it. Can that sentiment bleed into 2021? Well, with those delayed blockbusters lined up for release, as well as a year that kicked off with (hopefully) the first Best Picture winner with a woman director in over a decade, we can hope that more balanced change is on the horizon. And that one day, sometime soon, celebrating 84% of men making the highest-grossing movies of the year will be as laughable as that figure truly is.