Photos by Mick Hutson/Redferns.
7 of Kylie Minogue's most iconic outfits
The Australian "Princess of Pop" is the queen of diamanté, sequins and all things Y2K.
Photos by Mick Hutson/Redferns.
Known mononymously as Kylie and referred to as the "Princess of Pop", Kylie Minogue is not only Australia's all-time best-selling female recording artist but a popstar for the ages. Over the course of her four decade-spanning career, the Aussie singer is responsible for zeitgeist-defining singles including "Spinning Around", "Slow" and the utterly iconic "Can't Get You Out of My Head". In addition to a myriad platinum-certified singles, Kylie's accolades also take in international music awards from the Grammys and the Brits to the ARIAs of her home country. Among her accolades, too, are her majorly influential fashions. Throughout the 90s and 00s, the Aussie songstress set the standard in popstar dressing for the Y2K era (and beyond). Think naked dresses (and even a naked trench coat!), John Galliano galore, micro mini hemlines and endless sequins.
Here, we chart the Australian singer's career through a look back at her most iconic outfits.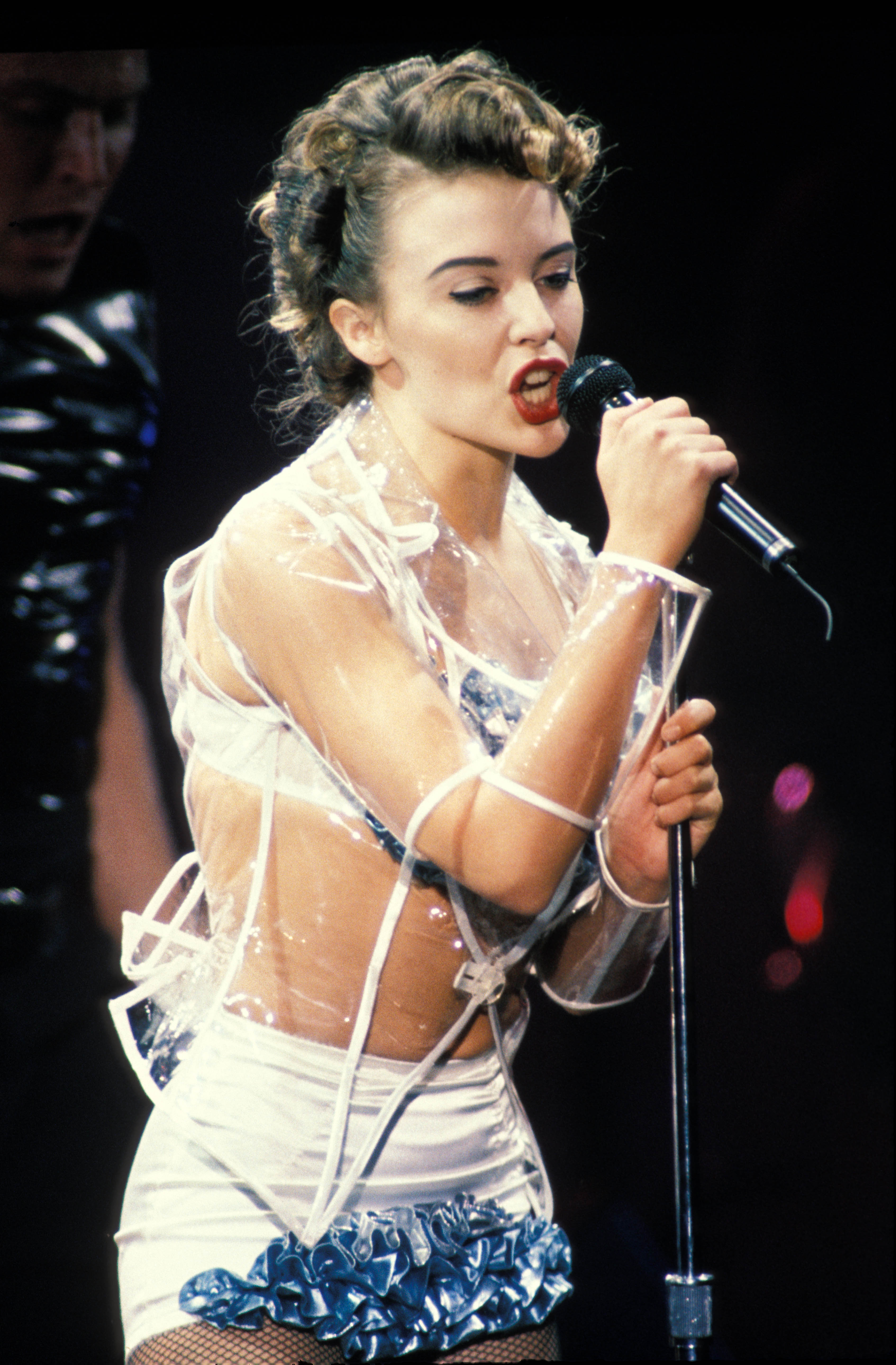 In concert, 1991
Born in Melbourne, Australia, Kylie Minogue was signed to Mushroom Records in 1987. Kylie's first single, a cover of "The Locomotion", spent a record seven weeks at the top of the Australian singles chart, becoming the country's best-selling record of the 80s and even winning an ARIA Award. Four years later, Kylie closed out her fourth international concert tour, titled "Let's Get To It", with the same single that made her famous. The tour, which spanned England, Ireland and Scotland, was costumed entirely by John Galliano. Here, on stage, she wears a transparent PVC trench coat, satin bra and hot shorts, with fishnet tights — a combination deemed riské by the era's press.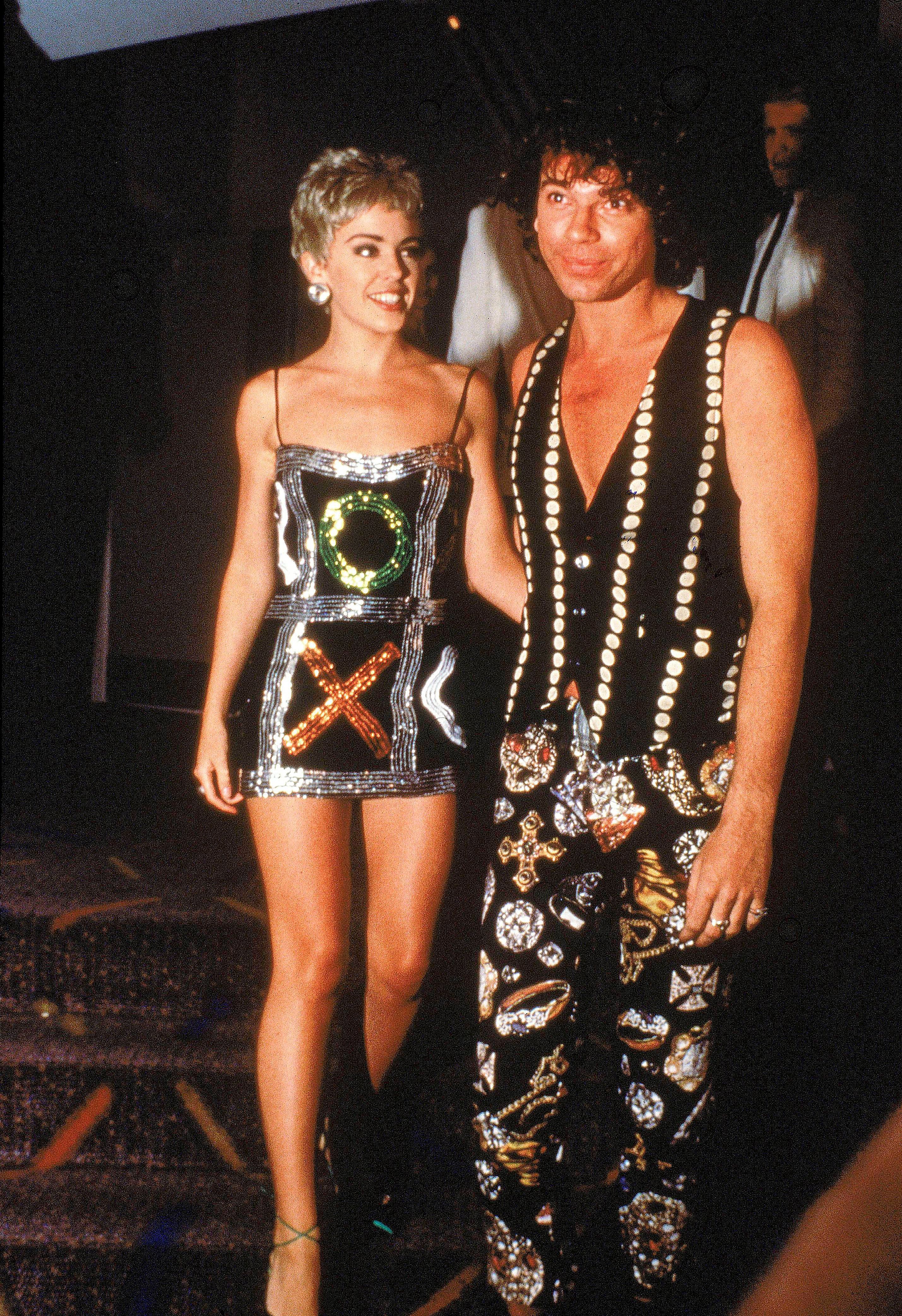 At the premiere of The Delinquents, 1989
Prior to launching her music career, Kylie made a name for herself in the world of Australian soap operas, making her on-screen debut on "The Sullivans" in 1979. Nearly a decade later, in 1986, she garnered international attention for her role as Charlene Mitchelle on iconic Aussie soap Neighbours, a role which earned her four Logie Awards. Three years later, Kylie moved from the small to the big screen, making her cinematic debut in coming-of-age drama The Delinquents. Here, she attends the film's premiere, twinning with her then-boyfriend — and INXS singer — Michael Hutchence, in a graphic, sequinned Morrissey Edmiston mini dress.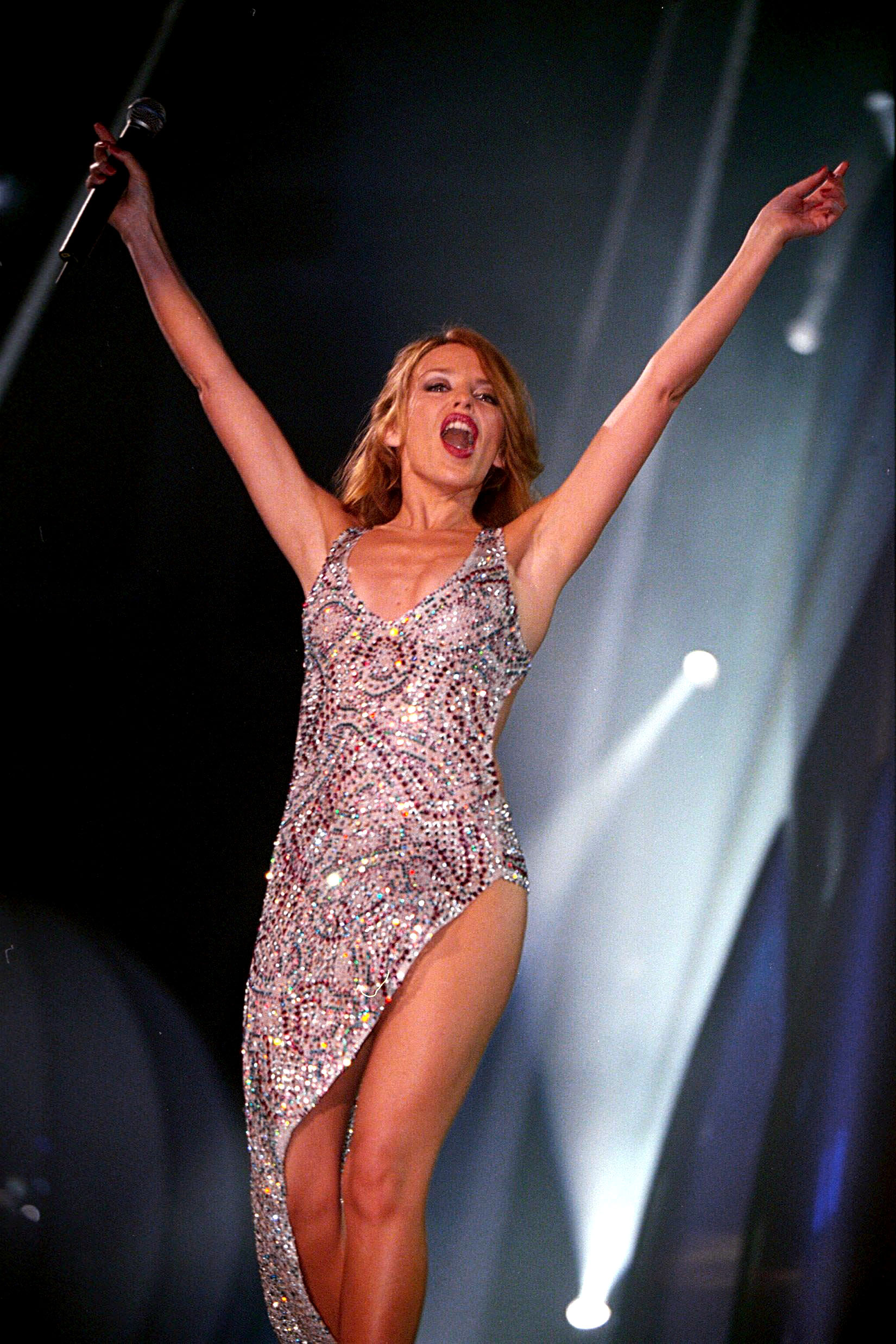 At the MTV European Music Awards, 2000
Every pop star needs her naked dress moment. Here's Kylie's: at the MTV EMA's the singer wore a completely backless (and nearly bottomless) sequin Julien Macdonald dress. To Vogue, the songstress admits that the look was partially inspired by Cher and Bob Mackie's iconic 70s gowns.
"Spinning Around" music video, 2000
In 2000, Kylie rocked the world at large with a pair of gold lamé hotpants. Worn for the singer's "Spinning Around" music video (paired with a slinky Stella McCartney halter top), the shorts were originally purchased by Kylie's friend and artist Katerina Jebb at a London flea market for only 50p. The pants have since been acquired by the Arts Centre of Melbourne, which has described them as "one of the most identifiable items of contemporary popular culture," and now houses them behind bulletproof glass.
"Can't Get You Out of My Head" music video, 2001
Worn for the futuristic video accompaniment to Kylie's 2001 smash single "Can't Get You Out of My Head", this slinky Mrs. Jones jumpsuit is arguably the singer's most iconic look of all time. In fact, even legendary designer Jean Paul Gaultier has waxed poetic about its legacy, writing in the intro to Kylie: Fashion, "who could forget […] the white jumpsuit with the openings so deep that anyone could feel [Kylie's] pale, delicate skin." However you want to describe it, with its hooded, navel-revealing neckline and massive side slits, this outfit is an avant-garde marvel for the annals of style.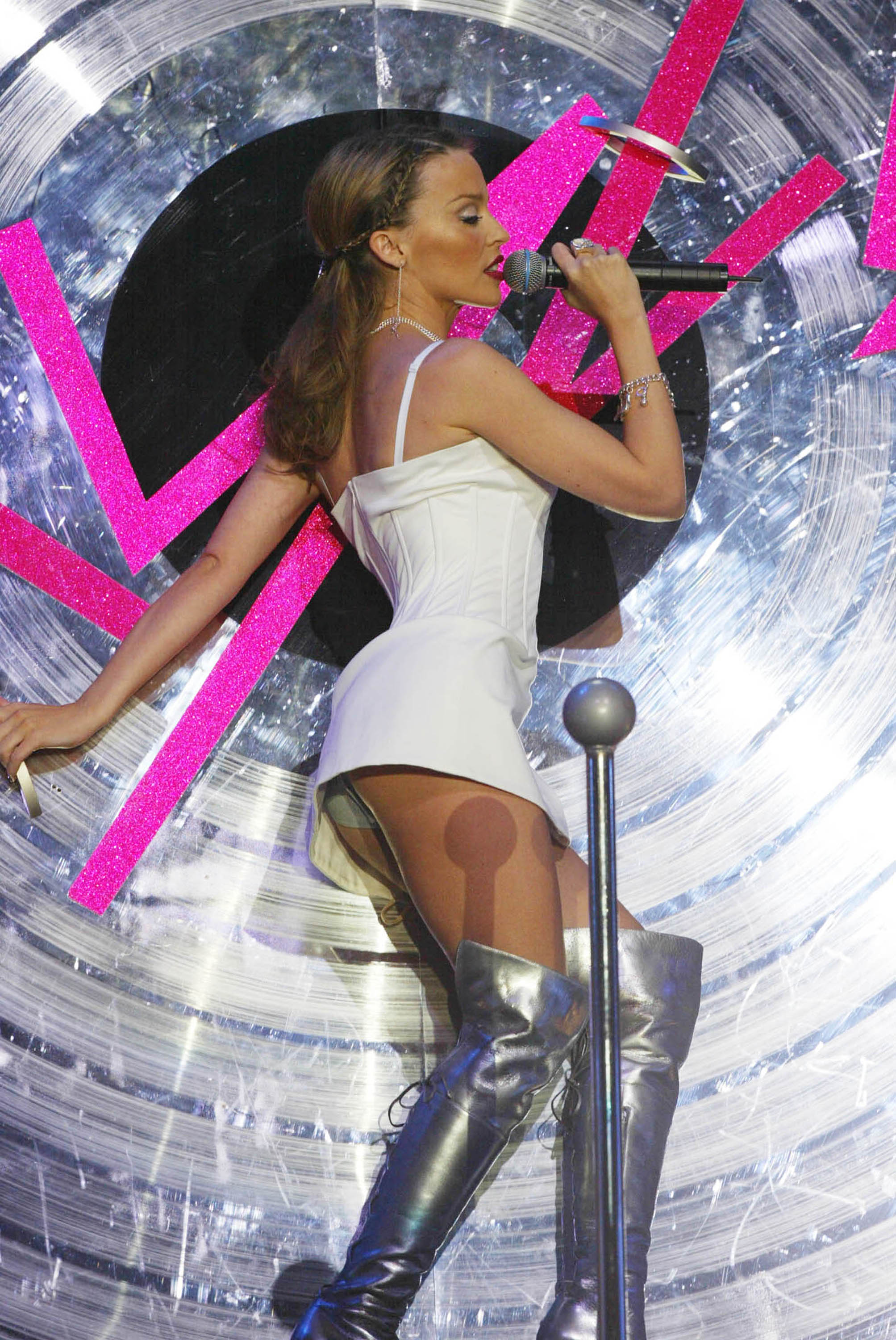 At the Brit Awards, 2002
Hot off the release of multi platinum-certified album Fever, Kylie scooped the 2002 Brit Awards for International Abum and International Female Solo Artist. Performing the album's hit single, "Can't Get You Out of My Head", during the show, she wore a corseted Dolce & Gabbana micro mini paired with metallic thigh-high boots.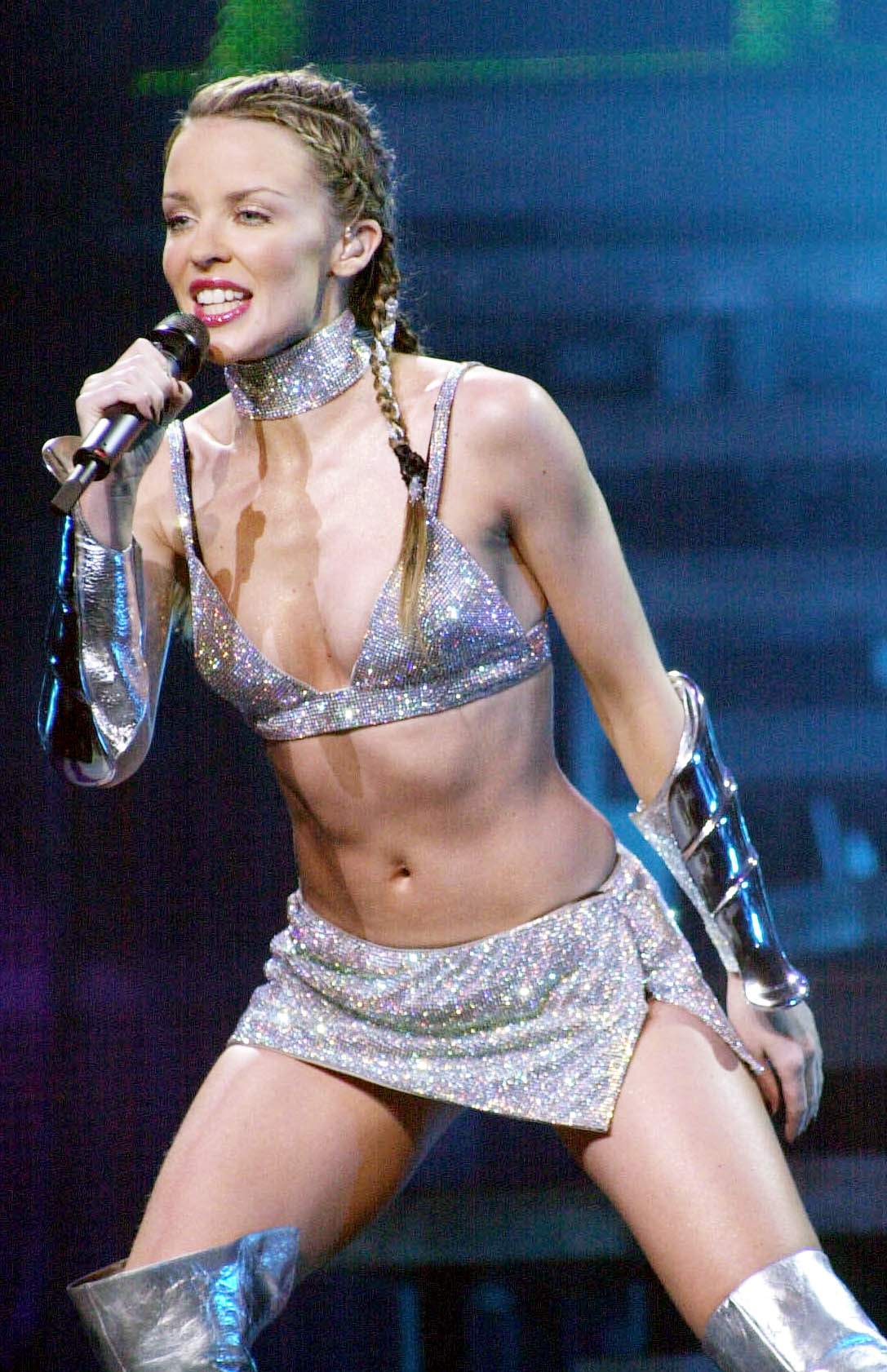 On Stage during the KylieFever2002 tour, 2002
Following her 2002 Brit Awards performance — and that corseted mini dress — Kylie tapped D& G to design the costumes for the KylieFever2002 tour. Here she wears a diamanté-encrusted bra, choker and micro mini, paired with the same metallic thigh-high boots from her Brit performance. The metallic arm pieces, designed by jeweller Johnny Rocket, are remnants from the singer's cyborg outfit, which was worn — and dismantled — during the tour's dramatic opening act.