Alexander McQueen are donating more fabric to students
The successful scheme is being rolled out to more institutions.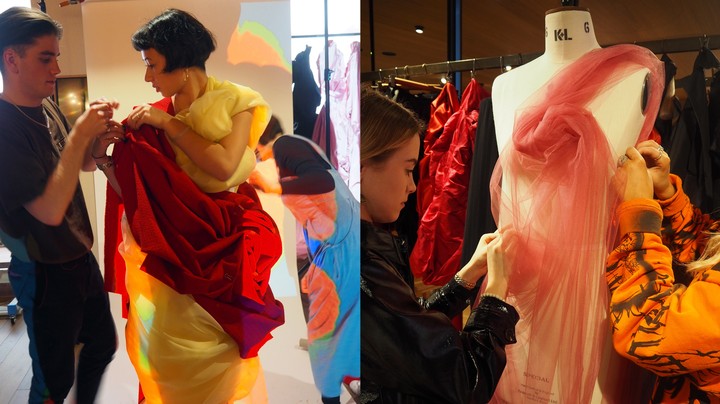 All images courtesy of Alexander McQueen
A new delivery of unused Alexander McQueen fabrics is currently making its way to fashion and textiles students across the UK. The scheme was introduced by creative director Sarah Burton in 2019 as a means of reducing surplus waste from their collection manufacturing, extending their commitment to support students in creative education.
"It's our responsibility to extend our programme of practical help and encouragement to students and fashion schools," Sarah writes in a statement. "The fabric donations build on the relationships we've made with educationalists across the UK who are teaching students from school age to graduate level and is broadening out to reach further in 2021."
2020 saw a number of students enrolled in university, college and community education courses incorporate the materials -- "from womenswear taffetas to menswear tailoring cloths" -- into their collections and presentations. One such designer was University of Westminster graduate Steven Stokey-Daley, who used McQueen's old tattersall check raglan to create a trench, some wool to make a tennis coat, and a 'Flyte' dressing gown made of 120 strips of flesh and blood-coloured fabric.
To date, Alexander McQueen state fabric donations have been delivered to more than 20 institutions and fashion education community projects throughout the UK, with the aim to increase that number significantly in 2021. "When times are so much more difficult for young creative people," Sarah adds, "taking action to share our resources and open eyes to opportunities has become a central in-house commitment at Alexander McQueen which we all take very seriously."
Credits
---
Images courtesy Alexander McQueen