Saint Laurent's dramatic SS21 show
For his first collection off-schedule, Anthony Vaccarello used an outlandish backdrop.
|
15 December 2020, 4:01pm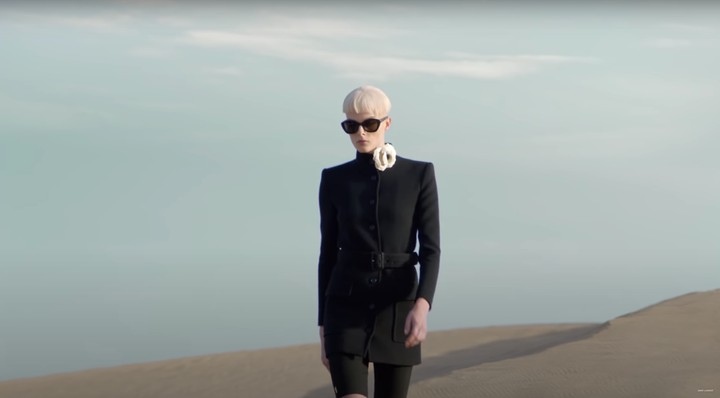 All images courtesy Saint Laurent
Few can rival the extravagance of a Saint Laurent show. Whether it's closing Paris Fashion Week beneath the Eiffel Tower on a catwalk made of water, or circumnavigating the Pacific Ocean in cornered off enclaves of Malibu's Paradise Cove, the production is always sky high. So back in April, when Anthony Vaccarello announced a sabbatical from the regular schedule, instead choosing to present at his own pace in the coming months, it certainly left many people curious as to what this would look like. "We have known for years that something has to change," Anthony announced via a statement. "The time is now."
Today, we got our first look at what that is, and it's a venue that makes the Eiffel Tower look practically twee by comparison. For SS21, Saint Laurent has chosen what at least seems to be a desert — although it's yet unclear where this is — as its backdrop, in a film by Nathalie Canguilhem. "I wanted to focus on the essence of things," Anthony writes in the show notes. "I think it's a sign of the times. But I didn't want anything bleak or heavy. The desert, to me, symbolises that yearn for serenity, open space, a slower rhythm. The clothes are also softer, the spirit of the collection is more gentle, stripped back."
Once you look past the sheer size of this venue, to the collection, you'll find there is something very comforting about the consistency of Saint Laurent. Anthony acknowledges the "inside" life we've lived this year, and how that might affect how we dress, but doesn't deviate far from the brand's core message. A nod to the 60s can be found too, but that's hardly a break from tradition either. While the mantra of many designers is to continually reinvent their brand and cultivate a number of head-turning pieces that cut through the noise, Anthony continues to build on the simple elegance of Saint Laurent, season upon season.
As for what comes next, it certainly feels like a new era for the presentation of fashion. As the designer wrote for our Faith in Chaos Issue this summer, "The situation we are now living in is so different that it seems almost naive to look at the future through the same lens as before. From this realisation, many creative thoughts and ideas have emerged, the strongest being taking back control of our time, recognising the value of time."