Photography Lauren Leekley
Chip Chrome takes us Stargazing in The Neighbourhood's new music video
Jesse Rutherford tells i-D about his glittering new persona and the star-studded visual featuring Alexa Demie, Lana Del Rey, Mac DeMarco and more.
|
14 December 2020, 7:01pm
Photography Lauren Leekley
Hollywood Boulevard provided the metallic mock-neck spandex suit; Chanel, the engraved padlock hanging from a large link chain. Coated in complexion-perfecting silver were features well-worn from a near-decade in the spotlight — immortalised on Lana Del Rey's stage and in girlfriend Devon Lee Carlson's daily documentation. The final face, complete with technicolor eyeshadow, was make-up tutorial-worthy. With a diamond-encrusted smile, the metamorphosis was complete: Chip Chrome had arrived, and today, Jesse Rutherford introduced his new alter ego to Hollywood's finest in the music video for The Neighbourhood's "Stargazing."
In the second verse of the track — featured on the band's latest album Chip Chrome and The Mono-Tones, released September 25 — Jesse instructs the listener to "push until it pops". When it comes to the frontman's artistic identity, he appeared to do just that. In the early days of 2020, Jesse deleted all social media, citing the unbearability of constant comparison to his famous peers. Surprisingly, his disciples didn't despair. They remembered when Rutherford scrubbed his online presence five years prior, only to resurface ahead of the release of The Neighbourhood's acclaimed R&B-leaning album Wiped Out!. But this time, Jesse Rutherford emerged from an Internet-free chrysalis as Chip Chrome, recruiting fellow artists Alexa Demie, Lana Del Rey, Jaden Smith and Mac DeMarco as co-stars in his new music video, out today.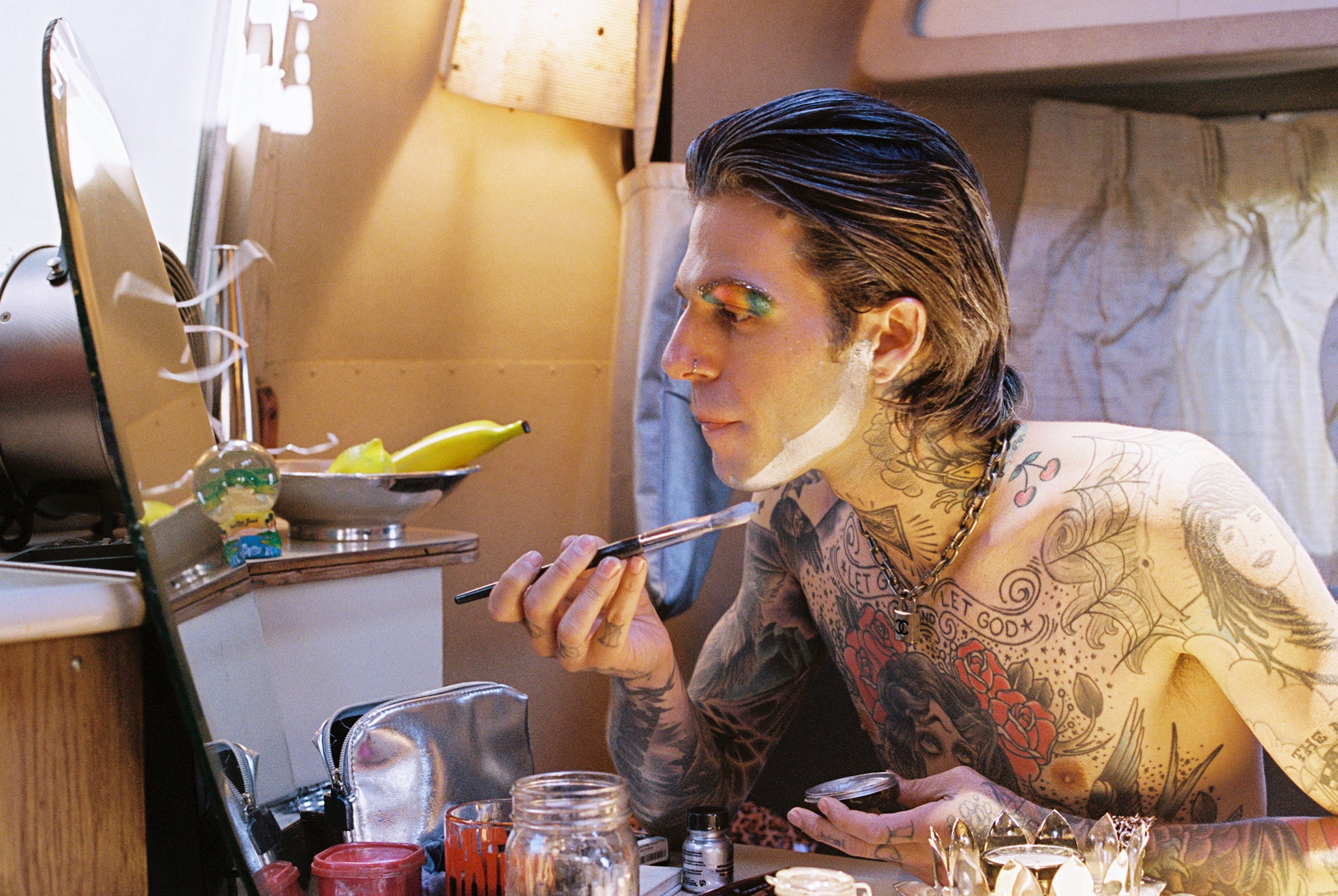 While Wiped Out! landed among the hyper-produced projects that sent the standout SoCal band skyrocketing to success, Chip Chrome and The Mono-Tones is stripped bare of frills. Those are instead worn by Chip Chrome, himself, as trademark 'bad boy' leathers have been replaced by a head-to-toe silver ensemble and brightly-hued eyelids. While Jesse has always been a natural chameleon known to debut a new hairdo each album cycle, this was something fans and friends had never seen before. It was an intentionally extreme aesthetic that required Jesse to ensure a more "pure and consistent musical" output than ever before.
Chrome regularly draws comparison to Ziggy Stardust, David Bowie's most-memorable brainchild, which suits Rutherford just fine. His industry approach has always been that of a mid-century pop-rock God: simultaneously craving industry validation and eschewing it entirely in favour of fan appreciation, all while waving a lit cigarette. It's this proclivity for contradiction that informed the singer's approach to 2020. In a year that has been historically hard on all artists — forcing many to stagnate for perhaps the first time in their careers — the singer was more active than ever. By embracing his alter ego, Jesse managed to release his own expectations and that of The Neighbourhood. Like any caterpillar's journey to limitless beauty, all it took was a little pushing, and one big pop.
Here, Jesse Rutherford tells us more about Chip Chrome, and how he created the star-studded "Stargazing" music video, below.
Walk me through conceptualising "Stargazing" as a visual.
After Ramez and I did "Pretty Boy" together, we knew we wanted to find a way to continue the story with another video. I had a general concept of what I wanted to do as far as the cameos and Ramez took it from there and put a story around it. In the end of "Pretty Boy" Chip has an epiphany, being given a coin in his dream by Gibby Gold. For "Stargazing" we built around that foundation by showing Chip canvas door-to-door, attempting to share his new perspective, only to be met with more trials. But rather than money, it's good will, positive energy, luck, encouragement.
What did the process of recruiting famous friends look like?
I sent them texts letting them know that Chip had requested them to cameo in his new video. Personally, I don't prefer to ask favours of my famous friends, but Chip insisted and luckily they all had enough time in their busy schedules to be part of the video. Chip really does seem to have some real star power!
What does Chip bring to the table that Jesse doesn't? How do they differ, and what do they have in common?
Confidence, consistency, concentration and chrome. With Chip, you pretty much know what you're gonna get. He only seems to want his voice heard when the Mono-Tones are with him, or most minimally, when he is holding a guitar. Chip is understated in the music and lyrics, and exaggerated in aesthetic. I think a lot of that has to do with the music we made for this album and the history of the band leading up to now. Chip is able to help me express both what I need, and what I feel my audience deserves. I think he's a balance to the music, which, in my opinion, is the most straightforward "rock band" music we have ever made.
How important do you think reinvention is to the artist, and artistic longevity?
I think it's how some people are and I strongly identify with the idea of change. It's hard for me to speak on any other artists' journey but at this point reinvention is the main thing that works for me. The Neighbourhood has been around for nearly a decade and we have changed our style of music along the way, so clearly something is working. We haven't maintained a presence at radio, and don't always get press, so I can really only attribute our success to ourselves and our fans. We all change and grow together.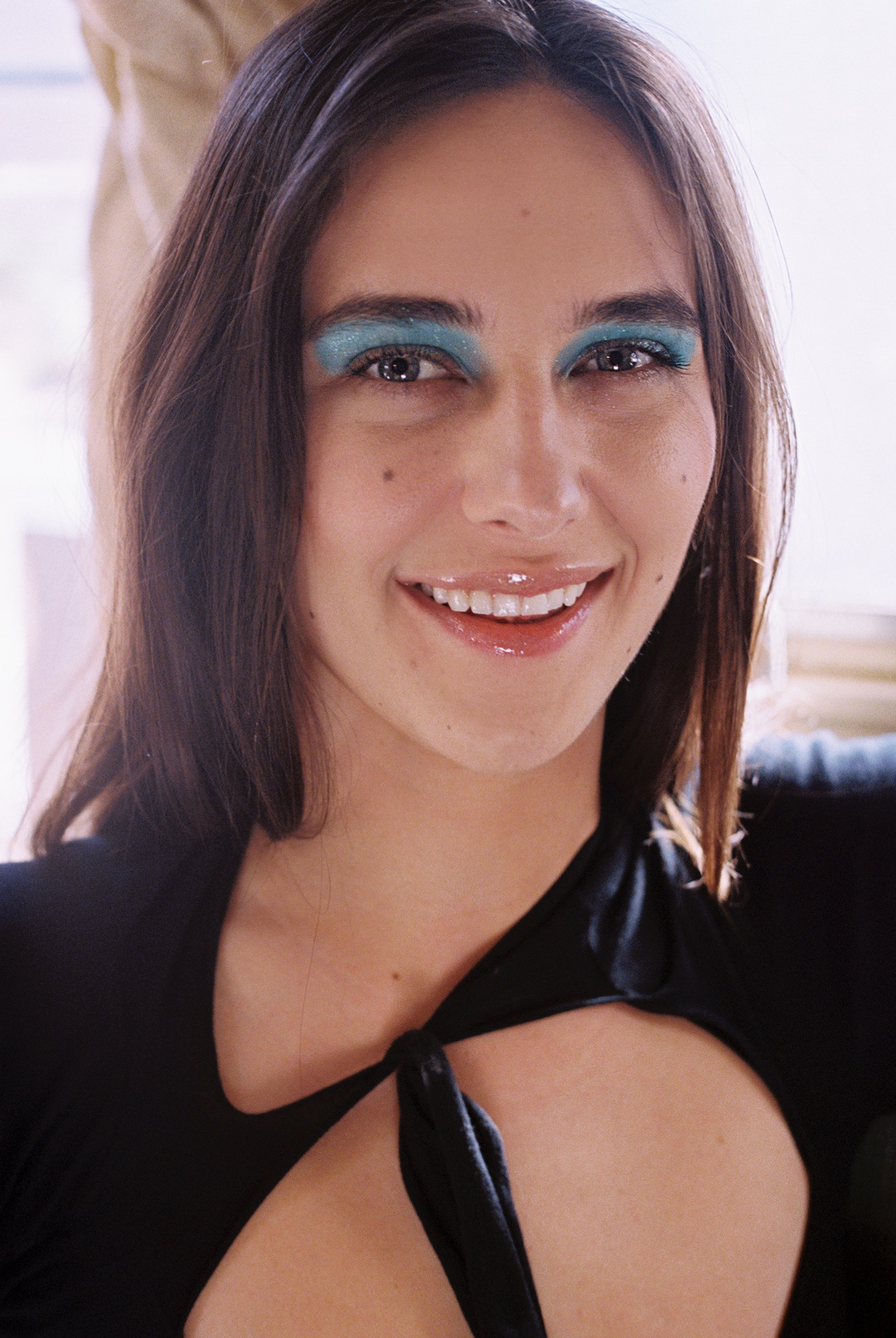 Since your return as Chip, how has your relationship evolved with social media?
I believe that Chip's followers are a reflection of who he is, and vice versa. The Chip Instagram account is more of a place for my fans to find community in the comments and for me to get inspired by those who I am following. I mostly only like to post stuff to do with the art — whether it be the music, music videos, design ideas, merch — not too much personal stuff. That was really a result of originally getting off social media. If it weren't for Chip, I don't know if I would have found a reason to come back on. I didn't get on social media in the first place for people to see what my personal life was like. I write that in the music and choose to utilise Instagram as a stage for my art.
Can you break down formulating Chip's aesthetic, and the transformation routine for us?
The name came first. The "Chrome" part obviously inspired all the silver. I actually had the name for a couple years before I brought the idea into The Neighbourhood universe. Learning how to play guitar was the final step to completing the transformation. It gave Chip a tool and made him more of a utilitarian in my eyes. Chip is definitely not trying to be hot, or pretty, or sexy. I think the whole idea of it is funny… the fact it seems to be working is even more hilarious. It's a little Hollywood Boulevard with a bit of the trailer park and a touch of Metal Mario full starpower on rainbow road!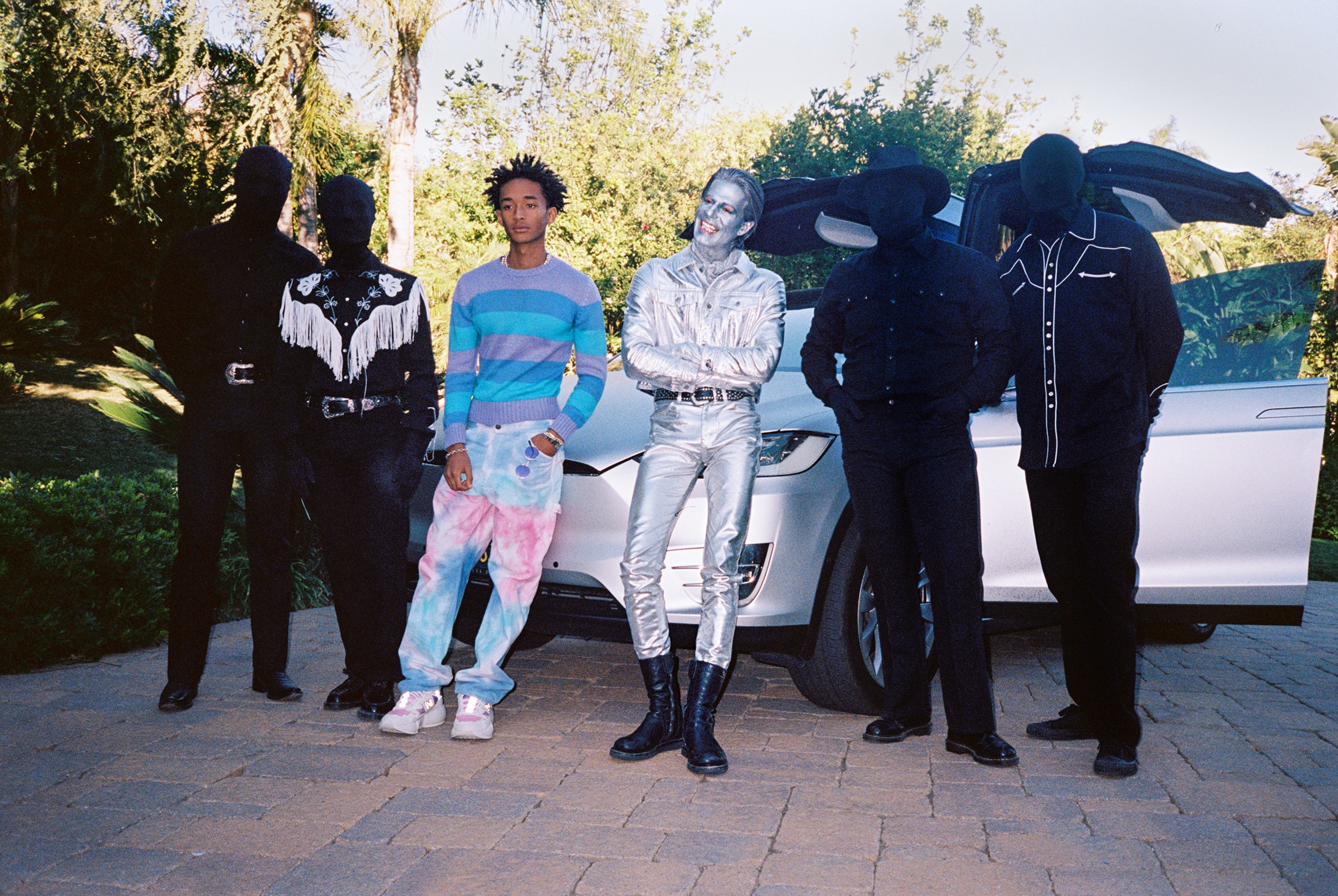 Where do you see cis men's recent re-embrace of makeup headed?
Re-embrace is a good way to put it. It's not like dudes haven't been wearing make-up pre 2020, it's just trending right now. I have been experimenting with make-up and wearing women's clothing since I was a little boy. I'd say the difference is having someone as mainstream as Harry Styles putting on some glitter for people to be able to "embrace" the idea. I think Chip represents being whatever you feel like being. If that inspires someone ignorant to be a little more accepting, so be it.
I wanted to find a way to represent the beliefs of myself and the band in different ways than how we were going about it. I know my audience. I know who's listening to me and watching me. I don't consider myself to be anything other than an example, so I'm choosing to be the one that I feel most confident in. Chip isn't meant to be sexual, or crude, or ridiculous just for the sake of numbers and attention. He is a reflection of what I feel I represent.
What's the purest manifestation of success for Chip Chrome? And what does happiness look like to Jesse?
I'd say the "Stargazing" video tells the story better than I ever could've imagined. That video wasn't put together by the label, or any higher-ups, or tons of money. It is a result of real relationships that I have with people. It is a testament to my team and how far we've been able to make it with the power of our creativity and dedicated fanbase. A little recognition never hurts but I've stopped chasing that. I'm way more focused on being better at what I get to do… and appreciating what I already have.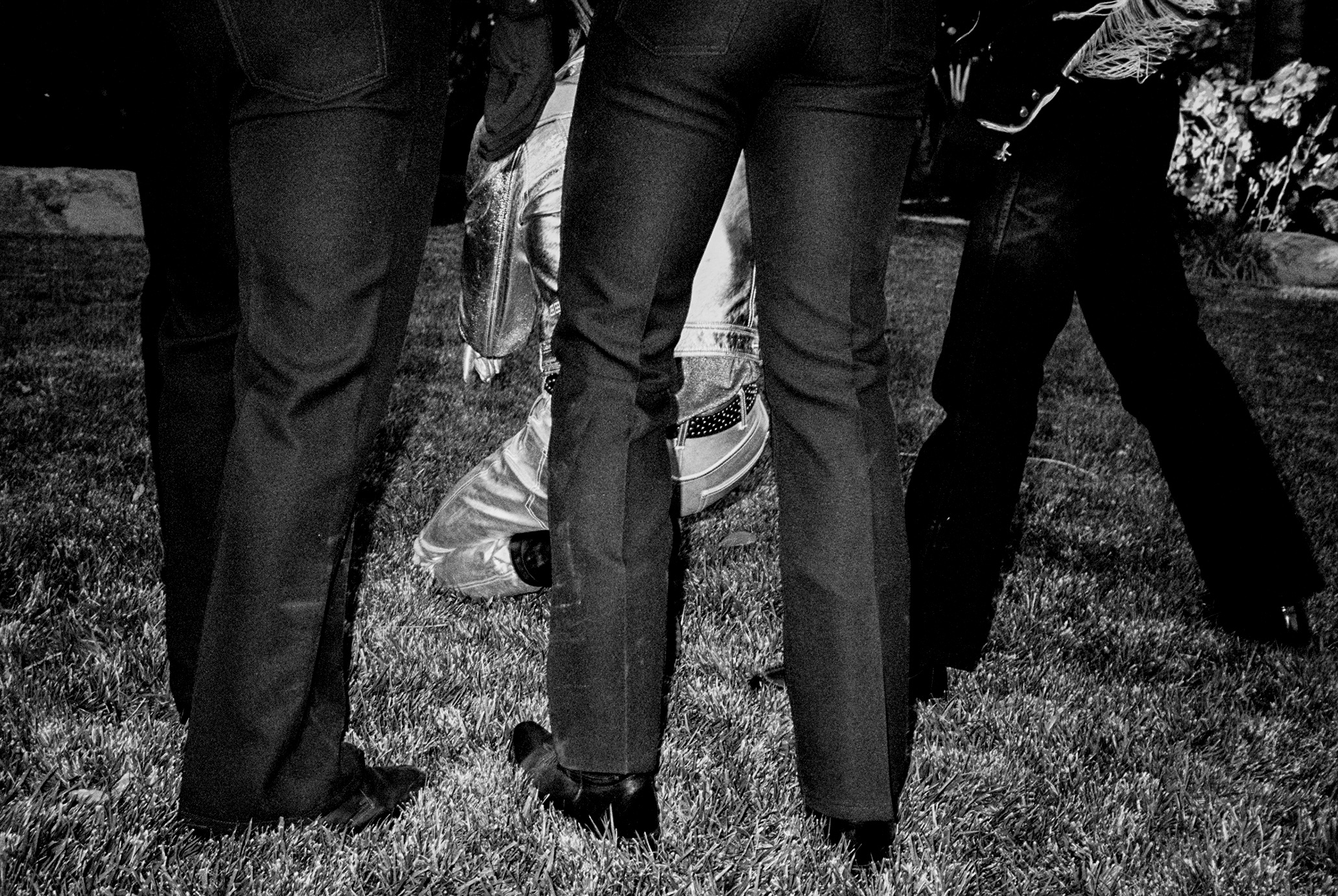 Credits
---
Photography Lauren Leekley
Make-up Sydney Szramowski.
Production MUDDY WATER / BLK MTN.
Tagged: